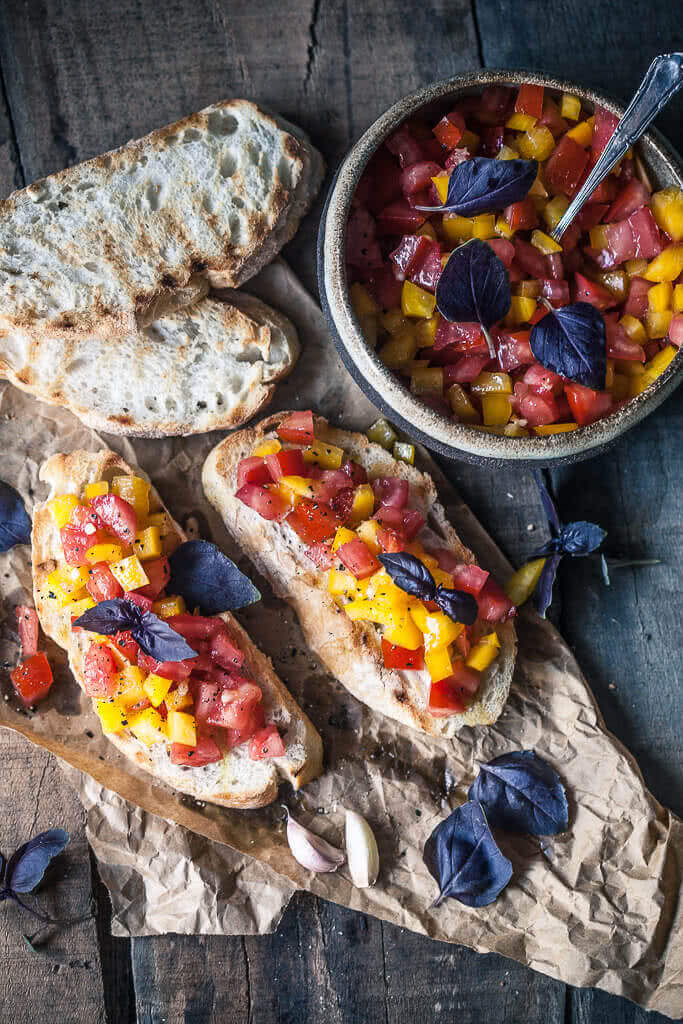 This Classic Italian Tomato Bruschetta is an easy and delicious appetizer of crispy toasted bread and delicious tomato topping. Perfect for hot summer days!
I grew up right next to the border with Italy and, normally, Italian cuisine was a big portion of my diet. Pasta, risotto, minestrones, and fish, they were all abundant.
But weirdly enough, we NEVER made bruschettas, ever. My parents were big on tomato salad, but the first time I actually enjoyed a bruschetta, was on a trip to Corsica, France. It was a few years back when I was having trouble with dairy and consequently went practically vegan. Food choices were not really plenty back then, and – did I mention? – I hated raw tomatoes. I still do not particularly enjoy them… except like this.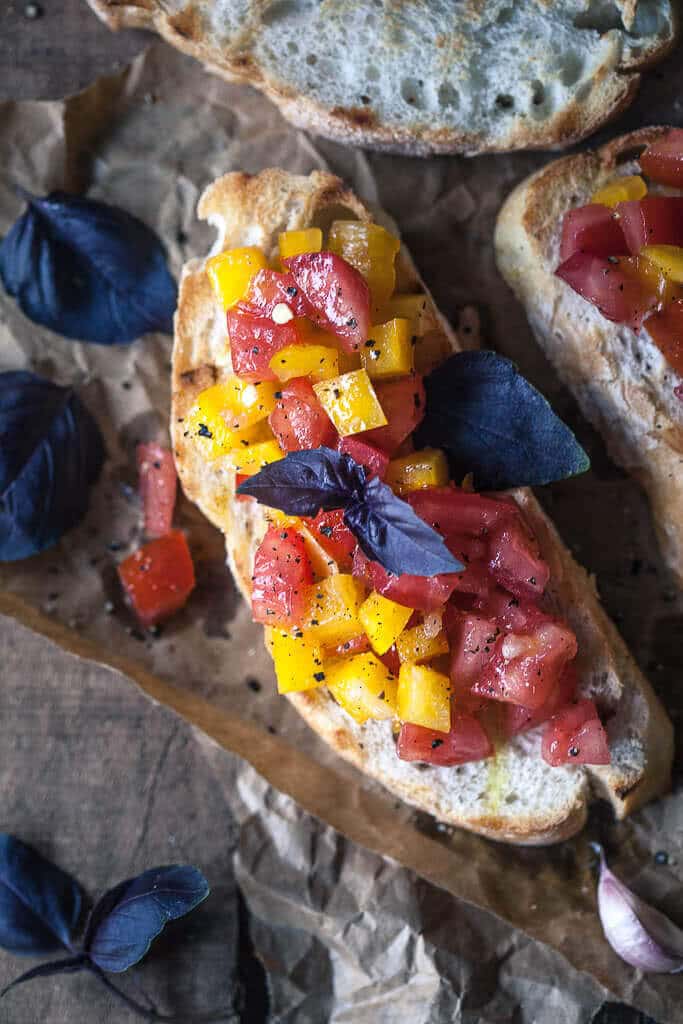 Tomato Bruschetta is a traditional Italian antipasto (or starter meal) of toasted bread sprinkled with olive oil, rubbed with garlic and topped with tomatoes. It's a simple meal, ideal for hot summer days when the idea of cooking anything sounds repelling. If you are spending the day outside grilling, just place a few bread sliced on the grill and then top with tomatoes. You're done "cooking" in about 3 minutes.
There is something… satisfying in enjoying simple meals. You spend a little time cooking or assembling, even less time washing up, and the more time enjoying food in good company. In the end, that is what summer (and life) is about. Isn't it?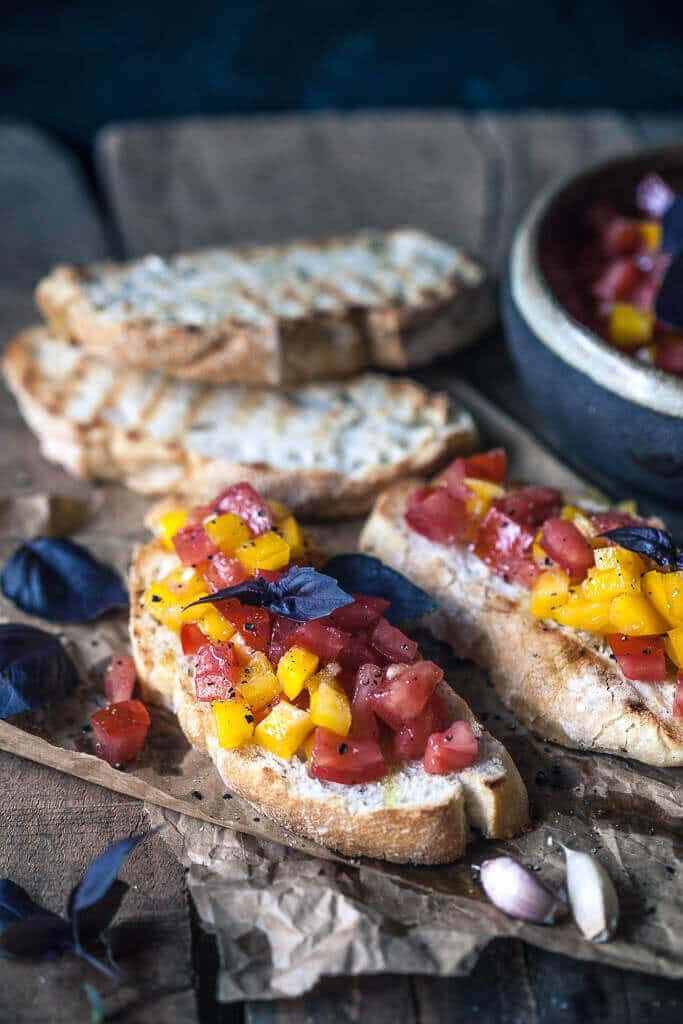 Classic Italian Tomato Bruschetta
Ingredients
2-3 ripe tomatoes
1 yellow bell pepper
4 slices of rustic bread or ciabatta
4 cloves garlic, peeled and crushed
2 tbs good-quality extra virgin olive oil
salt, pepper to taste
fresh basil, finely chopped
Instructions
Wash and dry tomatoes and bell pepper, remove core and seeds, then dice. Place in a bowl, season to taste with salt & pepper and sprinkle with olive oil. Add a sprinkle of chopped basil and mix well.
Put bread sliced on grill or in a heated pan. Grill or toast until golden brown, then remove and set aside on a plate. Sprinkle with olive oil, then rub generously with crushed garlic clove.
Top bread slices with the tomato and pepper salad and enjoy.
Nutrition Information:
Amount Per Serving:
Calories:

167.96
Total Fat:

7.96g
Saturated Fat:

1.2g
Sodium:

377.02mg
Carbohydrates:

21.04g
Fiber:

2.56g
Sugar:

3.77g
Protein:

4.44g
Like this recipe? Let us know in the comments below or on social media using #vibrantplate and tag us @vibrantplate.
You can connect with us on our Instagram and Facebook or on Pinterest. We share many behind-the-scene photos in our Instagram Stories, so be sure to check it out! And don't forget to sign up to our newsletter & stay up to date with our latest recipes.
Looking for more Tomato Recipes?
NOTE: This is an updated post from 2016. We reshot and substituted the photography and did some SEO to the article.