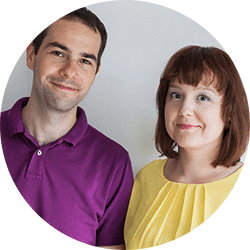 Hello, and welcome to our Vibrant Plate Food Blog. This is Kristina and Mitja cooking, photographing and blogging about easy, delicious and healthy day-to-day meals. We are two food lovers & travel enthusiasts from the tiny country of Slovenia, EU. Last year we were joined in the kitchen by our rescue stray ginger tabby Gingi.
Why we started this blog
Food has been a passion of ours for a long time. Kristina is always cooking or prepping something and Mitja really loves to take pictures. We'd thought to combine the two and start a place where we could post what we were cooking and share recipes with our friends. Plus, it's plenty of fun, AND we get to eat what we make at the end!
On Vibrant Plate, we try to show you that cooking healthy and delicious seasonal food doesn't have to be a big deal, and it certainly shouldn't cost a lot of money. We cook with basic ingredients that are commonly available and in season, to give you ideas on how to add more color and nutrient-rich foods to your diet. Our diet is mostly clean eating, as we try to minimize processed foods and eat what is locally available in season. From time to time, though, we do indulge in a few imported goods, like you know, bananas. We could be classified as flexitarians or reducetarians, as we do sometimes eat meat, but try to reduce that as much as possible.
We keep a kind of a mixed household – while Mitja is able to eat what he pleases, Kristina occasionally suffers a mild form of dairy allergy and is mostly eating dairy-free. That's why we post many recipes dairy-free, or even vegan, but will sometime share recipes using dairy as well. All recipes are clearly marked, so if you are not sure, just look at the tags on the bottom of the recipe!
Keep in touch
We're always happy to hear from you, so feel free to contact us with your questions!
You can follow us on social media:
Or drop us an email if you like on kristina@vibrantplate.com.
We also welcome your comments and especially would want to hear back from you, if you made our dish.
Let us know in the comments or on Instagram by using #vibrantplate and tag @vibrantplate
Enjoy your stay in our kitchen 😉
ps.: if you're a brand or media looking to collaborate with us, please check this page >
AS SEEN ON…