This Tomato Salad is Mitja's Summer Favourite. It's almost the only salad he will eat during summer months when fresh tomatoes are ripe and abundant.
His favorite kind of tomatoes is the one, that produces tomatoes weighing almost a kilo and that are very fleshy. It's an old variety that generally cannot be found in stores, but our parents supply generously from their garden. I just did a quick search and the most similar tomato variety is the Homestead. So there, if you're curious and would like to try a really good tomato.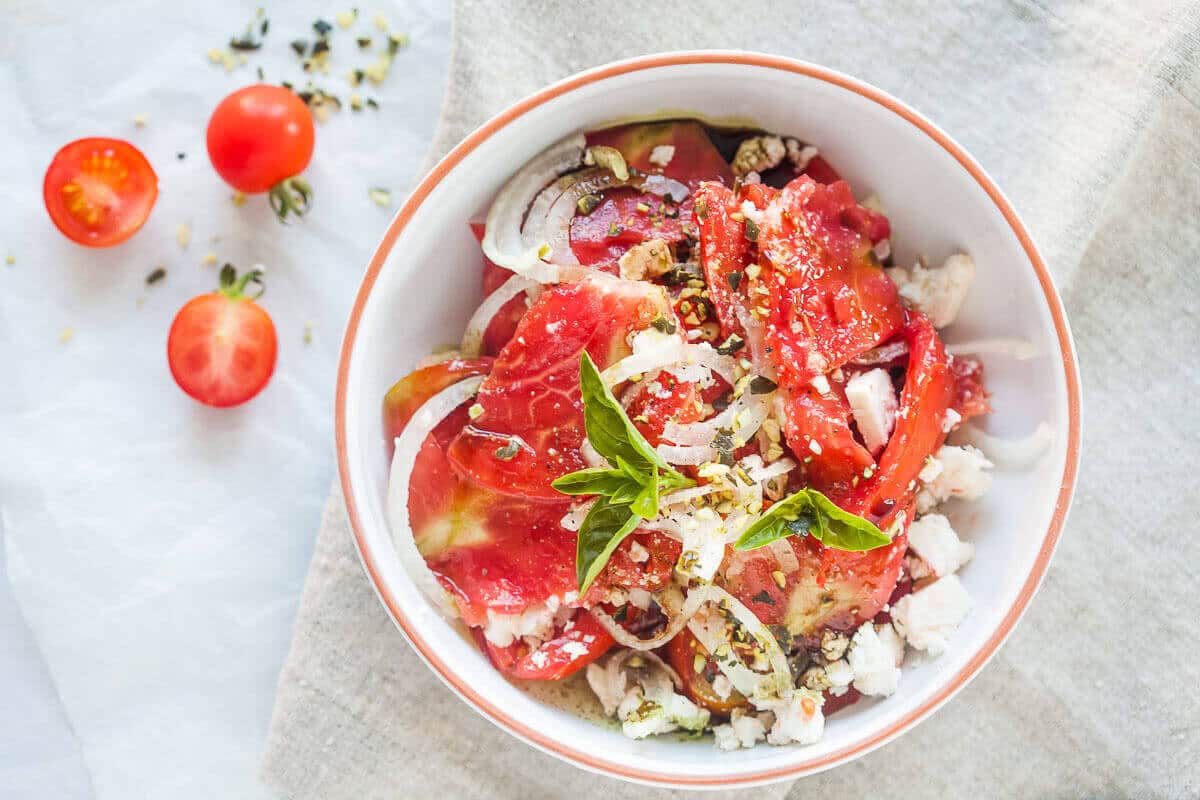 The tomato season, for Mitja, is never long enough, and although he is eating this salad almost every day, he is still not sick of it. Me, on the other hand, do not enjoy fresh tomatoes at all, but only eat them cooked. But I happily make him this salad.
Another specialty – we use Pumpkin Seed Oil as a dressing, which may be hard to find for you, as it is specific to our region, and mainly used in the area that used to be the Austro-Hungarian Empire. Feel free to replace it with another oil, such as extra-virgin olive oil.
Pumpkin Seed Oil has a very rich nutty flavor, has an interesting dark green color and protects the heart and the prostate, so it's very good for you (and especially men).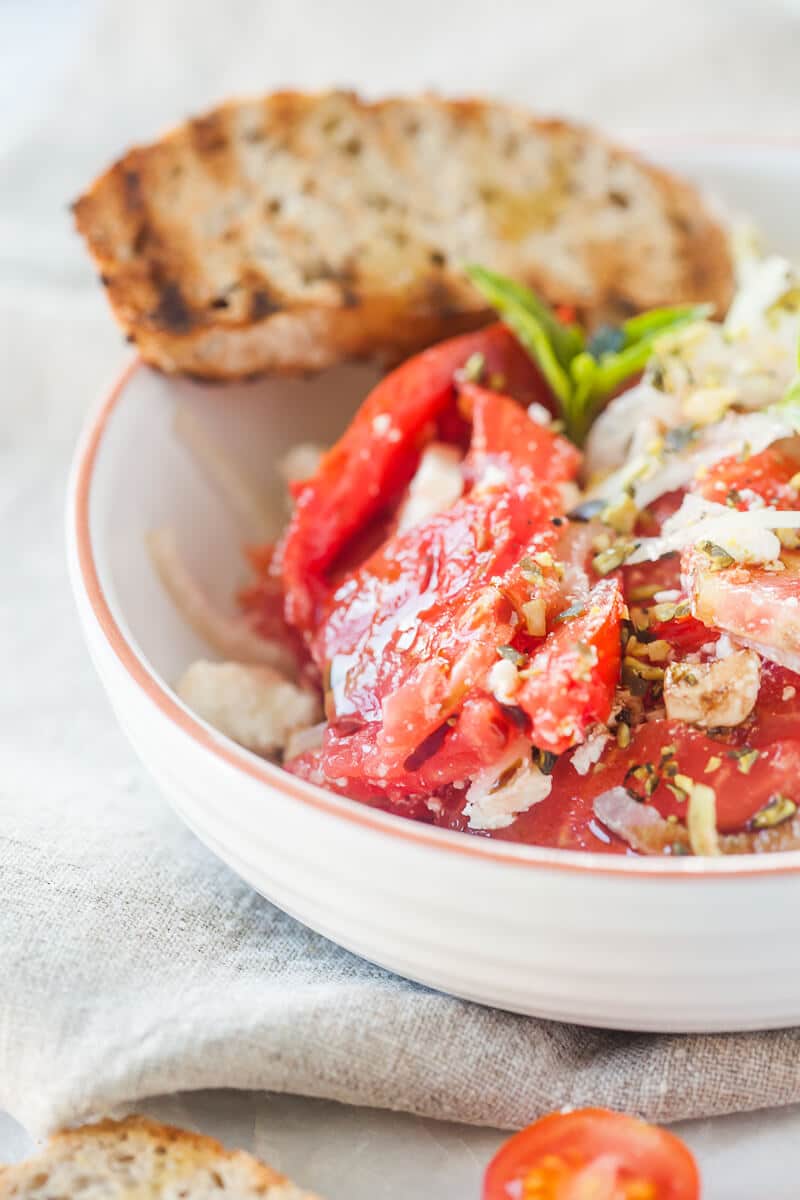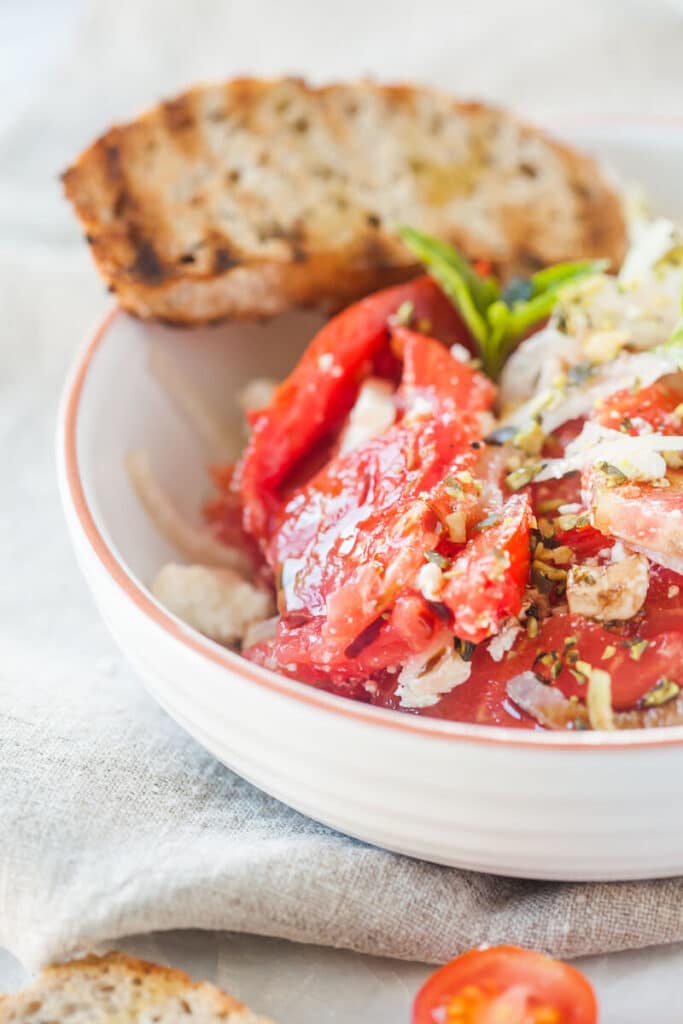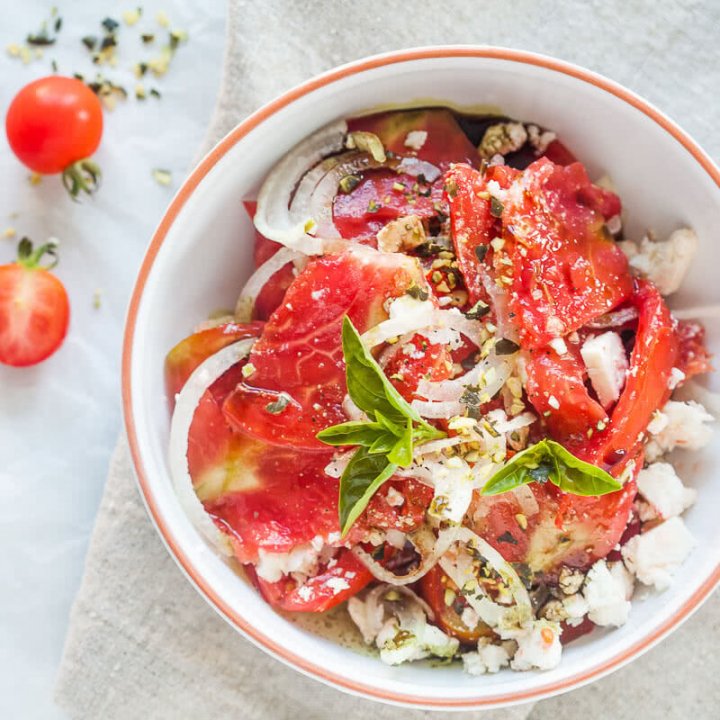 Tomato Salad with Feta Cheese, Onion and Pumpkin Seed Oil
This Tomato Salad is our Summer Favourite. Add Feta cheese and onions and dress with a good-quality Pumpkin Seed Oil for extra flavour.
Ingredients
0,5 kg tomatoes
1 small onion
60 g feta cheese
pumpking seed oil (can be replaced with olive oil)
balsamic vinegar
salt, pepper
pumpkin seeds, chopped finely
fresh basil leaves
Instructions
Wash and slice tomatoes. Peel and slice onion. Put both into a salad bowl. Sprinkle with crumbled feta cheese and chopped pumpkin seeds. Season to taste with salt & pepper, then dress with pumpkin seed oil and balsamic vinegar.
Mix well and serve with chopped fresh basil.
What is your favorite Summer salad?
Like this recipe? Let us know in the comments below or on social media using #vibrantplate and tag us @vibrantplate.
You can connect with us on our Instagram and Facebook account or on Pinterest. Don't forget to sign up to our newsletter & stay up to date with our latest recipes 😉