A refreshing and nutritious go-to summer salad, this Grilled Chicken and Mixed Greens Salad is topped with a simple balsamic dressing.
Amidst working, unpacking and the washing up, I seem to rarely find the time to write down anything. You wouldn't know because not many did in fact know, but we have been away for a couple of days, or like… two weeks… on holidays.
The beauty of modern technology is, you have been receiving our posts thanks to blogging automatization. Doesn't that sound fancy? So for our away-time, I scheduled a few posts that I got around to make in the past weeks, so this blog wouldn't be so alone.
Wait, what? Have you not received our recipes in your inbox? Move over to the right sidebar where there is a "Get our recipes in your inbox" title and write down your e-mail 🙂 Never miss a recipe again!
Now we are returned to our everyday activities, and I hardly find the time anymore. Perhaps you don't know, but for the Slovenian-speaking amongst us, I also run a travel blog over here, where I'll be posting more about our beautiful holidays on the island of Tenerife. So that's a whole lot of blogging these days. Sorry, if that cuts into the time I have available for cooking, eating, photographing and writing.
But alas, winter is coming, when time, if not will-power, will be plenty. In the meantime, while the weather still barely holds, I am back on salads. Because – salads. I love them.
One of the most basic salads I make is a simple mixed greens, toppings and grilled chicken with balsamic dressing. I'll eat this salad most often, usually twice a week. I even bring it for lunch to work. It's a refreshing and nutritious salad that makes the most of the greens in my garden.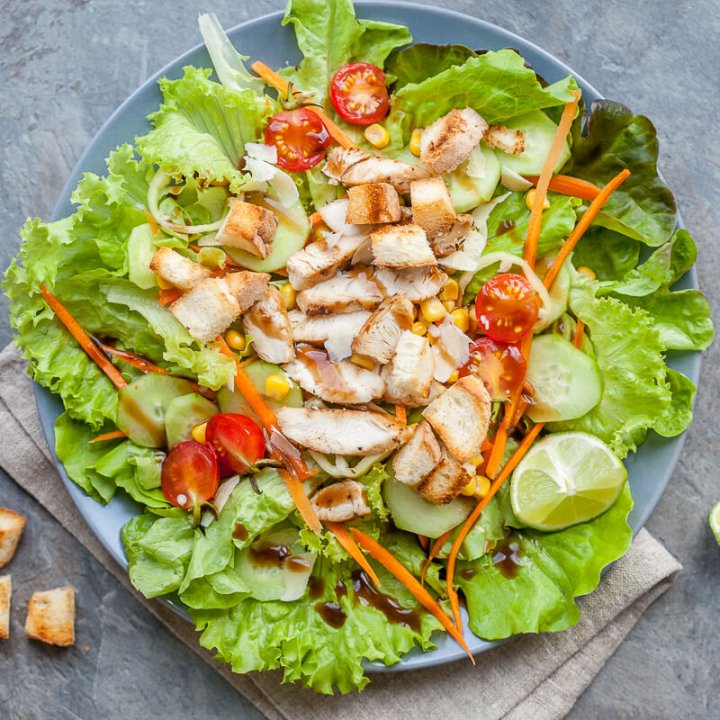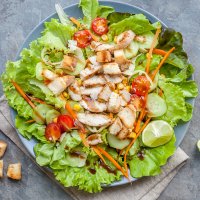 Grilled Chicken and Mixed Greens Salad
A refreshing and nutritious go-to summer salad with mixed greens, toppings and grilled chicken with balsamic dressing.
Ingredients
2 cups fresh mixed greens (various types of lettuce)
1 cucumber
1 bell pepper
3 cherry tomatoes
1 carrot
1 tbs canned corn
50 g grilled chicken (breasts / file)
parmesan
1 slice stale bread
balsamic vinegar
olive oil
lemon
salt, pepper to taste
Instructions
First things first. If you are not using a pre-grilled chicked file, then first season your chicken and put it in a hot pan to grill on both sides for a couple of minutes. Remove from heat and set aside to cool, then cut into smaller bites.
Cut the stale bread slice into cubes and put into the pan to toast for a couple of minutes. When toasted, set aside to cool.
Wash and drain the mixed greens. Use any kind of lettuce you like, or a mixture of it.
Peel and slice the cucumber. Wash and slice your bell pepper (I had a light-green variety in my garden). Peel the carrot and cut into thin slices (or grate it). Cut cherry tomatoes in half.
For the dressing, pour in a bowl or small jar olive oil and balsamic vinegar (1:3 ratio), add a squeeze of lemon juice or water, a small pinch of salt and some pepper. Mix well with a whisk or shake in a jar until well combined.
Assemble your salad. In a bowl, place your washed salad greens, cucumber and bell pepper slices, halved cherry tomatoes, carrot sticks and a tablespoon of canned corn. Add chicken bites and bread crutons.
Top the salad with some shaved parmesan cheese and the balsamic dressing.
Like this recipe? Please, let us know in the comments below or on social media using #vibrantplate and tag us @vibrantplate. Thanks!