Kaiserschmarrn is a breakfast favorite shredded pancake. Light and fluffy you can also enjoy it for dinner!
Fond of a good breakfast? So are we. But sometimes we like our breakfast for dinner. Guilty as charged! Especially if the breakfast for dinner is this delicious shredded pancake, known also as Kaiserschmarrn, Emperor's Mess and Šmorn.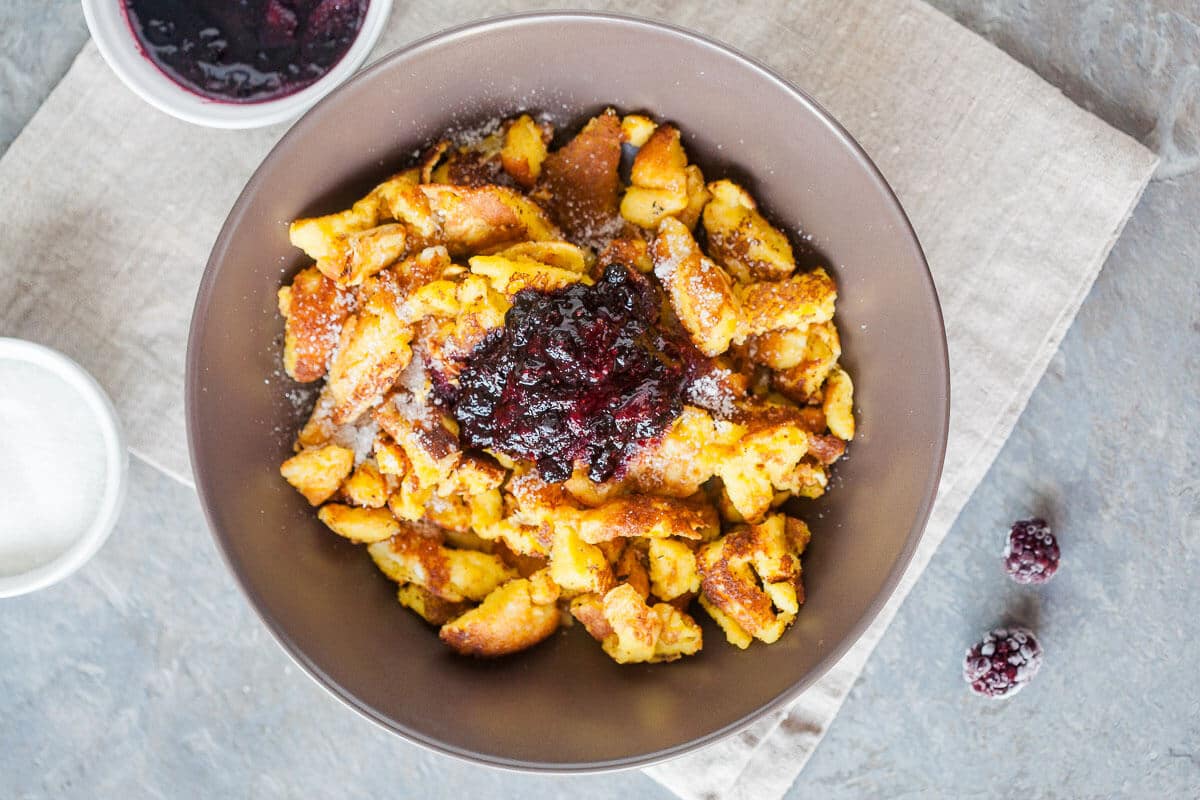 The dish is named after the Austrian emperor Franz Joseph I and is very popular in our parts, be it as a breakfast or even as a main meal.
I used eggs from my family's chickens that are beyond this world. Well fed and happy they produce top quality eggs of a rich yellow color, that shines in this dish.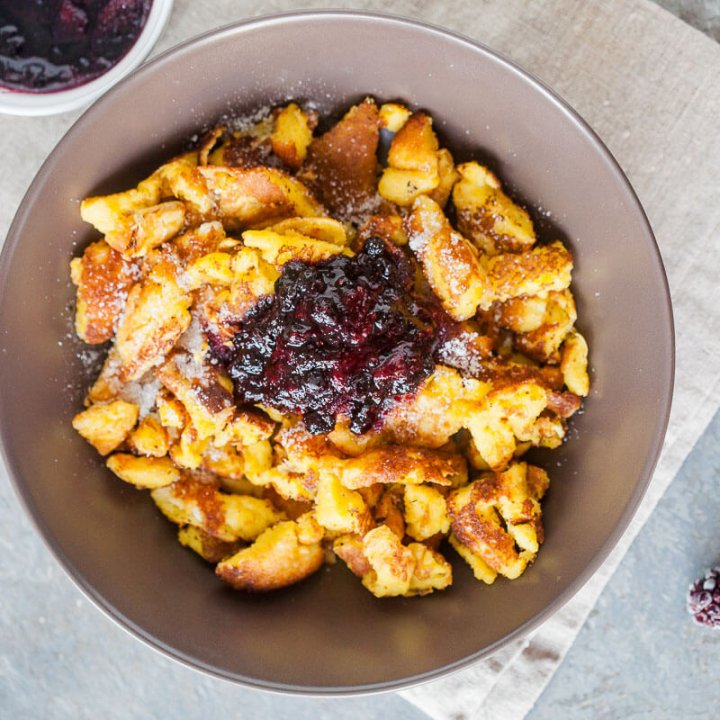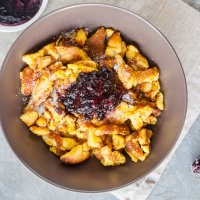 Kaiserschmarrn or Emperor's Mess
Kaiserschmarrn is a breakfast favourite shredded pancake. Light and fluffy you can also enjoy it for dinner!
Ingredients
2 eggs
pinch of salt
100 g all-purpose flour
1 ts sugar
1,5 dcl milk
25 g butter
powdered sugar
1 cup mixed berries (frozen or fresh)
Instructions
Separate egg yolks and whites into 2 bowls. Add a pinch of salt to the egg whites and whip until firm.
Whisk egg yolks by hand, add flour and sugar, then slowly pour in the milk while whisking, to achieve a thick runny batter. Next, fold in a couple of spoons of your whipped egg whitesm mix well, and add the remaining whites by folding it gently into the mixture.
Melt butter into a large pan on medium heat, then pour in your batter and cook on medium, until the bottom side of the thick pancake is golden brown, and the top is not runny anymore. Then, with a spatula turn the pancake carefully over and cook for a minute on the other side. Now use your spatula to shred the pancake into smaller bits and pieces, making a mess out the neat pancake, and continue cooking while shredding and stirring, so the bits get all golden brown.
Prepare also the berry sauce - place berries in a pan onto medium heat and add a table spoon of sugar. Cook while stirring so the sauce doesn't get burnt. When the berries dissolve and the sauce thickens, remove from heat and set aside.
Place the Kaiserschmarrn onto plates, dust with powdered sugar and serve with a berry sauce.
Nutrition Information:
Amount Per Serving:
Calories:

391.92
Total Fat:

14.96g
Saturated Fat:

7.86g
Sodium:

209.58mg
Carbohydrates:

53.47g
Fiber:

3.13g
Sugar:

11.9g
Protein:

11.22g
Like this recipe? Please, let us know in the comments below or on social media using #vibrantplate and tag us @vibrantplate. Thanks!