This delicious Detox Spinach Green Smoothie uses just 5 ingredients and makes for a powerful and delicious detox drink! The perfect start to your day.
When you feel sluggish, or like you need a little boost, why not try this super easy Detox Spinach Green Smoothie?
Why make this green smoothie?
This smoothie is perfect if you struggle to get your daily dose of greens, or if you simply want to up your vitamin and nutrient intake. The smoothie packs several portions of fruit, as well as a portion of leafy greens, and the antioxidants and vitamin C from the citrus.
If you are unsure about the spinach in the smoothie, let me reassure you – you will not notice any spinach taste in this refreshing smoothie, I promise! Use the delicate baby spinach for a milder taste, or regular spinach, or kale, if you are already used to drinking green smoothies.
This smoothie is perfect for:
keeping up with your New Year's resolutions
helping you get more nutrients and fiber
boosting your immune system
upping your fruit and vegetable intake
And this smoothie is really easy to make, too, and very healthy! So what do you say, give it a try? 🙂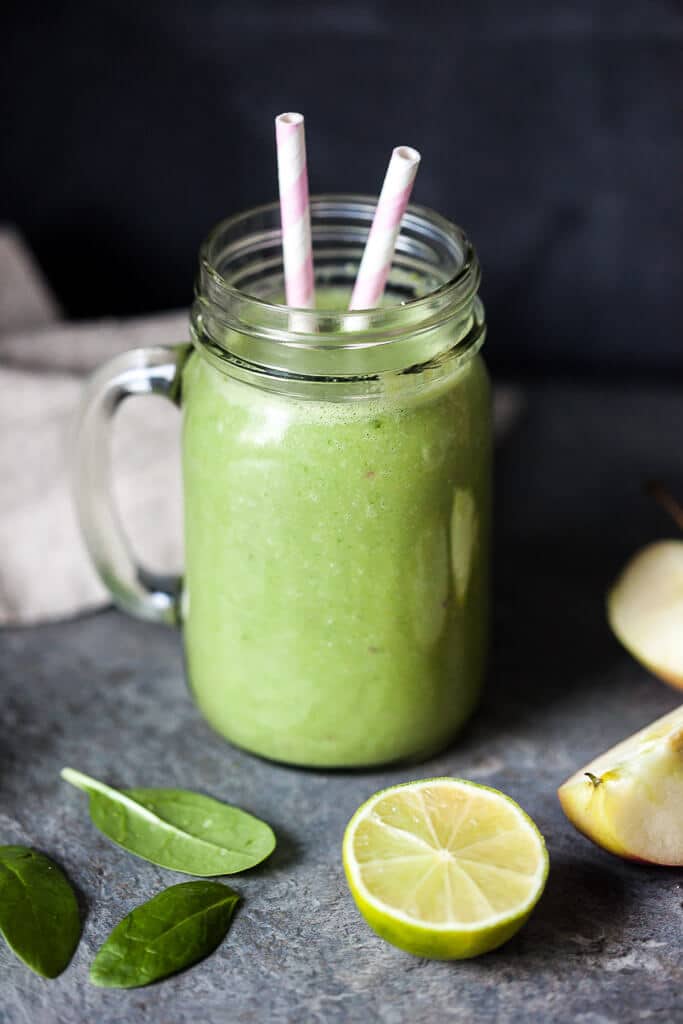 Green Smoothie Ingredients
To make this smoothie you will only need 4 ingredients and water:
Bananas. They will make this smoothie super creamy. If you don't like bananas, try swapping with 1 avocado, half a pineapple, 1 mango, or 2 peaches.
Apple. We usually just use any apple that we have on hand at the moment, but we recommend a crisp and juicy type of apple, such as Gala, Braeburn, Pink Lady, or Fuji. We like to peel our apples first, but this step is optional if you have a powerful blender, like a Vitamix. If your apple is a bit on the old and withered side, make sure to peel the skin off, otherwise, keep the skin on for more nutrients.
Baby spinach. Will add nutrients and color to the smoothie, but you will not even notice the taste, we promise! If you are not squeamish about the vegetables in your smoothie, you can swap it with regular spinach, or kale for even more nutrients.
Lemon. Will balance the sweetness with acidity, and add vitamin C and antioxidants. You can swap it with orange juice or lime juice, depending on what you have available.
Water. We just use plain water to thin this smoothie, but if you like, you can also use juice, like orange juice or pineapple juice. This will add to the total amount of calories though, so keep that in mind if you are watching your calorie intake.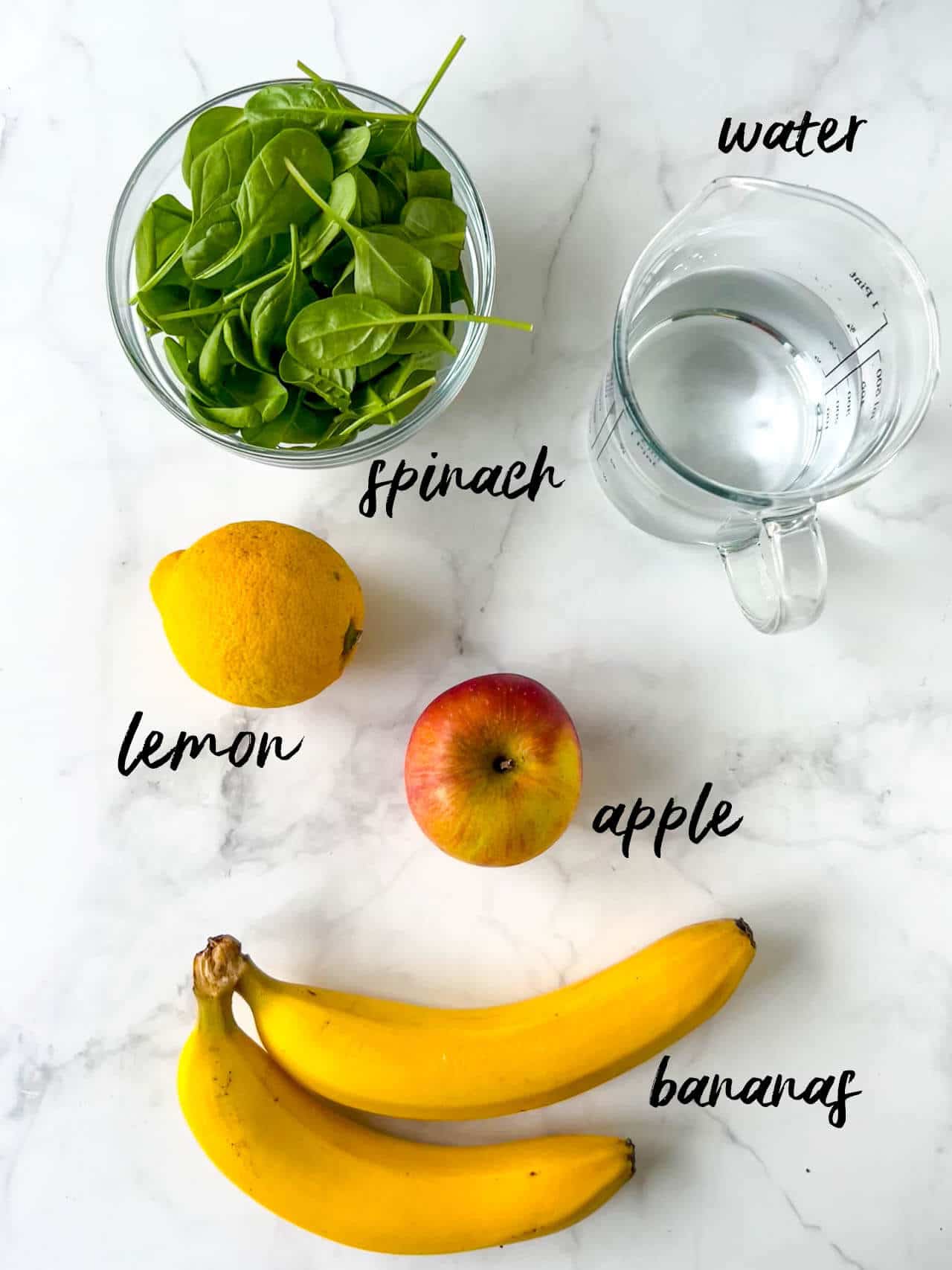 Health Benefits of this Green Smoothie
If you are trying to up your vitamin and nutrient game, this smoothie is just the thing for you.
Bananas are rich in Vitamin B6, dietary fiber, potassium, and manganese. The vitamin B6 found in bananas is easily absorbed by our bodies, and just one banana provides 25% of our daily vitamin B6 needs. Vitamin B6 helps produce red blood cells, maintain a healthy nervous system, and metabolize carbohydrates, fats, and amino acids. Bananas provide an easy source of energy and are perfect for sports activities.
Potassium helps maintain a healthy heart and blood pressure, and manganese helps in the production of collagen, which keeps your skin smooth, elastic, and wrinkle-free.
Apples are a widely available source of vitamins and nutrients, especially important in the winter months. They provide a healthy source of manganese, copper, and vitamins A, E, B1, B2, and B6 – most of which are found in the skin. Apples are also a rich source of polyphenols, which have antioxidant effects in preventing tissue damage, and soluble fiber.
Apples are also a natural prebiotic, which feeds the good bacteria in our gut, aiding better digestion and overall well-being.
This smoothie recipe packs 14 grams of dietary fiber, which makes for almost half the recommended daily fiber intake (21-25 grams for women, and 30-38 grams for men). Soluble fibers help control your blood sugar levels, keeping them steady, and the insoluble fibers aid digestion and easier bowel movements, keeping your gut bacteria healthy and happy.
To help fight free radicals in our bodies, we added the juice of a lemon to the recipe, which is high in vitamin C. Just one lemon provides about 51% of the recommended daily intake for vitamin C, and it also improves the absorption of iron from plants (like spinach) which helps prevent anemia.
Spinach is considered to be a superfood, as it is packed with nutrients, but low in calories. Spinach contains – among others – calcium (up to 250 milligrams per cup), which helps keep our bones and teeth healthy and strong, iron, and magnesium. Combining spinach with the vitamin C from the lemon will help the body absorb the plant nutrients easier.
Magnesium regulates your blood pressure and heart rhythm and is a crucial nutrient that humans generally lack. Consuming spinach will help keep your heart healthy.
How to make this Detox Spinach Green Smoothie
Now that we know all about the health benefits of this smoothie, it's time to make it. And making it is super simple, but you will need a blender, or stick blender to blend the ingredients.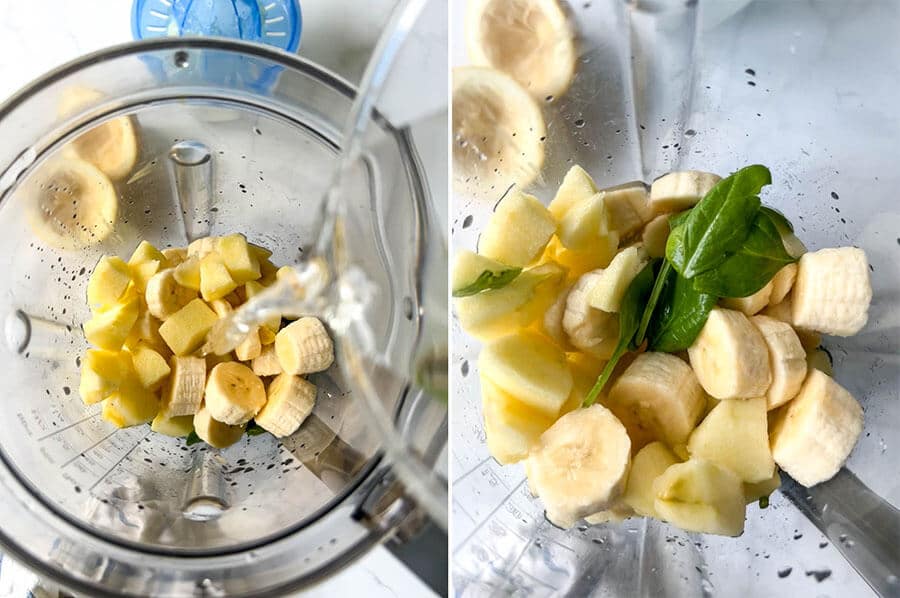 Start by peeling the bananas and the apple, then slice them up and add them to the blender. If you want more nutrients, leave the skin on the apple, but it may result in a smoothie that is not fully smooth if your blender is not very powerful.
Then, to the blender add washed baby spinach and the juice of 1 lemon. Add about 1 cup's worth of water, or as needed, depending on how thick or thin you like your smoothie – start with less water, and add it as it blends, until the smoothie is of the consistency you like.
Close down your blender and blend away!
I don't have a Vitamix, so I just blend it on full power until I no longer see chunks of spinach or apples in the smoothie.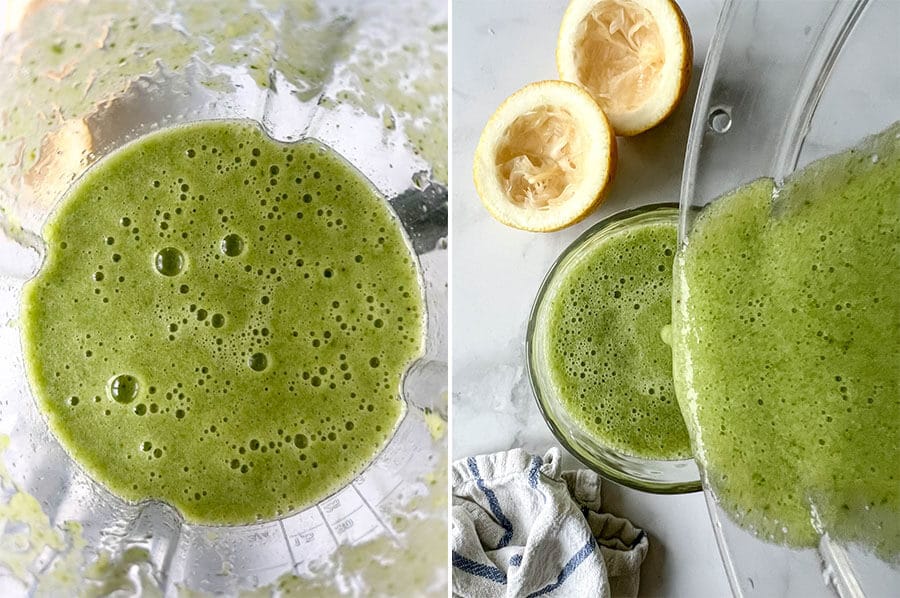 Serving suggestions
Serve this spinach green smoothie as soon as it's done, as water-soluble vitamins, such as vitamin C, will deteriorate with time. I usually like to transfer it to 2 tall glasses for serving.
Storage tips
If you want to serve this smoothie later, store it in 2 jars and close them with a lid. Make sure there is little room left in the jar for air, as air will cause oxidation in the fruit, making the smoothie turn a brownish hue with time. This is purely cosmetics, though and the smoothie will still be ok to drink.
You can store it for up to a day refrigerated.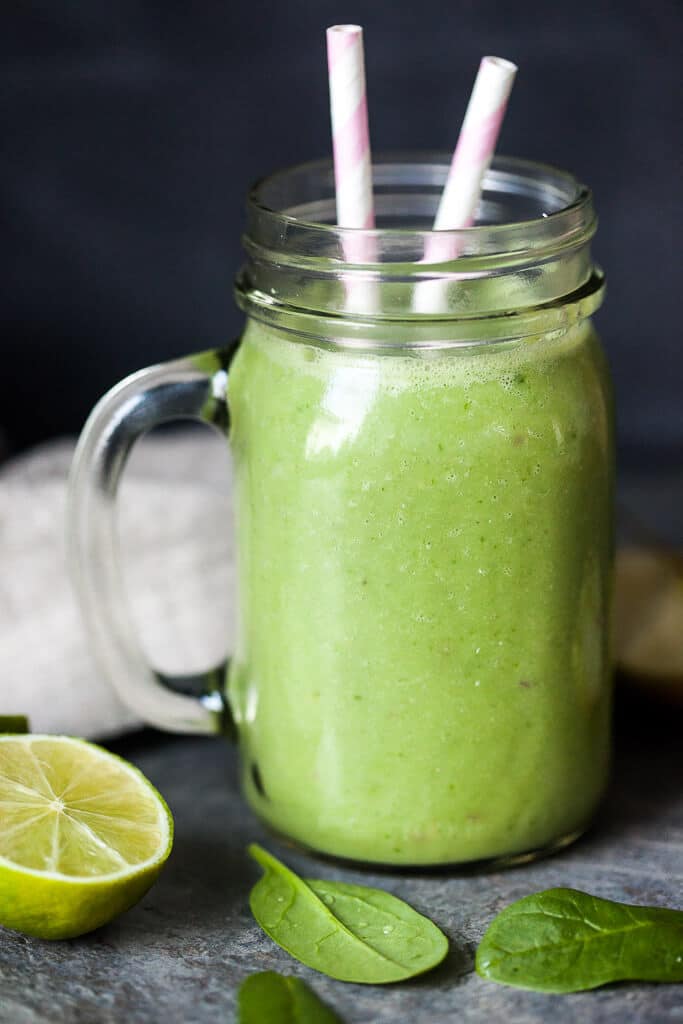 If you don't like bananas in your smoothie, we have another excellent spinach green smoothie with pineapple, or try this amazing Super Green Avocado Smoothie.
We have a video step-by-step on how to make this smoothie! Watch it here or scroll down for the full recipe.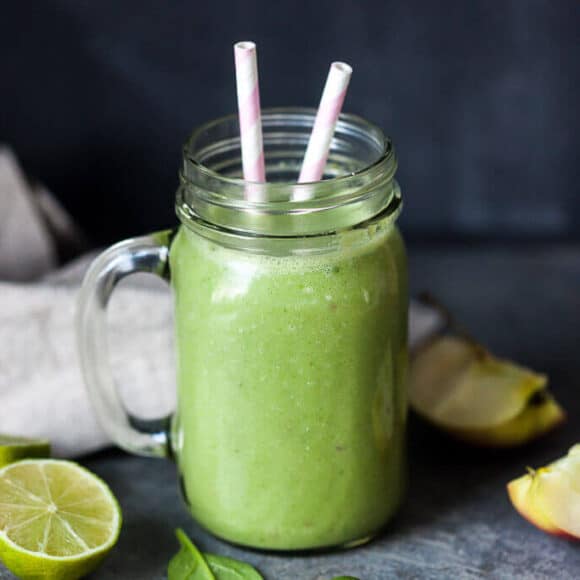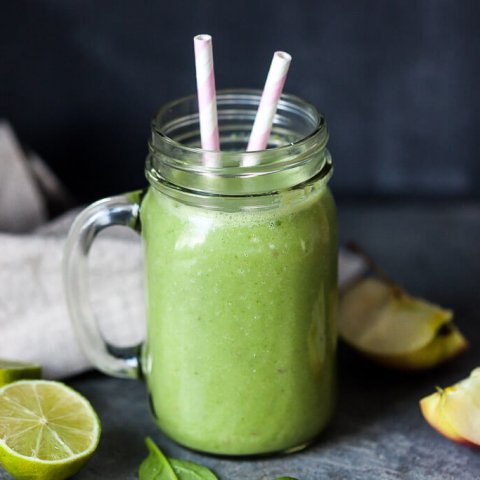 Detox Spinach Green Smoothie
This delicious Detox Spinach Green Smoothie uses just 5 ingredients and makes for a powerful and delicious detox drink!
Ingredients
2 bananas
1 apple
1 cup baby spinach
1 lemon
1 cup water, or as needed
Instructions
Peel bananas and an apple, cut into slices, and put into a blender.
Wash baby spinach and add to blender.
Squeeze the juice of 1 lemon (can be replaced with orange or lime) and add to the blender.
Add water as needed - about 1 cup.
Blend until smooth and serve.
Nutrition Information:
Yield:

2
Serving Size:

1
Amount Per Serving:
Calories:

168
Total Fat:

1g
Saturated Fat:

0g
Trans Fat:

0g
Unsaturated Fat:

0g
Cholesterol:

0mg
Sodium:

20mg
Carbohydrates:

44g
Fiber:

7g
Sugar:

25g
Protein:

2g
Nutrition data is automatically calculated using Nutritionix and may not be accurate.