This Vegan Green Avocado Smoothie uses just 5 ingredients and is delicious & easy to make, with healthy fats and greens. Plus, it's Vegan & Gluten-Free!
Hello, friends! I hope you are having wonderful days. In Slovenia, spring has come super early this year as we have been enjoying the sunshine and warm temperatures for days now! The first spring flowers are out already, it's sunny and just perfect weather! We're already starting thinking about how to plant the garden this year, although it's way too early for that 🙂
But, as we think about the yummy veggies we'll be planting, we're already adding greens to our meals! So, we have already shared our love for green smoothies (think Detox Spinach Green Smoothie and if you hate bananas – Pineapple Spinach Green Smoothie) and today we're sharing another delicious combination: a Vegan Green Avocado Smoothie!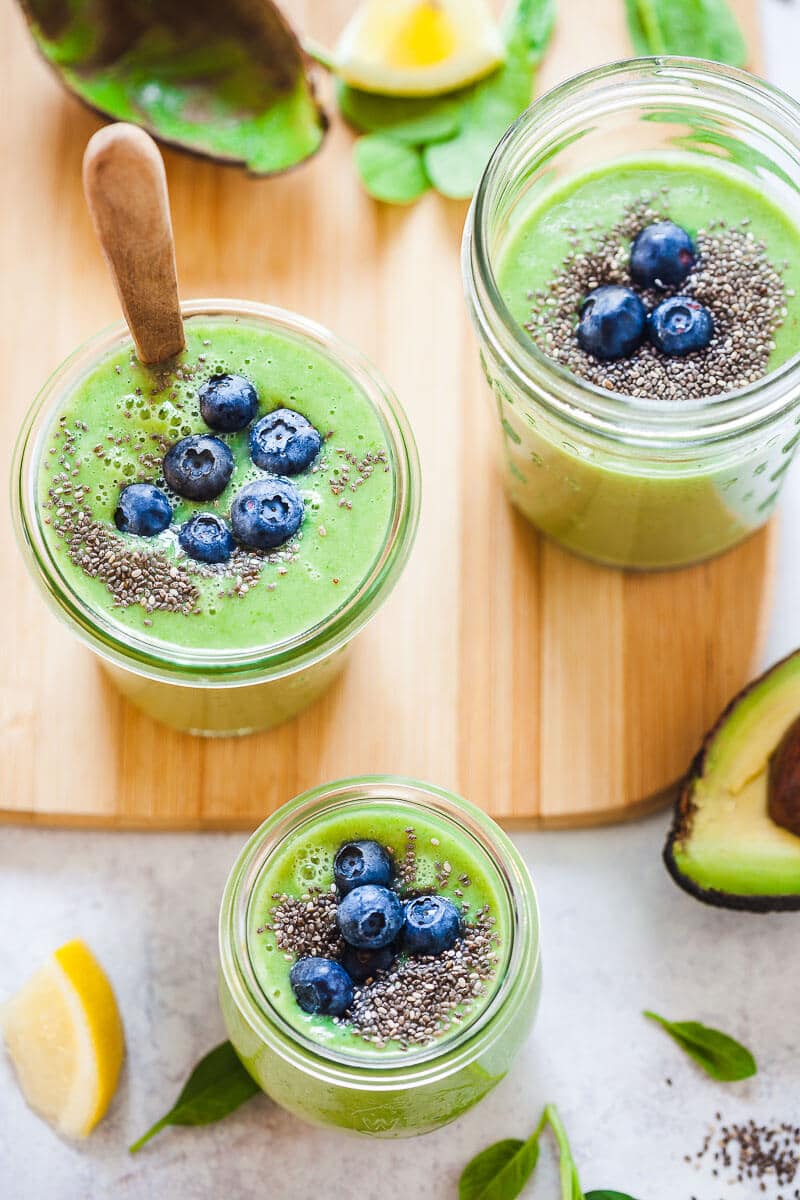 This Vegan Green Avocado Smoothie is creamy, delicious and really easy to make! Just place ingredients into a blender, blend until smooth and you're ready to drink!
At first, I was skeptical about putting avocado in a smoothie, mainly because I have only recently started eating avocados and mostly link the ingredient to savory meals. So adding an avocado to a banana smoothie?
But I've seen so many bloggers doing just that and given the health benefits of avocados, I decided to try it out.
And guys, I am converted!
This Avocado Smoothie is just perfect! It's slightly sweet, there is no overwhelming banana taste, you can not even taste the spinach, it's creamy and yet light and tangy, thanks to the added lemon juice.
This avocado smoothie will greatly add to your daily nutrition, as adding avocados to smoothies helps you get your intake of healthy fats, vitamins, and minerals! And, thought this smoothie is a bit higher in fat, it's mostly healthy fats (and less sugar), which will release your blood sugars slowly and help you fill full longer!
Plus, this Vegan Green Avocado Smoothie is really delicious!! (coming from someone who generally does not enjoy vegetables in drinks so much!)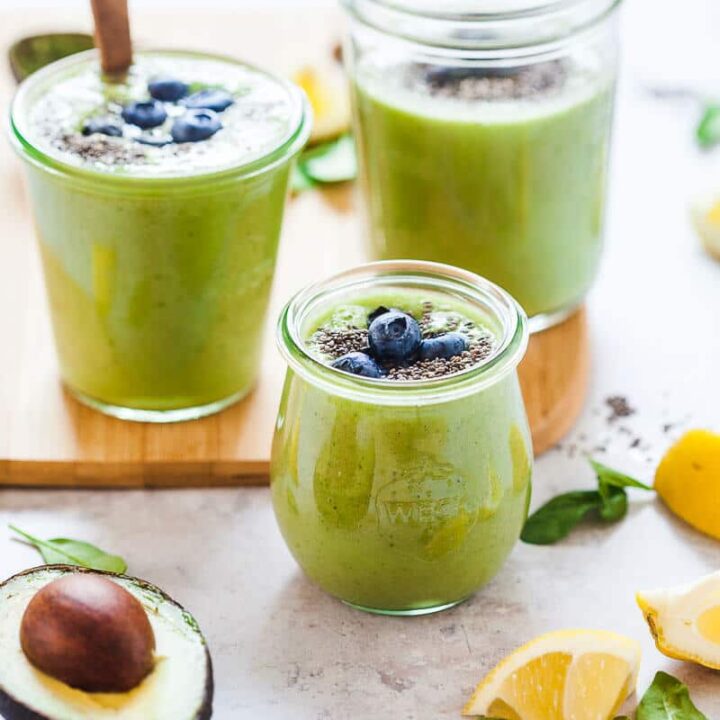 Super Green Avocado Smoothie
This Super Green Avocado Smoothie uses just 5 ingredients and is delicious & easy to make, with healthy fats and greens.
Ingredients
1 banana
1/2 avocado
1 cup baby spinach
1/2 cup plain coconut yogurt
1/2 lemon, juice
1 cup water
Instructions
Peel and slice banana, and put into a blender. Cut avocado in half, scoop out the meat with a spoon and add to blender.
Add also a cup or a handful of baby spinach, 1/2 cup yogurt (we used coconut yogurt) and juice of half a lemon. Pour in about a cup of water (more if you want a thinner smoothie).
Blend until smooth, pour into glasses or jars and serve with a sprinkle of chia seeds and blueberries.
Nutrition Information:
Yield:

2
Serving Size:

1
Amount Per Serving:
Calories:

167
Total Fat:

6g
Saturated Fat:

1g
Trans Fat:

0g
Unsaturated Fat:

4g
Cholesterol:

1mg
Sodium:

53mg
Carbohydrates:

28g
Fiber:

4g
Sugar:

18g
Protein:

4g
Nutrition data is automatically calculated using Nutritionix and may not be accurate.
Have you ever tried avocados on a toast? Try our delicious 5-minute
basic avocado toast recipe
!
This recipe is sponsored by Hofer Slovenija (you may also know it as Aldi). It is our favorite grocery store and we love their products. If you are from Slovenia, do head over to Hofer's Instagram account for even more delicious recipes 😉
If you like this recipe, you can let us know in the comments below or on social media using #vibrantplate and tag us @vibrantplate. We're always happy to read your feedback and LOVE seeing your take on our recipes.
You can connect with us on our Instagram, Facebook or on Pinterest. We share many behind-the-scenes photos and step-by-step recipes in our Instagram Stories, so be sure to check it out!
Also, don't forget to subscribe to our Newsletter – you'll be notified when we post new recipes, plus you get a free gift from us 💚 A 15-recipe free e-book with our most beloved recipes!