This Eggplant Pomodoro Pasta is an easy pasta recipe that takes little effort or time. Perfect for a midweek dinner!
I've been dreaming of a holiday the past couple of days, just thinking about places Mitja and I visited, where we liked it, and places we would like to go.
One of the places that (almost) never disappoints is Italy. Think about it. It has a great history, beautiful architecture, AMAZING food and great weather.
And this Eggplant Pomodoro Pasta reminds me just so much of our trip to the beautiful Sicily a couple of years ago!
You start the recipe by pan-frying eggplant slices so that they become crispy. Then you add onions to the same pan and tomato sauce and cook on medium for about 15 minutes until the sauce reduces. Some seasoning to top, return the eggplant slices to the sauce, add cooked pasta of your choice and top with some grated parmesan or aged cheese. I used aged Sicilian sheep cheese that complimented the sauce wonderfully.
So just a couple of minutes and a couple of ingredients, and there you have it – an easy and delicious midweek dinner dish to put on the table. I would also recommend a glass of wine and then relax for an hour to digest well 😀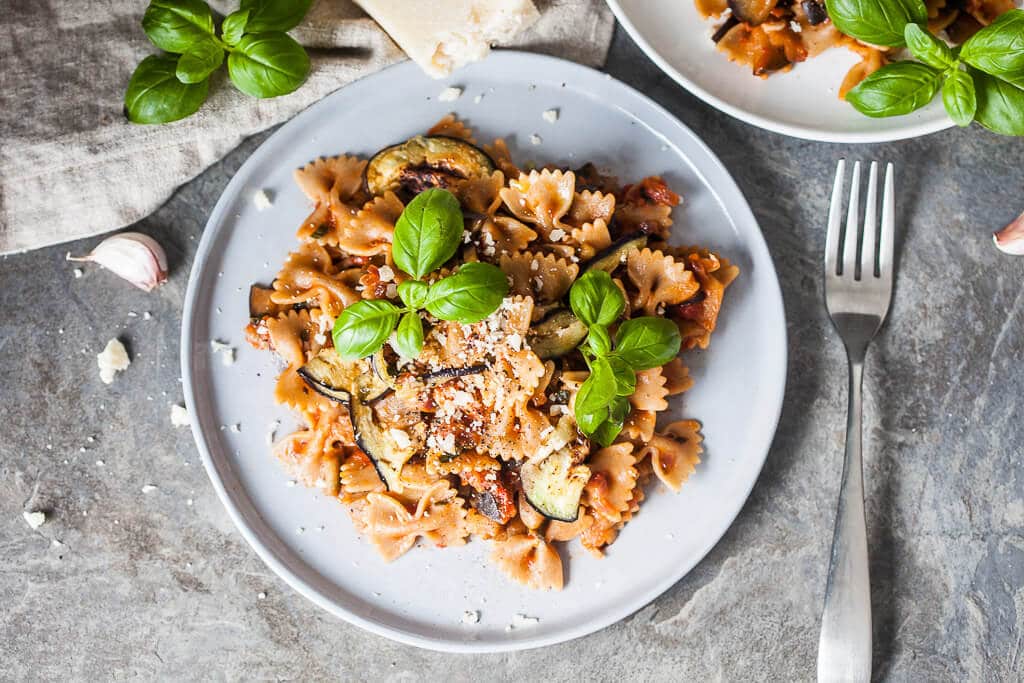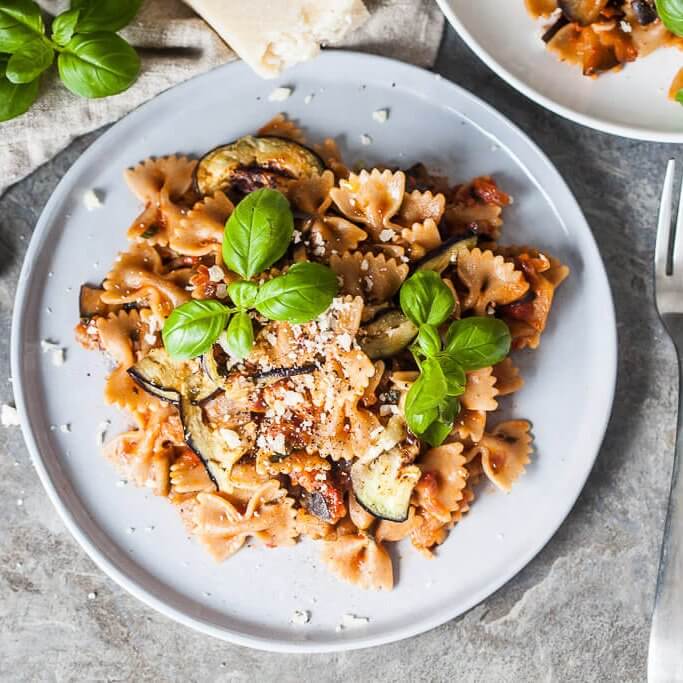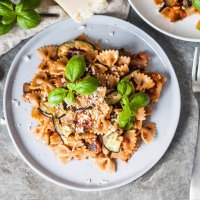 Eggplant Pomodoro Pasta
This Eggplant Pomodoro Pasta is an easy pasta recipe that takes little effort or time. Perfect for a midweek dinner!
Ingredients
200 g pasta, I used Farfalle
1 eggplant, medium-size
1 can diced tomatoes (roughly 480 grams)
1 onion
3 cloves garlic
salt, pepper to taste
2 tbs olive oil
Parmesan or sheep cheese to top
basil leaves
Instructions
Wash and dry eggplant. Peel and slice onion and garlic cloves.
Slice eggplant into thin slices. Put eggplant slices in a strainer and sprinkle with salt on top. Let sit for about 20 minutes, until the eggplant slices develop a sweat. Preheat olive oil in a pan to medium. Remove the liquid off the eggplant slices and put each slice into the preheated pan. Do not overcrowd the slices. Pan-roast eggplant slices for a minute or two on each side, until they turn golden-brown, then remove from pan and set aside.
Heat some olive oil in the pan (you can use the same one as you used for the eggplant) and add sliced onions. Stir-fry for a couple of minutes, until the onion softens and turn golden-brown. Add garlic slices, then pour in diced tomatoes and season to taste with salt & pepper. Turn heat on low and cook for about 20 minutes, stirring occasionally.
Bring a large pot of water to a boil. When boiling, add pasta and a pinch of salt, stir well, then reduce heat to low/medium and cook according to pasta instructions. For the farfalle it's usually about 11 minutes until al-dente. Right before you drain the pasta, save a cup of pasta water.
Drain pasta and immediately add it to the sauce. Add eggplant and chopped basil leaves. Then, add a couple splashes of the saved pasta water and stir in, mixing well.
Serve topped with some grated Parmesan cheese or other aged cheese (goat / sheep).
Nutrition Information:
Amount Per Serving:
Calories:

605.8
Total Fat:

15.83g
Saturated Fat:

2.3g
Sodium:

1278.43mg
Carbohydrates:

101.41g
Fiber:

14.39g
Sugar:

17.46g
Protein:

17.46g
Like this recipe? Let us know in the comments below or on social media using #vibrantplate and tag us @vibrantplate.
You can connect with us on Instagram, Facebook or Pinterest. Don't forget to sign up to our newsletter & stay up to date with our latest recipes 😉