These Vegan Blood Orange Overnight Oats are an easy weekday breakfast that will keep you full and healthy.
So my dairy allergy is still kicking and it looks I'll just need to accept its reappearance and embrace the dairy-free world again. Which, by the way, grew exponentially since I was last forced to go dairy-free a couple of years back.
I mean, this morning I made me some "cheese" & ham toast that was delicious and the "cheese" was sliced, melted, delicious and completely vegan!
In time you learn (or learn again) which products you like, which you tolerate, and which are an absolute no-go for you. It's difficult to alter one's diet, especially when forced to, but the beauty is that today there are really great alternatives out there… and also some crappy ones.
But perhaps the point is not in trying to find the perfect substitute, but rather to learn about a whole new range of flavors out there. So I learned I really dislike hazelnut milk in my morning coffee, but love some vanilla-flavored soy milk (I especially like the Provamel brand as far as taste and texture go). I remember from my short visit to the States that I also liked the brand Silk, and it's a bit sad that I can't get their products here.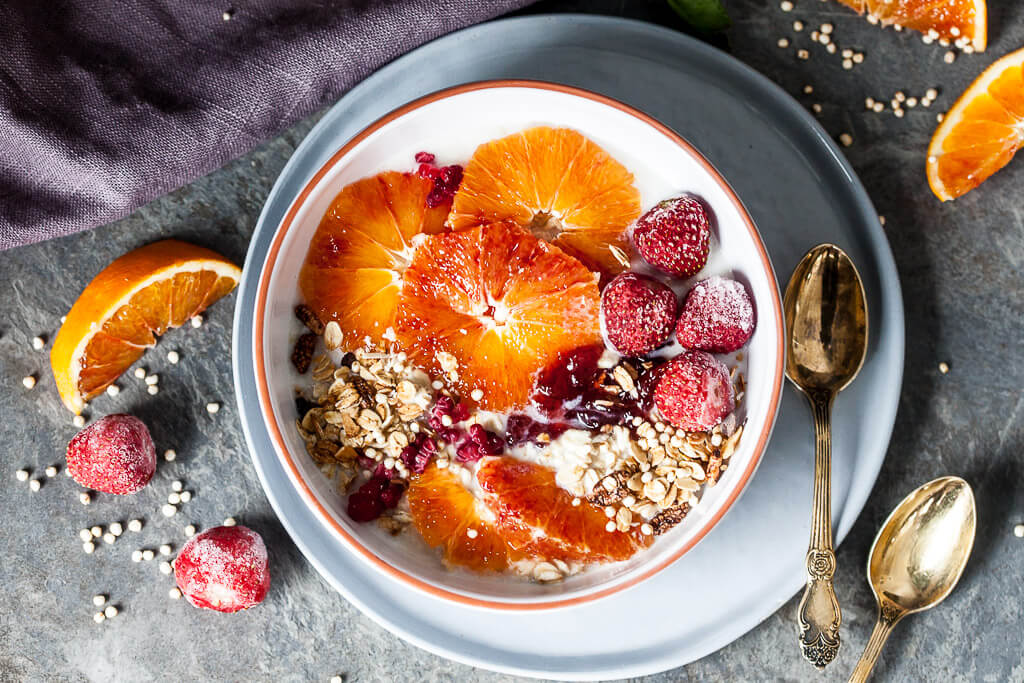 So while I'm staying dairy-free I made these pretty and delicious Vegan Blood Orange Overnight Oats with coconut flavored rice milk, topped them with some frozen berries, too and added a teaspoon of strawberry jam for sweetness…. pure bliss! Being dairy-free actually is not that bad at all. Of course, you could make these oats with regular milk as well, or other types of dairy-free alternatives.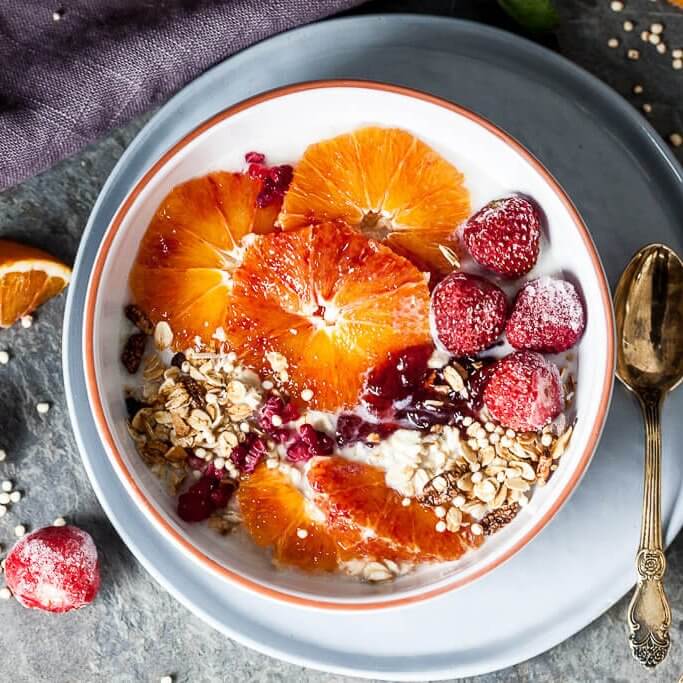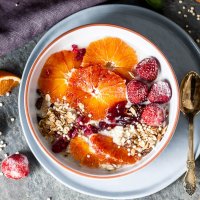 Vegan Blood Orange Overnight Oats
These Vegan Blood Orange Overnight Oats are an easy weekday breakfast that will keep you full and healthy.
Ingredients
4-5 tbs rolled oats
200 ml coconut rice milk or other milk alternative
1 blood orange
a handful strawberries, fresh or frozen
a couple frozen raspberries
1 ts strawberry jam
Instructions
Place rolled oats into a jar, add rice milk or other drink alternative, close the jar and shake well to combine. Place in refrigerator overnight.
In the morning, take oats out of the fridge and place them into a bowl. You can warm up the oats on the stove beforehand, if you like your breakfast warm.
Peel and thinly slice 1 blood orange and add a few slices to the bowl. Add some berries (fresh or frozen) and top with 1 teaspoon of strawberry jam for sweetness. Serve.
Nutrition Information:
Amount Per Serving:
Calories:

298.52
Total Fat:

8.5g
Saturated Fat:

4.12g
Sodium:

91.76mg
Carbohydrates:

47.39g
Fiber:

6.03g
Sugar:

27.48g
Protein:

11.03g
Disclaimer: this is not a sponsored post, but I am only stating my experience with certain brands
Like this recipe? Let us know in the comments below or on social media using #vibrantplate and tag us @vibrantplate.
You can connect with us on our Instagram and Facebook or on Pinterest. Don't forget to sign up to our newsletter & stay up to date with our latest recipes 😉