These Lemon Poppy Seed Muffins look simple but pack plenty of flavors, plus they are fluffy, light and delicious. Great for a quick breakfast to-go!
My mother has a lemon tree. The tree is grown in a pot and it has been for quite a number of years now. In the cold months, the tree is moved into a sheltered room with poor lights and there it stays for the winter, not quite idle. The tree is packed full with organic aromatic lemons and when spring comes, the fruit ripens, the tree blossoms and it is moved back outside for the season.
When you have such lemons, homegrown and fragrant with aromatic oils, you absolutely need to turn them into dishes, where the sour lemon shines.
Anything better than these cute and simple Lemon Poppy Seed Muffins?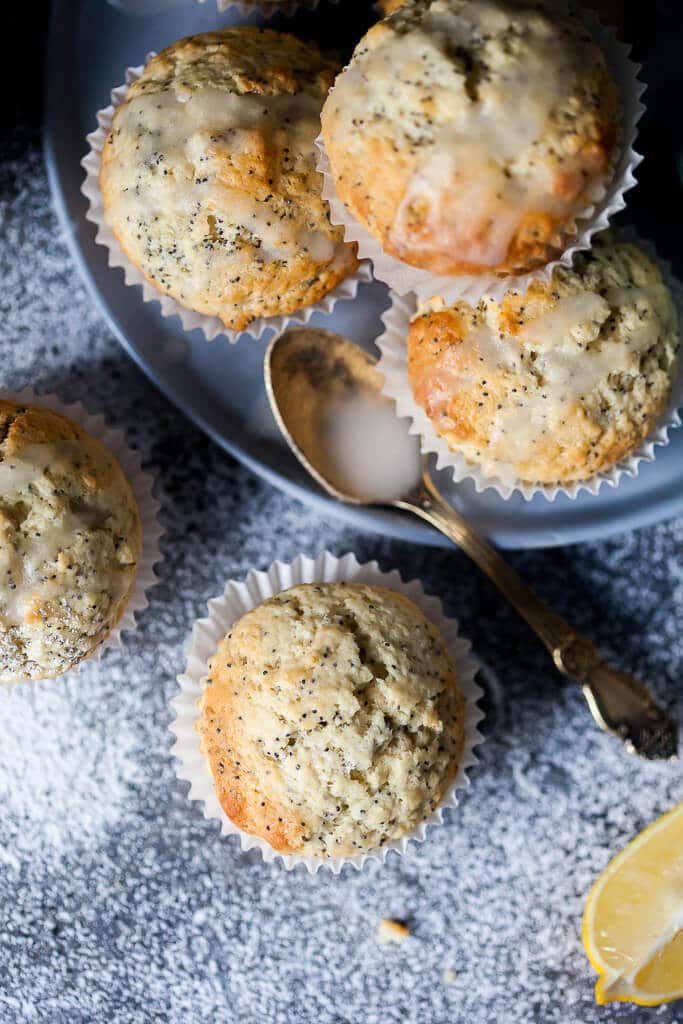 Don't think so! These beauties are put together in just a couple of minutes, baked to perfection, drizzled with a sugar and lemon icing and then ready to eat in no time! And if you don't believe these muffins are extraordinary – just give them a go!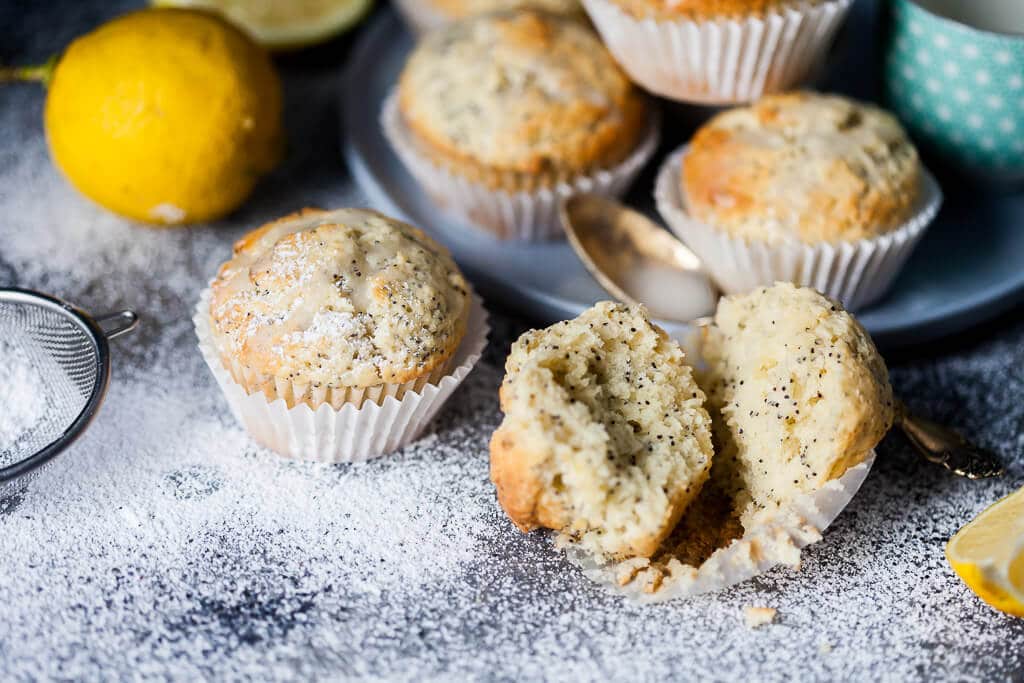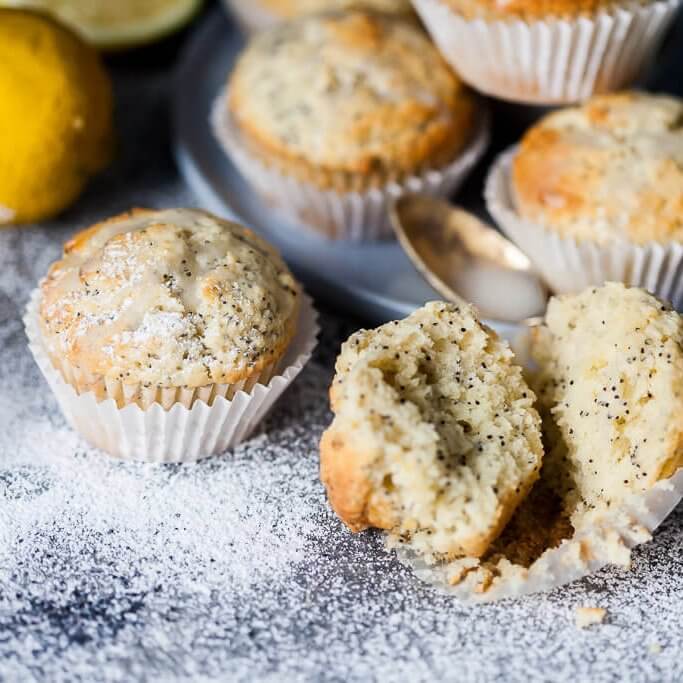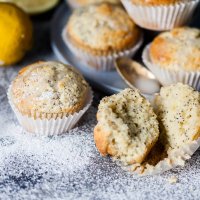 Lemon Poppy Seed Muffins
These Lemon Poppy Seed Muffins look simple but pack plenty of flavors, plus they are fluffy, light and delicious.
Ingredients
2 cups (240 grams) flour
1/2 tsp baking powder
pinch of salt
2 eggs
1/2 cup (80 grams) sugar
3/4 cup (180 g) plain greek yogurt
1/2 tsp vanilla essence
1 organic lemon (skin and juice)
2 tbs poppy seeds
FOR THE ICING:
1 cup (100 grams) confectioners' sugar
3 tbs lemon juice
Instructions
Preheat oven to 180°C / 356°F. Line muffin tin with paper molds.
In a bowl, combine dry ingredients: flour, baking powder and pinch of salt.
Wash and dry lemon. Grate skin into a fine zest, then half the lemon and squeeze out the juice, removing any seeds.
Divide eggs into yolks and egg whites. Whisk egg whites until they turn into a firm snow. Whisk yolks with 1/2 cup sugar, then add greek yogurt, vanilla essence and grated lemon zest.
Add the yolk mixture to the flour mix and add 1/3 of the egg whites. Combine gently, then add poppy seeds and fold in the remaining egg whites.
Pour mixture into the muffin molds, then put into the oven to bake for about 18 minutes, or until golden brown. When baked, remove from oven and set aside to cool.
Mix together 1 cup confectioners' sugar with about 3 tbs of lemon juice or more, if needed. Drizzle the sugar icing on top of the muffins and let it set, then serve.
Nutrition Information:
Amount Per Serving:
Calories:

151.33
Total Fat:

3.13g
Saturated Fat:

0.89g
Sodium:

67.1mg
Carbohydrates:

25.56g
Fiber:

2.09g
Sugar:

17.26g
Protein:

5.76g
Like this recipe? Let us know in the comments below or on social media using #vibrantplate and tag us @vibrantplate.
You can connect with us on our Instagram and Facebook or on Pinterest. Don't forget to sign up to our newsletter & stay up to date with our latest recipes 😉