This Fried Mozzarella Salad is perfect when you want to eat healthy, but crave something cheesy and fried.
Ok, so maybe this is not the healthiest salad version, but sometimes you just get cravings. Am I right? I mean, we're talking fried mozzarella here. In a salad. So the good practically counterparts the bed, so it's all good.
Good thing I enjoyed this delicious Fried Mozzarella Salad when I did, because lately, I have been having more and more problems with dairy, so much so in fact, that I am now forced to cross it out of my diet entirely. This is not the first time for me having problems with dairy, as I already went dairy-free a couple of years ago and then had no problems for a few years. I guess it's time for a spring clean!
So while I embark on a dairy-free (or at least reduced dairy) journey again more dairy-free recipes are to follow.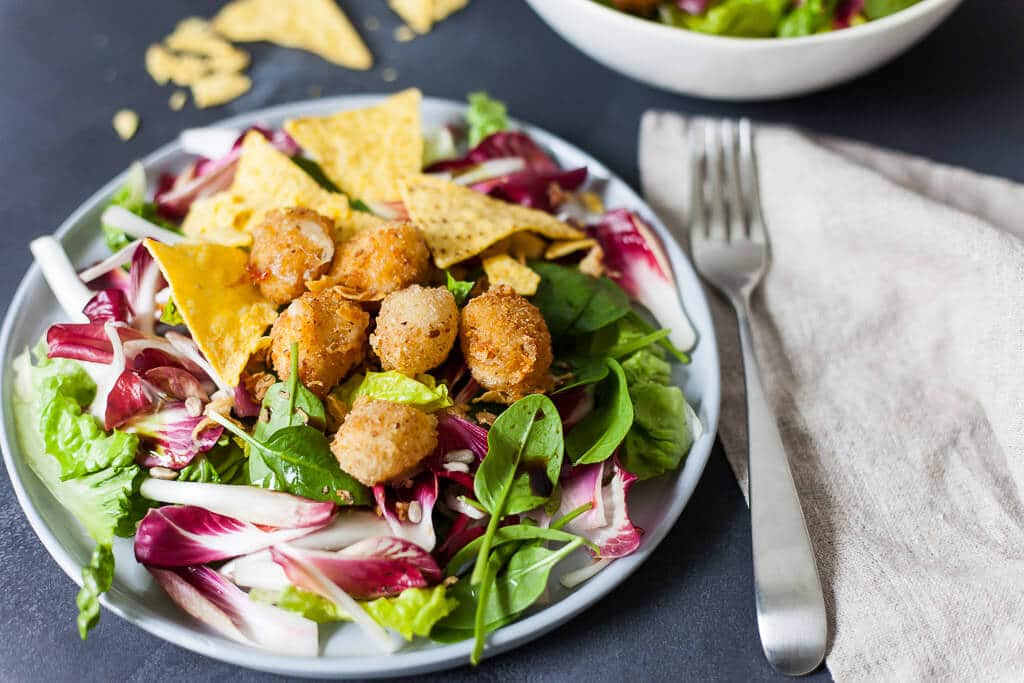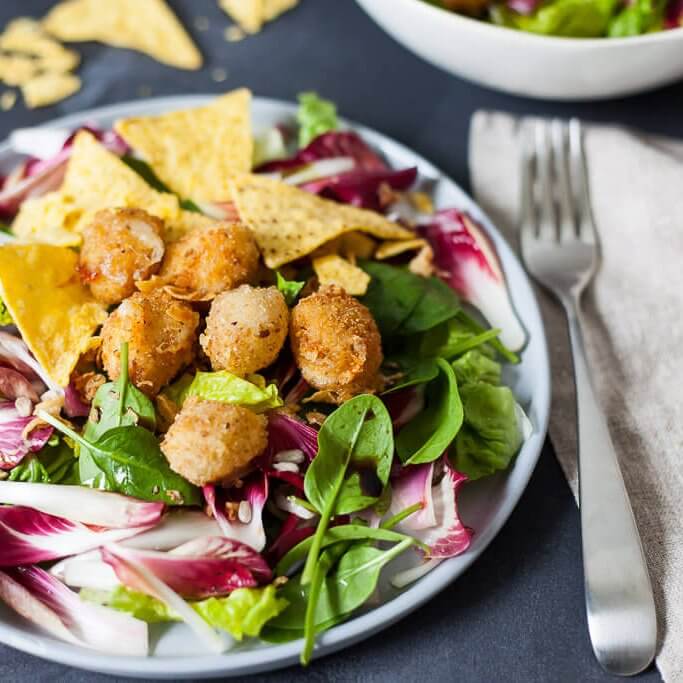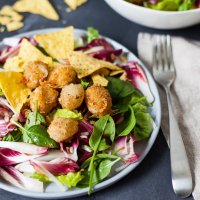 Fried Mozzarella Salad
This Fried Mozzarella Salad is perfect when you want to eat healthy, but still crave something cheesy and fried. Great winter salad!
Ingredients
1 cup radicchio, shredded
1 cup spinach leaves
1 cup lettuce, shredded
2 tbs olive oil
3 tablespoons balsamic vinegar
salt to taste
125 g mozzarella balls
1/2 cup all-purpose flour
1 egg
1/2 cup breadcrumbs
oil for frying
a handful crushed tortilla chips (optional)
Instructions
In a large salad bowl, combine the radicchio, spinach leaves and lettuce. Drizzle a little olive oil and balsamic vinegar over the salad, salt to taste and gently toss.
Place flour on a flat plate and breadcrumbs on another. In a small bowl, lightly beat the egg. Drain mozzarella balls and place them on the plate with the flour. Coat evenly each ball, then transfer it to the egg bowl. Coat evenly with the egg, then place on the breadcrumbs and coat evenly. Press breadcrumbs into the balls to ensure it sticks well. Repeat with all the mozzarella balls.
Heat frying oil in a pan. When the oil is hot enough, place breaded mozzarella balls in the oil carefully and fry for about 2 minutes, gently turning as they brown. Fry until golden brown, then remove from the pan and place to drain on paper towels.
Add warm fried mozzarella to the salad and top with some crushed tortilla chips. Serve.
Nutrition Information:
Amount Per Serving:
Calories:

895.98
Total Fat:

65.95g
Saturated Fat:

13.7g
Sodium:

644.09mg
Carbohydrates:

50.95g
Fiber:

2.87g
Sugar:

6.51g
Protein:

24.59g
Like this recipe? Let us know in the comments below or on social media using #vibrantplate and tag us @vibrantplate.
You can connect with us on our Instagram and Facebook account or on Pinterest. Don't forget to sign up to our newsletter & stay up to date with our latest recipes 😉