The best Vegan Spring Roll Noodle Bowl Recipe! This meal is healthy, full of vegetables & topped with a delicious sauce. Vegan & Gluten-Free.
Ok, so it's no secret that ever since we have returned from our Thailand holidays, we have been loving all things Asian. But, here's why – this food is simple, healthy, and delicious.
And with the upcoming Summer months, this Vegan Spring Roll Noodle Bowl recipe will be on our weekly rotation.
I mean, this recipe has it all – delicious rice noodles make it gluten-free and easy to digest. The bowls are full of fresh crispy vegetables with the addition of sweet mangoes. Trust us, it just works!
The sauce is the right amount of salty, sour, and sweet, with so much umami, you'll want to eat it day and night.
If you try one new recipe this Summer, go for these Spring Roll Noodle Bowls. They're gluten-free and fully plant-based, and oh-so-good!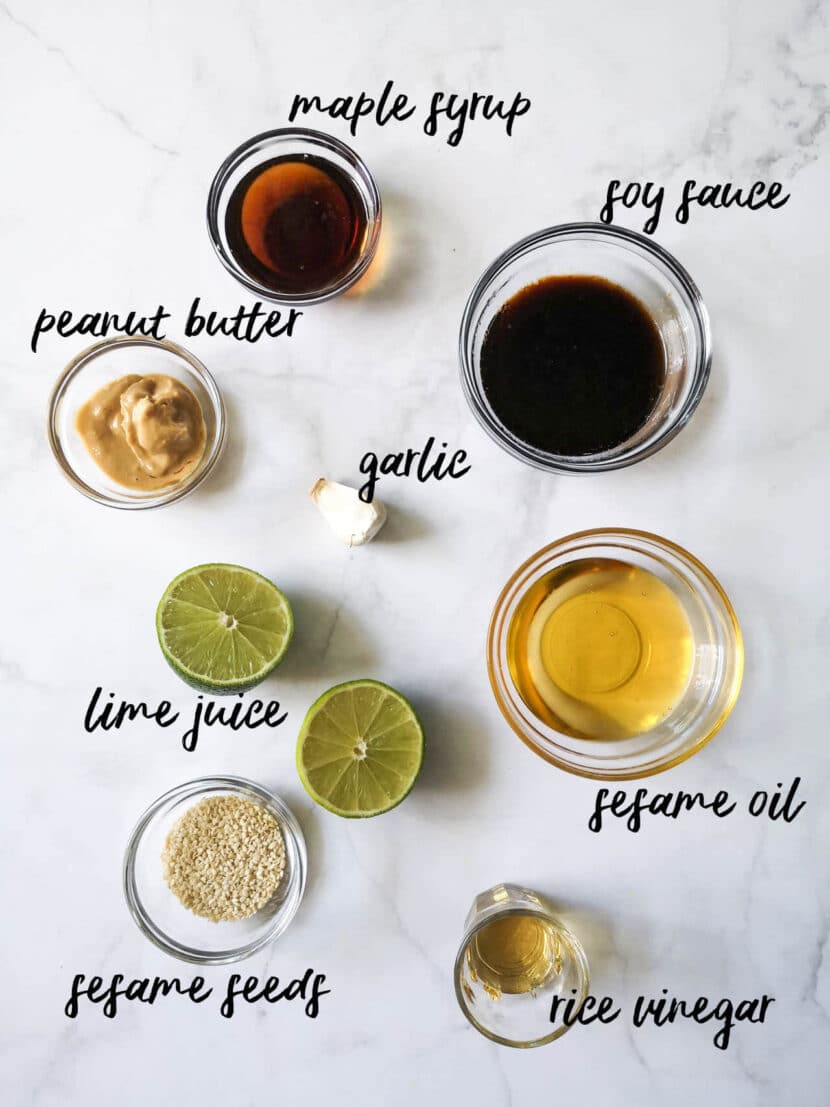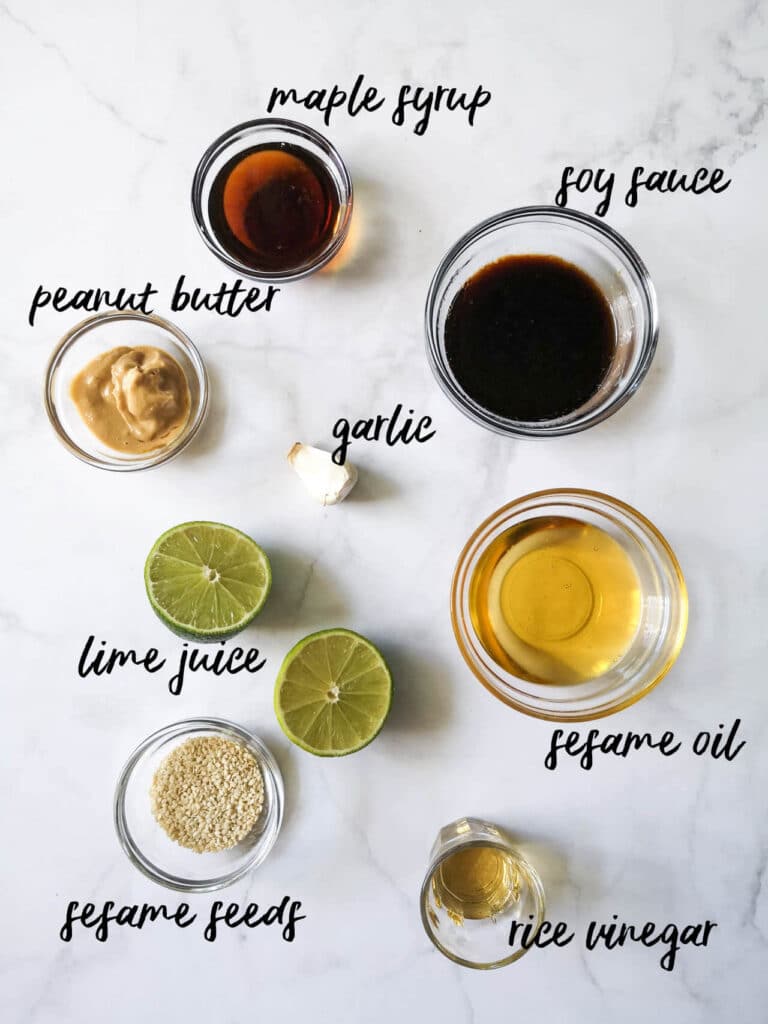 Dressing ingredients
To make the dressing you will need:
Garlic. You'll only need a clove, which you'll steep for a couple of minutes in lime juice. This will reduce the sharp raw garlic taste, but if you don't like raw garlic, you can totally skip it.
Lime juice for acidity and the tangy citrus taste.
Sesame oil. Choose a high-quality sesame oil that will add an authentic Asian taste to the sauce.
Soy sauce. Use gluten-free soy sauce to keep this dish gluten-free, and low-sodium sauce if you're watching your sodium intake. We like to use light soy sauce in this recipe, but dark will work as well.
Maple syrup. For sweetness and to create that sweet-salty-sour flavor of the sauce that we like so much!
Peanut butter. For creaminess, extra richness to the sauce and an added peanut flavor. You can replace it with other kinds of nut butter, like cashew butter or unflavored almond butter.
Rice vinegar. For acidity to counterbalance the sweetness. If you don't have rice vinegar, you can add more lime juice.
Sesame seeds.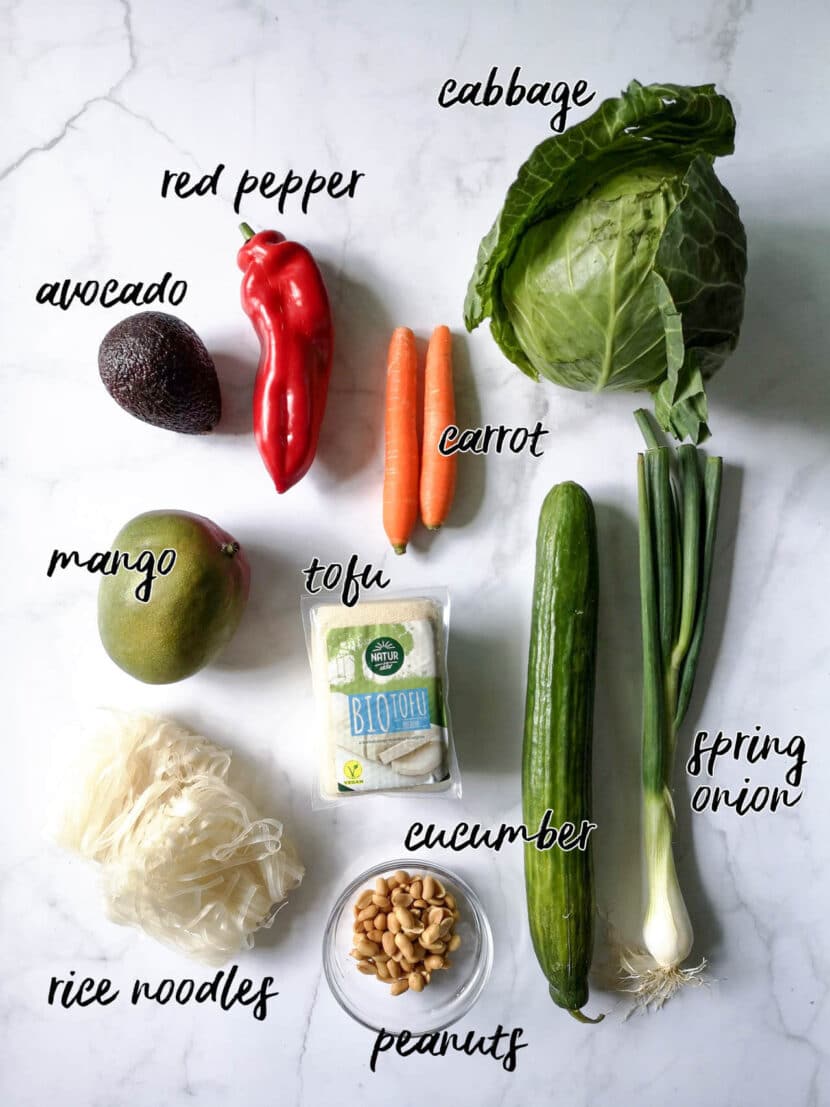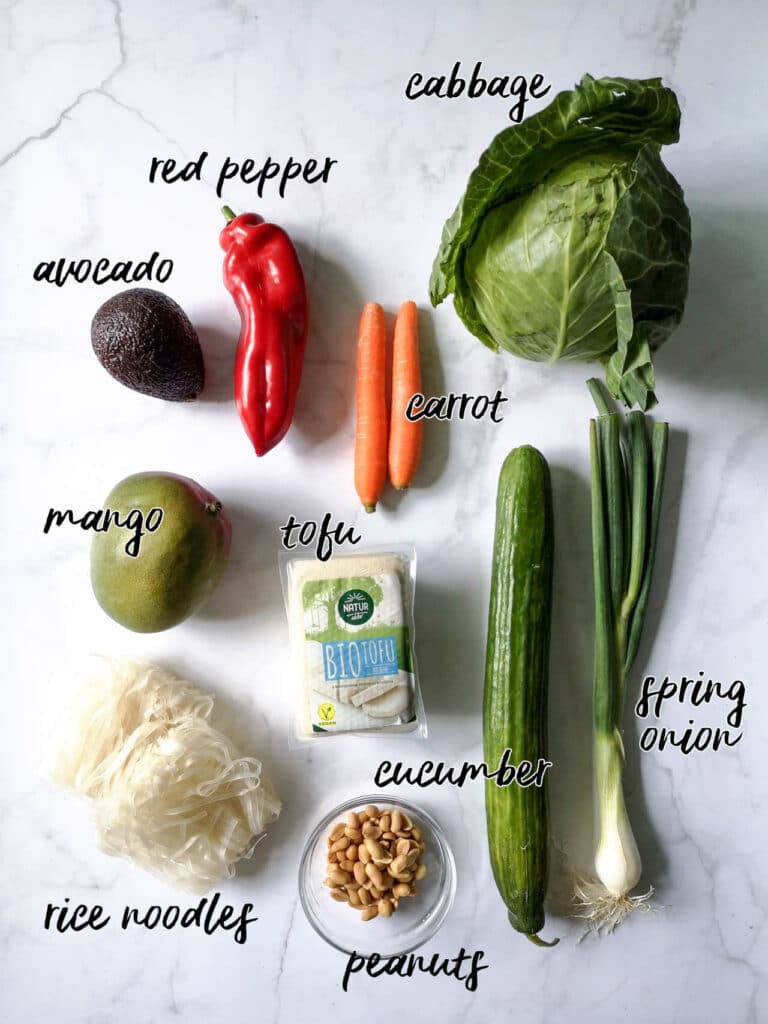 Spring Roll Noodle Bowl Ingredients
To make these noodle bowls you will need:
Instant rice noodles. These cook up in just about 3-4 minutes and don't need pre-soaking. Once cooked, drain and immediately run them under cold water to cool them down. This will make them less sticky. Once cooled and drained, toss them in the sauce.
Tofu. We like to use unflavored firm tofu. We recommend pressing it for half an hour before cooking, so the excess liquid will drain, but it's not necessary. If you don't like tofu, you can skip it or replace it with plant-based mock meat. To skip the pressing of the tofu, choose extra-firm tofu.
Seasonings, such as salt, pepper, garlic, and ginger. Try switching the black pepper for white pepper!
Rice flour. Use it to coat the diced tofu before frying. This will help make it crispier, and it's optional.
Mango. This will add unexpected sweetness to your noodle bowl. Trust us, it's the best! If you don't have fresh mango, you could substitute it with other fresh fruit, like pineapple, berries, peaches, or maybe watermelon!
Avocado will add creaminess to your dish.
Cucumber will add freshness and crunch, perfect for hot summer months. Skip it, if you don't like cucumbers.
Cabbage will add greens to your bowl. We like to use young cabbage when eating raw, but you could also substitute with crisp lettuce, such as romaine hearts.
Red pepper, but you could also use green or yellow pepper, or skip it.
Carrots, to boost vegetable intake.
Unsalted peanuts, we add them crushed on top of the bowl for extra crunch
Spring onion, we add finely chopped on top for extra zing.
You can mix and match the vegetables to your liking. I skip the cucumbers for Mitja's bowl, as he does not like cucumbers at all.
Other vegetables to try: chili peppers, radishes, kale, purple cabbage, herbs such as mint or garlic chives, lettuce, bean sprouts, and others.
How to make these Vegan Spring Roll Noodle Bowls
To make these bowls of goodness, you'll hardly need to cook – just the tofu and the noodles (which take like 3 minutes).
So start with the tofu – press it to remove excess liquid (or use extra-firm tofu and skip this step), then dice it, season it, and let it marinate for a couple of minutes. Then, toss with some rice flour and fry up in a pan until golden in color. Once cooked, let cool down a bit.
Next, have your vegetables ready to go, so slice them up or dice them and set them aside.
To make the dressing, start by marinating the minced garlic in lime juice, so it will lose the sharp taste of raw garlic. Then, add all the ingredients to a large jar, close it tightly and shake it up – this will help emulsify the dressing and combine all the ingredients.
Now cook the rice noodles according to package instructions, then drain them and rinse them under cool water to cool them down. This way they will not be sticky and will be cooled enough to serve with the vegetables. Once cooled, toss them with half of the dressing and divide them into bowls. Reserve the other half of the dressing for topping.
Last step, assemble your noodle bowls! Top the rice noodles with the vegetables, fruit, tofu, add a sprinkle of chopped peanuts for crunch, and maybe some coriander and a lime wedge, and you're ready to serve!
I really cannot recommend these noodle bowls recipe enough, I love it so much. You'll just have to dig in and try it yourself!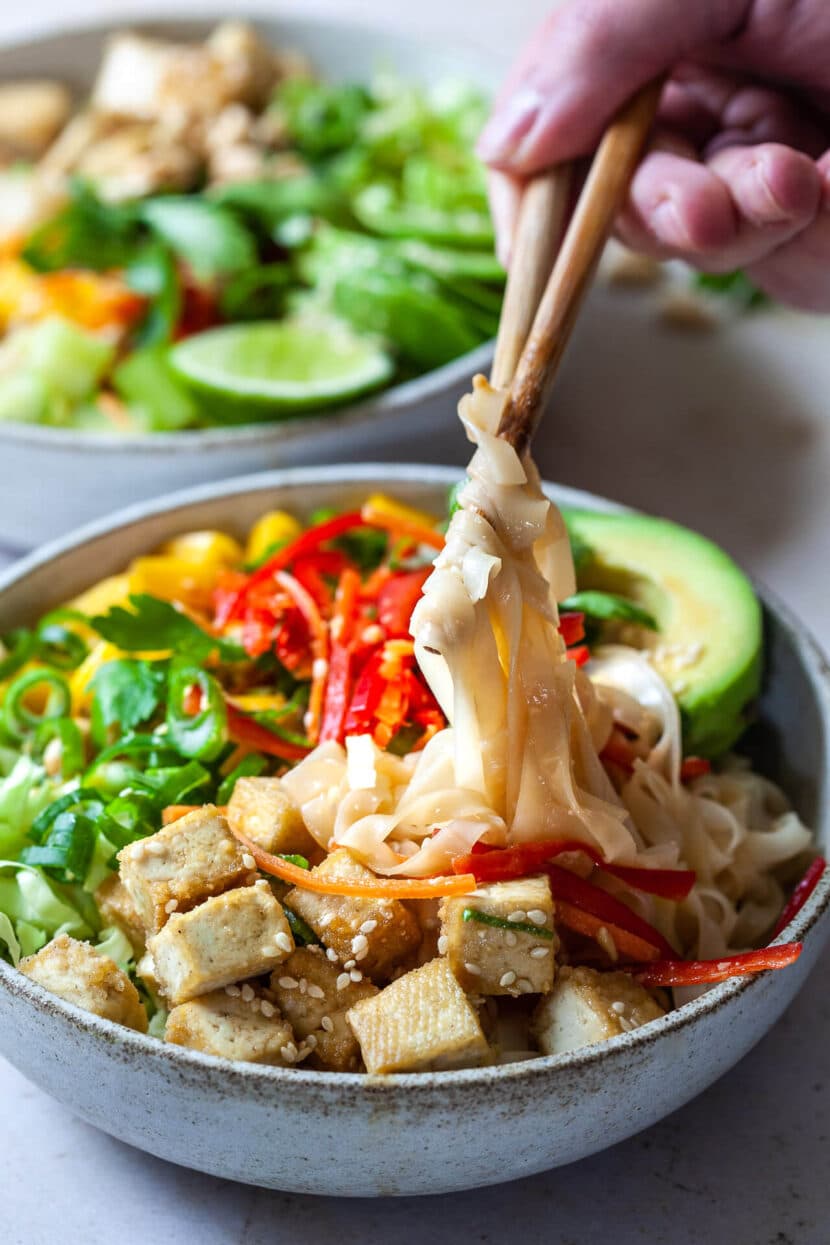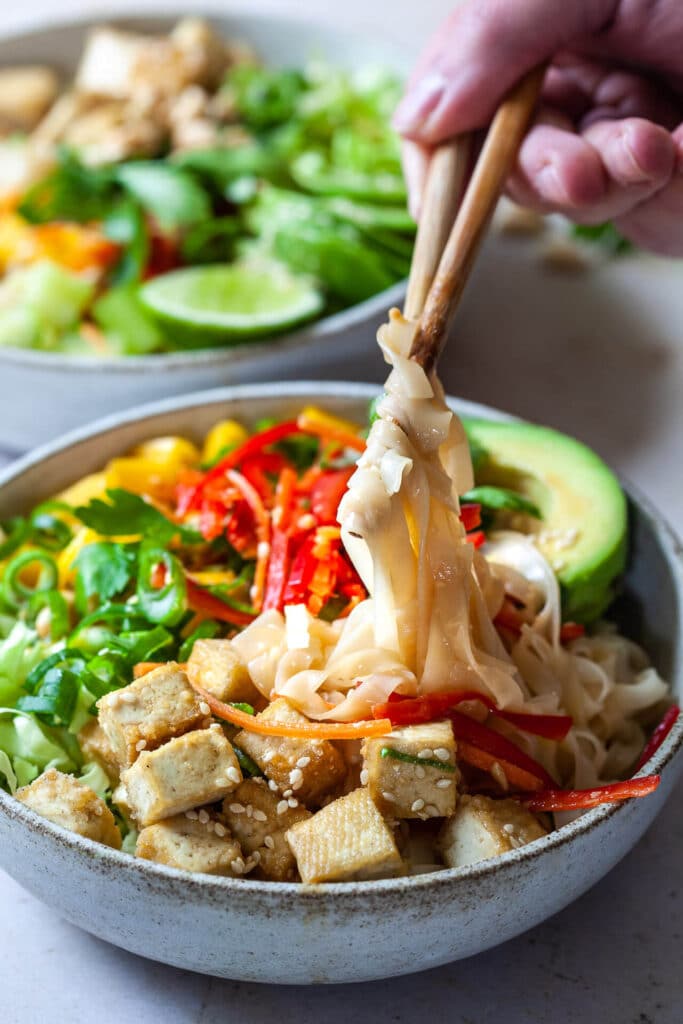 Serving
I would recommend serving this bowl immediately, or on the same day. The mango and avocado do not hold up well once cut, but you can always add them last minute. Also, the noodles will soak up any excess sauce while chilling, so they may turn a bit drier.
Storage
You can prep ahead the vegetables (wash them, slice them…) and fry up the tofu. The mango and avocado should be cut just before serving, as they turn brown rather quickly once cut or sliced. You can also make the sauce ahead and it will keep refrigerated in an air-tight container for up to 3 days if you use the garlic. The noodles are cooked in 3-4 minutes, so there's little work there.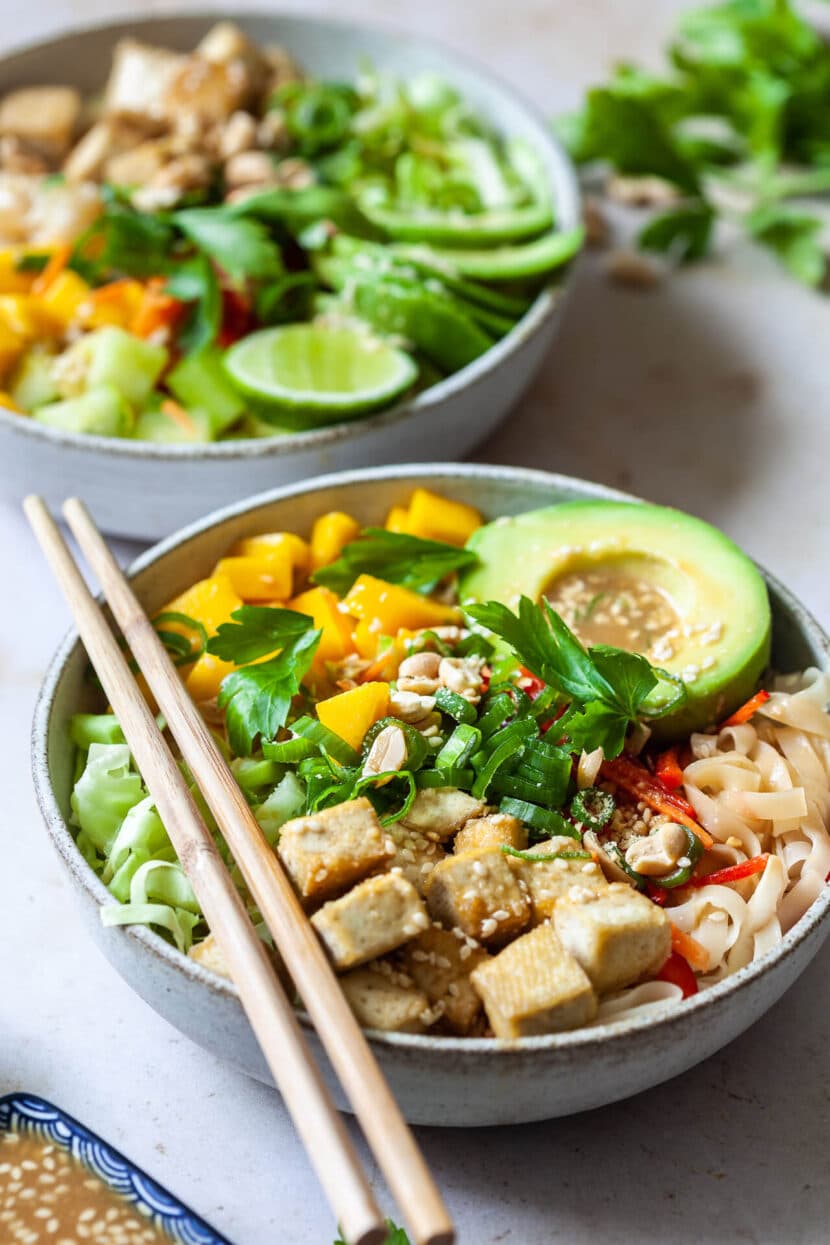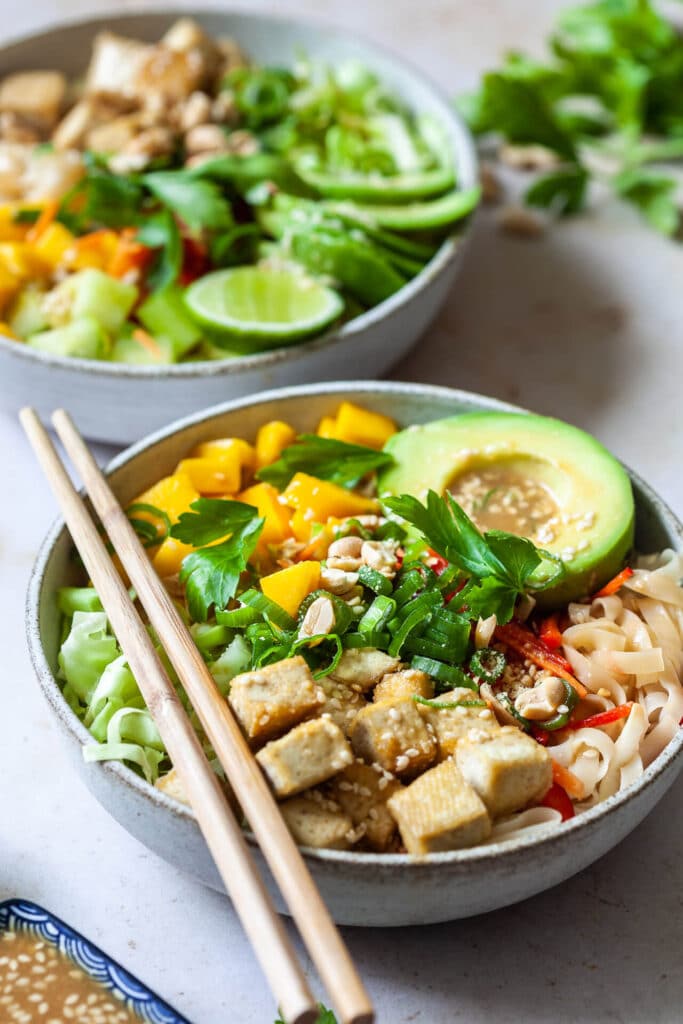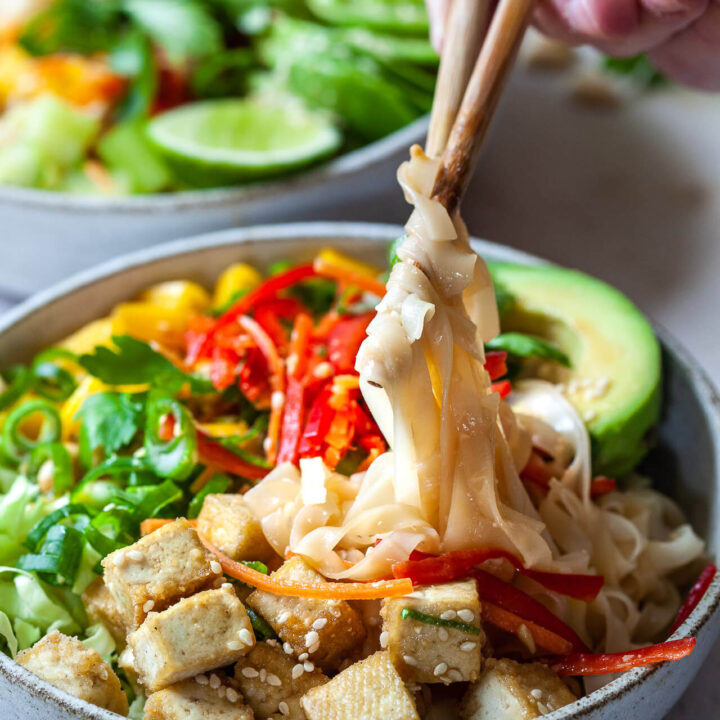 Vegan Spring Roll Noodle Bowl
The best Vegan Spring Roll Noodle Bowl Recipe! This meal is healthy, full of vegetables & topped with a delicious sauce. Vegan & Gluten-Free.
Ingredients
Dressing:
1 garlic clove
1/2 lime, juice
3 tbsp sesame oil
3 tbsp soy sauce
2 tbsp maple syrup
1 tbsp peanut butter
1 tbsp rice vinegar
1 tbsp sesame seeds
Bowls:
180 grams rice noodles, instant
200 grams tofu
pinch of salt
pinch of powdered garlic
dash of black pepper
pinch of ginger powder
2 tsp rice flour
1 mango
1 avocado
1 cup cucumber
1 cup cabbage
1 red pepper
2 carrots, medium-size
1/4 cup peanuts, unsalted
1/4 cup spring onion
Instructions
Wrap the tofu in a kitchen towel or paper towel, then press with a heavy pot for about 30 minutes (or use extra-firm tofu). Once pressed, drain the liquid and pat the tofu dry, then dice it and season with salt, pepper, garlic and ginger. Add a drizzle of sesame oil and let marinate 10 minutes.
Prepare the fruit and vegetables: dice mango, avocado and cucumber. Slice cabbage, pepper, carrot and spring onions.
Prepare the dressing: finely mince 1 clove of garlic, pour over with the lime juice and let marinate for 10 minutes. To a jar or bowl, add 3 tbsp sesame oil, 3 tbsp soy sauce, 2 tbsp maple syrup, 1 tbsp peanut butter, 1 tbsp rice vinegar, and 1 tbsp sesame seeds. Add in the garlic with the lime juice, close the jar and shake well to combine. Set aside.
Cook the tofu: Just before cooking thr tofu, stir in 2 tbsp of rice flour (or corn starch) into the tofu, and toss to combine well.Heat a pan on medium high, add a drizzle of oil and toss in the diced tofu. Let cook on each side for a couple of minutes, until golden-brown and toasted on all sides. Once the tofu is done, remove it from the pan and set aside to cool.
Bring a pot of water to a boil, add a pinch of salt and, once boiling, toss in the instant rice noodles. Cook according to package instructions, about 3 minutes (depends on the noodles!). Once cooked, drain the noodles, and rinse them under cold running water to cool them down. Once cooled, drain them, and toss them with half of the dressing. Divide into 4 portions and add them to the serving bowls.
Top the noodles with the vegetables and fruit, sprinkle with some chopped peanuts and sliced spring onion, add the tofu and drizzle with the remaining dressing.
Serve immediately with a good sprinkle of coriander and a wedge of lime.
Nutrition Information:
Yield:

4
Serving Size:

1
Amount Per Serving:
Calories:

472
Total Fat:

28g
Saturated Fat:

4g
Trans Fat:

0g
Unsaturated Fat:

22g
Cholesterol:

0mg
Sodium:

747mg
Carbohydrates:

48g
Fiber:

9g
Sugar:

23g
Protein:

13g
Nutrition data is automatically calculated using Nutritionix and may not be accurate.
This recipe is brought to you by Hofer Slovenija.
find more Asian recipes over here.
Did you make this recipe? Let us know in the comments below or on social media by using #vibrantplate and tag us @vibrantplate. We're always happy to read your feedback and LOVE seeing your take on our recipes.
Don't forget to connect with us on Instagram, Facebook, or Pinterest. We share many behind-the-scenes photos and step-by-step recipes in our Instagram Stories, so be sure to check it out!