Simply amazing homemade Tomato Soup with Fresh Tomatoes is delicious. Just 15 minutes and a couple of ingredients to make it, quick & easy!
In Summer tomatoes are abundant in our house. I keep a pocket-sized garden that produces just enough to get us by the week. This year I have 2 plants of tomatoes and one cherry tomato.
We do not particularly like the cherry variety, but I decided to plant it for garnishes, and boy, did the plant provide. At one point there were SO MANY, I decided to make them into a sauce.
The regular variety did ok as well, but the weather was not very kind for tomatoes this year and so the plants are a bit ill and going downhill now.
But, nevermind. We get enough tomatoes from the parents to last us the whole summer. Mitja is basically living on tomatoes these days, as he eats a tomato salad most days for dinner.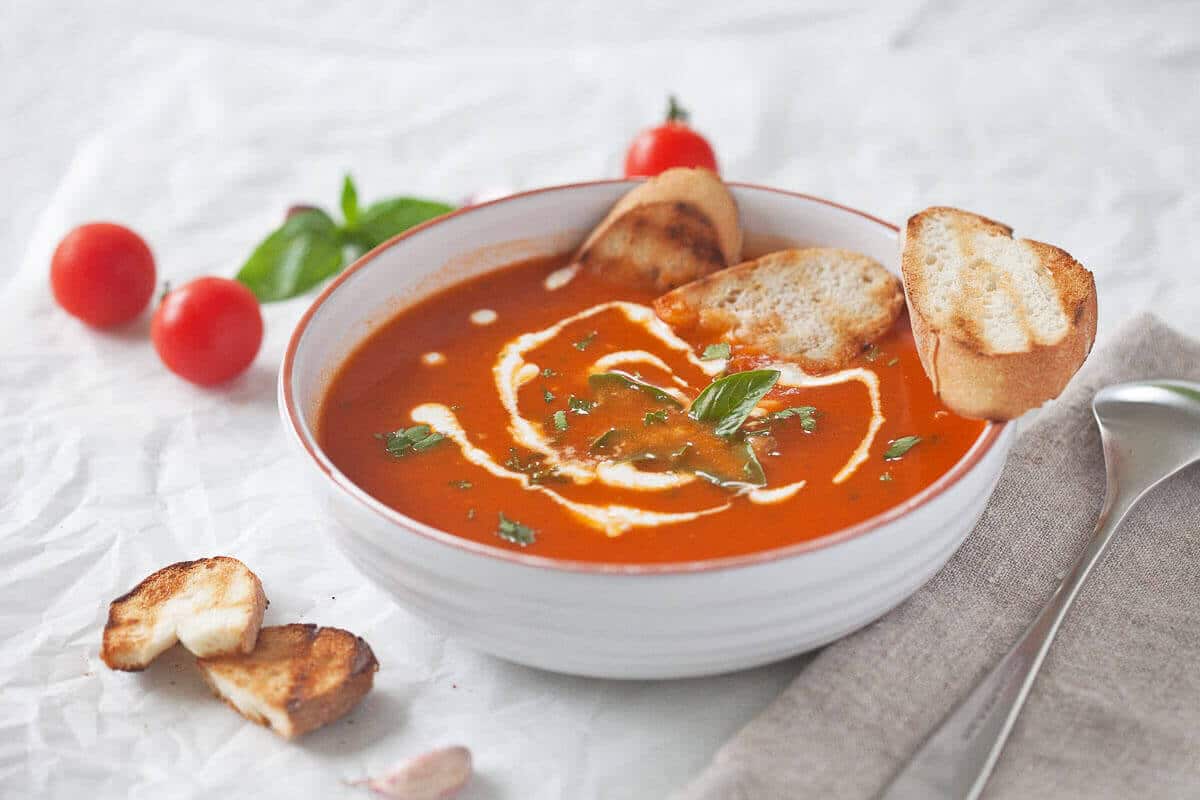 As I do not particularly like fresh tomatoes, I consume them in sauces or soup.
By the way, did you know that tomatoes are healthier when you cook them? When cooked the lycopene (a naturally occurring chemical that gives fruits and vegetables their red color) changes to a form, that is more easily used in the body. Lycopene is a powerful antioxidant that protects cells from damage, prevents cancer and cardiovascular disease.
As we got yet another shipment of extra large and ripe tomatoes, I decided to put them to good use in a soup. Mind you, the tomatoes were so large, I only needed 2 of them, but got enough soup for 4 generous servings. That was vanished in a day by two people. Because tomato soup is simply amazing.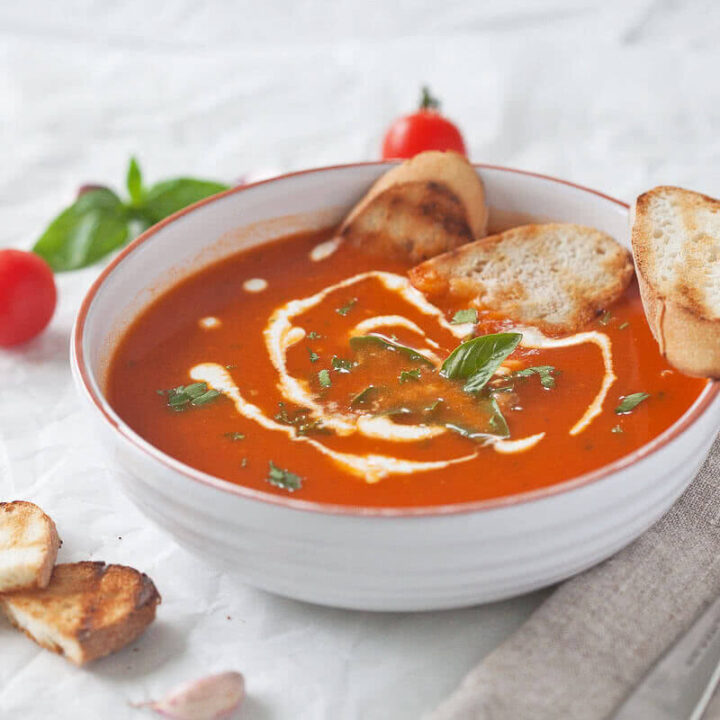 Tomato Soup from Fresh Ripe Tomatoes
Simply Amazing Tomato Soup, made with fresh garden tomatoes. Just 15 minutes and a couple of ingredients to make it, quick & easy!
Ingredients
1000 grams ripe tomatoes
1 onion
3 cloves garlic
1 small carrot
3-4 cups vegetable stock (see notes)
2 bay leaves
salt, pepper to taste
fresh basil
dash of balsamic vinegar
olive oil
1 tbs plant-based cream
Instructions
Wash and dry the tomatoes, then chop them roughly. Try to squeeze out excess water and seeds. Peel onion, garlic and carrot. Finely slice onion and garlic cloves and grate the carrot.
In a soup pot, heat olive oil, then add onions and lightly fry them until translucent. Add grated carrots and garlic, stir-fry for about a minute or two, until the carrots tenderize. Then, add in chopped tomatoes and a dash of balsamic vinegar, stir well and let it cook down for a few minutes, stirring regularly.
Add vegetable stock, bay leaves and season to taste with salt & pepper. Bring to a boil, then lower the heat and cook for about 15 minutes.
When the tomatoes are cooked, remove the pot from heat, then remove the bay leaves and blend into a smooth soup with a stick blender.
Roughly chop basil leaves and add to the soup for taste and garnish, add a teaspoon of cream and serve.
Notes
We updated the recipe regarding the quantity of vegetable stock to use: it depends on the tomatoes you use! If your tomatoes are more watery, use less liquid. Start with 3 cups when cooking, and add more as you go. Try blending your soup, and if it's too thick, then add some more veggie stock!
Nutrition Information:
Yield:

4
Serving Size:

1
Amount Per Serving:
Calories:

119.8
Total Fat:

5.1g
Saturated Fat:

0.9g
Trans Fat:

0g
Cholesterol:

2.1mg
Sodium:

256.1mg
Carbohydrates:

17.6g
Fiber:

3.7g
Sugar:

11.5g
Protein:

3.5g
Like this recipe? Please, let us know in the comments below or on social media using #vibrantplate and tag us @vibrantplate. Thanks!
How do you like your tomatoes best? Do you have a go-to tomato soup recipe?