Homemade Tomato Soup from Fresh Ripe Tomatoes is our favorite Summer soup recipe! Make this soup in just 15 minutes using fresh ingredients.
In Summer tomatoes are abundant in our house. I keep a pocket-sized garden that produces just enough to get us by the week. And the absolute favorite way to enjoy our tomatoes (besides a simple tomato salad or a bruschetta) is this Tomato Soup made from fresh ripe Tomatoes.
Why make this Tomato Soup?
In our opinion, produce – and especially tomatoes – are best when in season and grown locally. Homegrown heirloom tomatoes just have a whole other flavor than those mass-produced in greenhouses.
And this tomato soup is a beloved dish that is super simple to make in just 15 minutes!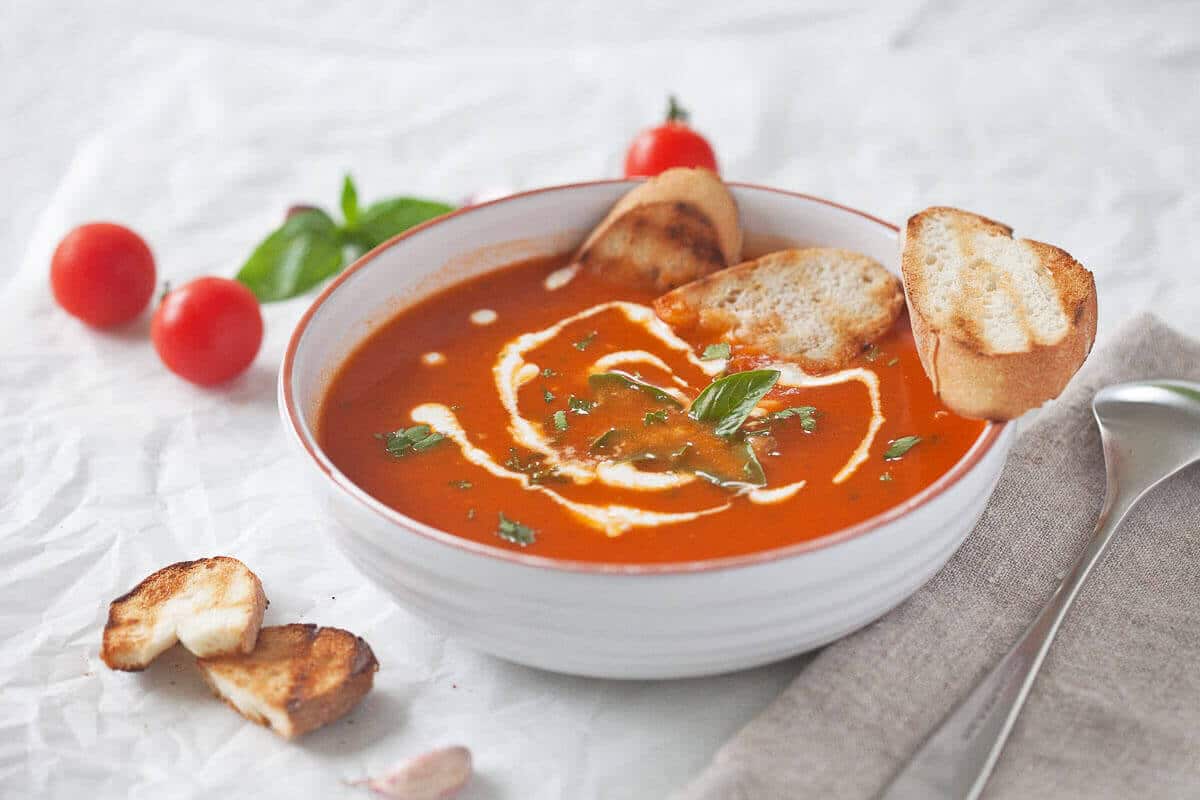 Did you know that tomatoes are actually healthier when you cook them? When cooked the lycopene (a naturally occurring chemical that gives fruits and vegetables their red color) changes to a form, that is more easily used in the body. Lycopene is a powerful antioxidant that protects cells from damage and prevents cancer and cardiovascular disease.
Tomato Soup Ingredients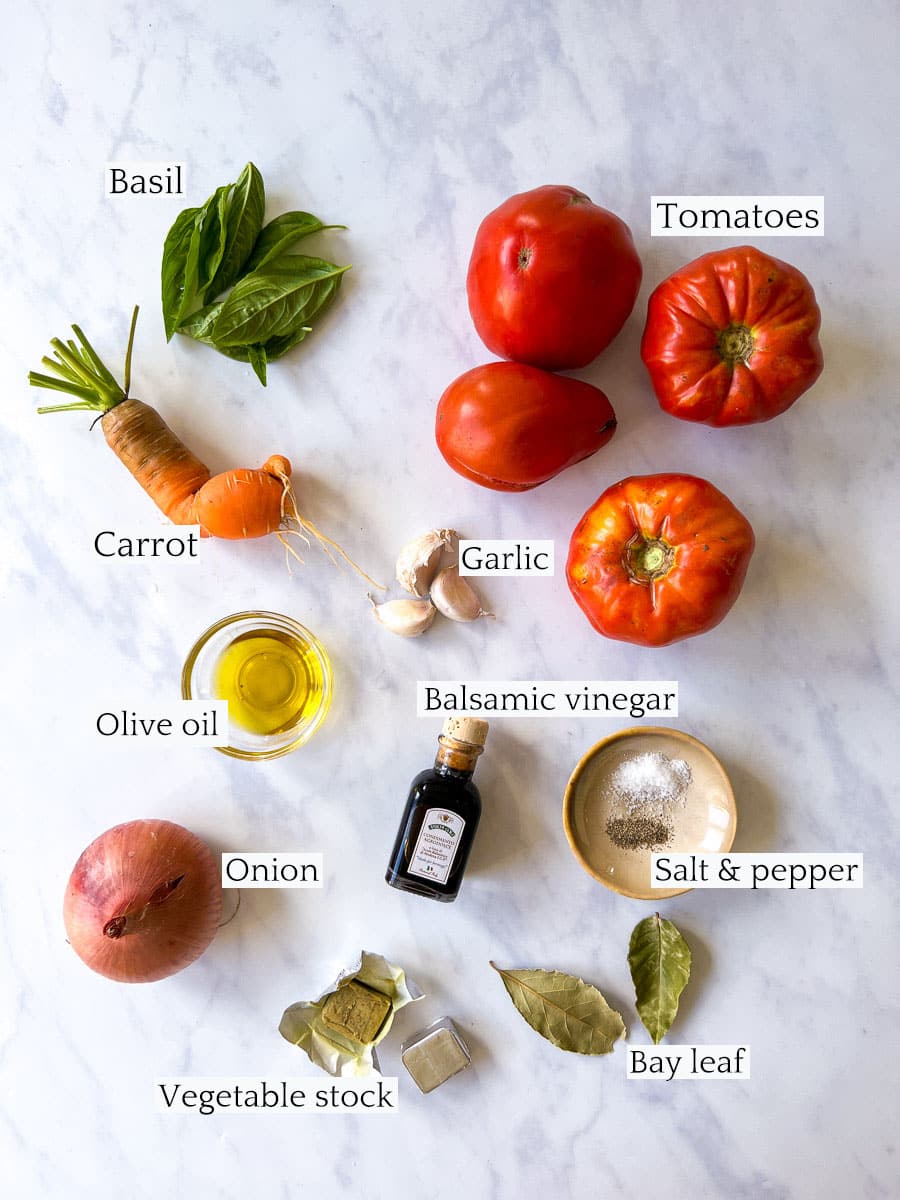 To make this recipe you will need:
Tomatoes: We like to use homegrown heirloom tomatoes in this recipe. These tomatoes are known for their rich, complex flavors and unique varieties. However, if heirloom tomatoes aren't available, store-bought tomatoes will work as well. Just make sure the tomatoes are in season for the best results. In-season tomatoes are at the peak of their flavor and sweetness, which enhances the overall taste of the soup.
Onion is a fundamental ingredient that provides a savory and aromatic base for the soup. It adds depth and complexity to the flavor profile.
Garlic, with its pungent and slightly sweet flavor, complements the tomatoes and onion. It adds a delightful aromatic quality to the soup and is a classic pairing with tomatoes.
Carrot is included in this recipe not only for their subtle sweetness but also for their natural earthiness. They contribute to the overall flavor and provide a hint of natural sweetness to balance the acidity of the tomatoes.
Vegetable Stock: You will need about 3 to 4 cups of vegetable stock for this recipe. The exact amount can vary depending on the water content of the tomatoes you use. If your tomatoes are particularly watery, you'll need less liquid. Vegetable stock serves as the liquid base of the soup, infusing it with additional flavor and ensuring the right consistency. Start by adding 2 cups (500 milliliters) and then add more if your soup is too thick.
Bay Leaves are added for their earthy aroma and depth of flavor. They infuse the soup with subtle herbal notes that complement the tomato's natural taste.
Salt and Pepper: These seasonings are added to taste. Salt enhances the flavors of all the ingredients, while freshly ground black pepper provides a gentle heat and a touch of spiciness.
Fresh Basil leaves are a vibrant addition to the soup, both for flavor and garnish. They bring a fresh, herbaceous aroma and a pop of green color to the dish. Basil pairs wonderfully with tomatoes.
Balsamic Vinegar: Just a dash or a small drizzle of balsamic vinegar (about 1-2 teaspoons) is used to level out the acidity of the tomatoes. It provides a subtle sweetness and a tangy note that complements the tomato's natural tartness.
Olive Oil is used to sauté the onions, garlic, and carrots at the beginning of the recipe. It adds a rich, fruity flavor and helps create a flavorful base for the soup.
Plant-Based Cream (Optional): Plant-based cream is an optional ingredient that can be used for garnish. It adds a creamy, velvety texture to the soup, making it richer and more indulgent. If you prefer a dairy-free or vegan option, plant-based cream is a great choice. However, it's entirely optional, and you can skip it if you prefer a lighter soup. If you don't have plant-based cream on hand, you can use vegan cream cheese that you dilute with a splash of water, or coconut milk will also work.
In summary, these ingredients work together to create a delicious and well-balanced tomato soup. They make this soup a comforting and satisfying dish, perfect for any occasion.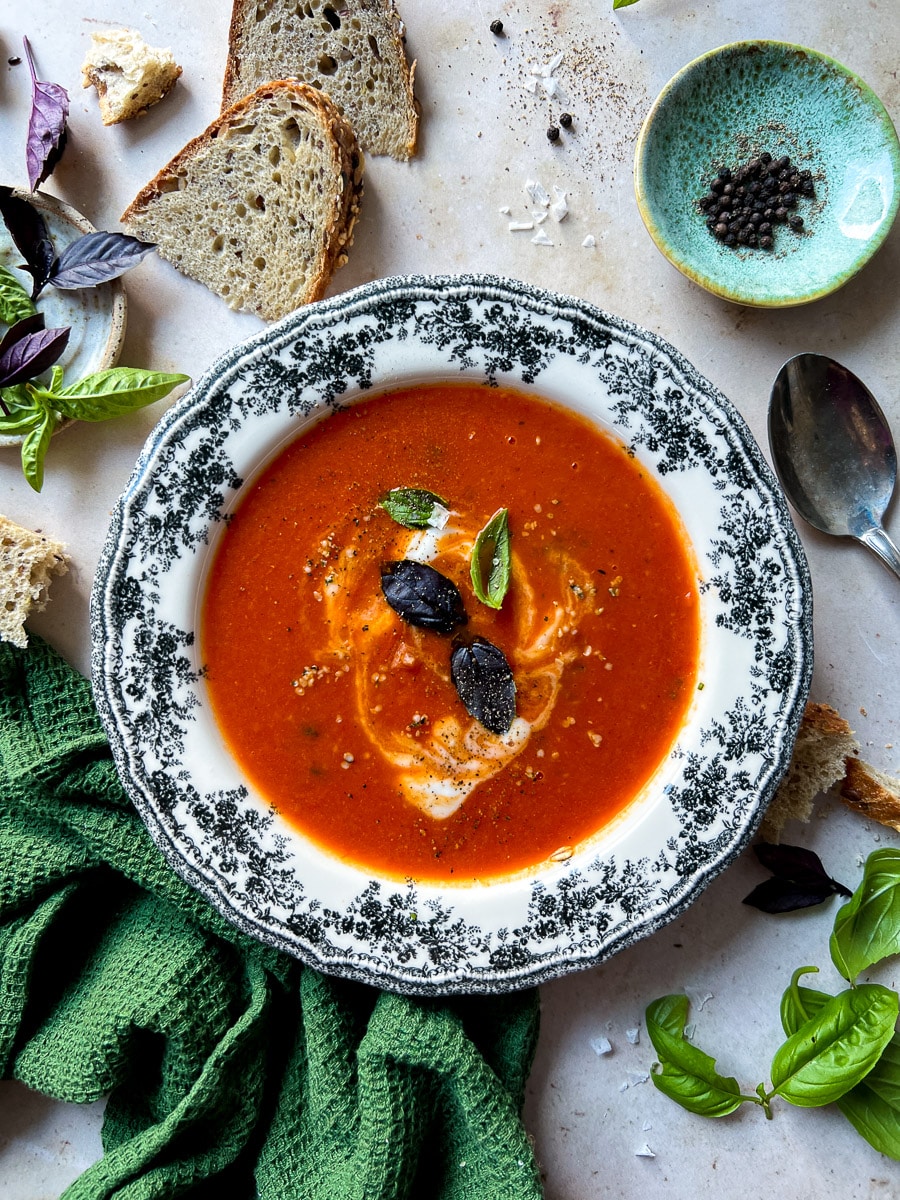 How to make Tomato Soup from Ripe Tomatoes
Making this Tomato Soup recipe is very easy and it comes together in minutes! Here are the instructions step by step:
Prepare the Tomatoes
Start by washing and drying the tomatoes. This ensures that the tomatoes are clean and reduces excess moisture. Next, roughly chop the tomatoes and remove the watery seeds. Next, season the tomatoes with a pinch of salt, give it a mix, and let sit for 10 minutes. During this time they will release more water. You may place them over a sieve to help remove excess water, otherwise, I just scoop them out of a bowl. This step helps concentrate the tomato flavor and prevents the soup from becoming too watery.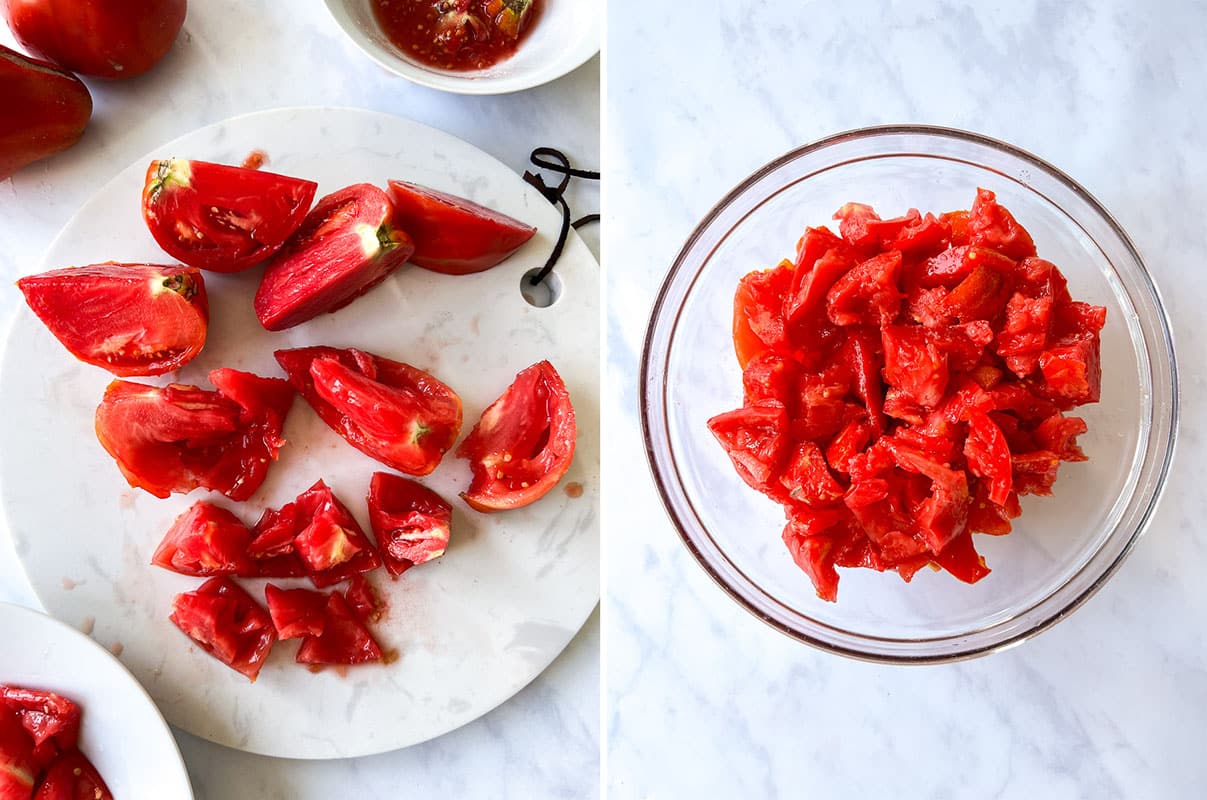 Prepare the Onion, Garlic, and Carrot
Peel the onion, garlic cloves, and carrot. Finely slice the onion and mince the garlic cloves. For the carrot, use a grater to finely shred it. This will help the carrot cook more quickly and blend seamlessly into the soup.
Sauté the Aromatics
In a large soup pot, heat a drizzle of olive oil over medium heat. Once the oil is heated, add the finely sliced onions. Sauté the onions until they become translucent and aromatic, which should take about 3-5 minutes. The gentle frying of the onions will bring out their natural sweetness and contribute to the depth of flavor in the soup.
Next, add the grated carrots and minced garlic to the pot. Stir-fry these ingredients for about a minute or two, just until the carrots begin to tenderize and the garlic releases its fragrance.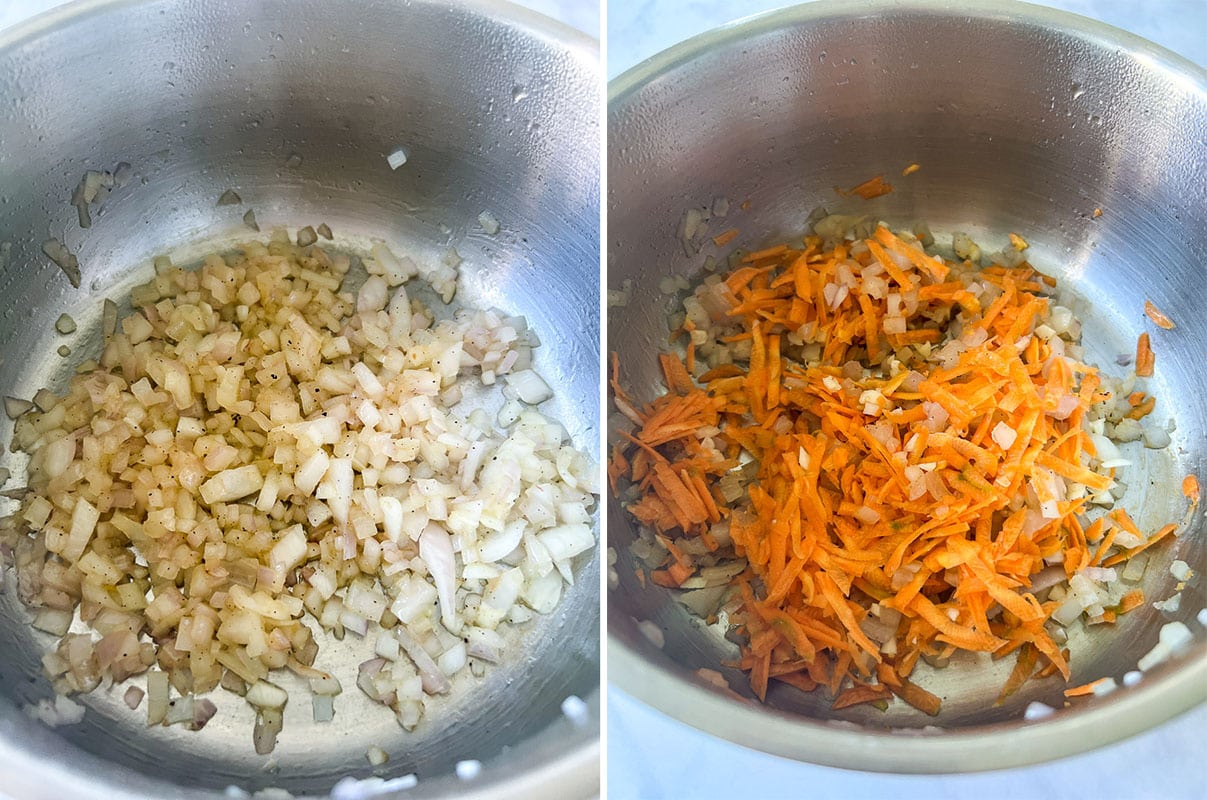 Add Tomatoes and Balsamic Vinegar
Now, it's time to add the chopped tomatoes to the pot (leave any excess water behind in the bowl and only add the tomatoes). Add them to the sautéed onion, carrot, and garlic mixture. Then, drizzle in a dash of balsamic vinegar. The vinegar will provide a delightful tanginess and balance out the natural acidity of the tomatoes. Stir well to combine all the ingredients, and let them cook down for a few minutes. Stir regularly to prevent sticking and ensure even cooking.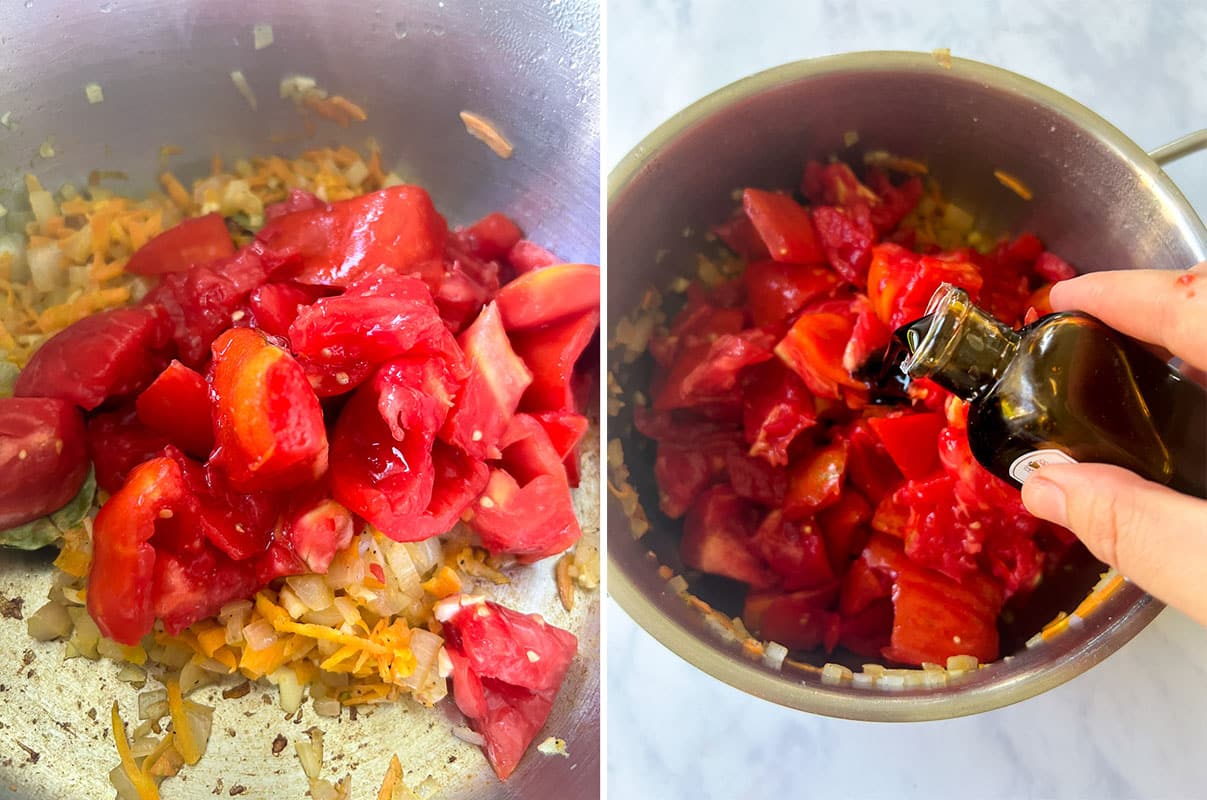 Add Vegetable Stock and Seasoning
Pour in the vegetable stock, ensuring that it covers the tomato mixture in the pot – I like to start with about 2 cups of the vegetable stock, and then add more as needed. Add a couple of bay leaves for an earthy aroma. Season the soup to taste with salt and freshly ground black pepper to taste. Remember that you can adjust the seasoning later, so it's okay to start with a conservative amount and add more if needed.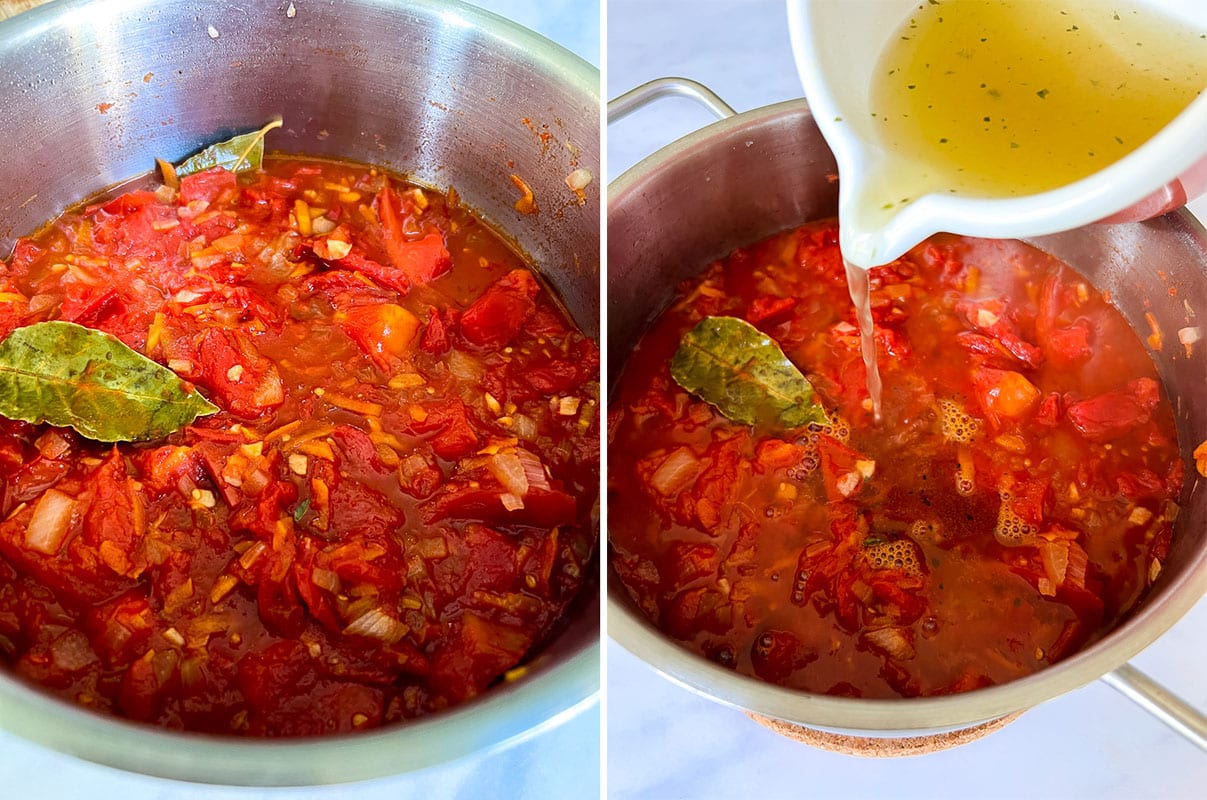 Simmer and Blend
Bring the soup to a boil over medium-high heat. Once it reaches a boil, reduce the heat to low and let the soup simmer for about 15 minutes. This allows the flavors to meld and the tomatoes to fully cook.
After the tomatoes have softened, remove the pot from the heat. Fish out and discard the bay leaves. Using a stick blender carefully blend everything in the pot until you achieve the desired consistency, which should be a smooth and creamy soup. If your soup is too thick, you can always add more vegetable stock or water.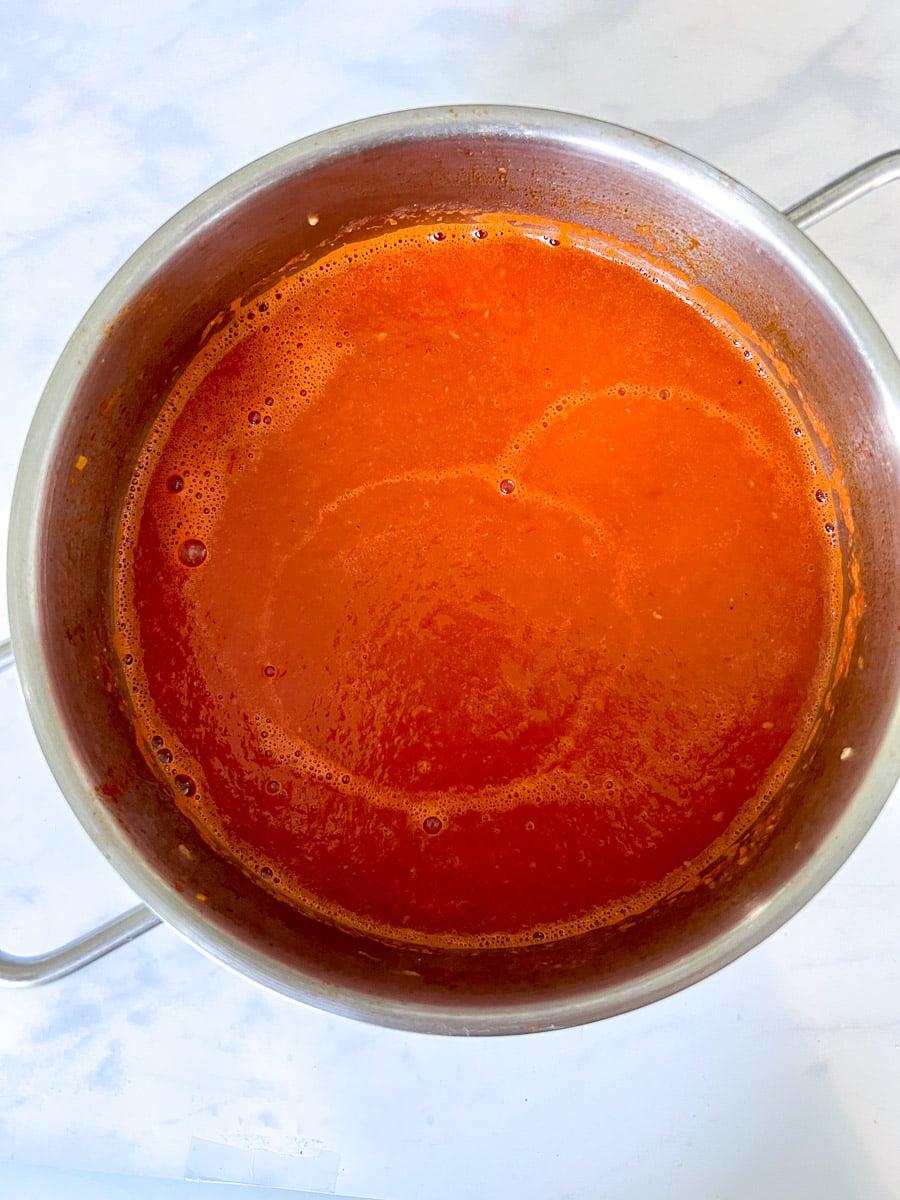 Finishing Touches
Roughly chop fresh basil leaves to add a burst of aromatic flavor to the soup. Stir the basil into the blended mixture.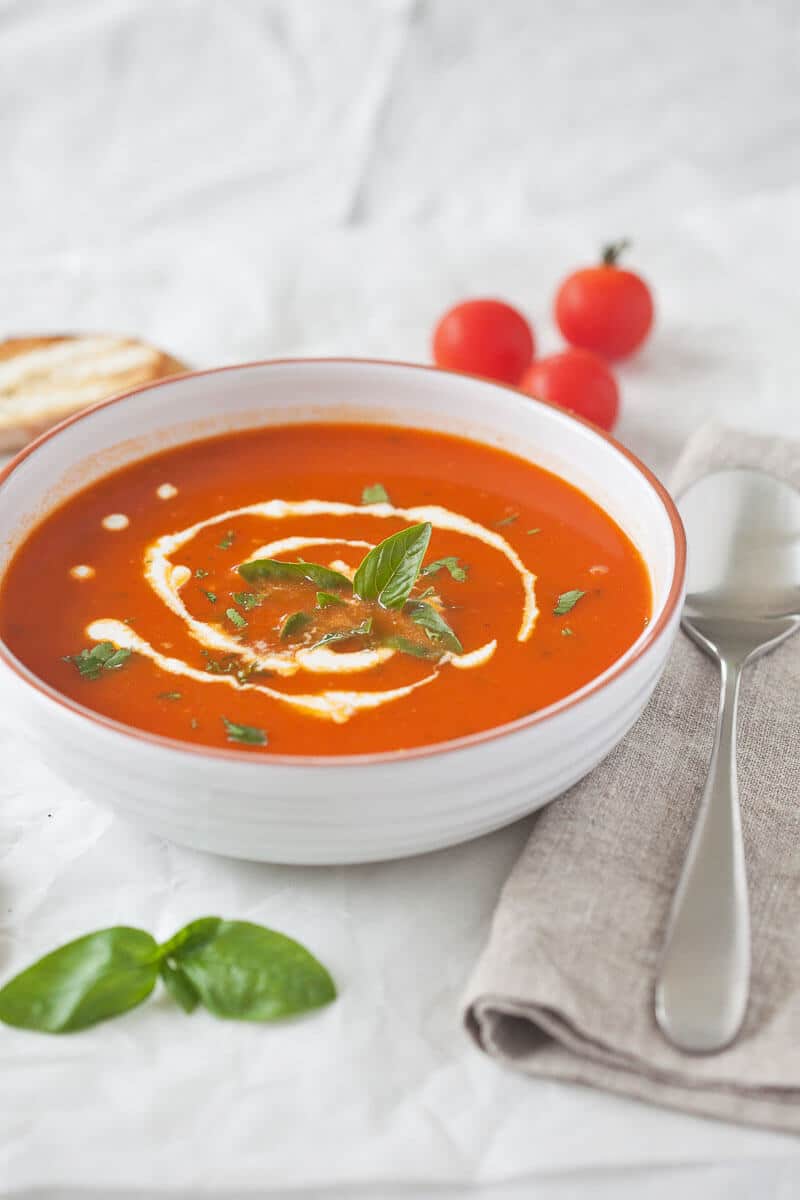 Serving Suggestions
Ladle the tomato soup into bowls, and if desired, garnish with a few extra basil leaves for an appealing presentation.
If you prefer a slightly creamier texture, you can add a teaspoon of plant-based cream.
Serve the soup hot, either as a comforting appetizer or a satisfying main course.
We like to serve with a slice of sourdough bread or a delicious melted cheese toast.
Storage tips
This soup will be kept refrigerated in an air-tight container for up to 5 days.
You can also portion it out and freeze it once cooled down. It will keep frozen for about 2 months. When you are ready to serve, just bring it out of the freeze, thaw it out overnight in the fridge, and then reheat it on the stovetop or in the microwave.
More similar recipes:
We have a step-by-step video recipe for you to enjoy!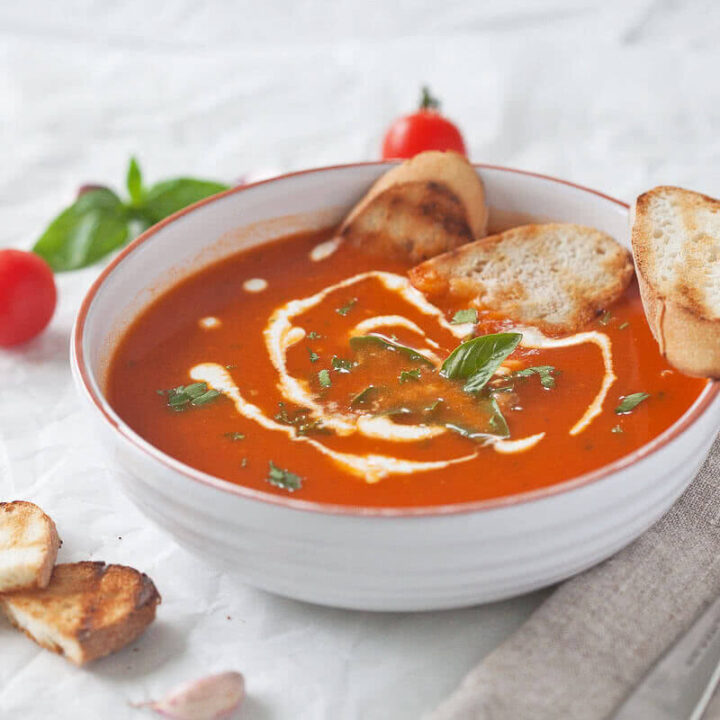 Tomato Soup from Fresh Ripe Tomatoes
Homemade Tomato Soup from Fresh Ripe tomatoes is our favorite Summer soup recipe! Make this soup in just 15 minutes using fresh ingredients.
Ingredients
2 pounds (1 kg) ripe tomatoes
1 onion
3 cloves garlic
1 small carrot
3 - 4 cups vegetable stock (see notes)
2 bay leaves
salt, pepper to taste
fresh basil
dash of balsamic vinegar
olive oil
1 tbsp plant-based cream
Instructions
Wash and dry the tomatoes, then chop them roughly. Try to squeeze out excess water and seeds. Peel onion, garlic and carrot. Finely slice onion and garlic cloves and grate the carrot.
In a soup pot, heat olive oil, then add onions and lightly fry them until translucent. Add grated carrots and garlic, stir-fry for about a minute or two, until the carrots tenderize. Then, add in chopped tomatoes and a dash of balsamic vinegar, stir well and let it cook down for a few minutes, stirring regularly.
Add vegetable stock, bay leaves and season to taste with salt & pepper. Bring to a boil, then lower the heat and cook for about 15 minutes.
When the tomatoes are cooked, remove the pot from heat, then remove the bay leaves and blend into a smooth soup with a stick blender.
Roughly chop basil leaves and add to the soup for taste and garnish, add a teaspoon of cream and serve.
Notes
We updated the recipe regarding the quantity of vegetable stock to use: it depends on the tomatoes you use! If your tomatoes are more watery, use less liquid. Start with 3 cups when cooking, and add more as you go. Try blending your soup, and if it's too thick, then add some more veggie stock!
Nutrition Information:
Yield:

4
Serving Size:

1
Amount Per Serving:
Calories:

113
Total Fat:

5g
Saturated Fat:

2g
Trans Fat:

0g
Unsaturated Fat:

3g
Cholesterol:

4mg
Sodium:

2157mg
Carbohydrates:

14g
Fiber:

2g
Sugar:

7g
Protein:

3g
Nutrition data is automatically calculated using Nutritionix and may not be accurate.