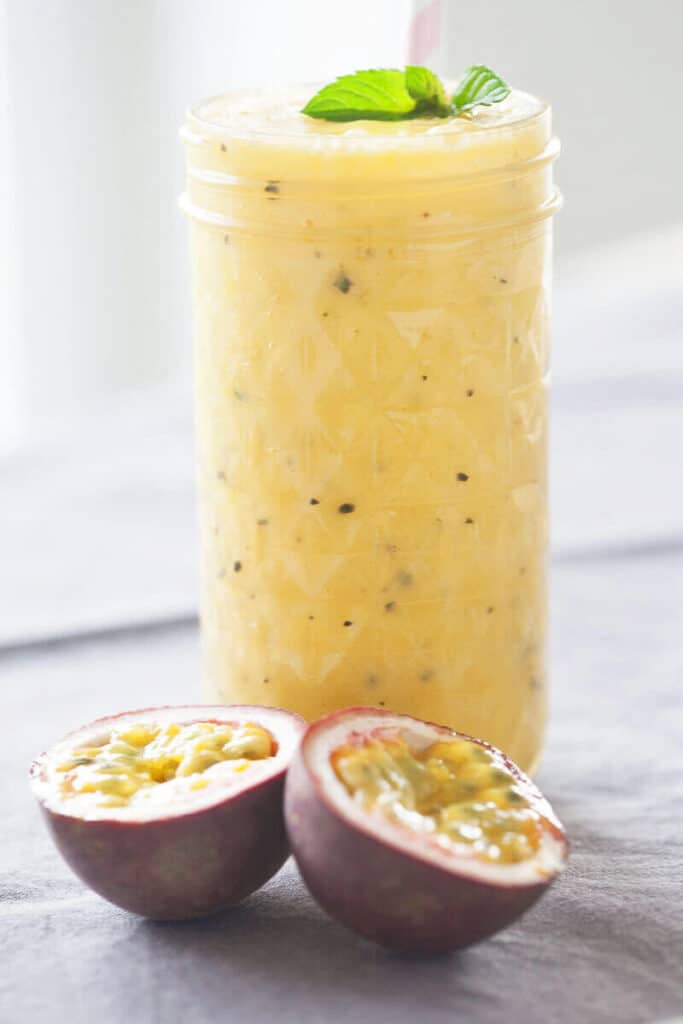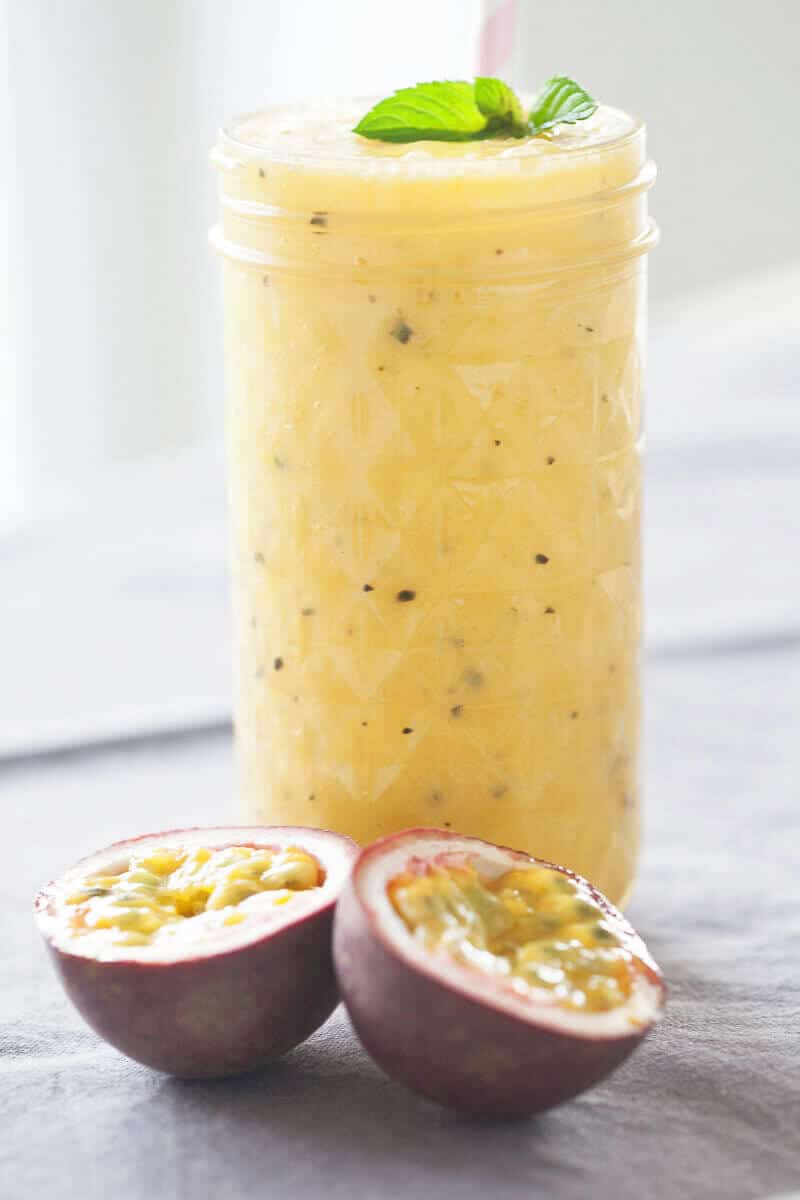 Turn mango and passion fruit into this tropical heaven. This Mango & Passion Fruit Tropical Smoothie is ideal for hot summer days.
Tropical fruit can be found in our stores more or less throughout the year. Sure, it doesn't taste nearly as good as it does in exotic places, but that is true for any kind of fruit or vegetable – the best is what is grown locally and in season.
Alas, since we do not live on Madeira, where mango and passion fruit can be found in the local market, we need to make do with imported, or not at all.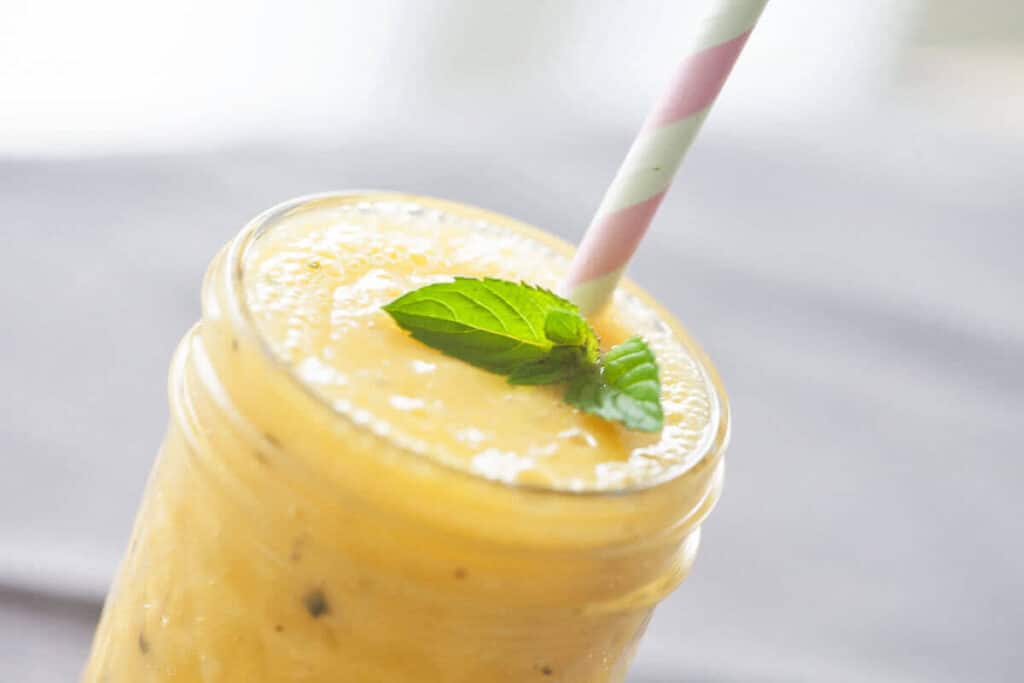 Just the other day we were lucky enough to find a mango, that was ripe enough, and next to it, a couple of passion fruits, that were inviting us to take them home with us. So we did and ended up blending them with a banana, a peach and a dash of yogurt into this tropical heaven.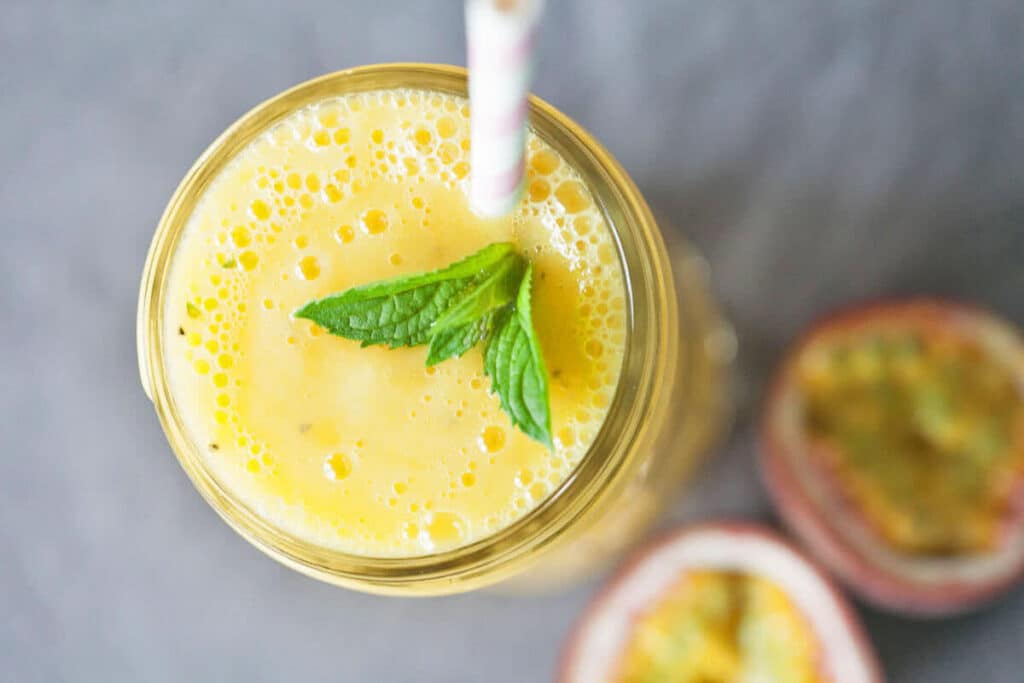 Mango & Passion Fruit Tropical Smoothie
Author: Kristina Jug

Yield: 2-3
Ingredients
1 mango
2 passion fruit
1 banana
1 peach
1 dcl yogurt
water
Instructions
Cut your passion fruit in half and scoop out the seeds & flesh with a spoon. Wash and peel your mango, banana and peach, then slice it into large chunks and place in blender, together with the passion fruit. Add yogurt and water (about 2 dcl or as much as you like) and blend into a smooth, but not watery, liquid.
Pour into large glasses and enjoy!
Nutrition information (per serving):
Calories: 268.85 kcal

Fat: 4.84 g

Saturated fat: 2.62 g

Carbs: 55.18 g

Protein: 7.04 g

Fiber: 7.21 g

Sugar: 43.75 g

Sodium: 59.51 mg

Cholesterol: 14.76 mg

Text and images copyright Vibrantplate.com © All rights reserved.
And now we dream of Madeira again, and those rows of tropical fruit in the market and are counting the days until our next island visit.
Like this recipe? Let us know in the comments below or on social media using #vibrantplate and tag us @vibrantplate.
You can follow us on our Instagram and Facebook account or on Pinterest. Don't forget to sign up to our newsletter & stay up to date with our latest recipes