This Sweet Apricot Dumplings recipe is made with traditional potato dough. A simple, delicious, and beloved vegetarian dish from our childhood.
This recipe is very traditional to our region and is a favorite for kids and grown-ups alike. Sweet Apricot Dumplings are made with an easy potato dough, filled with sweet apricots and sugar, rolled up, and cooked in water. And then comes the magic. You strain the dumplings and dump them into a brown butter and toasted breadcrumbs mix, coating them all over in this melt-in-your-mouth deliciousness. A sprinkle of sugar on top finishes the dish.
So simple, so delicious!
And if you like a spin, we also have a recipe for our favorite plum dumplings.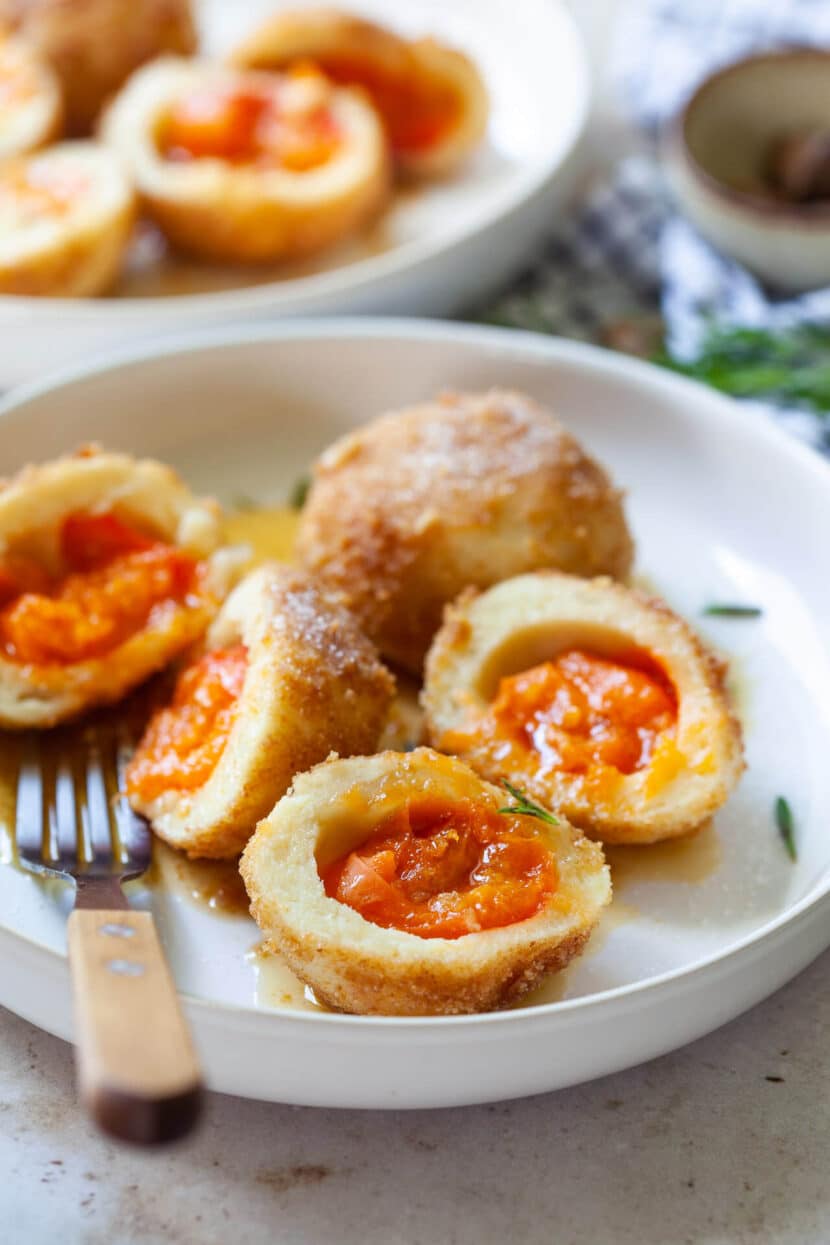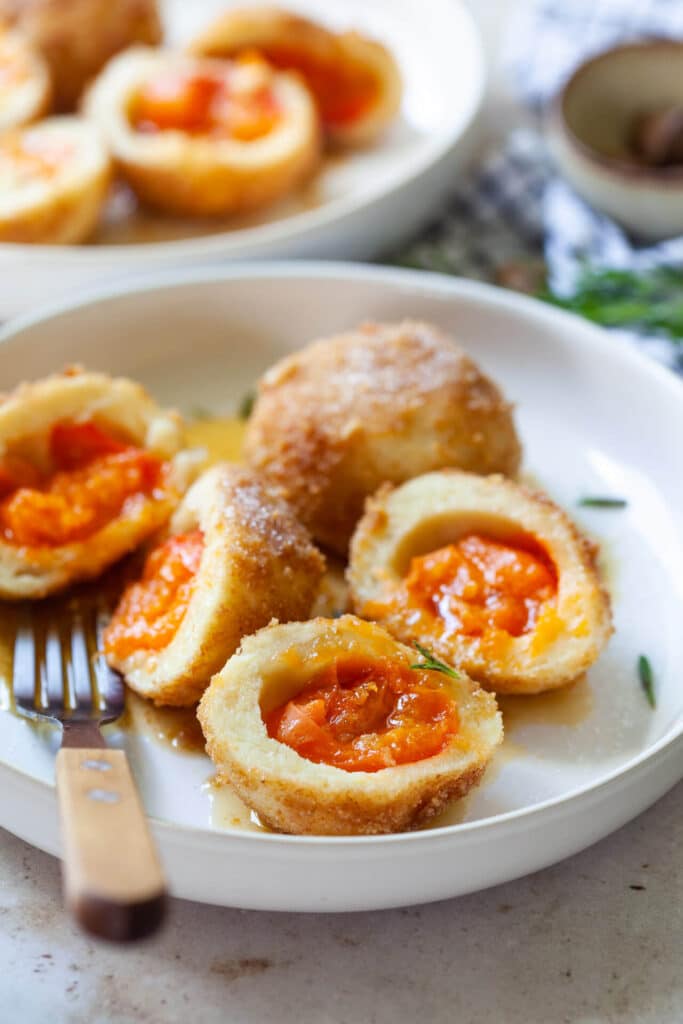 Ingredients
To make Apricot Dumplings you will only need a couple basic ingredients:
potatoes, we use about 5 medium-sized potatoes to make 10 dumplings. We recommend using starchy old potatoes for best results.
flour, any kind of regular wheat flour will work, but we like the type 400 (called "ostra moka" in Slovenian) for this dish
salt
eggs
apricots, we like using small apricots and use 1 whole apricot, pit removed, for 1 dumpling. But if your apricots are big, use halves. Also, the dumplings will work with other fruits as well, such as strawberries, or plums.
butter, we used regular butter in this recipe to keep it traditional, but I have used vegan butter before with excellent results, so just substitute to keep the dish dairy-free
breadcrumbs
sugar to sprinkle on top and make it as sweet as you like. We used regular sugar, but brown sugar would also work.
We haven't tested the recipe without eggs to make it vegan, as this is a highly traditional recipe. You will need something that binds the dough together while cooking, so maybe try an egg replacer in this recipe for a vegan option.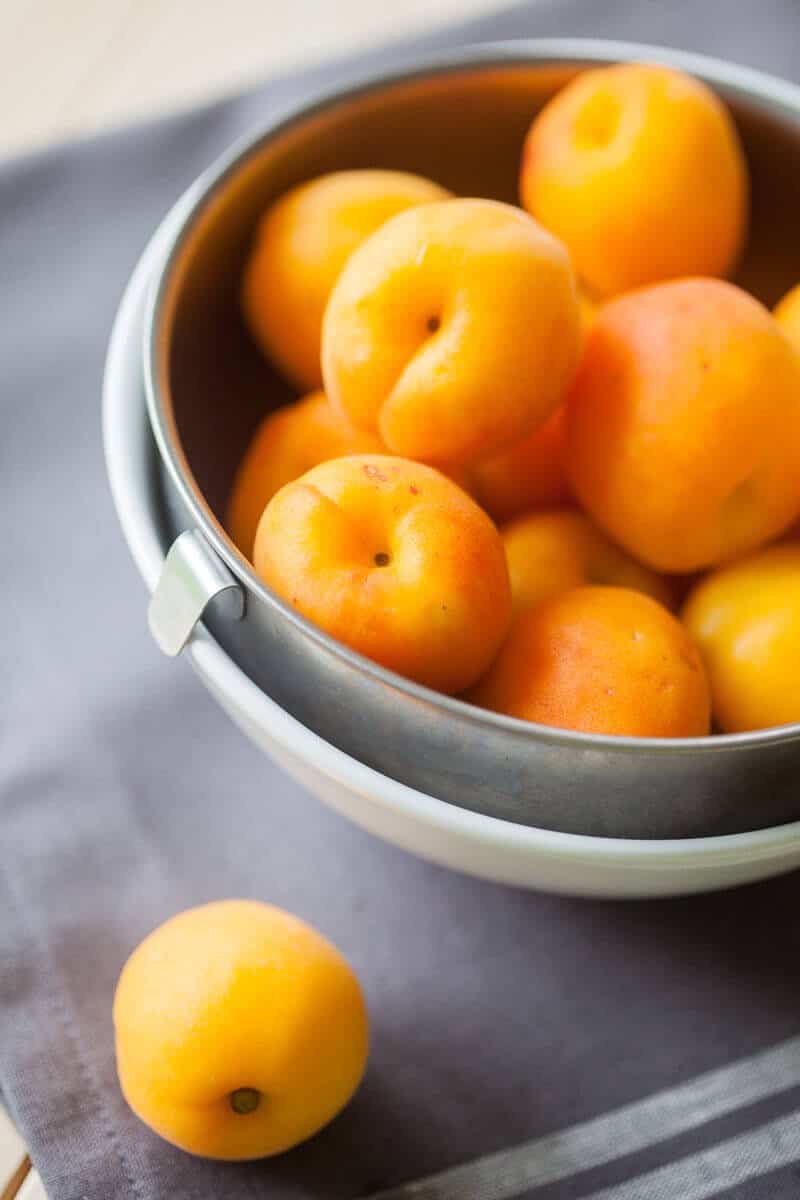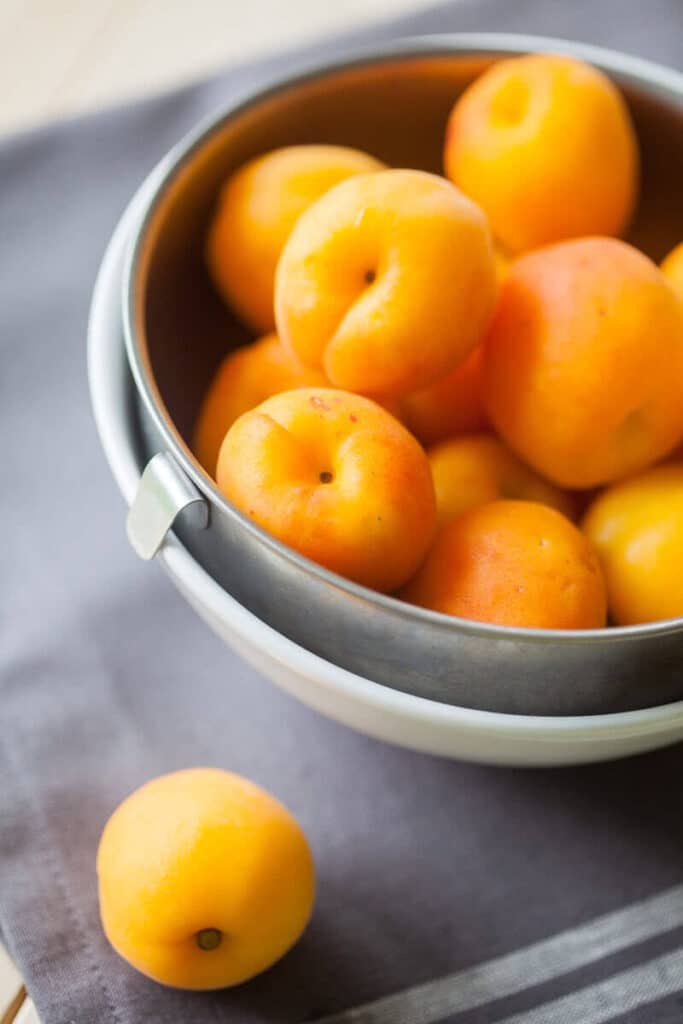 How to make the Apricot Dumplings
Start by cooking the potatoes unpeeled, for about half an hour until fork-tender.
Once the potatoes are cooked, drain them, peel them and mash until smooth. Then, let the dough cool down.
Once cooled, add salt, eggs, and flour and knead until combined into a smooth and firm dough. The amount of flour you use will depend a bit on your potatoes – the drier the potatoes, the less flour you will need.
Next, roll the dough on your floured counter until about 0,5 cm thick (1/4 inch). Cut the dough into circles about 10 cm in diameter. Place half of the apricot in the center, add sugar, and then fold the dough over the fruit and shape it into a dumpling. Make sure to stick the ends together.
Boil a pot of salted water and gently place the dumplings in. Let them cook until they float to the top of the pot, about 10 minutes. Stir gently occasionally, so no dumpling sticks to the bottom of the pot. Once cooked, gently drain the dumplings and transfer them into the pan with butter breadcrumbs and roll them around until fully coated.
For the butter breadcrumbs, melt the butter in a pan and cook on medium until it starts to brown. Then, add the breadcrumbs and stir to combine. Let cook another couple of minutes until the breadcrumbs are toasted and crunchy.
To make the best dumplings use rough wheat flour and cooking potatoes. Know your potatoes here. For the flour types you can use this guide. In our country type number indicate the roughness of milling, so type 400 is "ostra moka" or rough wheat flour. This flour type works best when cooking.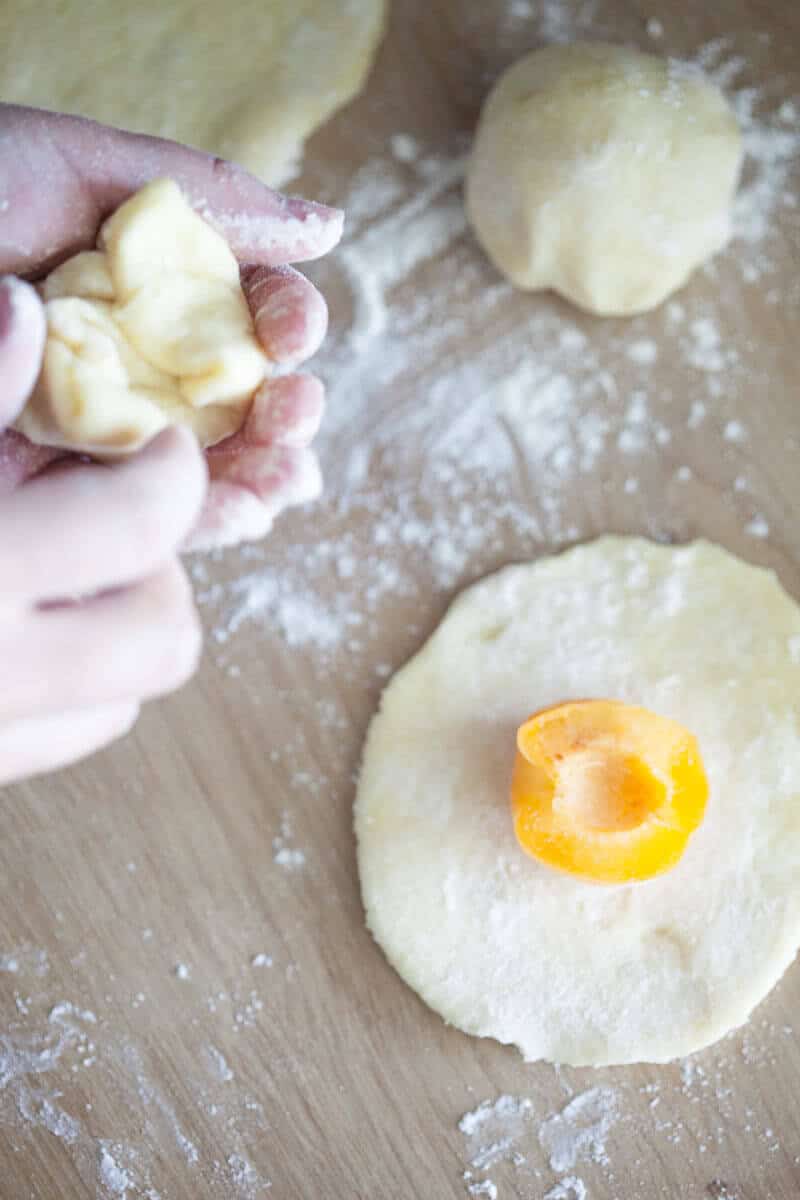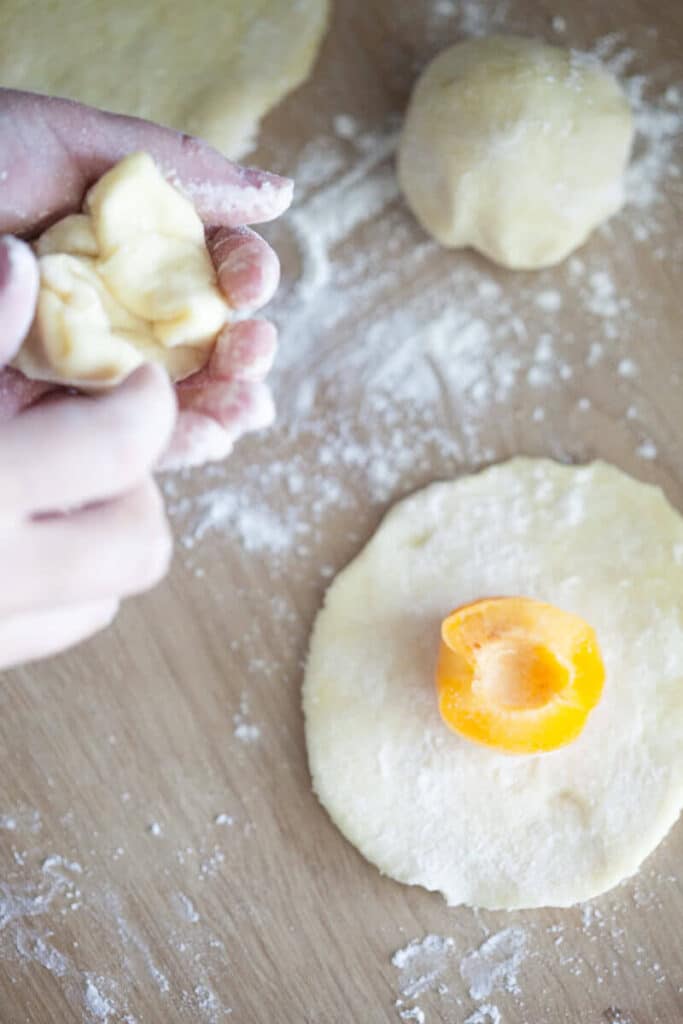 Serving
Serve the Sweet Apricot Dumplings warm with a sprinkle of sugar on top. This can be served as a dessert, but we like to have it as a main course.
The serving size is 2 dumplings (3 if you are really hungry), as they are quite filling and calorie-dense.
Storage
Although the dumplings are best served immediately, they keep refrigerated in an air-tight container for up to 2 days. Before serving, reheat in a microwave or covered in a pot on the stove until the butter has melted and the dumplings are warmed through. Flip them over mid-reheating for best results.
You can also freeze the uncooked dumplings for up to 3 months. Then just toss them frozen straight into boiling water from the freezer to cook them.
Sweet Apricot Dumplings with Butter Breadcrumbs
Total Time:
1 hour
15 minutes
A traditional Sweet Apricot Dumplings recipe made with an easy potato dough. A simple, delicious, and beloved vegetarian dish from our childhood.
Ingredients
5 medium-sized potatoes
110 g flour (type 400)
1 tsp salt
2 eggs
5 apricots (large, or 10 small ones)
4 tbsp sugar
3 tbsp butter (use vegan for dairy-free option)
4 tbsp breadcrumbs
Instructions
Wash the potatoes thoroughly, then place in a large pot and pour in water. Salt the water then cook the potatoes with skin on about 20-30 minutes, until fork-soft. Check with a fork when you can stick it right through the potatoes. Drain, peel and mash, then set aside to cool.
Wash and pit the apricots. If you apricots are small, use whole, pit removed. If using medium or large apricots, remove the pit and use a half for each dumpling.
Prepare the butter breadcrumbs: melt the butter in a pan, and cook on medium, stirring occasionally, until browned. Once the butter starts browning, add in the breadcrumbs, mix to combine with the butter and let cook for a couple of minutes, until toasted and darker in color. Remove the heat and set aside.
To the mashed potatoes, add 1 tsp salt and 2 eggs. Mix to combine roughly, then slowly add the flour, kneading it into the potato dough until smooth. The dough should not stick to your hands, and should be firm.
Roll the dough out on a floured surface about 0,5 cm thick. Cut the dough into circles about 10 cm in size. You can also cut in rectangles. At the center place an apricot (or halves), sprinkle with half a teaspoon of sugar, then fold the dough over the fruit. Shape into a dumpling and make sure to press the dough really well together, to keep the juices inside.
Repeat until you've used up all the dough or apricots. If any dough remains, you can fill it with other fruit, such as strawberries or plums, or cook them "blind" (with no filling). You can even roll it out and make gnocchi with it (and freeze them for later).
Put a pot of salted water to boil. When boiling, gently place the dumplings into the water and cook about 8-10, stirring occasionally, until the dumplings float to the top of the water. Once cooked, remove the dumplings from the pot, lightly drain and gently transfer to the pan with the butter breadcrumbs.
Roll the dumplings in the butter breadcrumbs until fully coated.
Serve warm with a sprinkle of sugar on top.
Notes
Use vegan butter to keep this dish dairy-free.
Nutrition Information:
Yield:

10
Serving Size:

1
Amount Per Serving:
Calories:

204
Total Fat:

5g
Saturated Fat:

3g
Trans Fat:

0g
Unsaturated Fat:

2g
Cholesterol:

46mg
Sodium:

303mg
Carbohydrates:

36g
Fiber:

3g
Sugar:

8g
Protein:

5g
Nutrition data is automatically calculated using Nutritionix and may not be accurate.
If you like this recipe, you can let us know in the comments below or on social media using #vibrantplate and tag us @vibrantplate. We're always happy to read your feedback and LOVE seeing your take on our recipes.
You can connect with us on our Instagram, Facebook, or Pinterest. We share many behind-the-scenes photos and step-by-step recipes in our Instagram Stories, so be sure to check it out!
This recipe was updated in June 2021 with better photos and some optimization.