An easy Tomato Gazpacho Soup recipe for when you don't feel like cooking. This Spanish chilled soup is best in summer. Dairy-Free & Vegan.
Hello, friends. Hope you have been enjoying these lovely summer days. We know we have, though our actual vacation is still a month away.
The heatwaves are sadly gone, I should think, the weather is changing and I can feel summer is drawing to a close. This makes me sad, as I love summer, and also the heat, as it allows me to wear flip flops and sandals and cute summer dresses with straw hats.
Meanwhile, as I am writing this, wrapped in a hoodie and with socks on, I can still look forward to our vacation in Italy and, a bit further down the line, tropical Thailand!
If the summer ends, I can still travel to where the sun still shines 🙂
Meanwhile, our garden tomatoes have started to ripen. We have plenty of them, but they are a bit late this year, so we just hope that they will all ripen in time before the arrival of autumn sets their fate.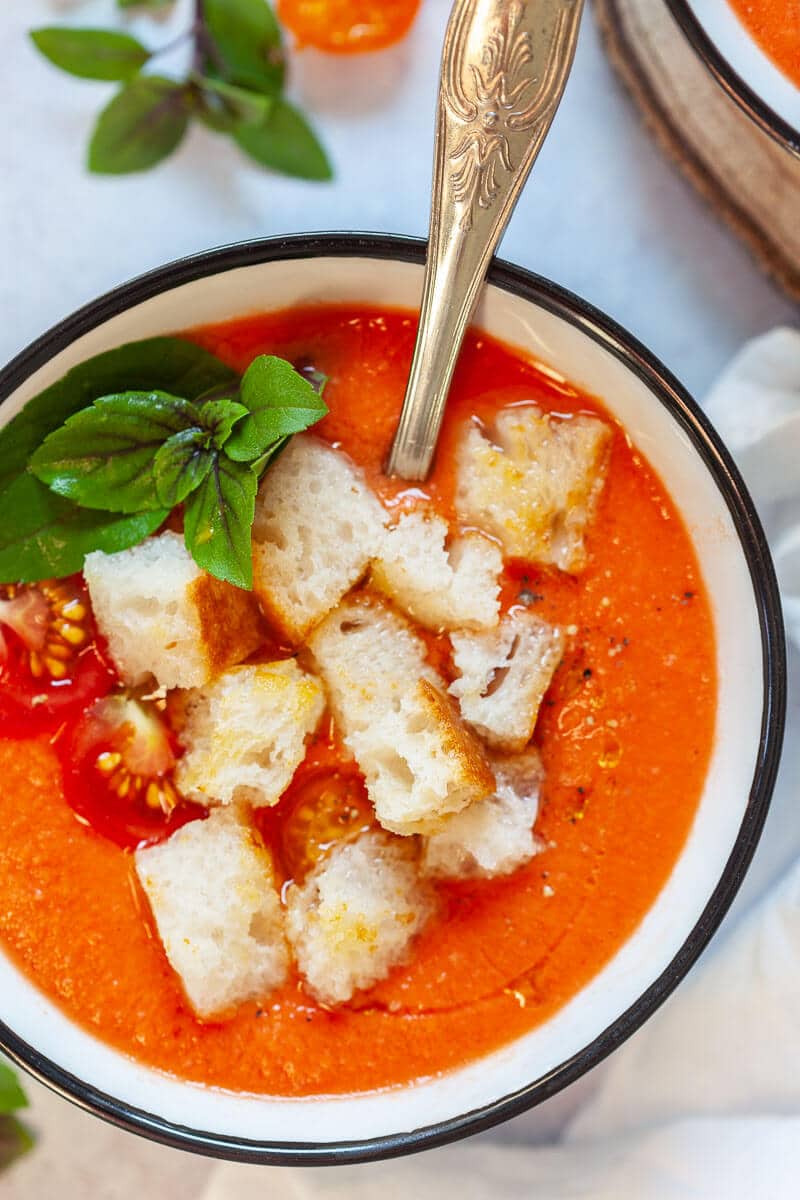 What do you do, when you have delicious ripe tomatoes? We recommend pasta sauce, tomato soup or tomato salad.
But this year, we also tried a soup variation – an Easy Tomato Gazpacho Soup.
What is gazpacho soup?
Gazpacho is a sort of a Spanish tomato soup that is prepared raw with no cooking and served chilled. The ingredients we used are tomato, bell pepper, red onion, garlic, olive oil, balsamic vinegar, salt, pepper, and stale bread. Usually, you would throw some cucumber in there, too, but Mitja does not eat cucumbers, so we just made it without.
If the taste of raw onions is too strong for you, try replacing red onion with spring onion!
This Easy Tomato Gazpacho Soup recipe comes together in 15 minutes, and as the title says, it's really easy to make! Just throw a bunch of vegetables in a blender, blend away, add some stale bread, and refrigerate to chill for a couple of hours.
This Tomato Gazpacho Soup is best served chilled on a hot summer day while the tomatoes are in season. So make the most of it!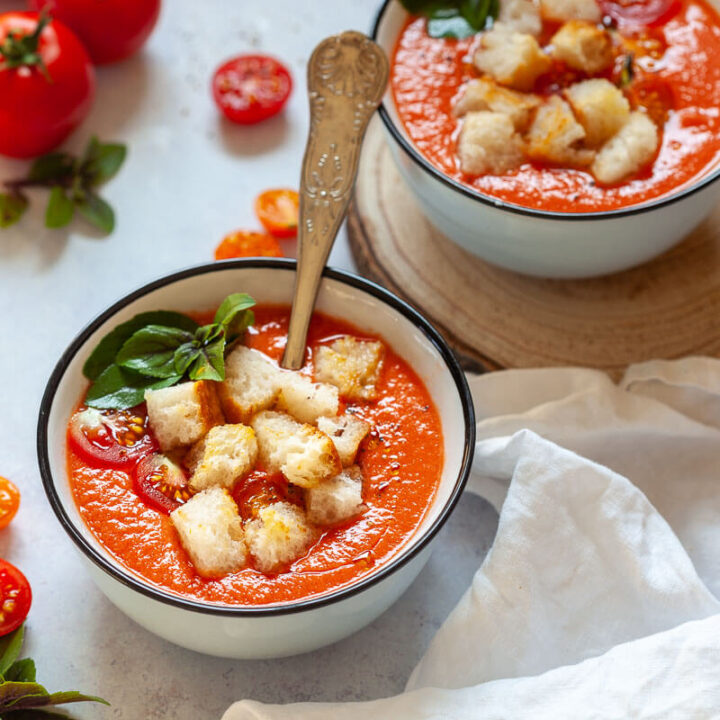 Easy Tomato Gazpacho Soup
An easy Tomato Gazpacho Soup recipe for when you don't feel like cooking. This Spanish chilled soup is best in summer.
Ingredients
2 pounds ripe tomatoes
1 red bell pepper
1/2 red onion
2 cloves garlic
2 tbsp olive oil
1 tsp balsamic vinegar
pinch of salt
dash of ground black pepper
2 slices stale bread
Instructions
Cut tomatoes, remove seeds and place into a blender.
Add red bell pepper, red onion, garlic, olive oil, balsamic vinegar, salt and pepper. Blend until smooth.
Remove crust from 1 slice of stale bread. Dip the bread slice into the blended tomatoes and let soak for 10 minutes.
Blend again until smooth.
Place the gazpacho soup into the refrigerator to chill for 2-4 hours.
Cut the other slice of bread into cubes and pan fry until golden brown to make croutons.
Serve the gazpacho soup chilled, topped with bread croutons.
Nutrition Information:
Yield:

3
Serving Size:

1
Amount Per Serving:
Calories:

211
Total Fat:

10g
Saturated Fat:

1g
Trans Fat:

0g
Unsaturated Fat:

8g
Cholesterol:

0mg
Sodium:

163mg
Carbohydrates:

27g
Fiber:

5g
Sugar:

12g
Protein:

5g
Nutrition data is automatically calculated using Nutritionix and may not be accurate.
If you like this recipe, you can let us know in the comments below or on social media using #vibrantplate and tag us @vibrantplate. We're always happy to read your feedback and LOVE seeing your take on our recipes.
Don't forget to subscribe to our Newsletter – you'll be notified when we post new recipes, plus you get a free gift from us 💚 A 15-recipe free e-book with our most beloved recipes!
You can connect with us on our Instagram, Facebook or on Pinterest. We share many behind-the-scenes photos and step-by-step recipes in our Instagram Stories, so be sure to check it out!