A cute and delicious Vegan Raspberry Cream Cake is perfect for a plant-based celebration.
I've been wanting to post this recipe since my birthday beginning of July. You'd think posting a recipe would be easy, right? You make the cake, photograph it, write the recipe and publish. Right? Well, no. The publishing process is actually quite extensive, at least for us, and I would suspect for plenty of other food bloggers as well. It's not just taking the pictures and writing a recipe. We must have taken over 100 photos of this cake, and selecting the few that would make it online is no easy task when you like most of the photos. Then, you need to edit the pictures to improve contrasts, lights, and basically bring the best of the photo out.
Writing is no easy task as well. Most of the time when I'm cooking, I still have no real idea if the meal would make it to the blog. I try styling the dish, take a test photo, and when I see I could work with the dish, we do the photo shoot and I try to quickly scribble down the ingredients and procedure. On paper. Then the extensive process of photo selection and editing follows and by then I usually already have a couple other recipes planned for posting. And so a recipe waits its turn. But even if late, it would be a shame not to share this pretty Vegan Raspberry Cream Cake, right? I mean, look at it: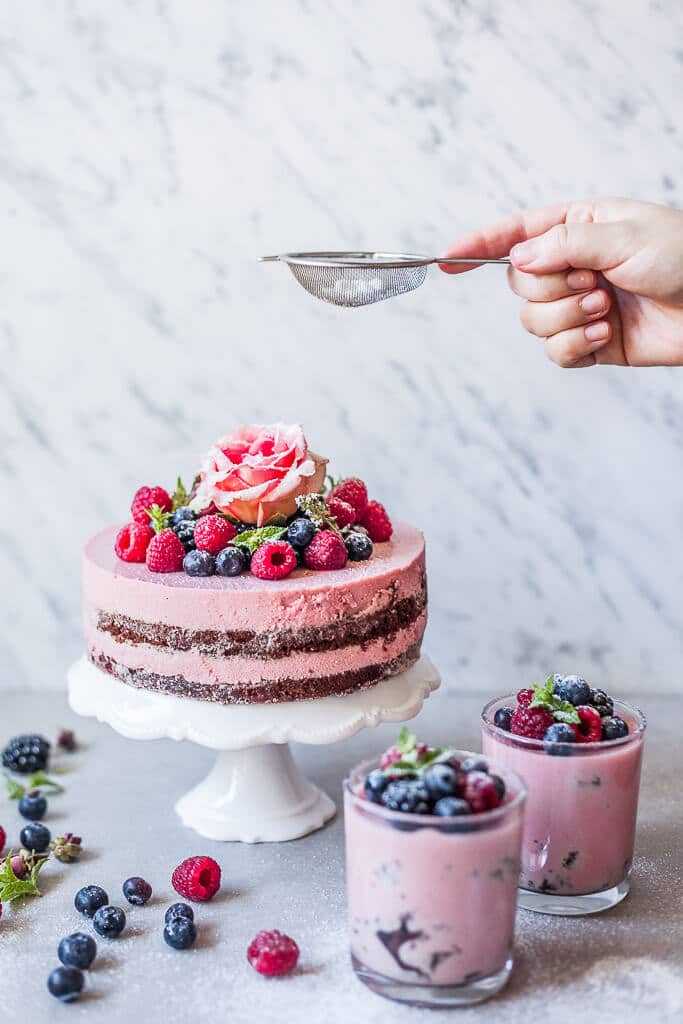 So pretty in pink with a delicious vegan chocolate base and topped with fresh berries, this Vegan Raspberry Cream Cake screams Summer. And, it's vegan, too! I have probably never made a completely vegan birthday cake before. But this year, as my dairy allergy insists, I decided to give it a try and made a mash of a couple of my fave recipes. The ingredients could make a larger cake, but I used a small 18 cm (about 7 inches) mold and had some leftover sponge cake and cream, that I cleverly converted into cute vegan cakes in a jar. So when the party was over and the cake was gone, I still had a couple of leftover jar cakes for the next days 🙂
The cream is made with full-fat coconut whipping cream. You could replace it with another plant-based substitute (or regular dairy cream). I tried a rice based alternative, but the flavor of rice was overwhelming the cake, so it would not be my first choice.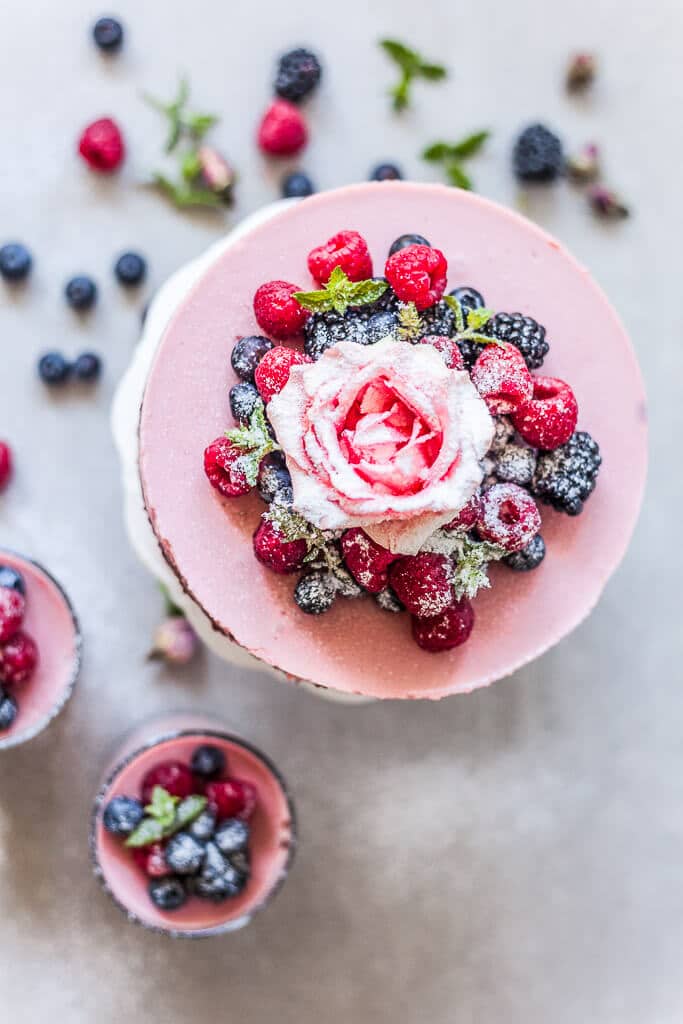 Top the cake with delicious summer berries for a pop of color and added zing! I used fresh raspberries, blackberries, and blueberries and added a pretty rose from my garden. Then to finish, a light dust of powdered sugar!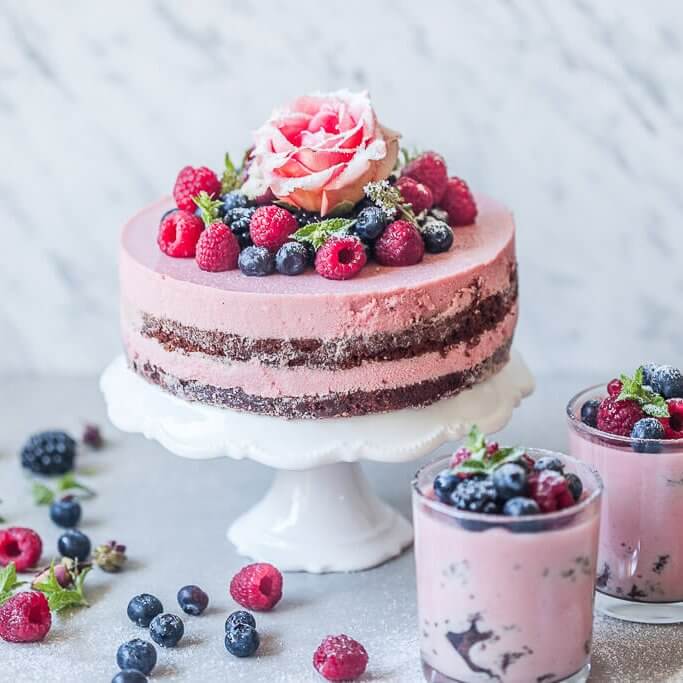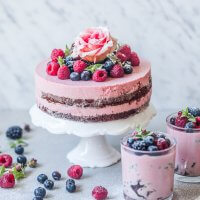 Vegan Raspberry Cream Cake
A cute and delicious Vegan Raspberry Cream Cake is perfect for a plant-based celebration.
Ingredients
1 1/2 cups flour
1/3 cup cacao powder
1 ts baking powder
1/2 ts salt
3/4 cup sugar
1/2 cup oil
1 cup soy milk
2 ts vinegar
300 grams raspberries (frozen)
100 grams sugar
1 ts agar agar (about 5 grams)
600 milliliters full-fat coconut whipping cream
fresh fruit for topping (raspberries, blackberries, blueberries)
Instructions
Preheat fan oven to 160°C / 320°F (regular oven to 180°C/356°F). Grease a round cake baking tin (diameter about 20 cm/8 inch).
In a bowl, mix together the dry ingredients: flour, cacao powder, baking powder, salt and sugar. In a separate bowl, mix oil and soy milk. Add wet ingredients to dry ingredients and mix well to combine. Add vinegar and stir in quickly, then immediately pour batter into the baking tin and place in preheated oven. Bake about 45-50 minutes. Test when your spongecake is ready with a toothpick.
Remove spongecake from oven and set aside to cool completely. Once cooled, slice the spongecake into two layers. If you have leftover spongecake, set it aside. I actually cut my spongecake into 4 thin layers and ended using only 2.
Place raspberries and 100 grams sugar into a pan and heat up on low. Cook while constantly stirring for about 20 minutes, or until the raspberries have dissolved and the sauce thickens. Run the sauce through a strainer to remove seeds and cool down. Add agar agar, mix well, then return to the pan and bring to a boil. Let it boil for about a minute, then remove from stove and cool down.
Whip coconut cream until fluffy and firm. Slowly add the coconut cream to the raspberry and agar agar mix, stirring well.
Start assembling your cake: Place a spongecake layer in a cake mold with removable sides and soak with a few spoons of water and sugar mixture or raspberry juice. Add a few scoops of raspberry cream and smooth it out. Place in fridge for a couple of minutes to firm the layers. Then, carefully add another spongecake layer on top, soak it, and add more raspberry cream. Even the layers, and place in fridge to firm for at least two hours or overnight.
Once your cake is chilled and firm, remove the sides of the cake tin carefully and place your cake on a cake stand. Decorate with fresh berries and roses and dust with powdered sugar. Serve.
If you have leftover cream and spongecake, tear up spongecake into chunks, and place into glasses or jar. Soak, then add cream on top. Cover the jars with cling film and place in fridge to firm.
Nutrition Information:
Amount Per Serving:
Calories:

592.68
Total Fat:

38.54g
Saturated Fat:

16.05g
Sodium:

233.97mg
Carbohydrates:

60.01g
Fiber:

4.58g
Sugar:

36.43g
Protein:

6.21g
Like this recipe? Let us know in the comments below or on social media using #vibrantplate and tag us @vibrantplate.
You can connect with us on our Instagram and Facebook or on Pinterest. We share many behind-the-scene photos in our Instagram Stories, so be sure to check it out! And don't forget to sign up to our newsletter & stay up to date with our latest recipes. 😉
Try also this classic Chocolate Naked Cake or a delicious Blueberry Cake with Quark Cream.