The Easiest Lemon Tahini Falafel Wrap, topped with a delicious Lemon Tahini Sauce is a quick & vegan meal.

We make plenty of our meals vegetarian because we simply do not like meat that much. I guess you could say we are a bit fed up with meat.
Going strictly vegetarian or vegan overnight can be a bit traumatic. Believe me, I tried it. It is a good idea to get organized and informed about your choices before you take the step. But you can also try it in smaller steps. Like partaking in #meatlessmonday or have a few vegetarian meals per week. When you do try it, you'll see a whole new world open up. And it's a beautiful, colorful and tasty world of healthy food.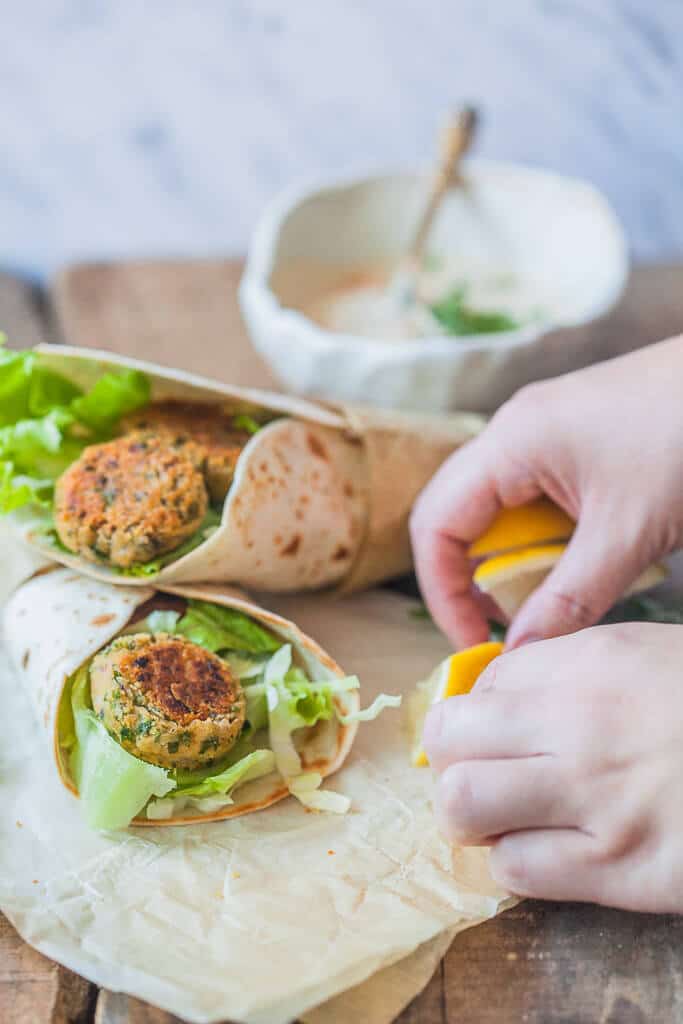 Vegetarian food can be fantastic, but it can also be boring and unhealthy. There is vegetarian junk food. Plenty of snacks and crisps are actually vegetarian. So if you are trying it for health, make sure to incorporate plenty of vegetables in your diet.
But in the end, you may find out, strict vegetarianism may not be for you. And that's ok, too. You'll still learn about new foods and healthy food choices and if you incorporate that in your everyday diet, you'll be just fine. Your diet should be whatever makes you feel your best.
Falafel is one of the meals I have never had before I went vegan a few years back. I posted the recipe for falafel patties a while back and one way to eat it is in this gorgeous Lemon Tahini Falafel Wrap. Isn't it just pretty?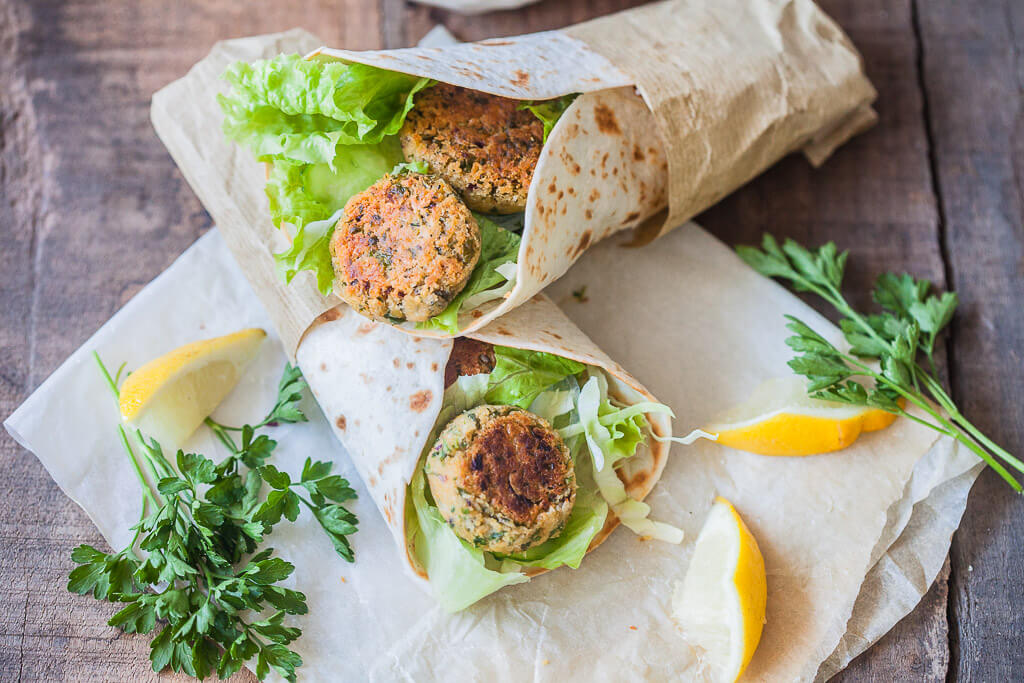 What's even better, to make these wraps you can actually make your falafel patties ahead and store them in the fridge. Then, when you are ready, just assemble together and enjoy. This Lemon Tahini Falafel Wrap makes also an excellent to-go lunch to enjoy later on in the day.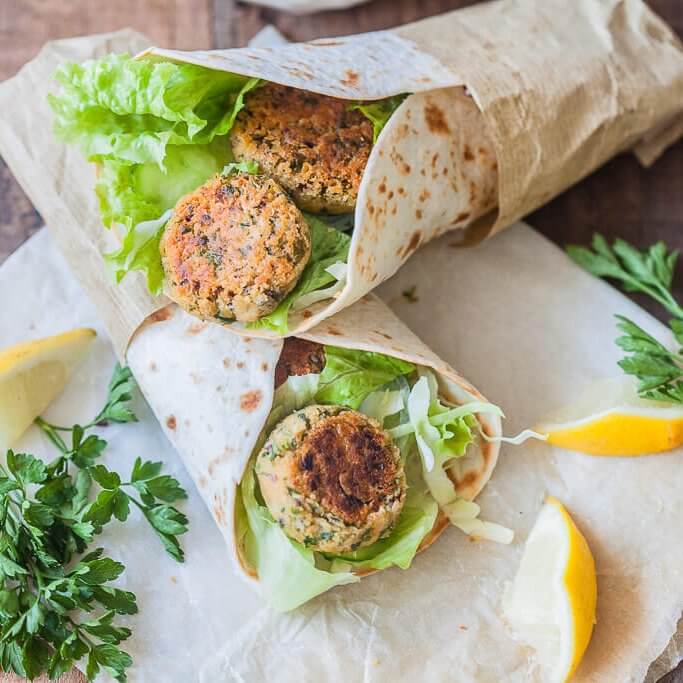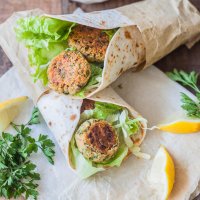 Easiest Lemon Tahini Falafel Wrap
The Easiest Lemon Tahini Falafel Wrap, topped with a delicious Lemon Tahini Sauce is a quick & vegan meal.
Ingredients
6 falafel patties
2 tortillas
a handful of chopped salad
a handful of thinly sliced cabbage
1/2 cup sliced cucumbers
1/2 cup sliced bell pepper
1 small white onion
1/4 cup tahini
1 clove garlic, minced
1/2 cup water
1/2 lemon, juice
salt, pepper to taste
red paprika to taste
Instructions
Make falafel patties according to this recipe. You can make falafel ahead and store it in the fridge for a few days to use when ready.
Prepare your lemon tahini sauce: in a bowl (or food processor) place tahini, minced garlic, juice of 1/2 lemon, salt and pepper to taste and a bit of water. Mix well, and add more water as needed, depending how thick you want your sauce.
Preheat tortillas according to package instruction.
Assemble your wrap. Spread lemon tahini sauce on a tortilla, add chopped salad, sliced cabbage, cucumber slices, bell pepper and sliced white onion. Top with falafel patties and close the wrap. Serve immediately or pack up for your lunch break.
Nutrition Information:
Amount Per Serving:
Calories:

433.51
Total Fat:

26.08g
Saturated Fat:

3.62g
Sodium:

627.44mg
Carbohydrates:

41.08g
Fiber:

6.09g
Sugar:

3.8g
Protein:

14.36g
More Falafel Recipes:
NOTE: This is an updated post from 2016. We reshot and substituted the photography, changed the recipe slightly and did some SEO to the article.
Like this recipe? Let us know in the comments below or on social media using #vibrantplate and tag us @vibrantplate.
You can connect with us on our Instagram and Facebook or on Pinterest. We share many behind-the-scene photos in our Instagram Stories, so be sure to check it out! And don't forget to sign up to our newsletter & stay up to date with our latest recipes 😉