A moist and delicious small-ish Easy Naked Chocolate Cake is just the thing to celebrate in style!
🎉 Happy 1st Birthday, Vibrant Plate! 🎉 One year ago we started this little blog with very high hopes but also very little idea of what we were getting ourselves into 🙂
In our first year, we've come so far and yet managed to do very little… far less than our plans, and yet far more than we've ever hoped or anticipated.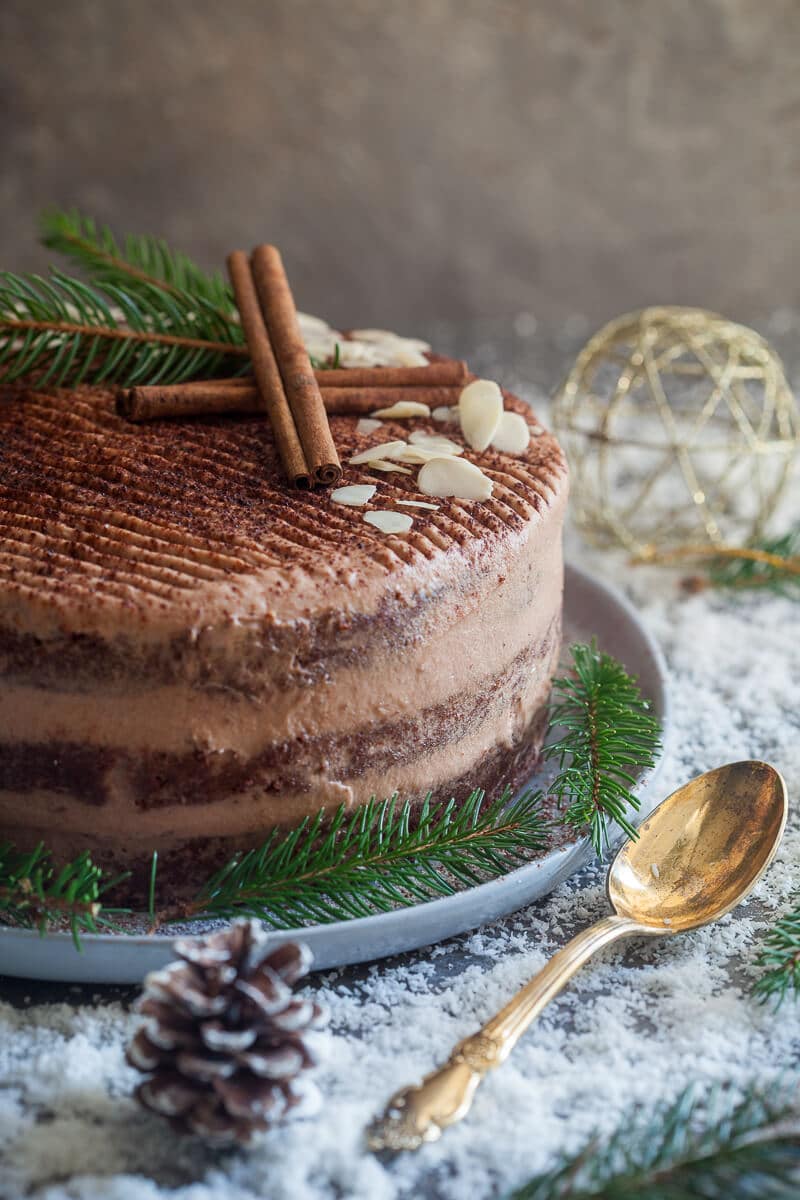 What is more, we've learned a whole lot about cooking, photographing and blogging and we really feel we've made some great progress…. and have many more ideas and plans ahead.
This first birthday is a great milestone and also a reminder of things left undone, of ideas to bring to life and of course, many more meals to make, and eat and blog about.
We're thrilled you've been right along with us for the ride and hope to see much more of you as we take our first steps into our second year…
And while we do so, here's a piece of cake, literally: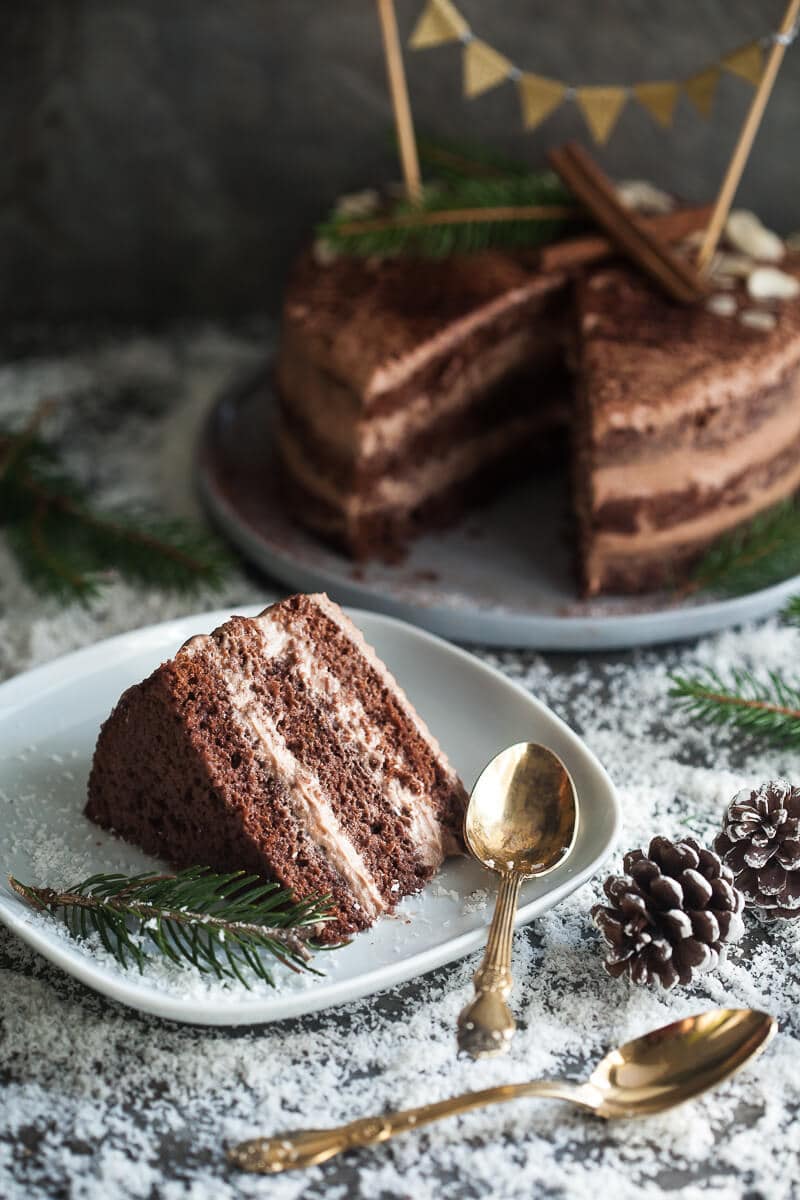 It seemed only fitting we'd celebrate this occasion with a simple, yet delicious Naked Chocolate Cake. And, just for this occasion, I've ventured into the cold to gather pine, just to present this cake to you. Might I add, this was my first walk after the cold I had over the holidays, and just this tiny bit of exercise left me gasping for air. Oh my, long will be the road to recovery. But in the meantime, let's have cake.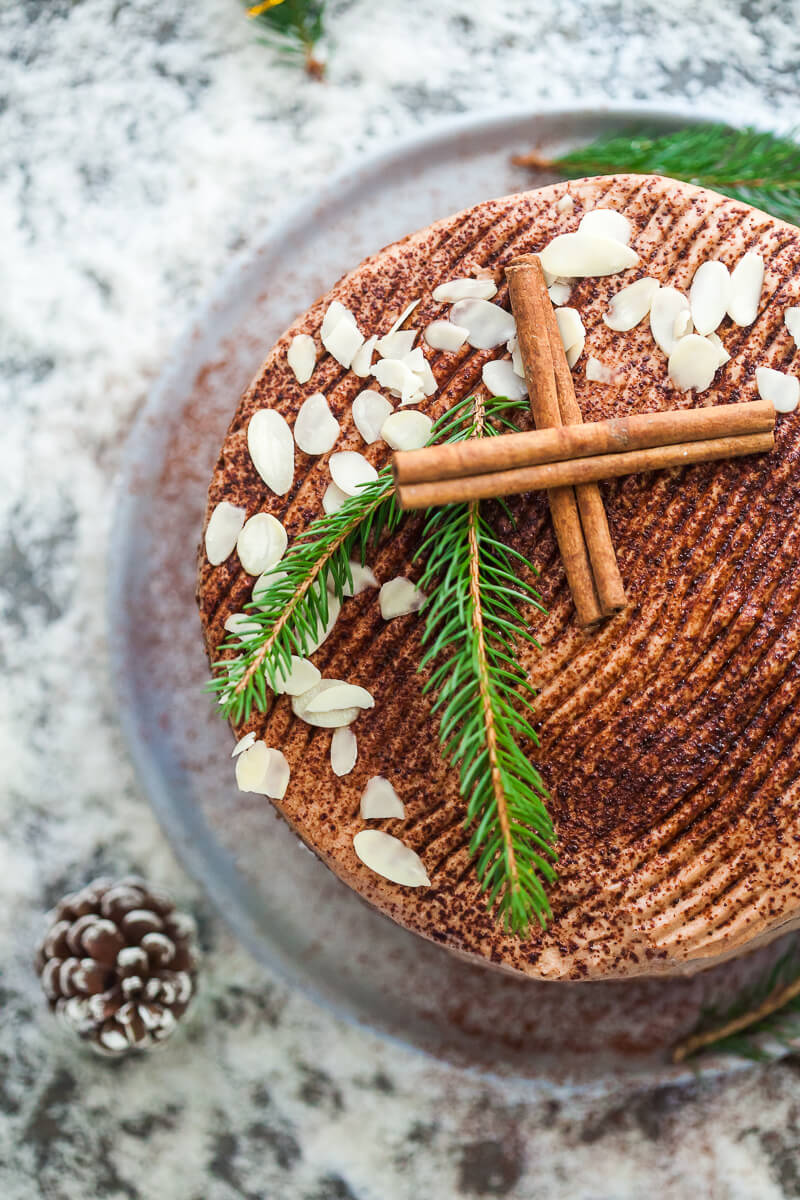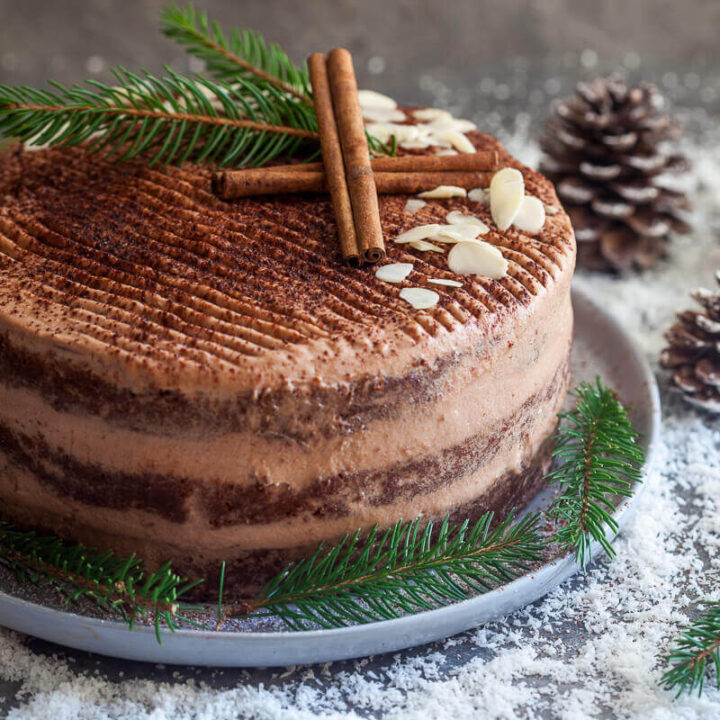 Easy Naked Chocolate Cake
Total Time:
1 hour
30 minutes
Moist and delicious, this Easy Naked Chocolate Cake is just the thing to celebrate in style. A simple cake to make with little effort!
Ingredients
150 g all-purpose flour
5 g baking powder
2 tbs cacao powder
3 eggs
150 g sugar
60 ml hot water
60 ml sunflower seed oil
1 dcl milk + water as needed
2-3 tsp dark rum or bourbon
500 ml whipping cream
250 g mascarpone
3-4 tbs Nutella
1 ts cacao powder for dusting
almond slices for decoration
Instructions
Preheat oven to 180°C / 356°F (fan oven 160°C / 320°F).
For the cake use a fi20cm (8 inch) round baking tin and spray the bottom with baking spray or butter & lightly flour it.
In a bowl, add flour, baking powder and 2 tbs cacao powder and combine well.
Separate egg whites and yolks. In a large bowl, add 75 g sugar to egg whites and whisk through until fluffy (use an electric mixer).
In a separate bowl combine egg yolks and the remaining 75 g sugar, add hot (not boiling!) water and whisk until the yolks increase in size. Add the flour mix to the egg yolks slowly (by spoon) and continue mixing it in with a spatula, until you use all of the flour mix. Then, add oil to the egg yolks and combine well. Lastly, add the mixture to the egg whites and fold it in gently until thoroughly combined.
Pour the cake mixture into the baking tin and put into the preheated oven. Bake for about 50-60 minutes. You can check if your cake is done by inserting a toothpick into the cake. If it comes out clean, your cake is ready to be removed from the oven. Set aside to cool, then slice the spongecake two times horizontally to achieve 3 cake layers.
Mix dark rum (or bourbon) with milk. Gently soak the 3 sponge layers with the milk mixture. You can also reduce with water for a moister soak. Note: I did not add any sugar as I don't like it too sweet, but if you want, you can add some sugar to water and bring to a boil to melt the sugar.
For the chocolate frosting: In a bowl whip the cream until firm, then add the mascarpone and Nutella. Fold in with a spatula and combine well.
Assemble the cake. Put the first spongecake layer on your serving plate. Put chocolate frosting in a plastic bag, twist the top of the bag and cut a hole in the bottom. Squeeze the frosting onto the first spongecake layer in a circular move from the outside to the center of the cake. Add the second sponge layer and repeat. Add the top layer and repeat. Use a spatula or knife to distribute the frosting evenly on top of the cake and on sides. Dust the top layer with cacao powder and decorate with some pine and cinnamon sticks. Refrigerate for at least 2 hours, or overnight. Serve chilled.
Nutrition Information:
Amount Per Serving:
Calories:

567.24
Total Fat:

41.47g
Saturated Fat:

21.71g
Sodium:

212.28mg
Carbohydrates:

42.4g
Fiber:

1.53g
Sugar:

26.1g
Protein:

7.93g
Like this recipe? Let us know in the comments below or on social media using #vibrantplate and tag us @vibrantplate.
You can follow us on our Instagram and Facebook account or on Pinterest. Don't forget to sign up to our newsletter & stay up to date with our latest recipes 😉