Nothing better than a bowl of warm Chicken Stew with Fluffy Dumplings to warm you on a cold winter day. Real comfort food!
Omg, it's so cold! I hope over where you are your mornings are warmer than ours that range from -11°C to -15°C (that's 5°F for our American friends!). It's so cold our roller blinds will sometimes freeze and not go up in the morning. And we've been having no snow at all, and I'm still not sure if I like that (yay no shoveling! yay no cold wetness on my hands or down my back!) or not (no snowman, no charming white landscape). Is it even really winter if there is no snow?
Anyways, with these temperatures all I can think of is hot food. Soups and stews and minestrones, to be more precise. Like this rustic and delicious, warm pot of Chicken Stew with Fluffy Dumplings. Hearty and comforting, just the thing we need on a cold winter day.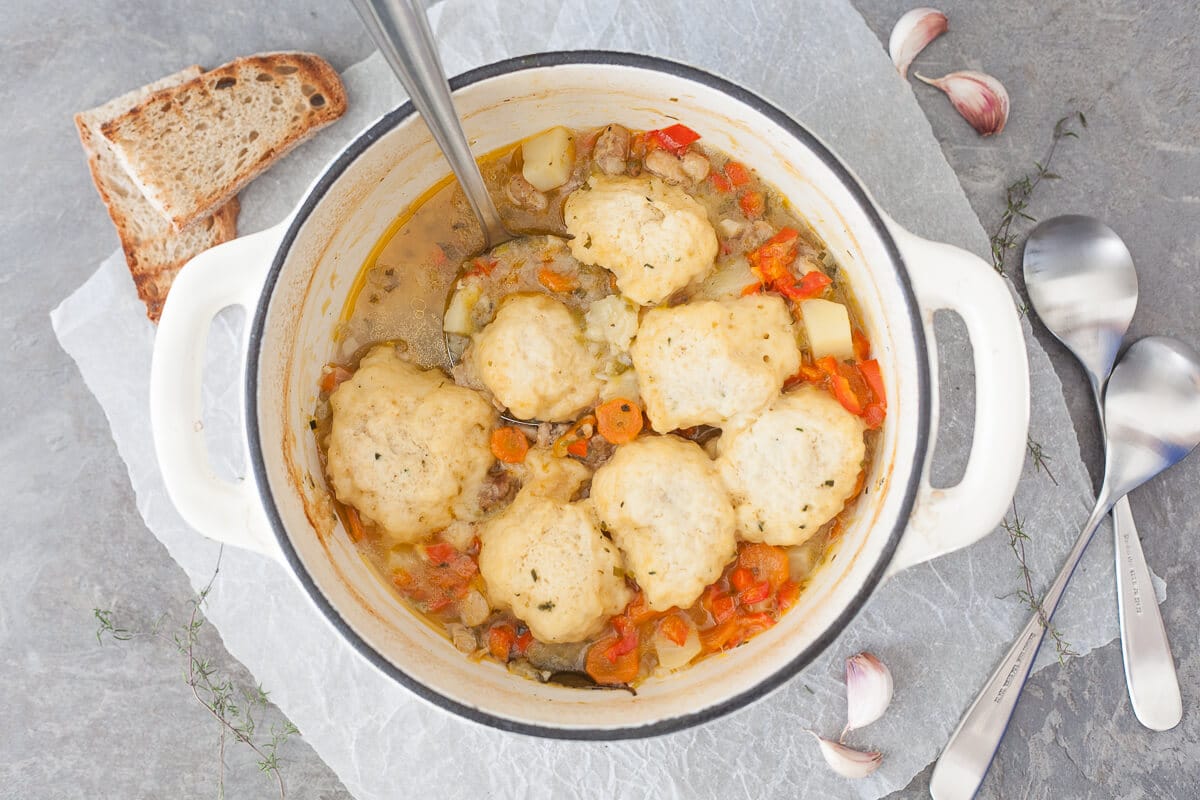 Since I got my dutch oven a couple of weeks ago, I got to experiment more with our food, mainly because the food tastes incredible and also, because it's the first pot I own, that I can transfer from the stove straight into the oven. And this comes really handy!
So when I was making this stew I realized, belatedly, that I had very little bread in the house to go with the stew, and also lacked semolina to make dumplings my usual way. Time to improvise! I preheated the oven, threw together some ingredients to make bread, then shaped the dough into small balls and placed them straight into the cooking stew, covered with a lid and placed into the oven, fingers crossed.
And what I got in return was a pot of divine comfort food that vanished in minutes. I did make the mistake of having too little liquid in the pot before placing in the dumplings, that turned up to soak most of the liquid. Oh well, the food was still delicious!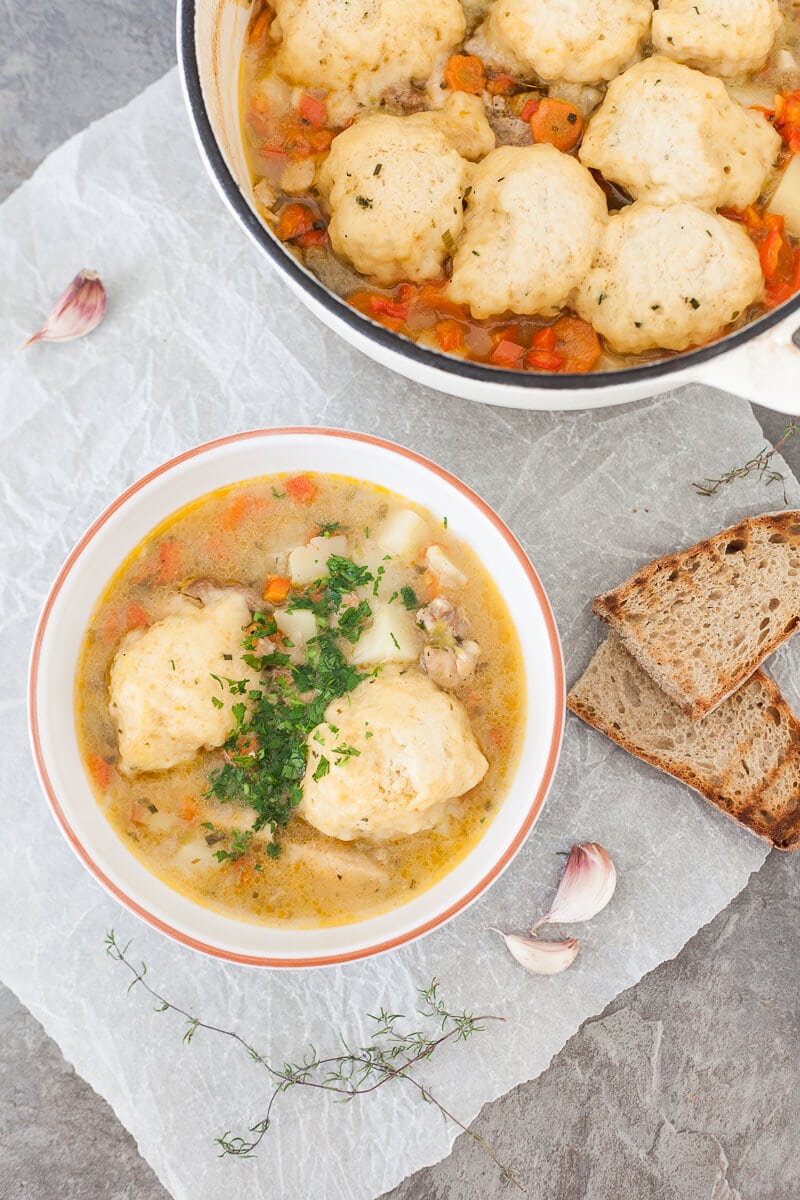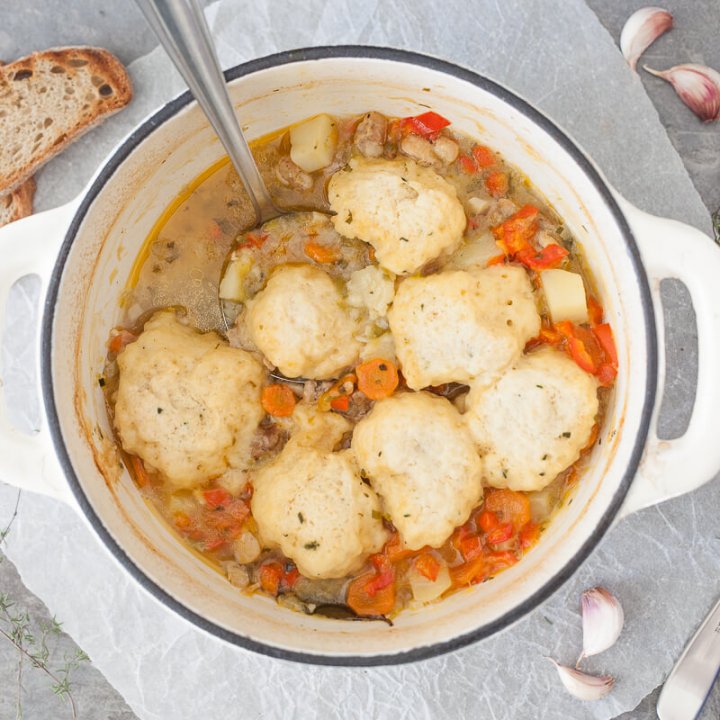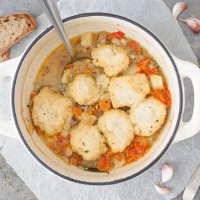 Chicken Stew with Fluffy Dumplings
Total Time:
1 hour
30 minutes
Nothing better than a bowl of warm Chicken Stew with Fluffy Dumplings to warm you on a cold winter day. Real comfort food!
Ingredients
1 large onion
3 cloves garlic
1 carrot (medium sized)
1 tomato
1/2 red bell pepper
2 potatoes (medium sized)
4 chicken thighs meat, bone removed
2 bay leaves
parsley
salt, pepper to taste
olive oil
1,5 l vegetable stock
120 g all-purpose flour
60 g butter
1 ts baking powder
Instructions
Peel and finely dice onion and garlic. Peel and dice carrot. Wash tomato and bell pepper, then cut into chunks. Peel and dice potatoes. Cut chicken thighs meat into large chunks and season with salt & pepper.
In a pot, heat 1 tbs olive oil, then add chicken and gently fry until golden brown, stirring regularly to prevent sticking to the pan. When the meat is done, remove from pot.
Add some more olive oil, if needed, then add diced onions and lightly fry until translucent. Add garlic, carrots, tomato, bell pepper and potatoes, and bay leaves. Cook for a couple of minutes, until the carrots begin to soften a bit, then return the chicken to the pot and add stock. Season with salt & pepper, add chopped parsley and bring to a boil, then reduce heat and let it simmer for about 20 minutes, until the vegetables are almost cooked through.
Meanwhile, preheat oven to 190°C / 375°F and start the dumplings. Place flour in a bowl, add a pinch of salt and baking powder. Grate in butter and mix together until the dough looks like breadcrumbs. Add 50 ml of cold water and knead together into a ball of dough. Divide the dough into smaller pieces and shape into balls (about 6-8).
Place dough balls into the chicken stew, cover with the lid and transfer to the oven. Bake for 30 minutes. When the time's up, remove from oven carefully and uncover the pot. The dumplings should be well risen and fluffy. Serve hot and top with some fresh chopped parsley.
Nutrition Information:
Yield:

4
Serving Size:

1
Amount Per Serving:
Calories:

510.6
Total Fat:

21.2g
Saturated Fat:

9.6g
Trans Fat:

0.6g
Cholesterol:

124.4mg
Sodium:

542.7mg
Carbohydrates:

53.8g
Fiber:

5g
Sugar:

8.7g
Protein:

27g
Like this recipe? Let us know in the comments below or on social media using #vibrantplate and tag us @vibrantplate.
You can connect with us on our Instagram and Facebook account or on Pinterest. Don't forget to sign up to our newsletter & stay up to date with our latest recipes