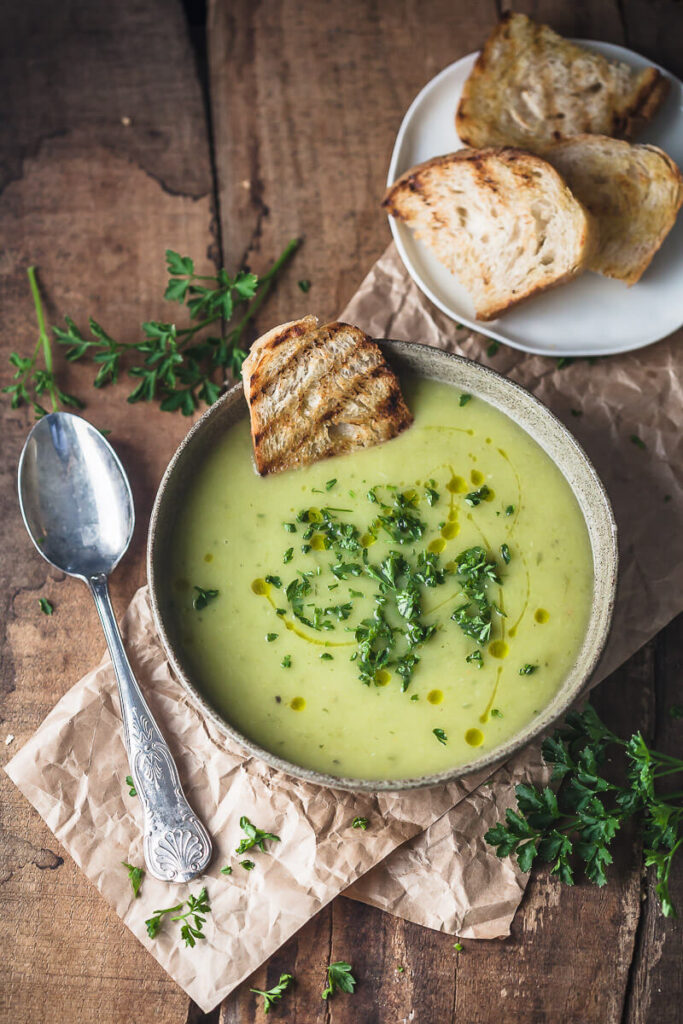 This Vegan Potato Leek Soup is creamy and filling, just the perfect soup for cold winter days!

Happy New Year, friends!
Hope you all had wonderful holidays and are back rested and ready to tackle the upcoming year! We have been spending time with family and taking a couple of days off from the internet and the computer, just to clear our heads a bit.
We have also been cooking and eating, enjoying desserts and champagne, and all that. And we think it's just about time we set cookies aside and dive into some healthy foods instead!
Are you ready for Healthy January? We sure are and we'll be posting more healthy easy meals in the upcoming weeks!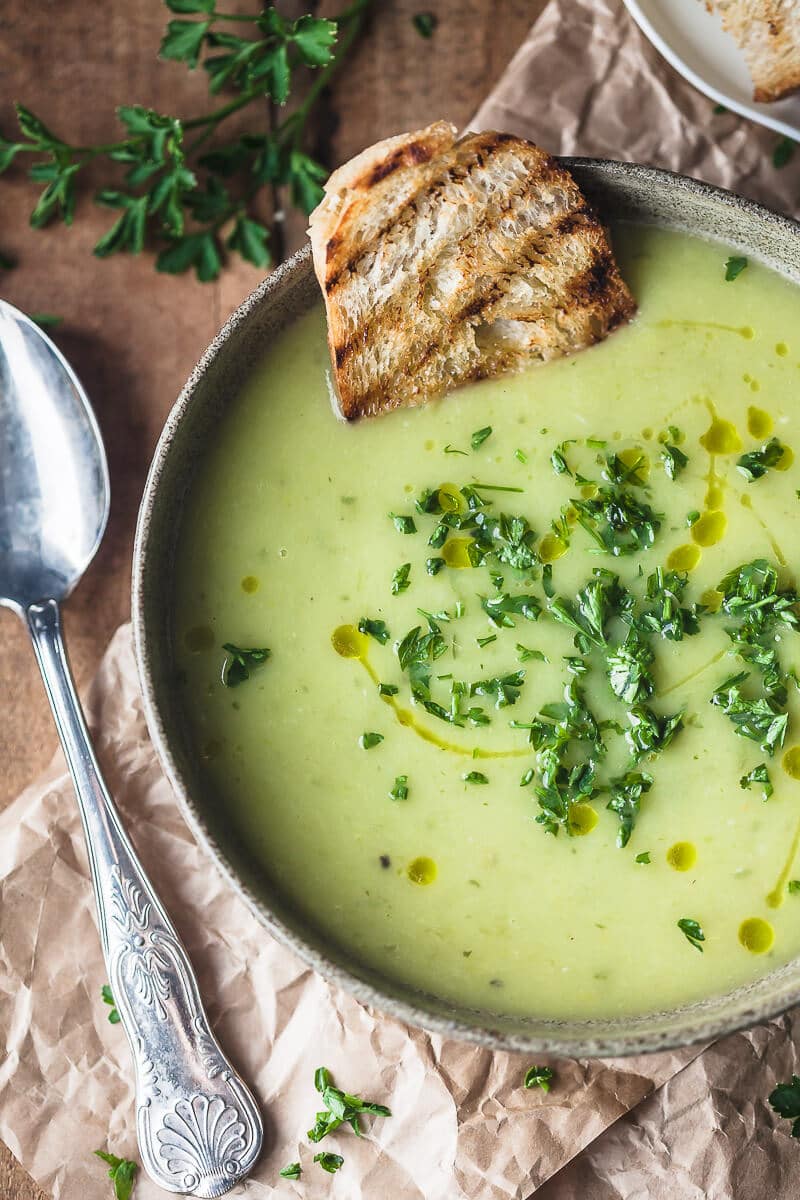 So here is a quick and easy recipe for a Creamy Vegan Potato Leek Soup, that is healthy, filling and can be done in just about 30 minutes!
For this Potato Leek Soup recipe just chop vegetables that you probably have at hand already, place them in a pot and cook until the potatoes turn tender. Then a quick blend to turn the soup creamy and it's already ready to serve!
This soup couldn't be easier to make and it's just perfect to warm you up! Serve hot with a drizzle of olive oil and a sprinkle of chopped parsley on top for a lovely healthy dinner!
Creamy Vegan Potato Leek Soup
Author: Kristina Jug

Yield: 5
Ingredients
4 potatoes
1 large leek
3 cloves garlic
0,5 liter vegetable stock
0,5 liter water, or more if needed
Salt, pepper
Parsley
Bay leaf
1 tbs olive oil
Instructions
Cut leek in half lenght-wise and wash thoroughly between leaves. Drain and cut into slices. Peel potatoes and dice. Peel and slice garlic cloves.
Heat a pot on medium and add a tablespoon of olive oil. When heated, add sliced leek and stir-fry for a minute, until the leeks turn a bright green color. Then, add diced potatoes and garlic slices. Cook for another minute or two, stirring regularly to make sure the vegetables do not stick to the pot, then add vegetable stock. Season with salt and pepper to taste, add bay leaf and chopped parsley and cook until the potatoes turn soft. If needed, add more water while cooking.
When the vegetables are cooked, remove the bay leaf and puree with a stick blender until creamy. If the soup is too thick, add more water and blend quickly to combine. Taste the soup and season with more salt and pepper to taste.
Serve hot with a drizzle of olive oil and a sprinkle of chopped parsley.
Nutrition information (per serving):
Calories: 175.95 kcal

Fat: 3.06 g

Saturated fat: 0.46 g

Carbs: 34.54 g

Protein: 4.01 g

Fiber: 4.54 g

Sugar: 2.27 g

Sodium: 916.88 mg

Text and images copyright Vibrantplate.com © All rights reserved.
More healthy soup recipes here >
Follow us to see plenty of healthy, plant-based and no-added-sugars recipes that will help you get back on track after the Holidays 😉
You can connect with us on our Instagram and Facebook or on Pinterest. We share many behind-the-scenes photos in our Instagram Stories, so be sure to check it out!
If you like this recipe, you can let us know in the comments below or on social media using #vibrantplate and tag us @vibrantplate. We're always happy to read your feedback and LOVE seeing your take on our recipes.
–  Kristina & Mitja