These 3-ingredient Vegan Crispy Potato Leek Rolls are simply amazing and are the perfect delicious lunch or snack!
Our winter is no winter at all this year. We've been having really warm weather, with temperatures up to 11°C / 51,8°F, which is far too warm for January. I mean, there are already snowdrops and hellebores blooming, which is unusual.
But, the beautiful days only make us want to spend less time in the kitchen and more time outdoors, just sun-bathing or taking a stroll.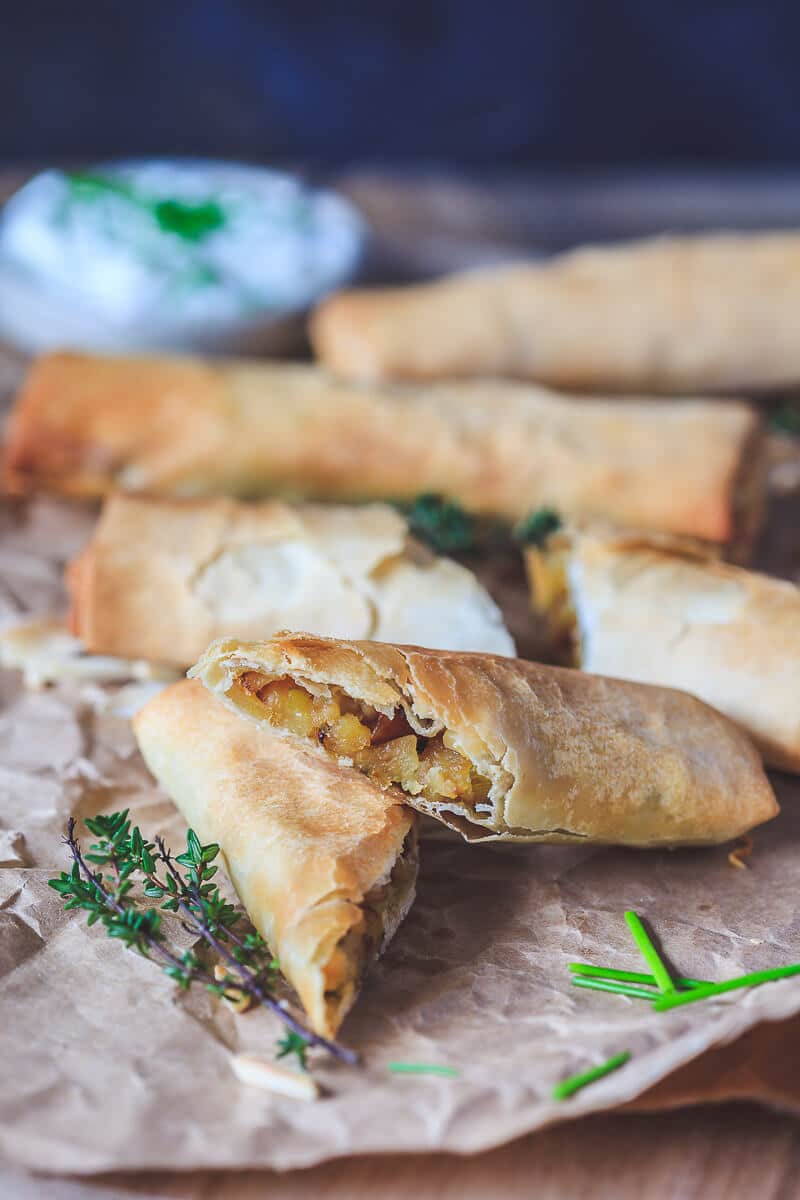 Easy recipes are just what I want, and I've actually been thinking about this recipe for a while, before making it. With the first try, I used puff pastry instead of phyllo dough, just because I had it in the freezer waiting to be used up (and I have been trying to empty my freezer of stock). The first try using puff pastry came out delicious (cold even better), but not so pretty looking, so I decided to try again using phyllo dough… and I was sold. Again, you could use either puff pastry or phyllo dough, depending on what you have at hand, so don't be afraid to experiment!
These Vegan Crispy Potato Leek Rolls are a breeze to make and only take 3 main ingredients: potatoes, leeks, and phyllo dough. That's it. We had them for lunch, coupled with yogurt with chives and a large bowl of salad, but it works as a snack just as well.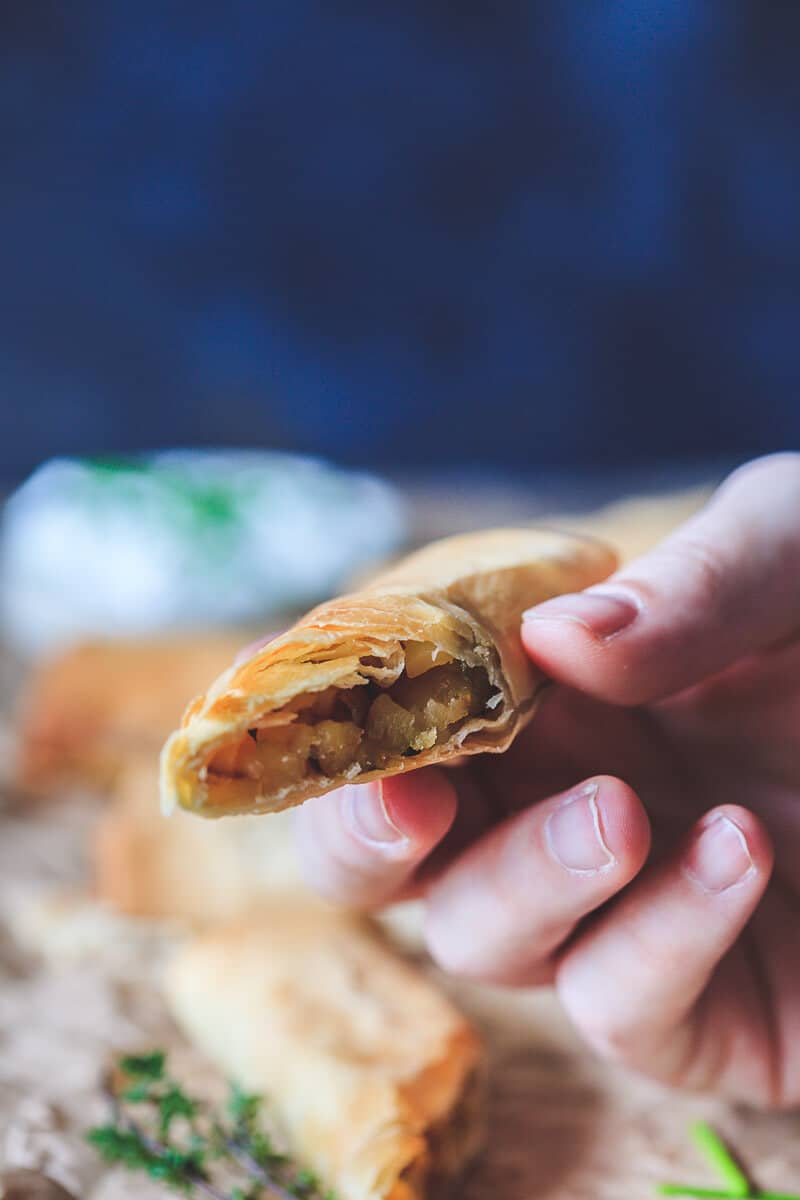 To make these Vegan Crispy Potato Leek Rolls you start by cooking the potatoes and leeks, then you use that as a filling for your rolls, and bake for about 20 minutes in the oven. And that's about it!
Isn't that really easy? Plus, this recipe uses ingredients that most households have at hand as a staple. Time to go and make some more now!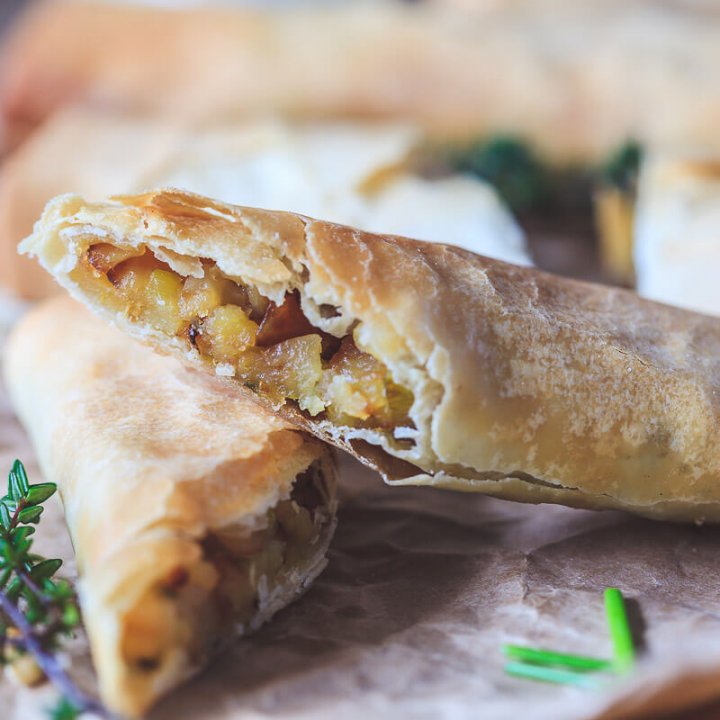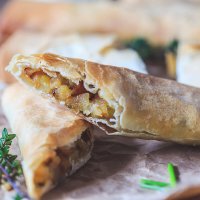 Vegan Crispy Potato Leek Rolls
These 3-ingredient Vegan Crispy Potato Leek Rolls are simply amazing and are the perfect delicious lunch or snack!
Ingredients
4 potatoes
1 large leek
250 grams phyllo dough
salt, pepper to taste
oil as needed
water as needed
Instructions
Clean and wash leek thoroughly, to get rid of dirt, then dry and finely cut into thin slices.
Peel potatoes and finely dice.
Heat a tablespoon of oil in the pan, then add diced potatoes and season with salt. Cook on medium, stirring occasionally, until golden brown and crispy. Then, add sliced leek and cook for another minute or two, until the leeks soften and turn a bright green color. Remove from stove and set aside.
Prepare your phyllo dough. We used a store-bought that was divided into thin sheets. We separated each sheet of dough, then coated it with a thin layer or oil (use water if you want softer rolls), folded it and cut in half, so we got 2 two-layered squares from each sheet of dough. You can do this differently, just make sure to get enough squares of dough for your rolls.
Take a spoon of potato and leek filling, place it in a fat line on one end of the dough square, then fold in the top and bottom to secure the ends, and roll the dough in. Apply some more water or oil on the sides and over the top of the roll.
Repeat until you use up all of the dough and filling.
Preheat oven to 180°C / 360°F. Line a baking tray with baking paper, then place rolls on the tray and bake for about 20 minutes, or until golden brown. If you want softer rolls, apply water with a brush while baking.
Once done, remove rolls from oven and set aside to cool. We like them served completely cooled off.
Nutrition Information:
Amount Per Serving:
Calories:

179.7
Total Fat:

3.62g
Saturated Fat:

0.57g
Sodium:

317.75mg
Carbohydrates:

32.9g
Fiber:

2.83g
Sugar:

1.27g
Protein:

4.07g
More
vegetarian recipes here >
You can connect with us on our Instagram and Facebook or on Pinterest. We share many behind-the-scenes photos in our Instagram Stories, so be sure to check it out!
If you like this recipe, you can let us know in the comments below or on social media using #vibrantplate and tag us @vibrantplate. We're always happy to read your feedback and LOVE seeing your take on our recipes.