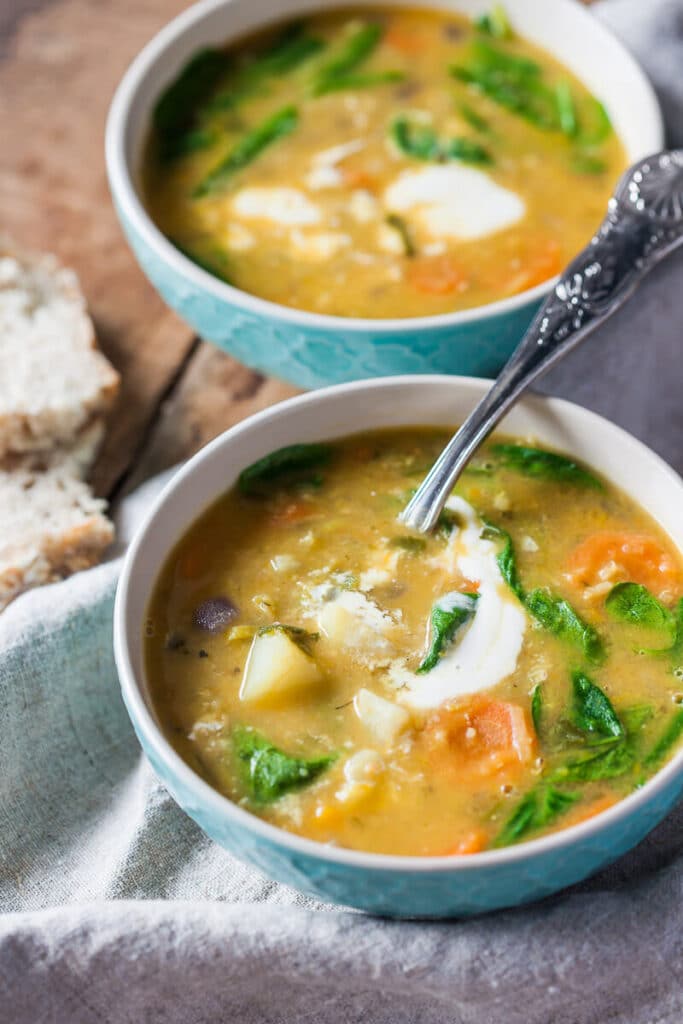 Creamy Lentil Soup is a hearty vegan one-pot soup with lentils, pumpkin, and spinach. Great for a cold winter day!
The weather forecast calls for heavy snows tomorrow, so we just might get a bit of winter this season. Let's face it, our January resembled more spring than winter.
So with the snowy forecast, I can't think of a better lunch to warm up than this glowing Creamy Lentil Soup with Pumpkin and Baby Spinach. This one-pot soup is vegan, gluten-free and only takes about 30 minutes to make!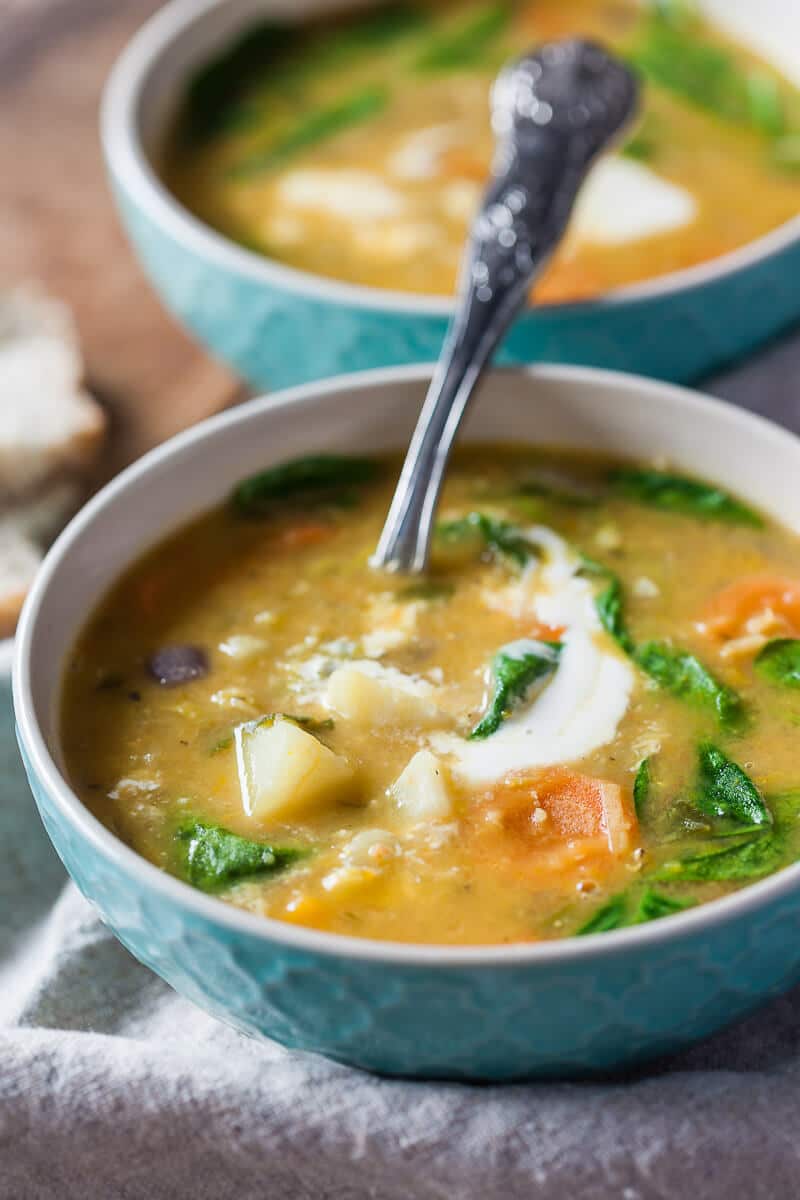 Now, don't be discouraged by the long list of ingredients! I promise it's easier than it looks at first glance!
To make this Creamy Lentil Soup you start with the standard of onions, carrots, potatoes. I added some sliced leek in there as well, as I have it abundant. You stew it a bit to tenderize, then add in your lentils, split peas and pumpkin. Pour over with vegetable stock and water as needed and season to taste. I like using mild spices, so I seasoned with salt and pepper, then added some red paprika, turmeric (I just LOVE turmeric in everything!!) and thyme. I threw in also some fresh chopped parsley and let it cook on low for about half an hour, or until the lentils and vegetables are cooked through. Then, I removed about half the soup and blended it with an immersion blender, but not very smooth, and added it back to the rest of the soup. This creates a thicker soup, but you still get chunks of vegetables in your bowl. If you want it smoother, just blend all of the soup!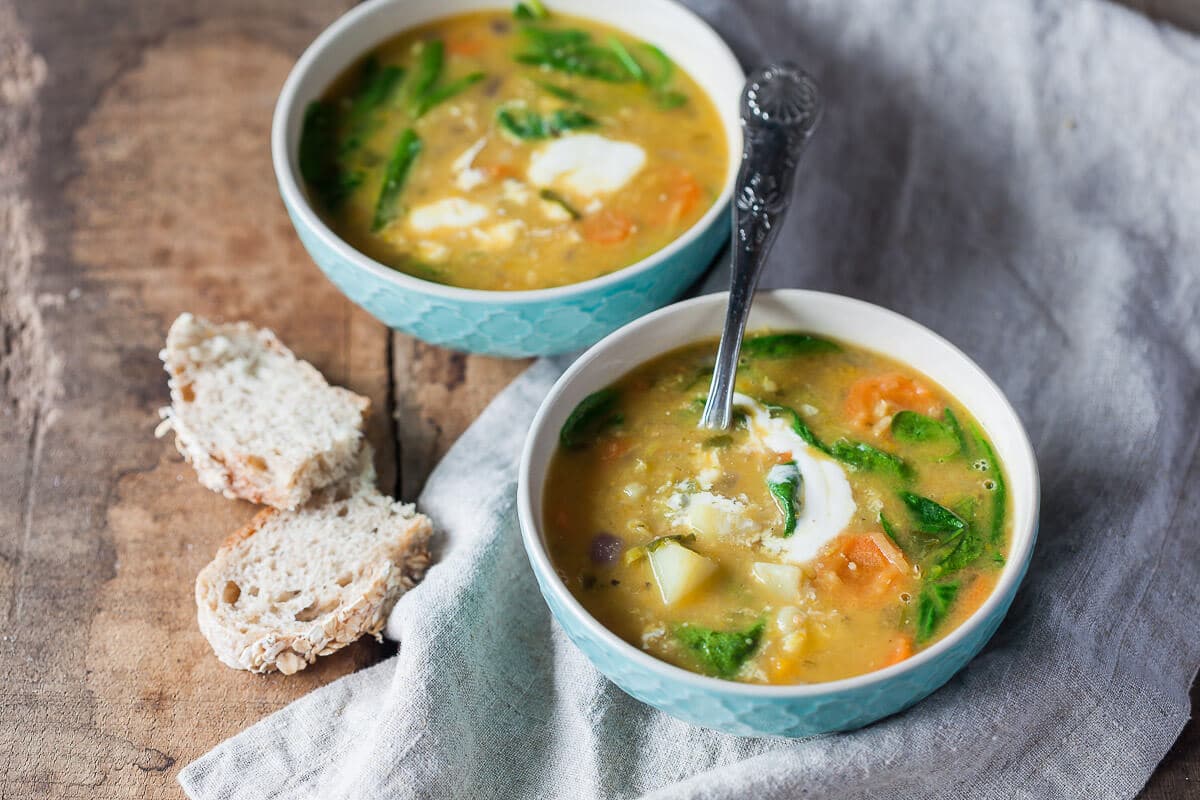 To top it off, I finished with about a tablespoon of vegan cooking cream and a cup of baby spinach leaves, that I just placed in the soup and stirred in, and let the heat do the rest.
And now the soup is ready to be served! This recipe will easily feed 4-6 people, so you may have leftover soup for a week as well! (=which means, less cooking during the week!)
Give it a try?
Vegan Pumpkin Spinach Creamy Lentil Soup
Author: Kristina Jug

Yield: 5
Ingredients
1 red onion
2 tbs leeks, sliced
2 medium potatoes
2 medium carrots
1 handful red lentils
1 handful split peas
1 cup pumpkin (red kuri, diced)
2 cups vegetable stock
2 cups water, or as needed
Salt, pepper to taste
Red paprika, turmeric, thyme to taste
1 tbs fresh parsley, chopped
1 tbs vegan cooking cream (soy cream) to thicken
1 cup young spinach leaves
Instructions
Peel and slice onions, slice carrots and leek, and dice potatoes.
Heat a tablespoon of olive oil in a pot, then add the vegetables and cook on medium, stirring regularly, for a couple of minutes, until the vegetables turn to soften. Then, add lentils, split peas and pumpkin, and pour over with vegetable stock. Add more water if in need of liquid. Season to taste, bring to a boil, then cook on low for about 30 minutes, or until the lentils and vegetables are cooked through.
Remove about half the soup from pot, and blend it with an immersion blender. Blend until smooth to your liking, then add it back to the rest of the soup and stir to combine.
Finish the soup with about a tablespoon of vegan cooking cream and stir in a cup of baby spinach leaves. Taste check and if needed, season to your liking. Serve hot.
Nutrition information (per serving):
Calories: 140.11 kcal

Fat: 1.47 g

Saturated fat: 0.77 g

Carbs: 28.05 g

Protein: 5.13 g

Fiber: 5.1 g

Sugar: 4.26 g

Sodium: 849.06 mg

Cholesterol: 4.11 mg

Text and images copyright Vibrantplate.com © All rights reserved.
We have plenty more soup recipes here >
You can connect with us on our Instagram and Facebook or on Pinterest. We share many behind-the-scenes photos in our Instagram Stories, so be sure to check it out!
If you like this recipe, you can let us know in the comments below or on social media using #vibrantplate and tag us @vibrantplate. We're always happy to read your feedback and LOVE seeing your take on our recipes.