It is still the middle of winter, but finally, there is a whiff of spring in the air. As in-season produce is currently rather low, we decided to mix up our game with this lovely smoothie Mango Blueberry Smoothie, that uses – wait for it – frozen fruit!
Frozen fruit is great. It is picked and quickly frozen at the pick of its time, so it is ripe and full of nutrients. Freezing is also the best way of preserving produce when done correctly, as it needs no added sugars to preserve and the nutrients loss is rather low.
Using frozen produce is a smart way to consume more vitamins in winter and even nutritionists recommend it.
To make this smoothie we used frozen mango chunks and frozen forest blueberries, added some banana and yoghurt and blended well. You can blend everything in one go, or the light and dark mixture separately for a dramatic effect.
Ingredients
a handful of frozen mango chunks
2 small bananas
2 spoons of frozen bluberries
100 ml of yoghurt
water
Instructions
In a blender add a splash of water and 50 ml of yogurt, one small banana and frozen mango chunks. Blend and pour into a tall glass.
Clean your blender cup and add in another splash of water, the rest of the yoghurt, the other banana and frozen blueberries. Blend and pour in the glass on top of the mango mixture.
Serve and enjoy!
Text and images copyright Vibrantplate.com (c) All rights reserved.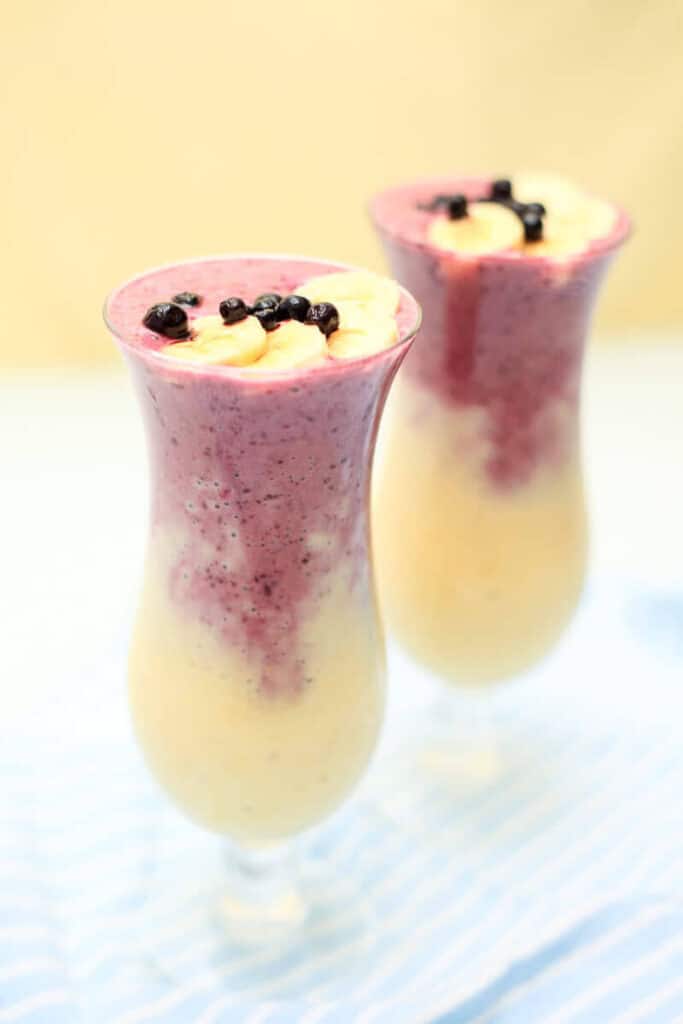 This smoothie is vegetarian. Use dairy-free yoghurt for a vegan version.