This Radicchio salad with Roasted Potatoes is ideal for colder months. Add Curly Endive for a pop of color!
It's radicchio salad season! Now, this is a vegetable that I have not always been keen on. It can be bitter, or tough, and I don't like bitter tough things. But, years pass, taste changes and here I am, a reformed radicchio hater, awaiting its season eagerly each year. I especially like a couple varieties: the radicchio rosso di Treviso, the round palla rossa and a local favorite and highly sought-after indigenous variety that you will most probably not get your hands onto, as its cultivation is highly restricted: the rose-shaped radicchio goriziano.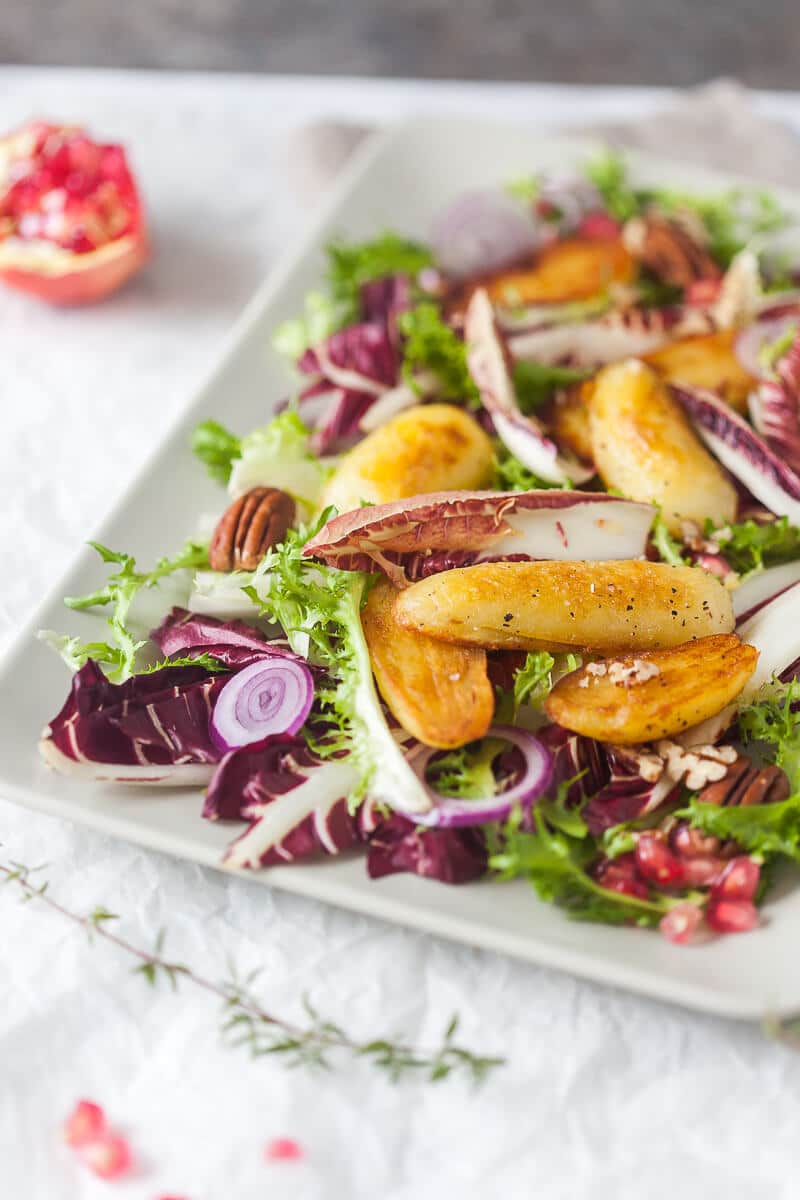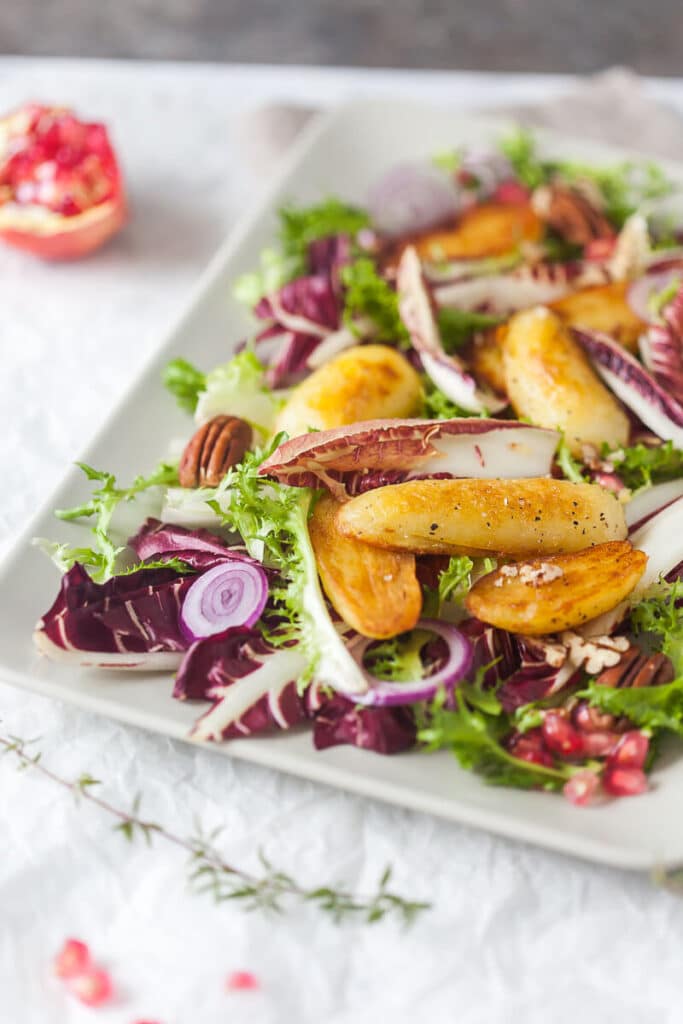 For this salad, I used the Treviso variety, which I happened to have on hand, but other varieties will work as well. The curly endive came from my garden, where I still have a couple growing. It's a bit bitter and tough (and I already said how much I like that, right?), but it adds a nice texture and color to the salad. Plus, it's good for you.
This salad is simple and delicious and ideal for colder days, as the roasted potatoes warm it up.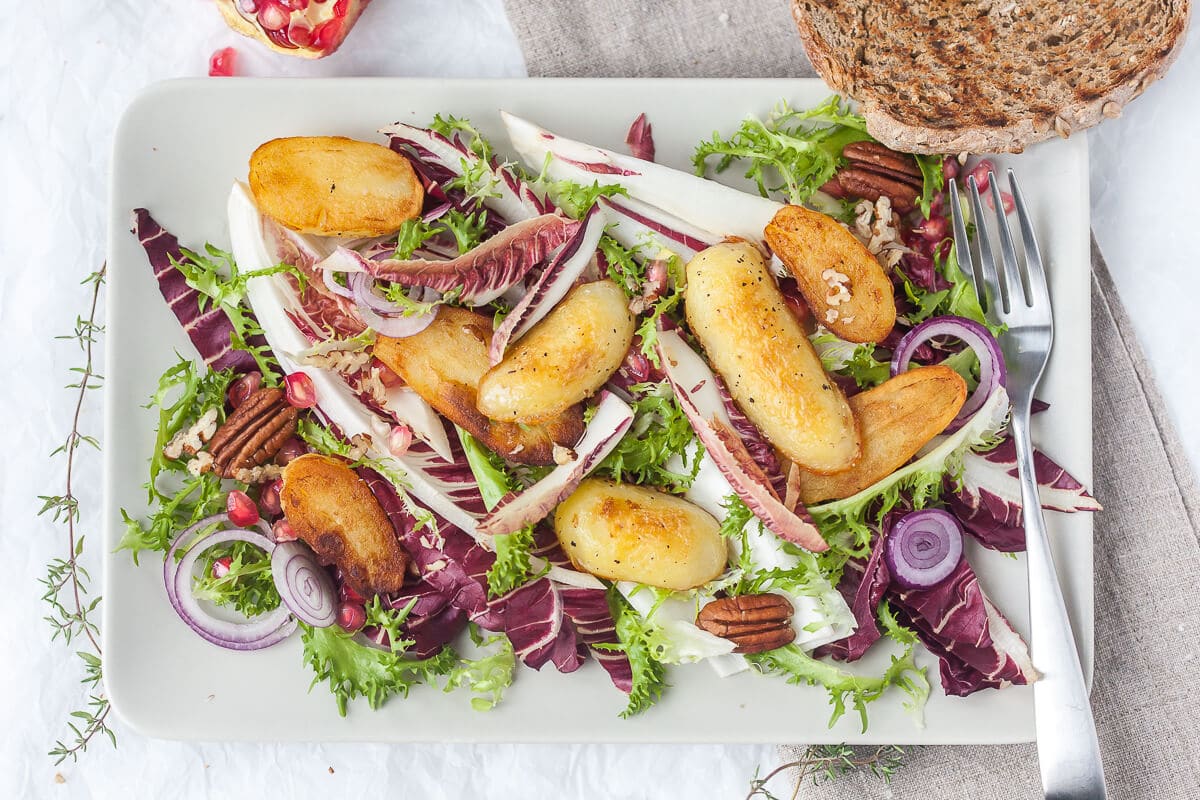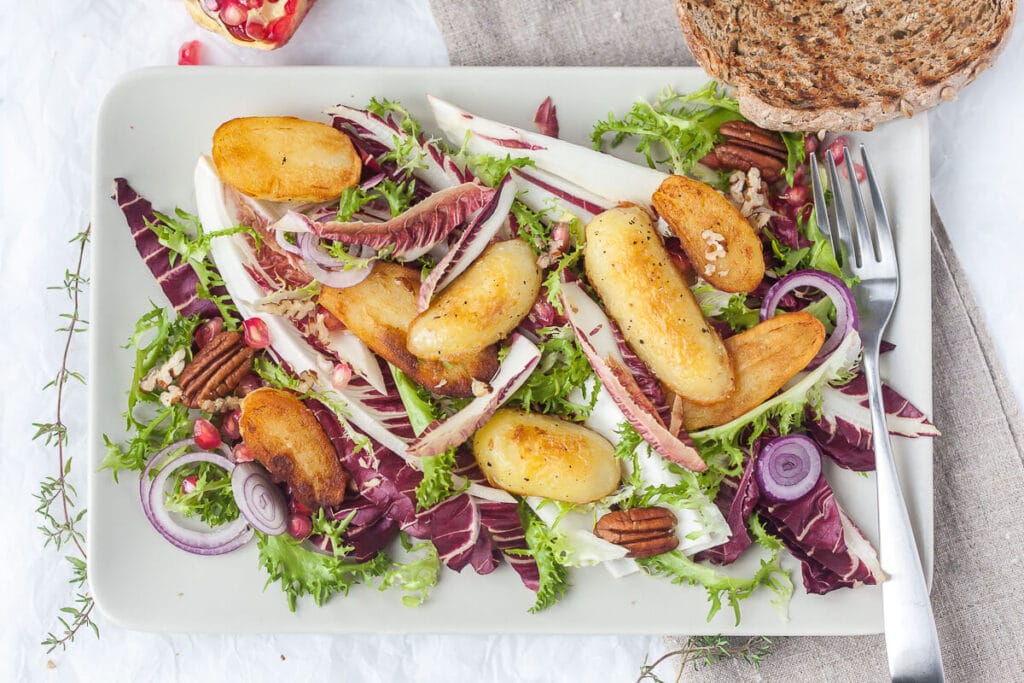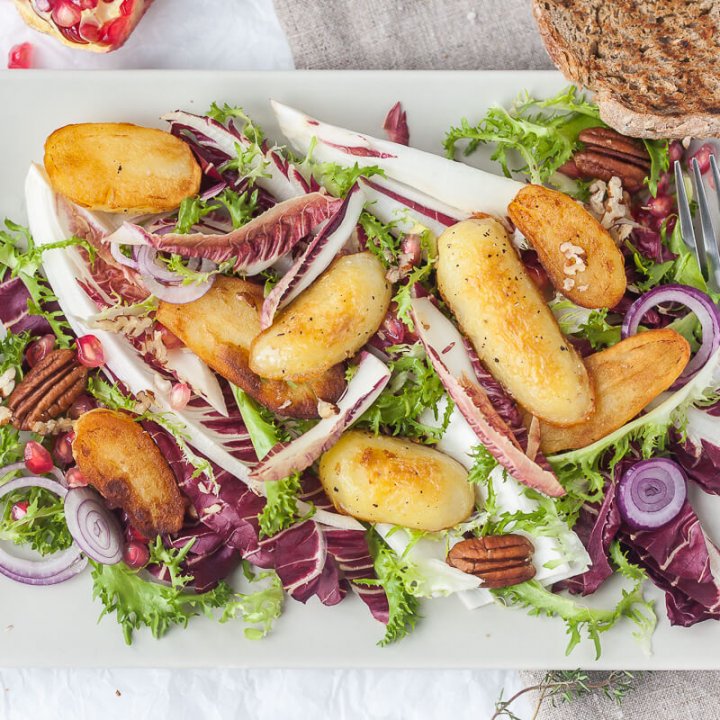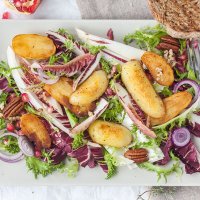 Hearty Radicchio Salad with Roasted Potatoes
This Radicchio salad with Roasted Potatoes is ideal for colder months. Add Curly Endive for a pop of color!
Ingredients
300 g potatoes
1 large head radicchio di Treviso
2 cups curly endive
1 red onion
a handful of schopped pecan nuts
1 tbs pomegranate seeds
lemon vinaigrette
1 tbs olive oil
salt, pepper
Instructions
Put potatoes in a pot of salted water and bring to a boil. Let it cook on low until the potatoes are tender. Drain and peel, slice into halves.
In a pan heat a tablespoon of olive oil and place in the halved potatoes. Salt & pepper to taste and gently roast until the potatoes turn golden and crispy.
Meanwhile wash and dry radicchio and endive leaves, then cut into strips. Peel onion and cut into thin slices. Place salad greens onto a plate or in a bowl, add onion slices, chopped pecans, pomegranate seeds and sprinkle the lemon vinaigrette. Top with roasted potatoes and serve.
Nutrition Information:
Yield:

2
Serving Size:

1
Amount Per Serving:
Calories:

506
Total Fat:

35g
Saturated Fat:

4g
Trans Fat:

0g
Unsaturated Fat:

29g
Cholesterol:

0mg
Sodium:

440mg
Carbohydrates:

47g
Fiber:

10g
Sugar:

6g
Protein:

8g
Like this recipe? Please, let us know in the comments below or on social media using #vibrantplate and tag us @vibrantplate.
You can follow us on our Instagram and Facebook account or on Pinterest. Don't forget to sign up to our newsletter & stay up to date with our latest recipes