A seasonal dish made with just a few ingredients from the fridge. Pasta al prosciutto e radicchio is done in just 15 minutes!
Just recently I talked about how I seem to make the best dishes when I have very few ingredients at my disposal. It's like creativity is force-kicked in to avoid having a boring meal (or a heap of spoiled produce in the fridge). I follow a lot of food trends, recipes, and meal ideas, but very seldom actually stick to a meal plan. Which is kind of sad, as I would probably manage groceries better if I took the time to write down a weekly meal plan. But, there always seem something else that needs to be done, because nobody has time for that.
So my cooking is often times influenced by the produce in the fridge, that varies tremendously with the seasons. I am lucky enough to occasionally get fresh garden produce or even forest produce and other perks, which helps a lot with grocery bills. But even if I didn't I am not one to purchase extravagant ingredients or off-season produce because I firmly believe in eating locally.
I do not go shop every day, but more like every 7-10 days and rather buy in bulk. So this long introduction leads me to the inspiration for this pasta dish on a day just short of grocery-shopping day.
The one thing that seems abundant in our kitchen these days is radicchio. Well, and cabbage. And corn salad (which has nothing to do with actual corn). So we'll eat these ingredients in plenty of dishes, as they're available and it would be a pity to see it spoil. So I'll try to use it any way I can and you can almost always make a good dish with pasta 🙂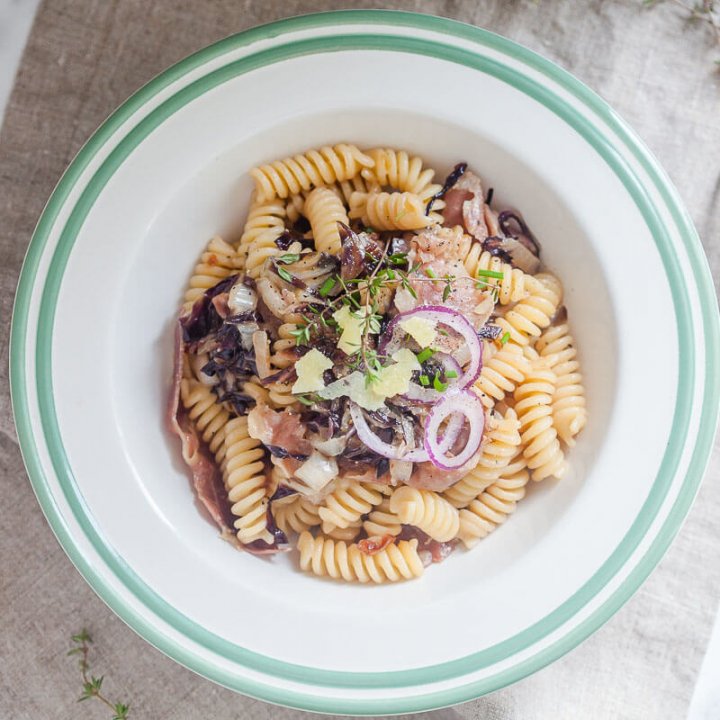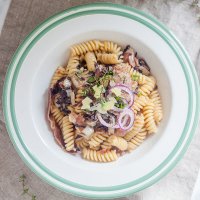 Pasta al prosciutto e radicchio
A seasonal dish made with just a few ingredients from the fridge. Pasta al prosciutto e radicchio is done in just 15 minutes!
Ingredients
250 g rotini pasta (other types can be used, such as penne and fusilli)
1 tbsp olive oil
1 small red onion
0,5 dcl dry white wine (eg pinot grigio)
6 slices aged prosciutto
1 head radicchio treviso (choose radicchio that can be grilled)
1 tbs grated aged cheese
parmesan to top
salt, pepper to taste
Instructions
Pour water in a big pasta pot, add a pinch of salt and bring to a boil. When boiling, add pasta, reduce heat and cook per package instruction (this type of pasta usually between 8-10 minutes).
Peel onion and slice. Wash radicchio and dry, then cut into strips. There should be a rather generous amount of it (the more the better), as the radicchio will shrink when cooking. Cut prosciutto slices into large strips or cuts.
While the pasta is cooking, heat olive oil in a pan, then add sliced red onions and stir-fry for a couple of minutes, until the onions tenderize. Don't worry if they get slightly burnt. Even better if you have the time to caramelize them. When the onions soften, add in prosciutto and fry it on either side until crips. Remove onions and prosciutto from the pan to stop burning it, then pour in white wine and let it cook out to reduce the alcohol amount.
As the wine cooks, scrape the bottom of the pan with a spatula, to release the proteins and bind the sauce. Add the onions and prosciutto back in and add also radicchio strips, stirring while it cooks and shrinks.
When the pasta is done, save a small glass of pasta water, then drain the pasta. Add cooked pasta to the prosciutto and radicchio pan, mix well and add a splash of pasta water. The pasta water will help bind the sauce, make it creamer and stick to the pasta. Top with grated aged cheese, parmesan and salt & pepper to taste. Serve hot.
Nutrition Information:
Amount Per Serving:
Calories:

823.86
Total Fat:

15.16g
Saturated Fat:

4.07g
Sodium:

1293.75mg
Carbohydrates:

104.41g
Fiber:

5.13g
Sugar:

7g
Protein:

32.03g
Like this recipe? Please, let us know in the comments below or on social media using #vibrantplate and tag us @vibrantplate. Thanks!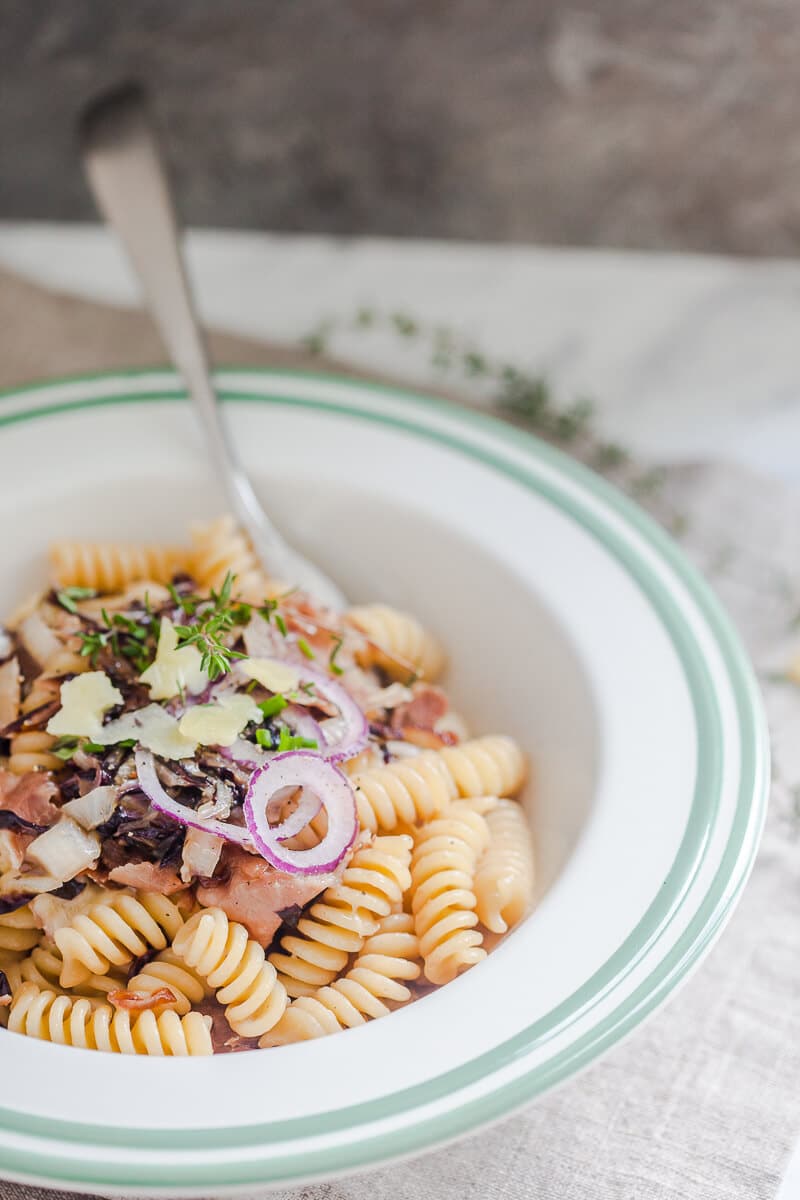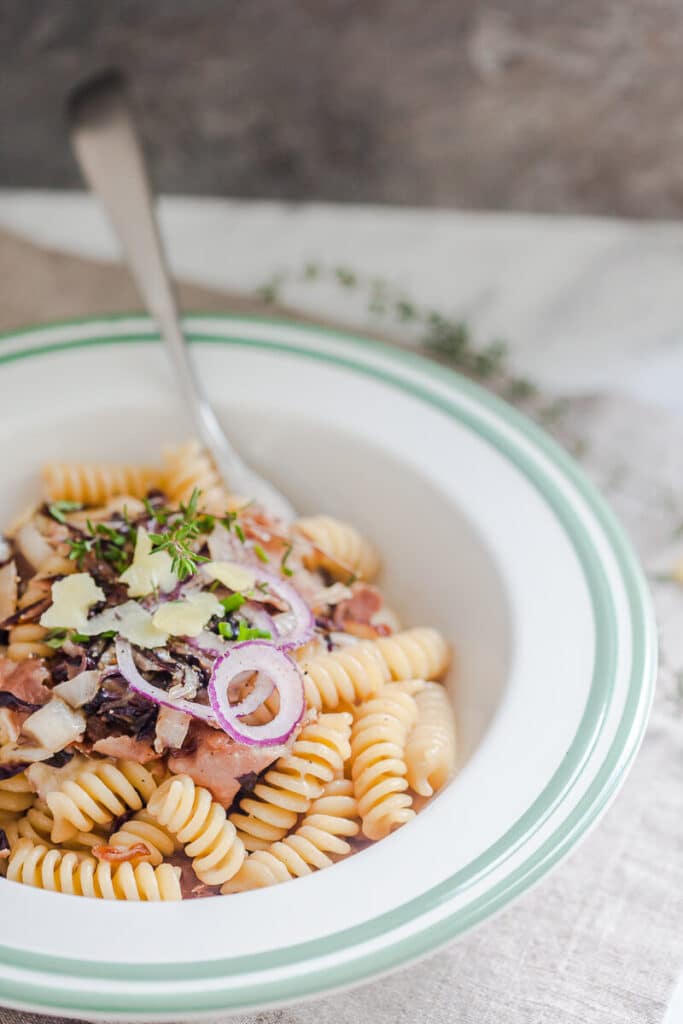 In need of more pasta recipes? Try one of these: