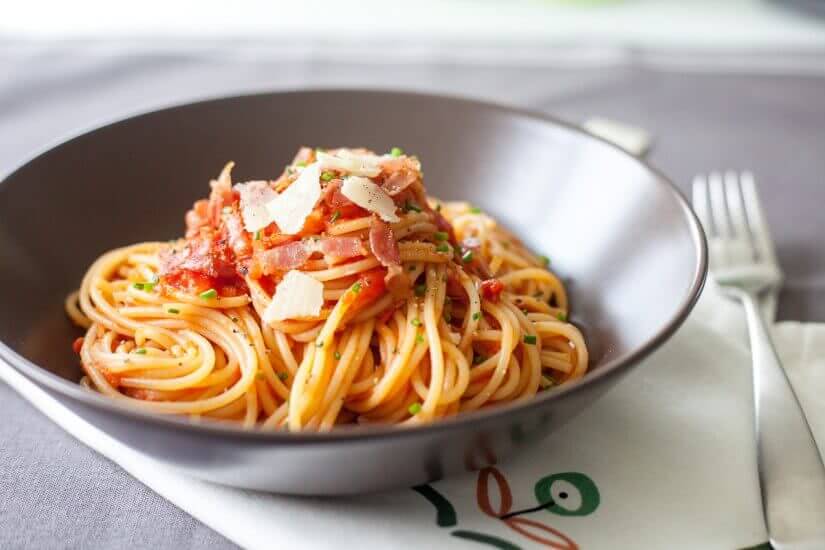 The well known amatriciana sauce is a traditional Italian pasta sauce based on guanciale (cured pork cheek), pecorino cheese, and tomato.
Now, I am a fan of "call it what it is" things. And though my aim with this dish was the amatriciana sauce, I did not have either the guanciale or the pecorino cheese neccessary for the recipe. So instead, this is just a "pasta in tomato sauce with bacon" dish.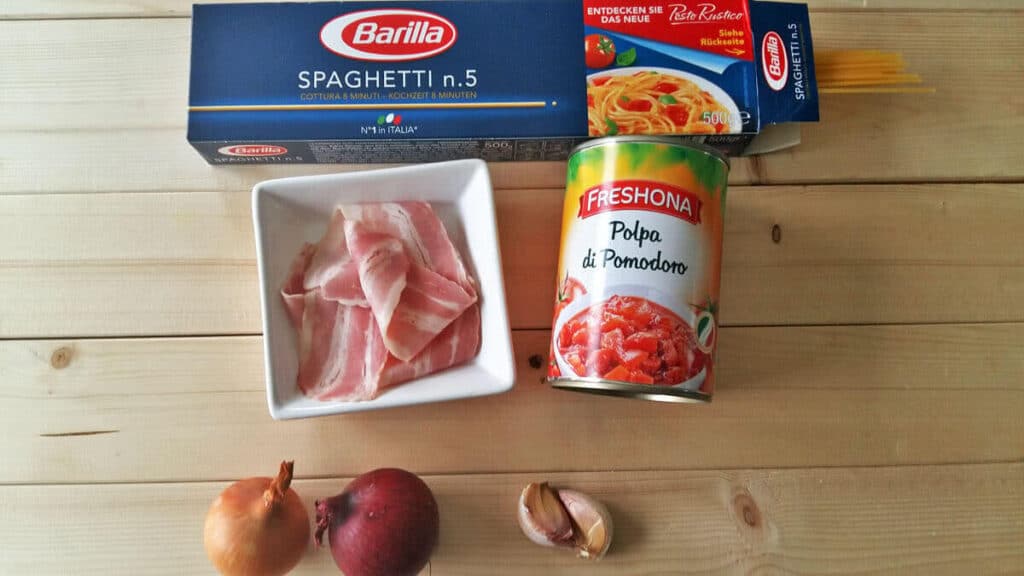 The beauty of being frugal and flexible is doing the best of what you can with what you have at your disposal. Being a master in the kitchen, to me, means being able to follow recipes and recreating dishes… but also (and more important), improvising when needed. That is the true masterchef, in my opinion – when you can feed your family delicious meals with whatever you have in your fridge. Because sometimes there is not very much.
And that's ok, too. Because you absolutely can make great dishes with very little ingredients. Like, a pack of plain spaghetti, a can of tomatoes, an onion and a clove of garlic. If you have bacon, that's a great topping. Grated parmigiano? Even better. If you can make a plain pasta in tomato sauce dish, you're good to go!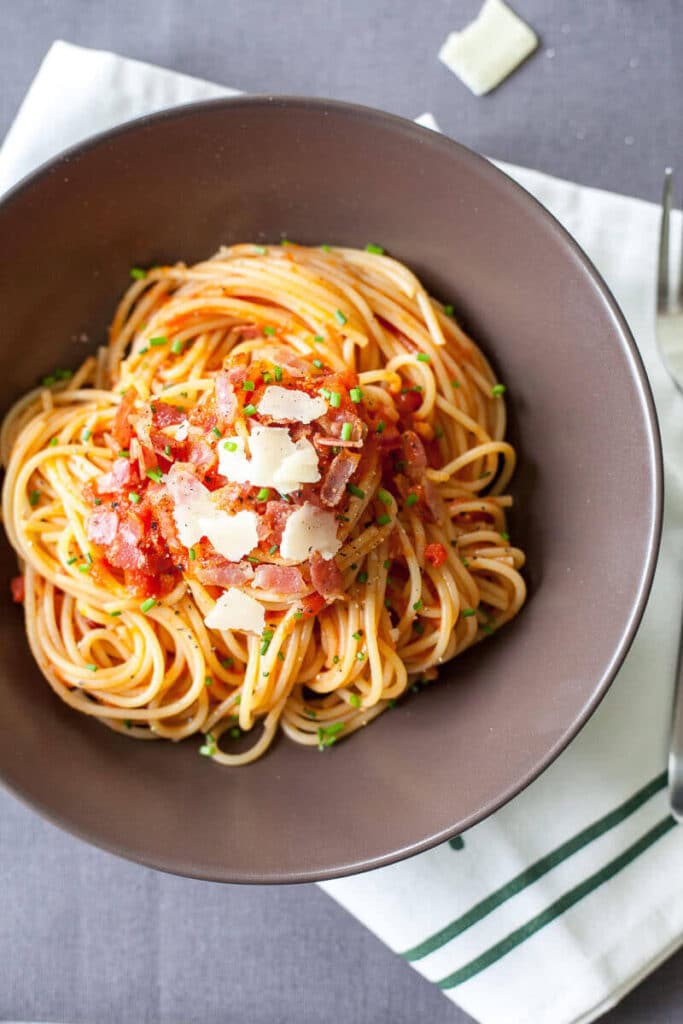 Spaghetti in Tomato Sauce with Bacon
Ingredients
250 g spaghetti pasta
1 can of diced tomatoes (about 480 g)
1 onion
1 clove garlic
a few stripes of bacon
salt, pepper to taste
grated parmesan
Instructions
Peel and slice onion and garlic.
Pour water in a big pot, add a pinch of salt and bring to a boil. Then, add pasta and cook according to instructions on the package (about 8 minutes or until al dente).
Meanwhile, heat a pan to medium, then add bacon strips and fry on both sides until crisp. Remove from pan and place on a plate, lined with paper towel to drain the fat.
In the same pan, without cleaning it, add the sliced onion and fry in bacon fat until translucent. Then add sliced garlic, lightly fry and pour in the diced tomatoes, chunks and all. Stir well and let it cook for about 15 minutes or so. Season to taste with salt and pepper. When the sauce is done you can blend it until smooth or let it chunkier.
When the pasta is cooked, drain and add immediately to the pan with the tomato sauce. Stir in well, then top with chunks of bacon and serve with grated Parmesan.
PRO TIP: Just before you drain you pasta, save a glass of pasta water (the water the pasta was cooking in). You can add a dash to your pasta sauce to make it creamer.
Nutrition Information:

Amount Per Serving: Calories: 589.85 Total Fat: 8.31g Saturated Fat: 2.38g Sodium: 1031.35mg Carbohydrates: 108.18g Fiber: 9.65g Sugar: 12.27g Protein: 20.81g