Sometimes there just isn't a lot of time for an elaborate meal. Sometimes we're busy, and sometimes we're lazy. Introducing – shortcuts!
I am all in favour of exploiting easy alternatives that save tons of time, and sometimes money. So this time, instead of cooking my sauce from scratch, I used pre-bought red pesto. Not to mention, tomatoes are not in season right now, so a sauce from scratch would not be the best idea. Sure, you can get "tomatoes" from the Netherlands or Spain in stores. But those are sadly just bad imitations of the real thing. So, off season, canned tomatoes are your best friend.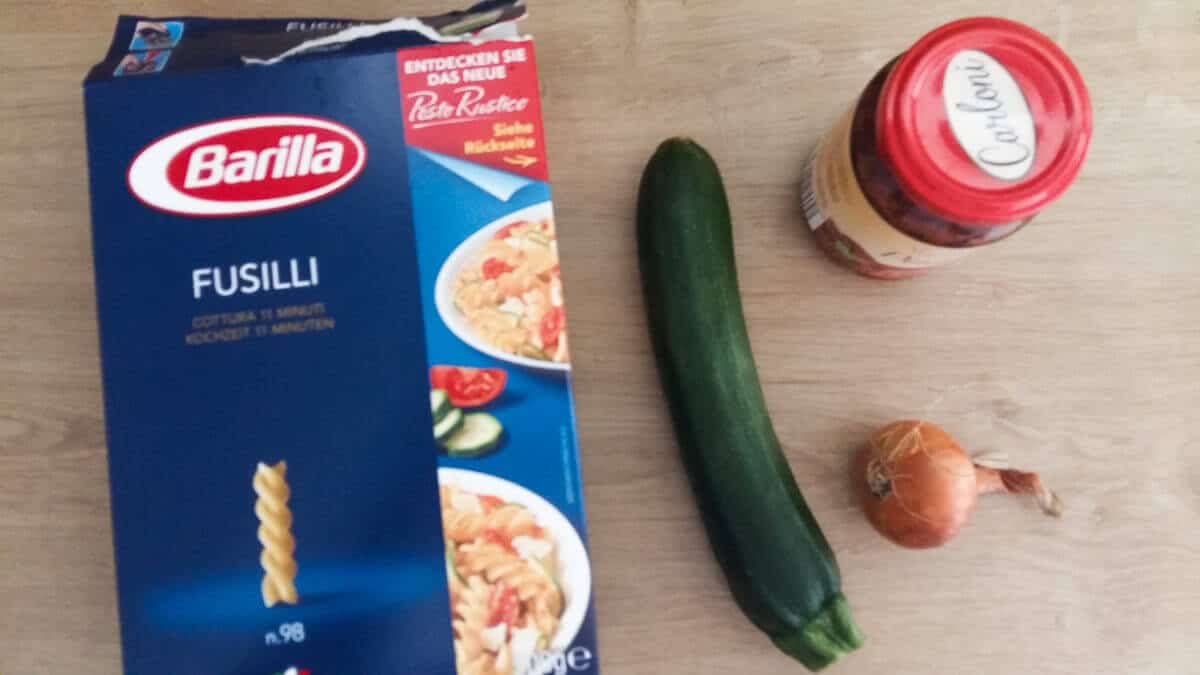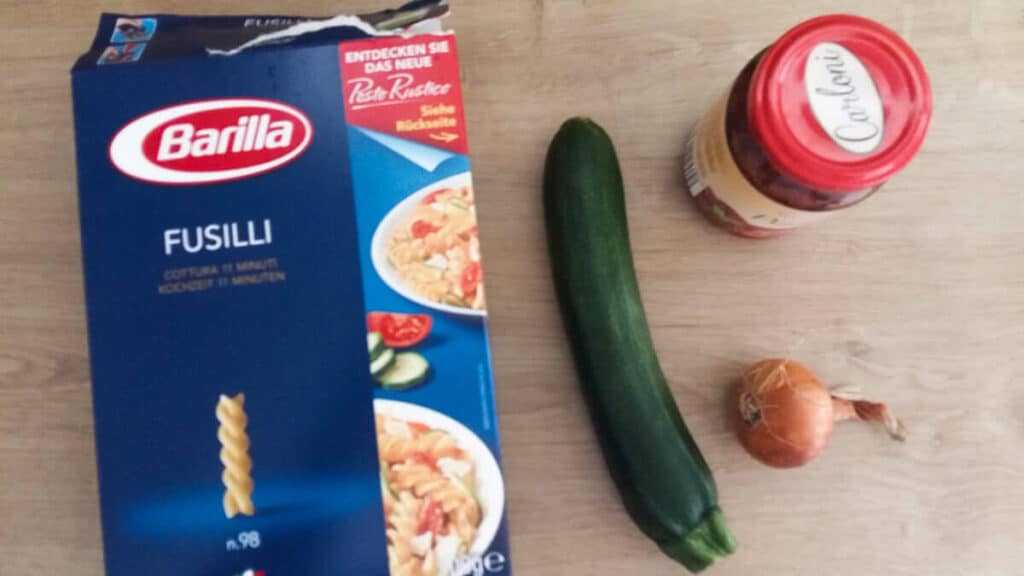 As the picture above shows, this dish only uses a couple of ingredients and is super fast to make.
Put a pot of water on the stove, salt it, and bring to boil. Then, add your pasta of choice and cook according instructions on the package. I used fusilli which took about 11 minutes to cook.
While the pasta is cooking, wash and grate your zucchini (btw: also off season, but I turn a blind eye to this), peel your onion and slice it. Then in a pan, heat a spoon of oil, add the onion and lightly fry it until translucent. Feel free to add garlic to taste. Then add the grated zucchini, season to taste (I used only salt & pepper) and continue cooking and stirring until the zucchini is done to your taste.
Meanwhile, the pasta should be done. Preserve a cup of pasta water and drain the rest. Return to pot and add a few teaspoons of red pesto and mix well. Add also a bit of pasta water to achieve a more homogenous sauce. Put on plate to serve and top with zucchini. Add grated parmesan to taste.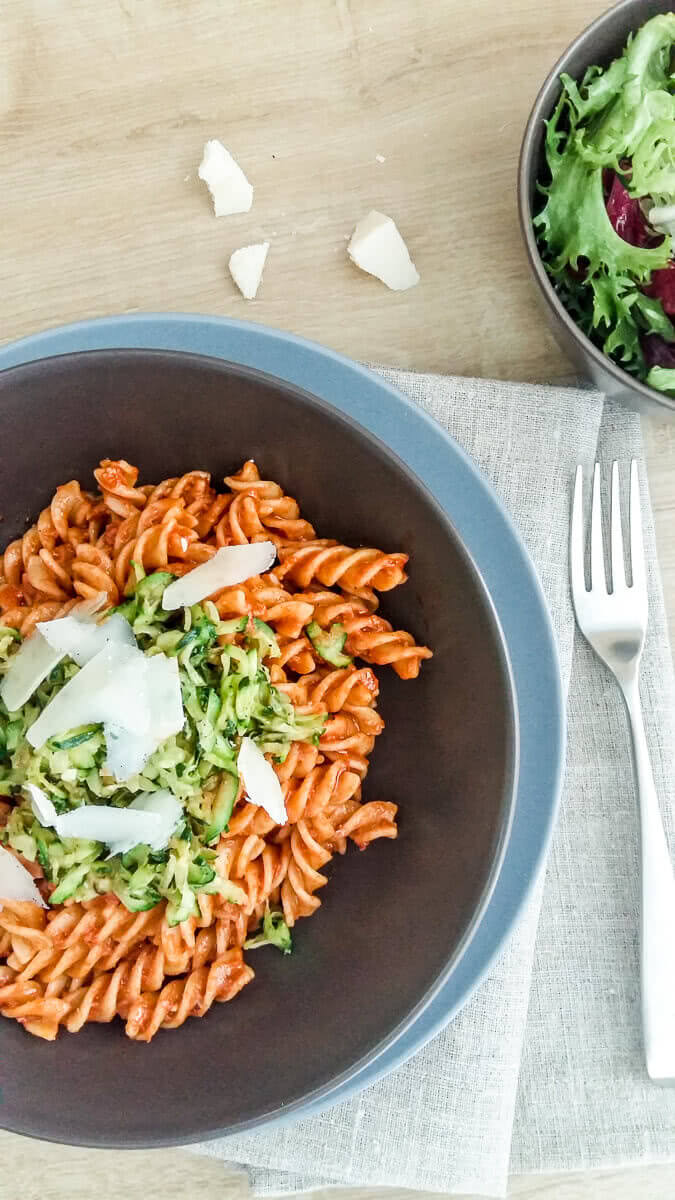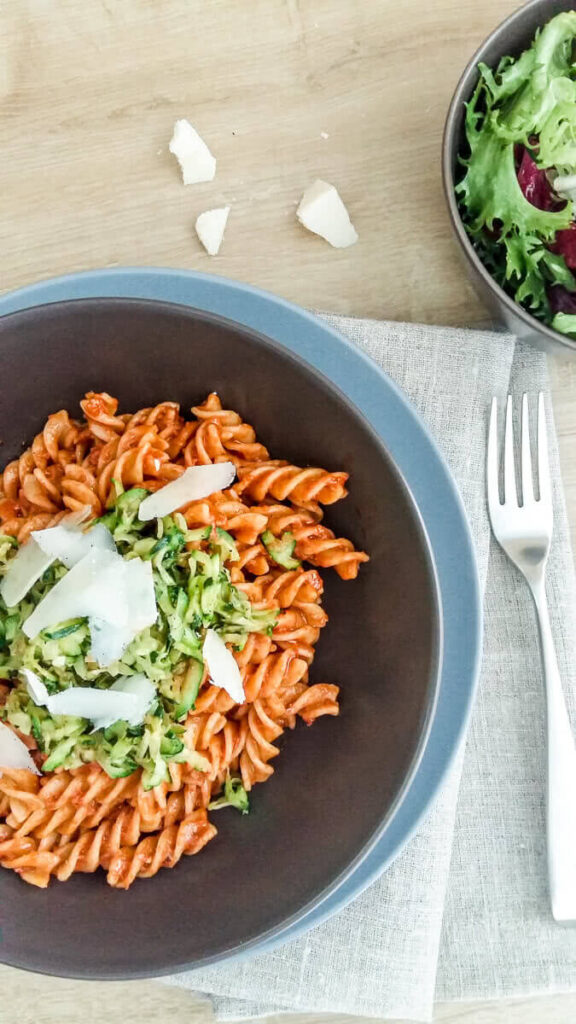 This dish is vegetarian. If you are looking for a vegan alternative, omit the parmesan, but also take care to read the ingredients on the pesto, as it usually contains cheese.