I realize spinach is a controversial vegetable. You love it or hate it. Sometimes you hate one kind of spinach (like spinach mush) and tolerate young spinach in a salad.
Our household is torn in the spinach department. While I will tolerate and occasionally eat creamed spinach, I love it while young – either raw or cooked. In spring, I consume plenty of it. Mitja, on the other hand, will only eat young leaves, raw, in a salad, when hidden amongst other greens.
So, when I make lunch for myself, I can indulge in young spinach leaves in any way I want them. In this case, combined with a fun orecchiette pasta, with a dash of cream and Parmigiano.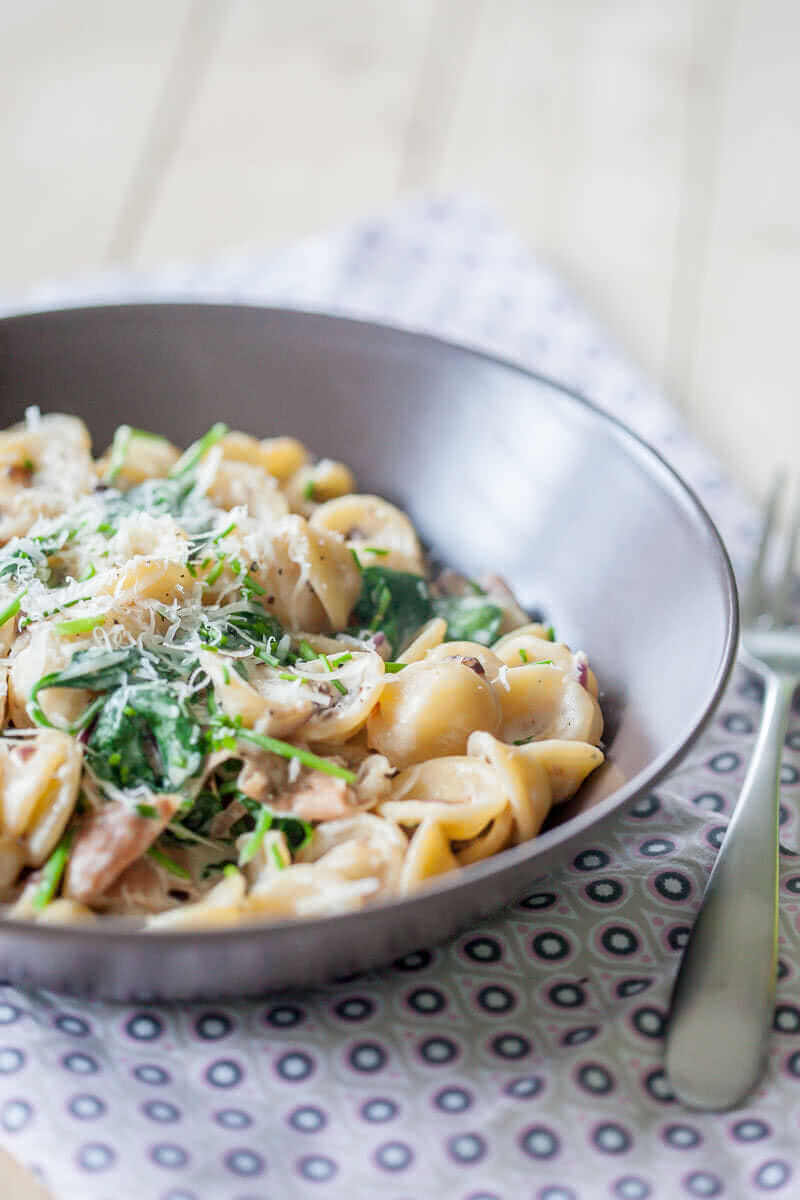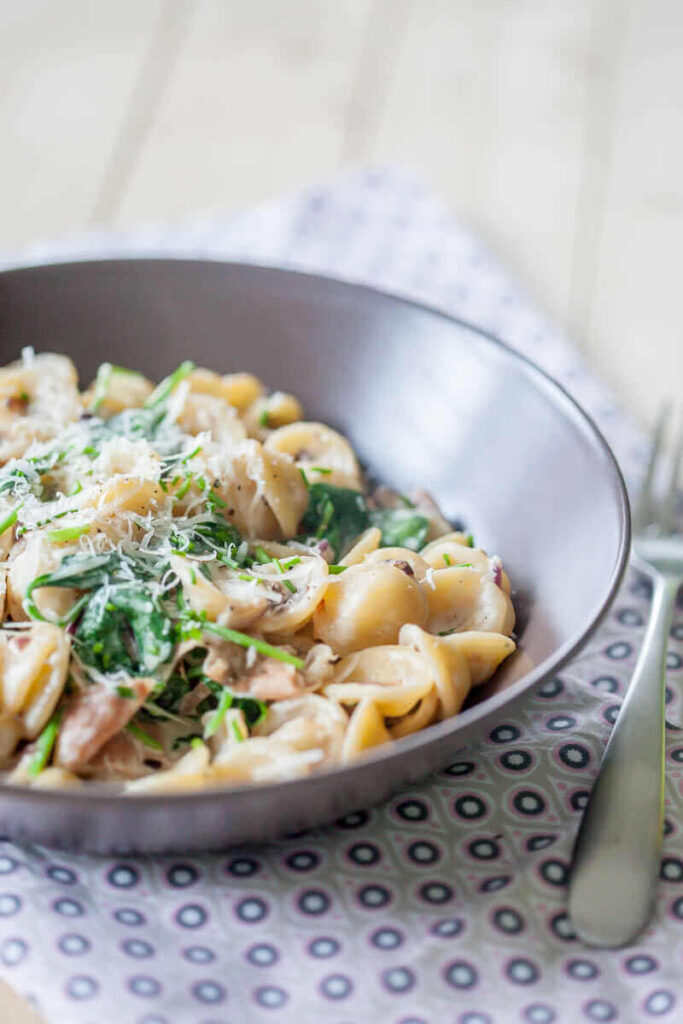 This is a lovely spring recipe that is done in no time at all. It is ideal for a weekend lunch when you want to spend as little of time cooking, as possible. I prefer to spend my time doing other things than cooking or the dishes (but still like to eat well & good) 🙂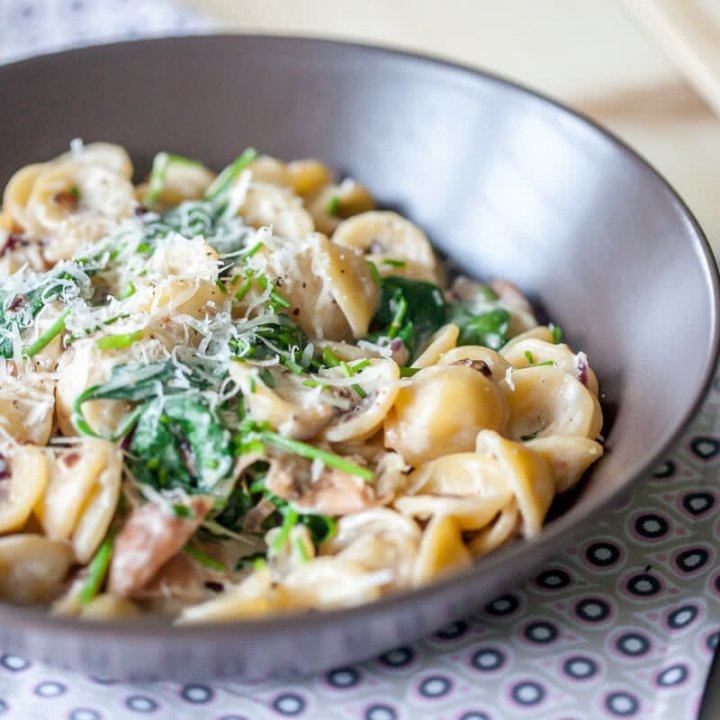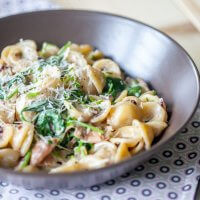 Creamy Spinach Orecchiette
This recipe is vegetarian and a great lunch idea for #meatlessmonday 💚 Also recommended and beneficial for omnivores 💚
Ingredients
200 g pasta orecchiette
1 red onion
3 cloves garlic
2 cups young spinach leaves
100 ml cooking cream
salt, pepper
1 tbs olive oil
1 tbs green onions, chopped
1 ts chives, chopped
grated Parmigiano cheese
Instructions
Pour water in a pot and add a pinch of salt. Bring water to a boil, then add your pasta. Cook according package instructions until "al dente" (cooked through, but still firm in the middle when you chew it). When cooked, set aside a cup of pasta water and then drain the pasta.
Peel your onion and garlic cloves and finelly chop. Give your spinach a wash and drain it.
In a pan, heat olive oil, then add chopped onions and garlic. Stir occasionally until tender and translucent. Add cooking cream and stir into the onions, then add the drained pasta and spinach leaves and combine well. If the pasta is too thick, add a drizzle of pasta water to reduce the thickness. Salt & pepper to taste. Serve your pasta with grated Parmigiano cheese and a sprinkle of fresh chopped chives.
Nutrition Information:
Yield:

2
Amount Per Serving:
Calories:

644.21
Total Fat:

27.11g
Saturated Fat:

12.86g
Sodium:

599.12mg
Carbohydrates:

84.73g
Fiber:

5.11g
Sugar:

6.98g
Protein:

15.98g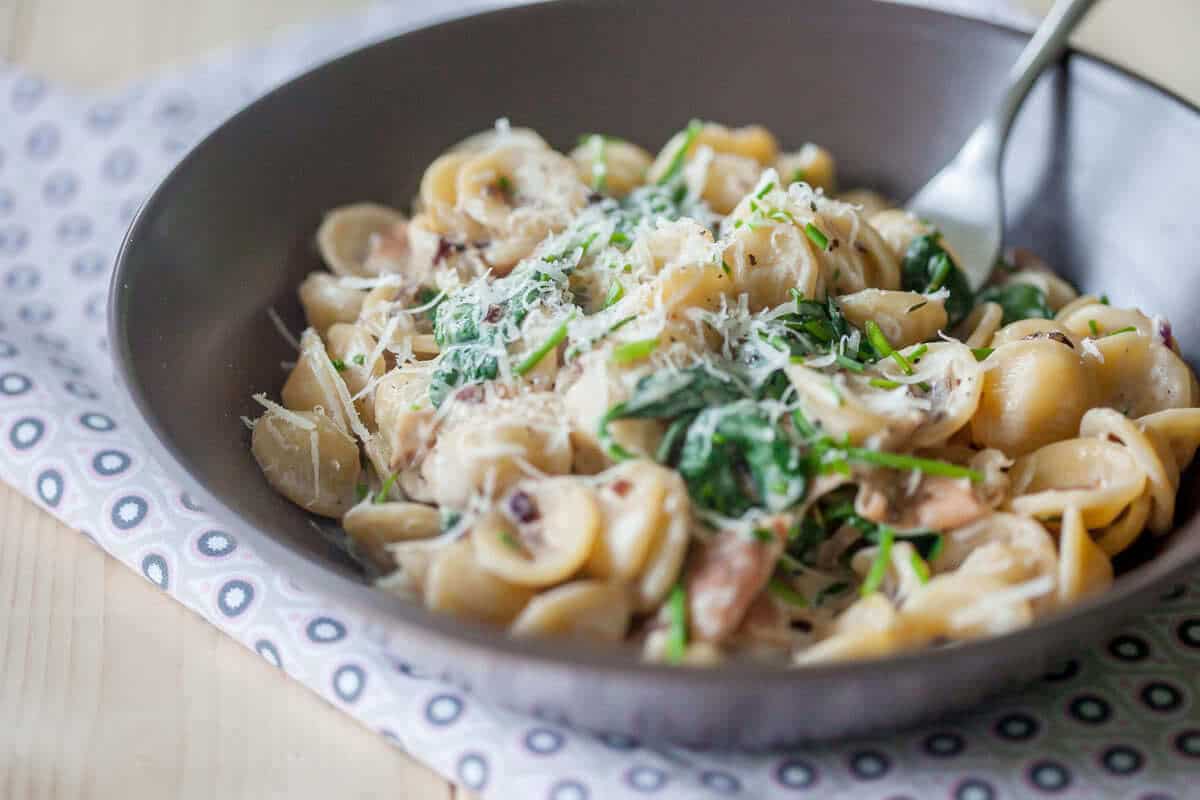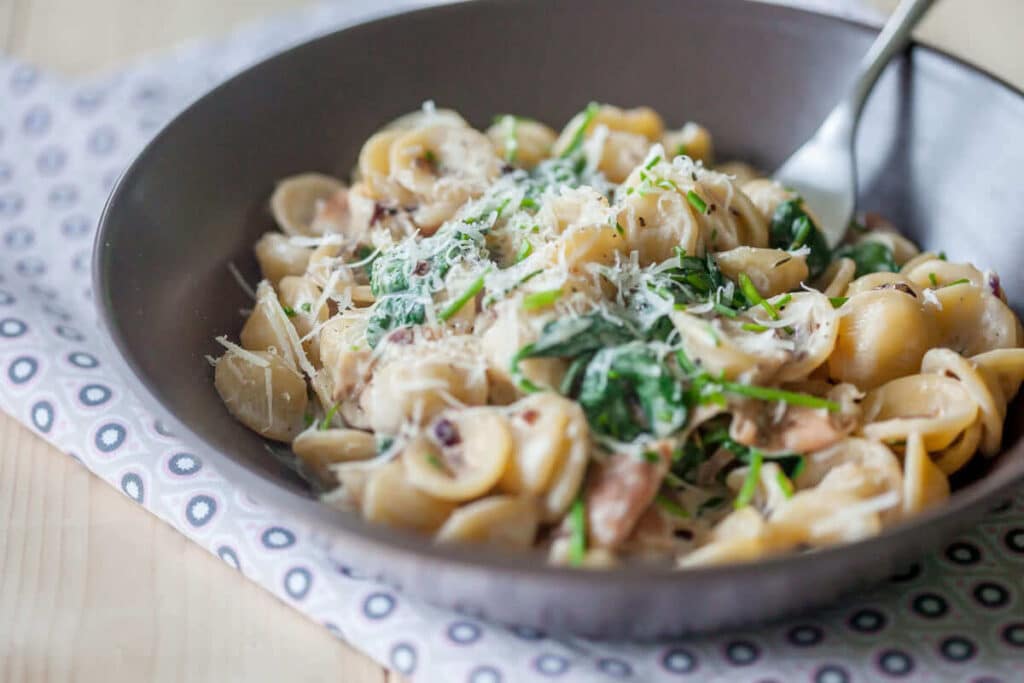 This recipe is vegetarian and a great lunch idea for #meatlessmonday 💚 Also recommended and beneficial for omnivores 💚
Did you make this? Please, let us know in the comments or on Instagram using #vibrantplate. Thanks!