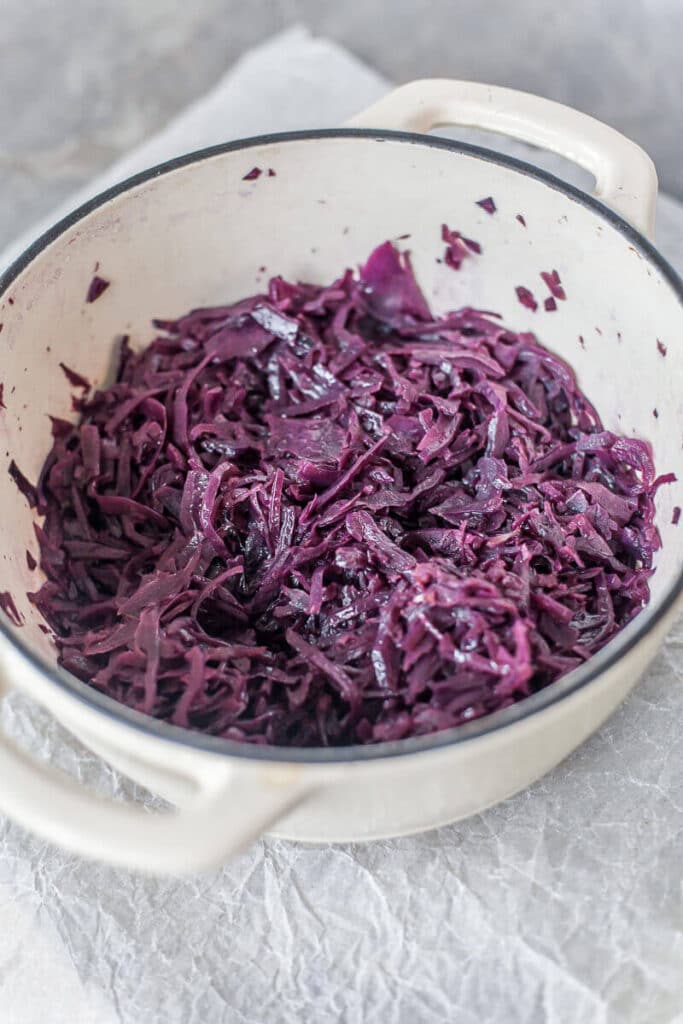 Braised Red Cabbage is nutritious and easy to make. With a Sweet and Sour taste, it is an excellent autumn side dish, perfect for Thanksgiving.
Today we're making something different – Braised Red Cabbage! Ever tried it? No? Well now, you're missing out.
True, Braised Red Cabbage is not a dish we make every day. In fact, we only make it ONCE a year, in November, when celebrating St. Martin's Day with a delicious Roast Duck. Because Roast Duck and Braised Red Cabbage go together like bread and butter.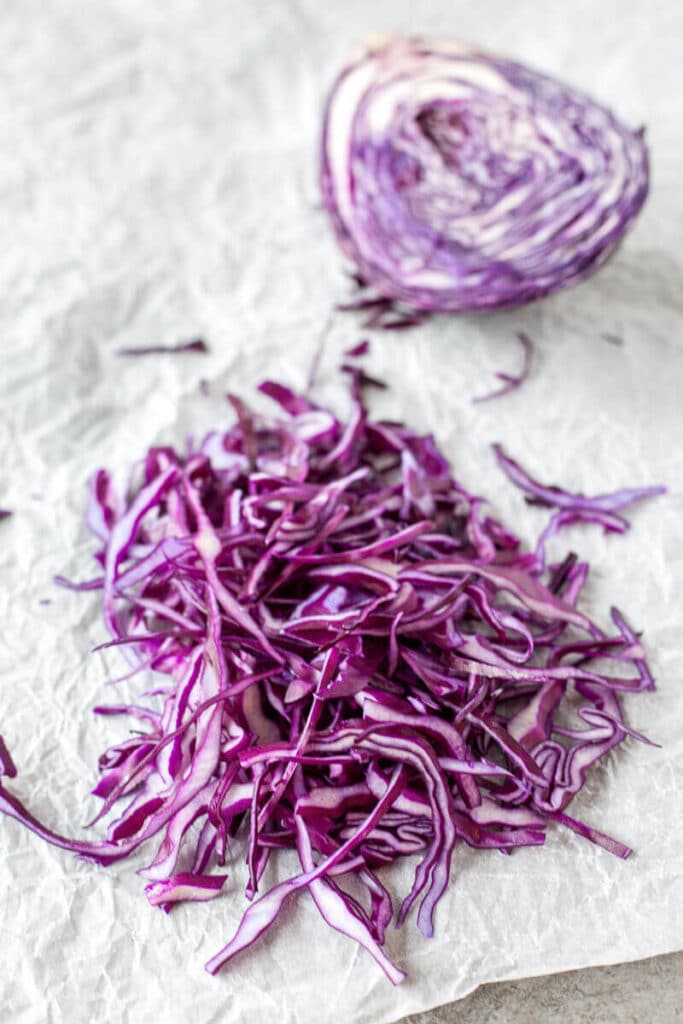 Now, when dealing with red cabbage you will soon notice it tends to turn blue when cooking. To keep the beautiful color you will need to add acid. We use red wine in this recipe, but vinegar or lemon juice will work just as well. Do not be intimidated to cook this lovely vegetable, as it's healthy and nutritious – it has twice as much iron as green cabbage!
For this recipe, I took advantage of my new, beautiful Dutch Oven to cook the cabbage. Initially, I was worried it may stain my pot, but it worked like charm and I was very pleased.
Braised Red Cabbage
Total Time:

1 hour, 20 minutes

Author: Kristina Jug

Yield: 6-8
Ingredients
1 head red cabbage (medium size)
1 tbs sugar
1 onion
1 tbs olive oil
1-2 sour apples
1 dcl red wine
1 dcl vegetable stock
1 tbs balsamic vinegar
salt, pepper to taste
ground cumin to taste
Instructions
Slice cabbage into thin slices by hand or by food processor. Peel and chop onion into small chunks. Wash and dry apple, then grate.
In a pot, heat olive oil, then add sugar and gently stir until it foams. Then, add chopped onions and fry until translucent. Add sliced cabbage and red wine and mix well. Let it cook for a couple of minutes on medium heat, until the wine has reduced. Then, add grated apples and vegetable stock, season to taste and let it cook on low with the lid on for about 40-60 minutes, until the cabbage gets soft. Stir occasionally. Cooking time depends on the thickness of your slices - the thinner the cabbage is sliced, the sooner it will cook. About 10 minutes before the dish is done, add balsamic vinegar, mix well and continue cooking.
Serve hot.
Nutrition information (per serving):
Calories: 163.06 kcal

Fat: 2.95 g

Saturated fat: 0.42 g

Carbs: 28.4 g

Protein: 4.07 g

Fiber: 6.35 g

Sugar: 13.59 g

Sodium: 663.78 mg

Text and images copyright Vibrantplate.com © All rights reserved.
Like this recipe? Let us know in the comments below or on social media using #vibrantplate and tag us @vibrantplate.
You can connect with us on our Instagram and Facebook account or on Pinterest. Don't forget to sign up to our newsletter & stay up to date with our latest recipes 😉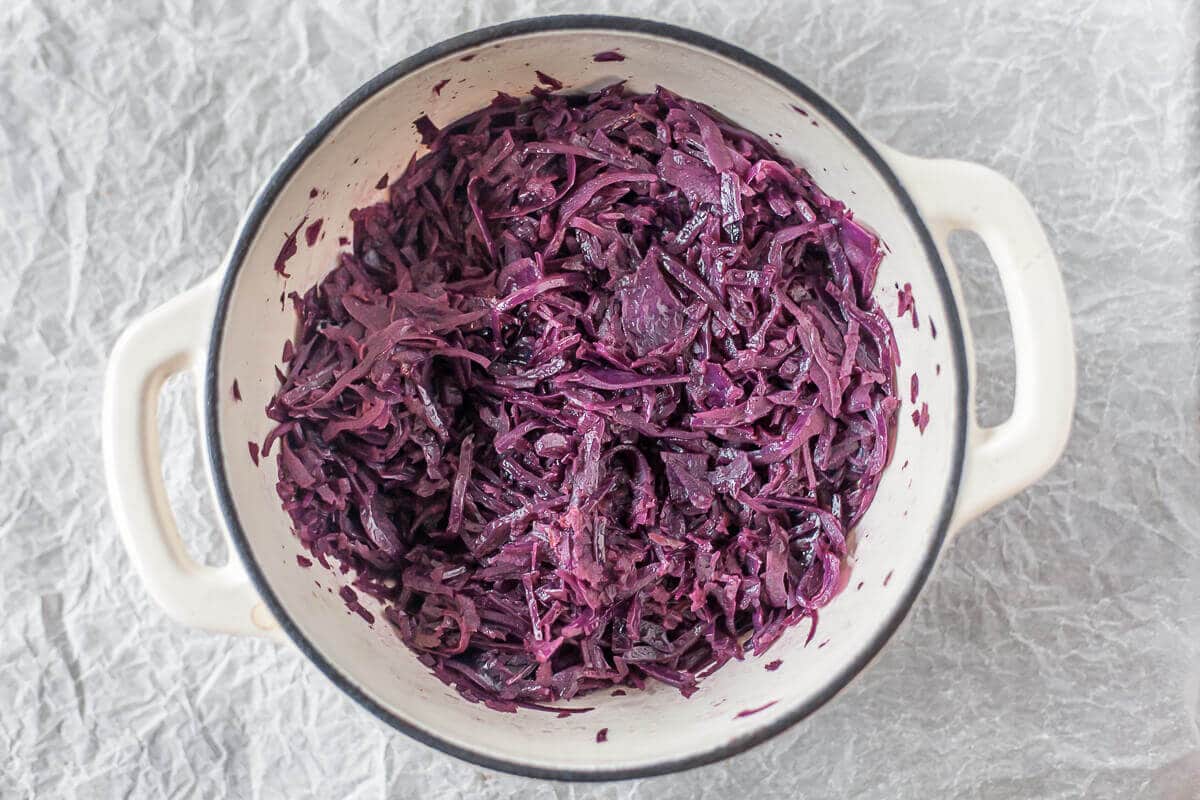 Braised Red Cabbage goes splendidly with: