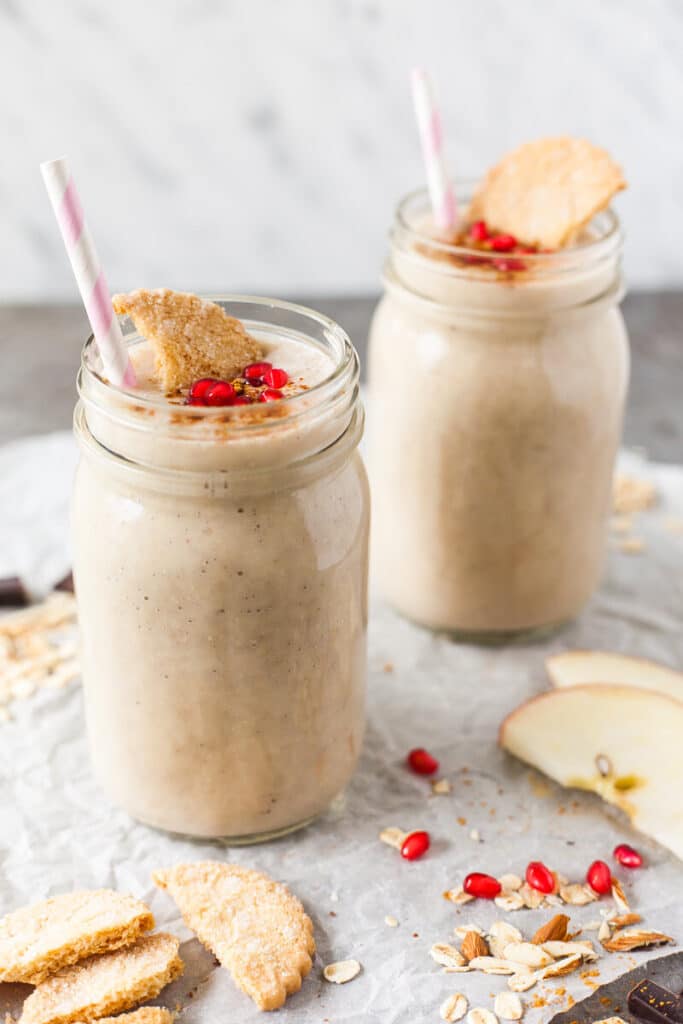 This simple Apple Banana Smoothie is delicious, nutritious and super easy to make. Just place everything in your blender, blend and … done!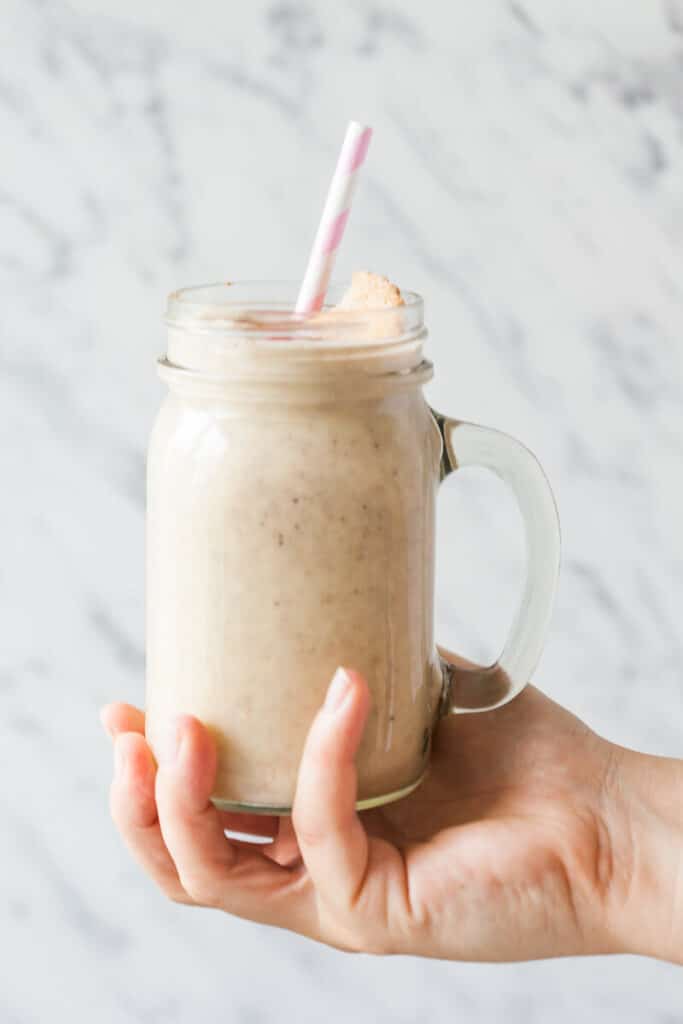 A plain smoothie is also the perfect remedy to a busy weekend. We attended a local food bloggers meetup and it was simply fantastic meeting all the amazing people behind great blogs we read daily. So many amazing talents!
So while we think about all the great stuff we learnt and think of ways to better our blog, we charge our batteries with – food, of course 🙂 While it's still autumn, we are getting the first whiffs of winter and cold and snow… and while we do not particularly like that, we do anticipate winter comfort foods and spices in the upcoming festive month 🙂
Apple Banana Smoothie with Cinnamon
Author: Kristina Jug

Yield: 2
Ingredients
2 bananas
2-3 apples
180 g yogurt
some water as needed
handful of rolled oats
2 plain cookies
dash of cinnamon
sprinkle of pomegranate seeds for decoration
Instructions
Peel your fruit, then dice and put in blender. Add yogurt, some water as needed (depending how thick you want your smoothie), rolled oats and a cookie. Blend until smooth.
Pour into mason jars, dust with cinnamon, sprinkle pomegranate seeds on top and place half a remaining cookie into each jar for decoration. Serve.
Nutrition information (per serving):
Calories: 373.2 kcal

Fat: 8.58 g

Saturated fat: 4.39 g

Carbs: 74.89 g

Protein: 6.58 g

Fiber: 9.02 g

Sugar: 42.06 g

Sodium: 99.56 mg

Cholesterol: 22.9 mg

Text and images copyright Vibrantplate.com © All rights reserved.
Like this recipe? Let us know in the comments below or on social media using #vibrantplate and tag us @vibrantplate.
You can follow us on our Instagram and Facebook account or on Pinterest.