A Healthy and Easy Vegan Lentil Loaf Recipe for your holiday's dinner table. Hearty, Filling & Fully Plant-Based.
Coming up to the festive season we thought we'd share a great meatless meal for your holiday dinner table.
This Vegan Lentil Loaf Recipe is easy and uses basic pantry and fridge staples that you probably already have at hand!
Lentils are increasingly becoming a favorite ingredient of ours. We use them every week in one or another recipe as a meat replacement to lower our meat consumption and increase plant-based food intake.
They are versatile, easy to use, delicious, and a healthy source of plant-based protein and fiber. Plus, you can combine them in many ways to make meat replacements easily, without using weird ingredients.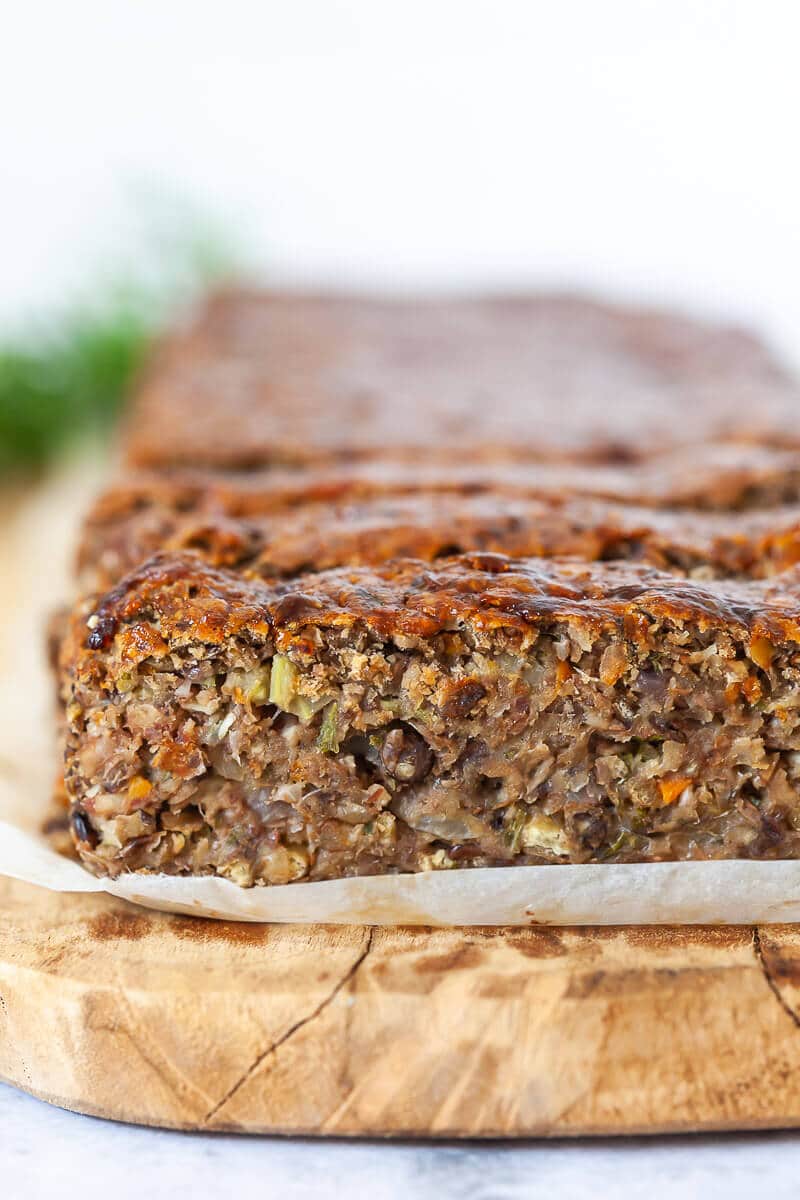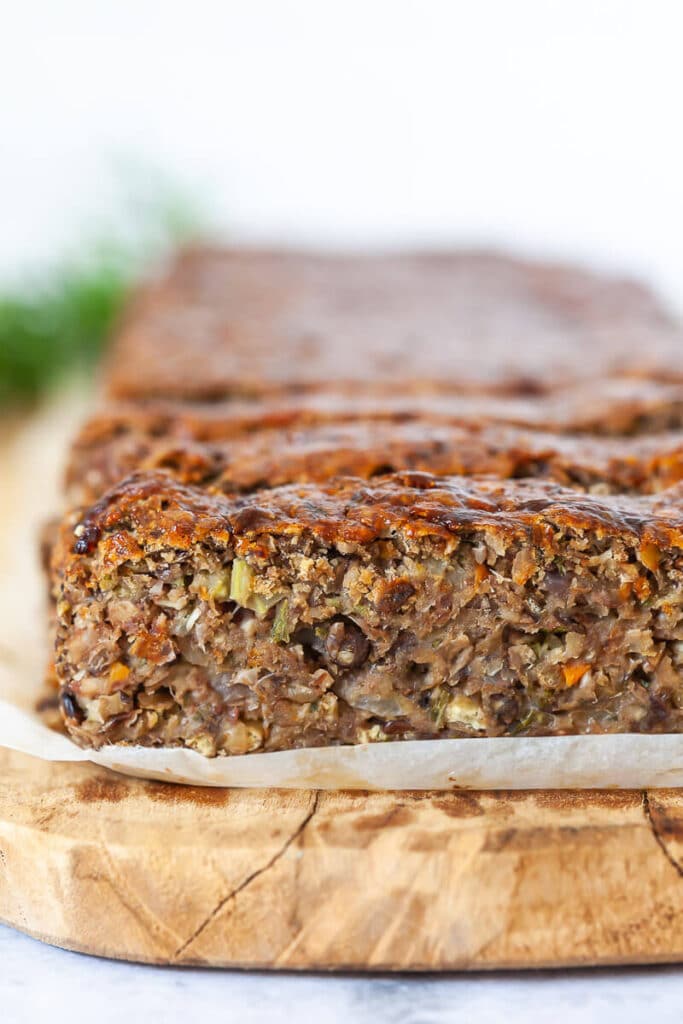 Ingredients:
To make this lentil loaf you will need:
lentils – we recommend using dry lentils and cooking them fresh. Use brown or green lentils as they hold their shape better once cooked
vegetable stock – we cooked the lentils in vegetable stock, which gives them a richer and fuller taste once cooked. The dried lentils will absorb the stock while cooking, but if there is any liquid left at the end, just drain the lentils.
vegetables – we added staple vegetables, such as red onion, carrot, celery stalk, and garlic. Finely chop the veggies and saute them in a pan until soft before using them.
oats – use fine oats or quick-cooking oats instead of flour. Oat flour will work as well. If you only have rolled oats, give them a quick blend in your food processor. To make this dish gluten-free, use certified gluten-free oats.
pecan nuts – will add a hearty, meaty taste to the loaf. You can also use walnuts.
ground flax seeds – in vegan cooking, ground flax seeds act as an egg replacer that binds the ingredients together.
soy sauce – adds flavor and umami to the dish. Again, to make the dish gluten-free, make sure your soy sauce is gluten-free.
herbs and spices – these add to the flavor of the dish. We like to use herbs we'd use in a meatloaf as well, such as fresh parsley, dried thyme, salt,
BBQ Sauce – we used a store-bought BBQ sauce for the glaze on top of the loaf, which adds smokiness you'd expect from a baked meatloaf, and a bit of sweetness, too.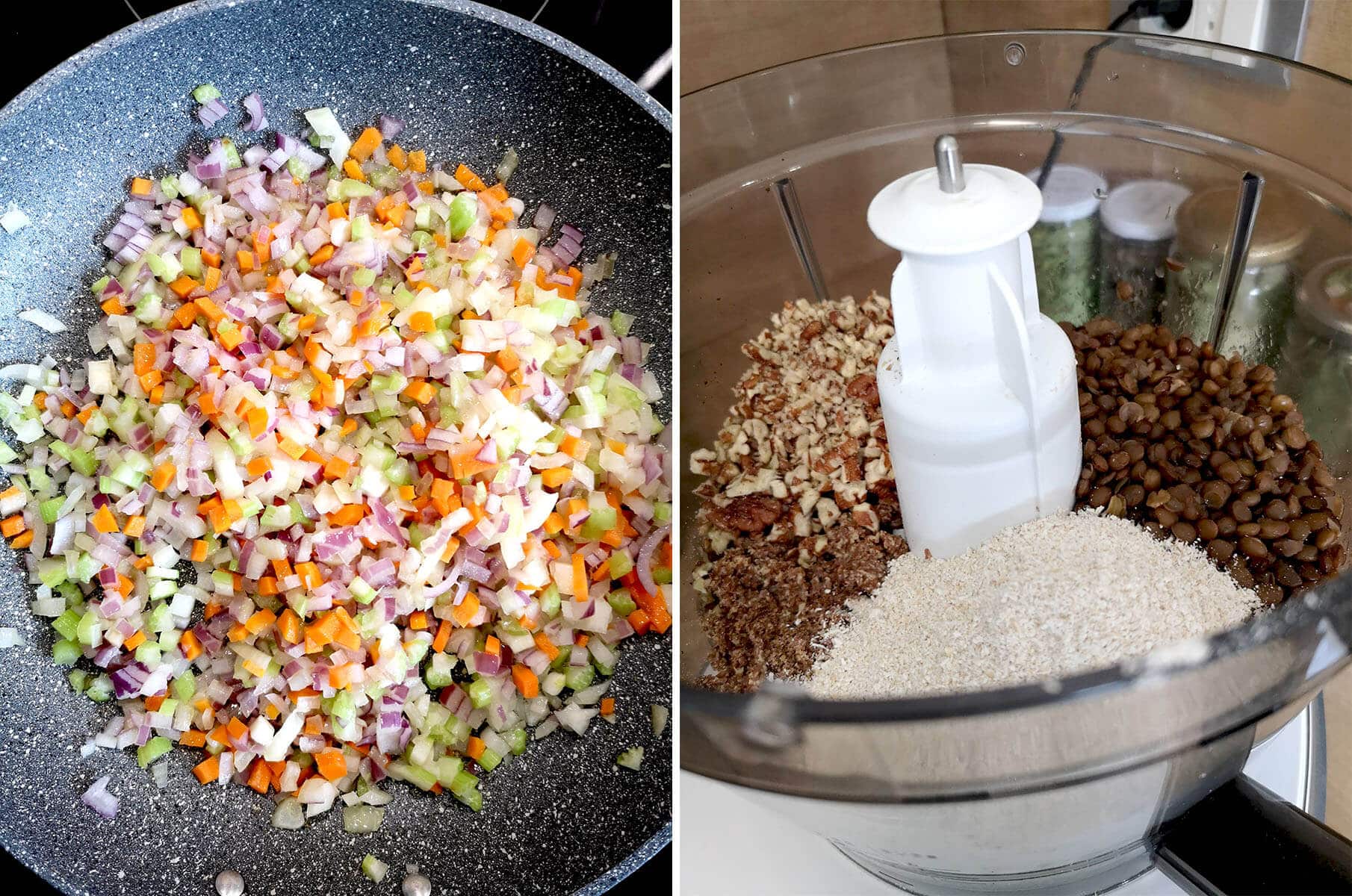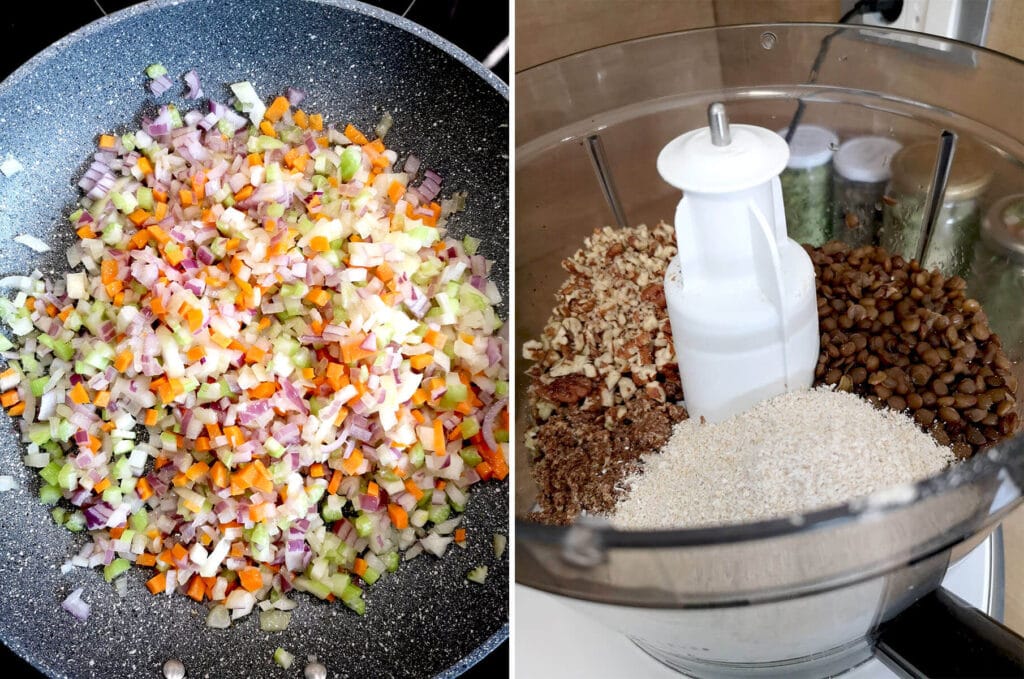 How do we make this Easy Vegan Lentil Loaf?
Cook the lentils. Start by pre-cooking your dried lentils in vegetable stock. If you are short on time, you can use pre-cooked canned lentils instead. Once cooked, drain them and cool them, then add to a food processor.
Saute the vegetables until tender. Then cool a bit and add to the lentils in your food processor.
Mix. Add the rest of the ingredients: oats, nuts, flax seeds, soy sauce, herbs, and spices, then pulse several times until the mixture starts sticking together.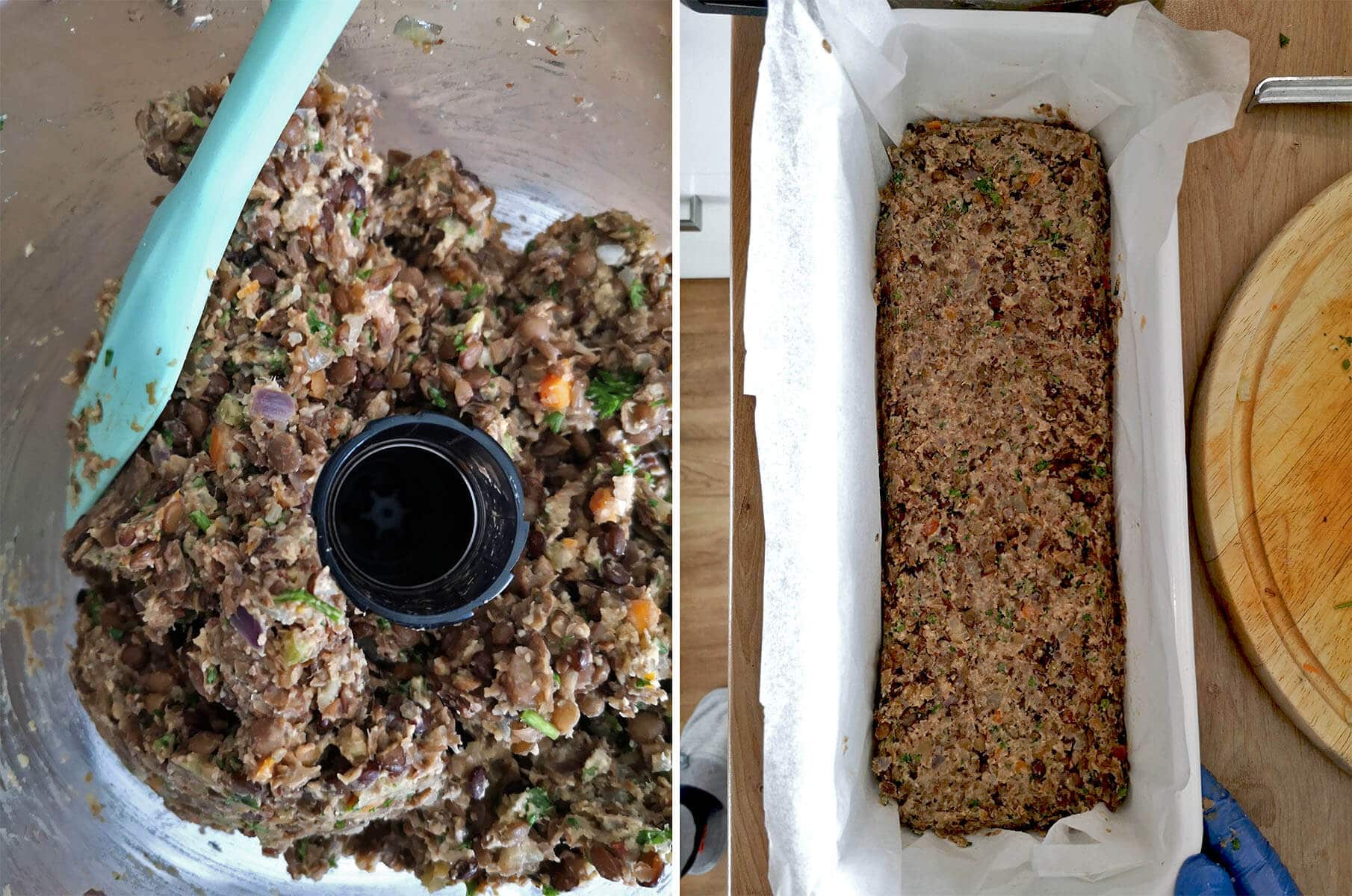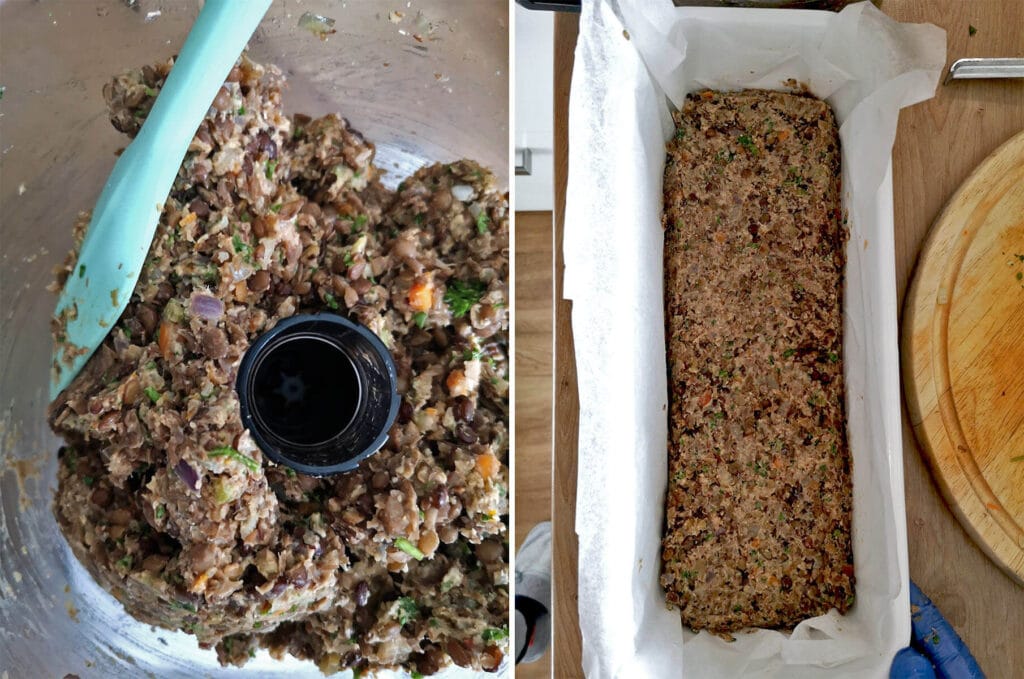 Shape. Once the lentil mixture is ready, transfer it to a baking dish lined with parchment paper. We like to use a bread loaf pan about 5×9 inches (13cm x 23cm) in size. Press the lentil mixture together to form a nice and compact loaf shape.
Bake. Transfer it to a preheated oven and bake at 180°C / 350°F for about 30 minutes. We like to glaze the top of the loaf with some BBQ sauce before baking and once about halfway through the baking process (so about at the 15-minute mark). For an extra glossy shine, glaze it also once when baked and still hot.
When the lentil loaf is baked, set it aside to cool for about 10 minutes, this will help the lentil loaf hold its shape. Then lift it out of the pan with the baking paper and serve warm.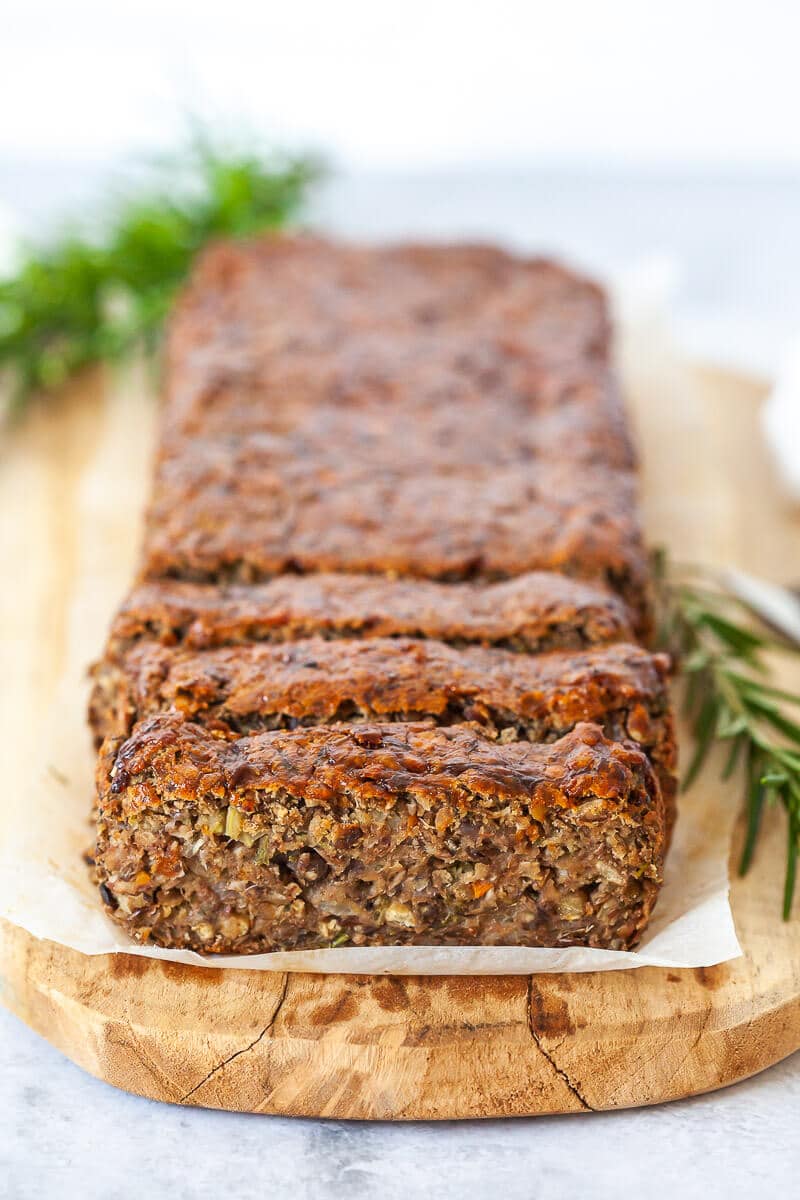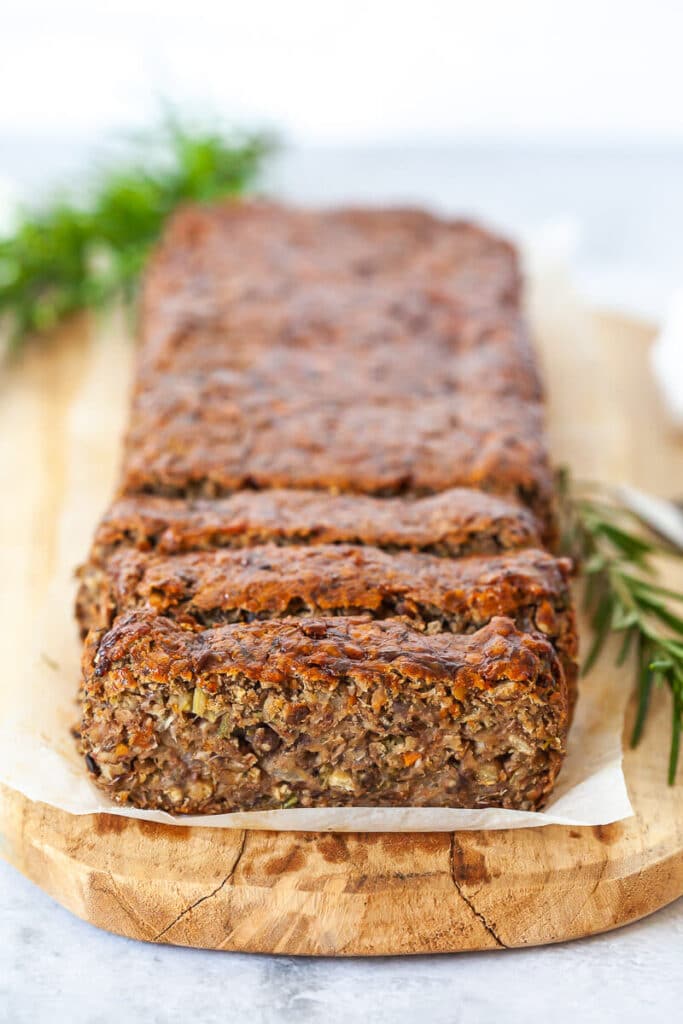 What kind of lentils can I use?
For this recipe, we recommend going with brown or green lentils, which hold their shape once cooked. We do not recommend using red or yellow lentils, as they just fall apart while cooking. If you don't have time to pre-cook lentils, you can use pre-cooked canned lentils instead, but we personally prefer freshly-cooked lentils.
How can I store this Vegan Lentil Loaf?
This lentil loaf will keep for about 3 days refrigerated in an air-tight container. Just reheat before serving. Keep in mind that the leftover loaf may be somewhat dry when reheated, so serve with gravy or as pictured below, with stewed savoy cabbage.
Can I make this ahead?
Yes, you absolutely can make the lentil loaf a day ahead and then just pop it into your oven.
I am allergic to pecan nuts!
The nuts help with the final lentil loaf texture (and taste), so we do not recommend simply omitting them. Try replacing the pecans with another nut, like walnuts, hazelnuts, or maybe cashew nuts. In case of allergies, you could replace the pecan nut with other types of nuts. As a last resort, try swapping the nuts with rolled oats.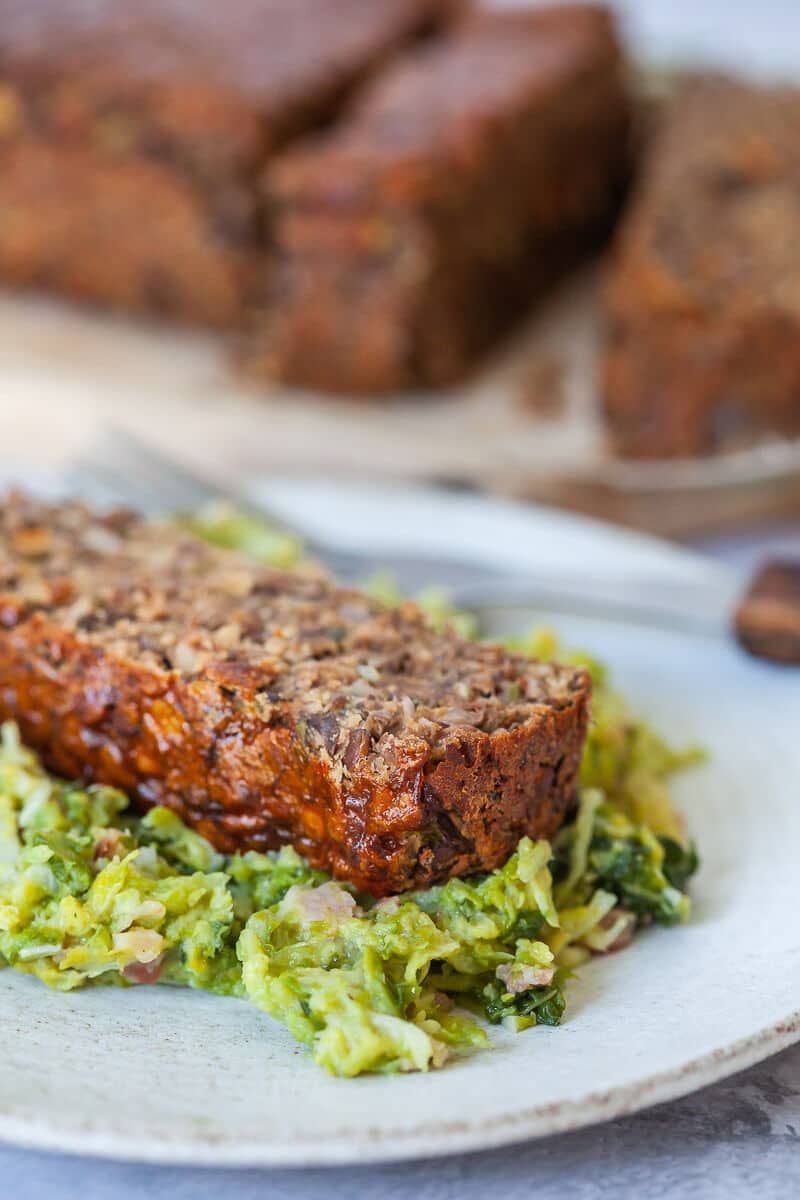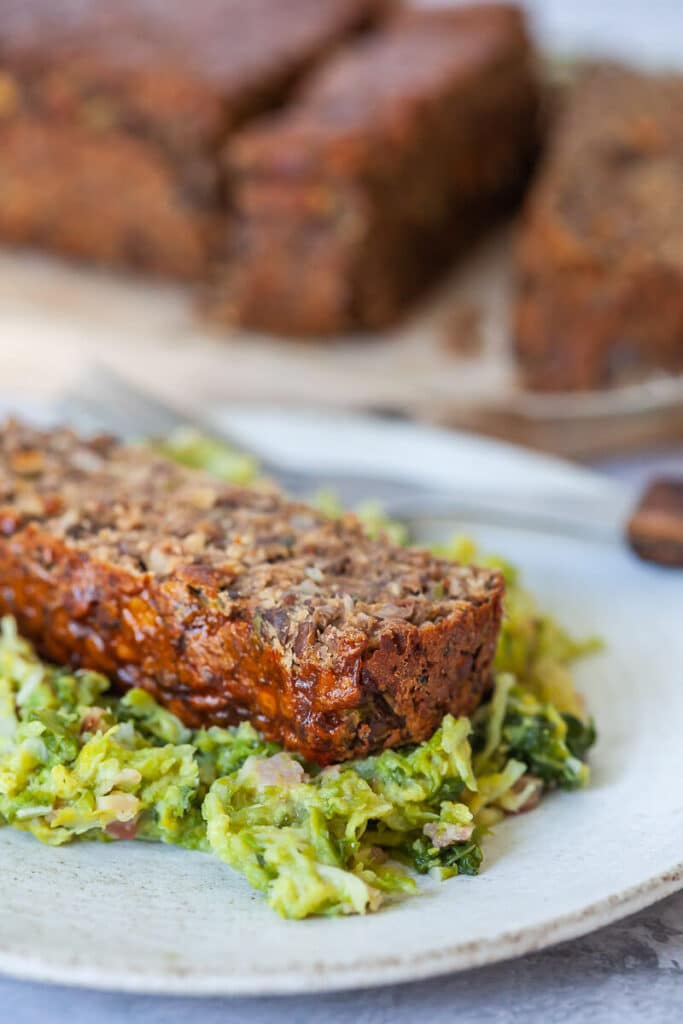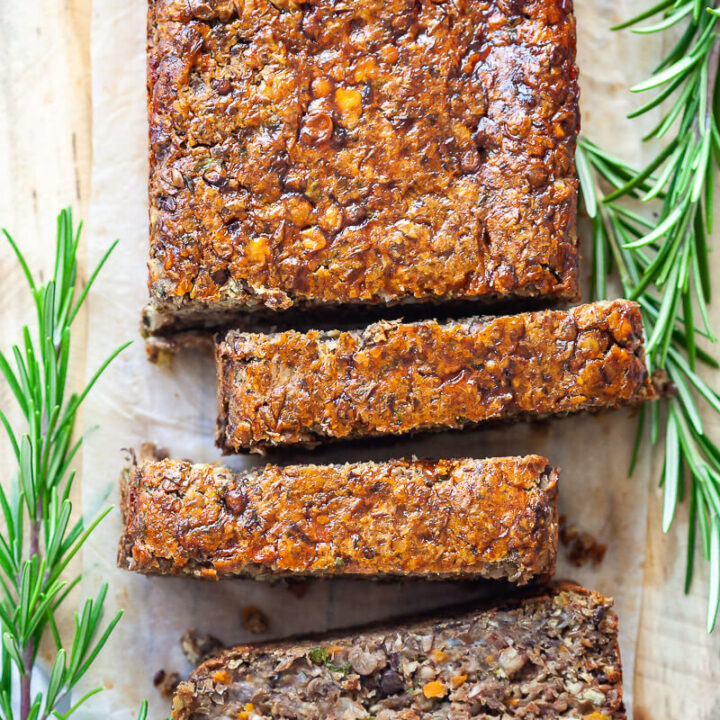 Easy Vegan Lentil Loaf
A Healthy and Easy Vegan Lentil Loaf Recipe for your holiday's dinner table. Hearty, Filling & Fully Plant-Based.
Ingredients
3/4 cup lentils, brown or green, dry
2 cups vegetable stock
1 red onion
1 carrot
1 celery stalk
3 cloves garlic
1 cup fine oats (or quick-cooking)
1/2 cup pecan nuts, chopped
2 tbsp flax seeds, ground
2 tbsp soy sauce
1 tbsp parsley, fresh
1 tsp thyme, dried
pinch of salt
black pepper to taste
Glaze:
2 tbsp BBQ Sauce (store-bought)
Instructions
Wash 3/4 cup dry lentils under running water, then add them to a pot along with 2 cups of vegetable stock. Bring to a boil, then reduce the heat and cook on low for about 30 minutes, until the lentils are cooked and fork-tender. Drain and cool.
Chop vegetables: 1 red onion, 1 carrot, 1 celery stalk, and 3 cloves garlic. Heat a spoon of oil in a pan, add chopped vegetables, and sautee while stirring occasionally, until the vegetables are softened, about 10 minutes. Then let them cool and add them to a food processor.
To the food processor now also add cooked lentils, 1 cup oats, 1/2 cup chopped pecan nuts, 2 tbsp ground flax seeds, 2 tbsp soy sauce, 1 tbsp fresh chopped parsley, 1 tsp dried thyme, a pinch of salt and black pepper to taste.
Pulse the ingredients until the mixture starts to stick together. Don't overmix it, you don't want a pate, but to have some whole veggie and lentil pieces in the mixture.
Heat the oven to 180°C / 350°F. Line a rectangle baking dish with parchment paper, then transfer the mixture to the pan, shaping it into a loaf and pressing it together.
Glaze the lentil loaf with about 1 tbsp of your favorite BBQ Sauce and transfer the pan to the oven.
Bake for about 30 minutes, glazing the loaf one more time halfway through the baking process.
Once baked, remove from the oven, and leave to cool for a couple of minutes. This will help the lentil loaf hold its shape. Then lift it out of the pan with the baking paper and serve warm.

Nutrition Information:
Yield:

8
Serving Size:

1
Amount Per Serving:
Calories:

140
Total Fat:

6g
Saturated Fat:

1g
Trans Fat:

0g
Unsaturated Fat:

5g
Cholesterol:

0mg
Sodium:

456mg
Carbohydrates:

17g
Fiber:

4g
Sugar:

3g
Protein:

5g
Nutrition data is automatically calculated using Nutritionix and may not be accurate.
If you like this recipe, you can let us know in the comments below or on social media using #vibrantplate and tag us @vibrantplate. We're always happy to read your feedback and LOVE seeing your take on our recipes.
Looking for more recipe ideas using lentils? We have plenty!
You can connect with us on our Instagram, Facebook, or Pinterest. We share many behind-the-scenes photos and step-by-step recipes in our Instagram Stories, so be sure to check it out!