These Vegan Lentil Stuffed Peppers are filled with lentils and rice, served in a rich tomato sauce, Plant-Based & Gluten-Free.
Hello friends, how are you? Hope you're all staying safe and healthy in these crazy times. Things are turning bad in our country, as everywhere else, and it's not been a fun ride.
We're missing our family, our friends, venturing carefree outside, and going on trips and holidays. It's been 10 months since our Thailand vacation. And although the introvert in me is silently enjoying these closed up days, the workaholic me has dived deep.
This month is the first month when this blog has turned from a "business/hobby" to an actual place of employment, as I turned it into a part-time thing.
After months of consideration, reflections, and "should I, would I", I took the plunge on a particularly stressful day and said, "F it. Let's do it".
I still had client-related things to finish, but just today I managed to breathe a sigh of relief. Things should be easier, and yet more productive from here on. And I am embracing the change and the future with open arms.
Fall and Winter are usually difficult times for me – I am a child of Summer after all. But the one thing that keeps me going, is the colors of fall, the crisp air, and all the seasonal produce. There is such a variety available, that it is difficult to just pick one. But if I should just pick a favorite in the fall, it should be this dish of Vegan Lentil Stuffed Peppers.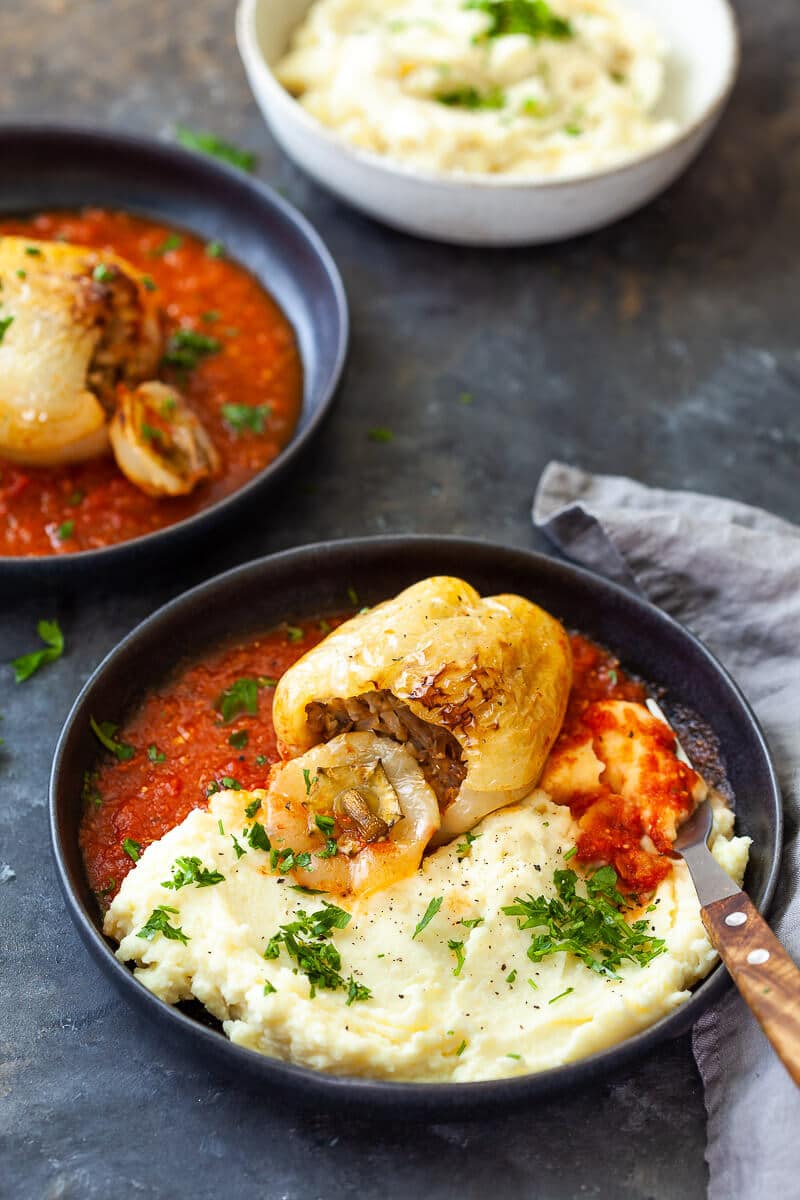 I know I know, it's not the prettiest, but it is a classic in our country and for a reason – stuffed peppers are delicious! Plus, they are fairly easy to make and you can even meal-prep them and freeze them for a rainy day when the soul demands comfort food.
In our country, the peppers are stuffed with meat as a rule. But, we made this recipe fully plant-based, and it is also gluten-free.
The not so secret meat-replacement in this dish is the humble lentils. And though I grew up on peppers stuffed with meat, I much prefer this vegan version.
How do I make Vegan Lentil Stuffed Peppers?
There are 3 steps to making Vegan Lentil Stuffed Peppers:
First, you make the pepper filling out of cooked lentils, white rice, and seasonings. This can be made a day ahead and refrigerated until ready to use, so you can save some work on cooking day.
Then, you prep the peppers by cutting the tops off, remove the innards, and filling them with the lentil stuffing. We used a type of peppers called babura (it's pale yellow in color), but you can use other varieties, like bell peppers. These will be slightly thicker, so you may need to cook them a minute or two longer.
The last step is to assemble the dish in an oven-proof pot and bake them.
What dish should I use to bake?
Make sure to use a pot with sides high enough, so the peppers can stand vertically. If your peppers fall during cooking, it's not a disaster, but the filling may fall apart. Also, make sure your pot has an oven-proof lid, as you bake it covered for the first half an hour, and then uncovered for another half hour.
Can I make this dish on the stove?
You can absolutely make this dish on the stove, but then your peppers will be just cooked-through and not caramelized – this is the precise thing that makes these peppers especially delicious, the slow caramelization of the sugars in the pepper in the oven.
How do I store this dish?
We recommend storing the stuffed peppers in single portions in air-tight containers in the fridge for up to 3 days. Also, we recommend making a fresh portion of mashed potatoes when serving. Alternatively, you can serve this dish with plain cooked rice which will also keep in the fridge if meal-prepping.
For long storage, freeze individual portions in zip lock bags or air-tight freezer-friendly containers and keep frozen for up to 3 months.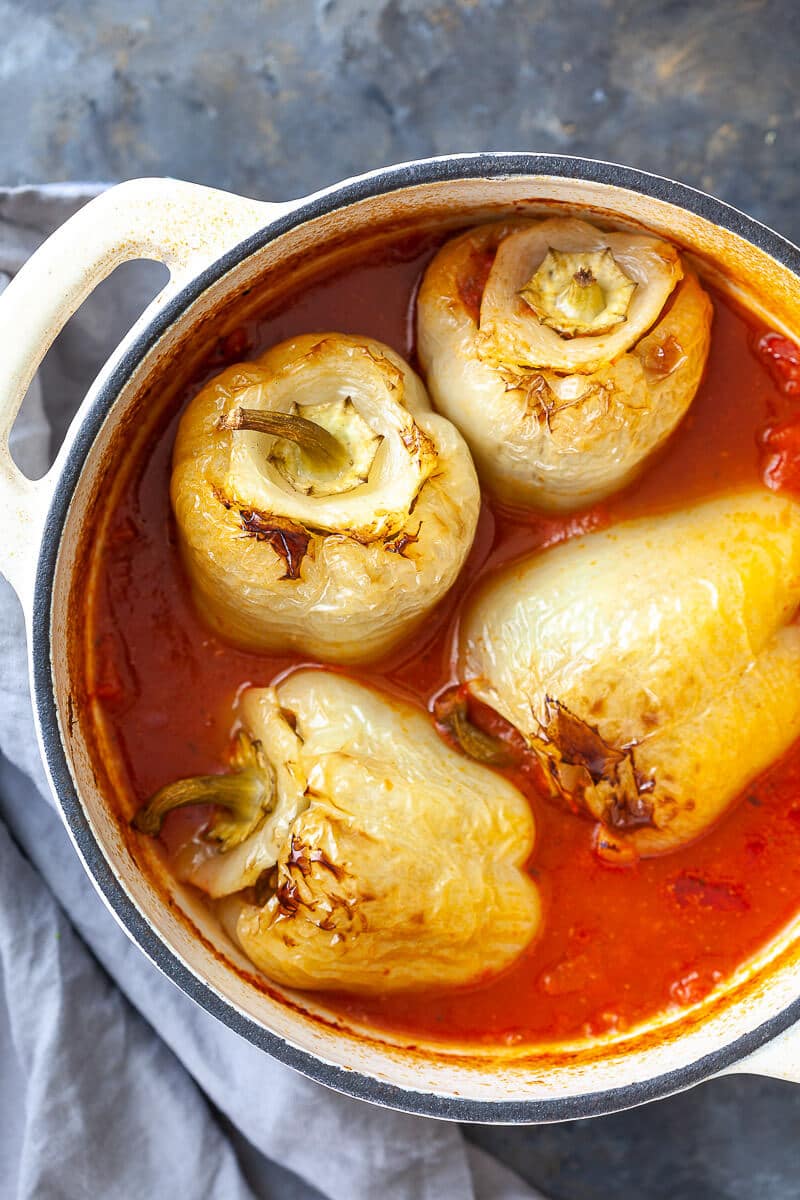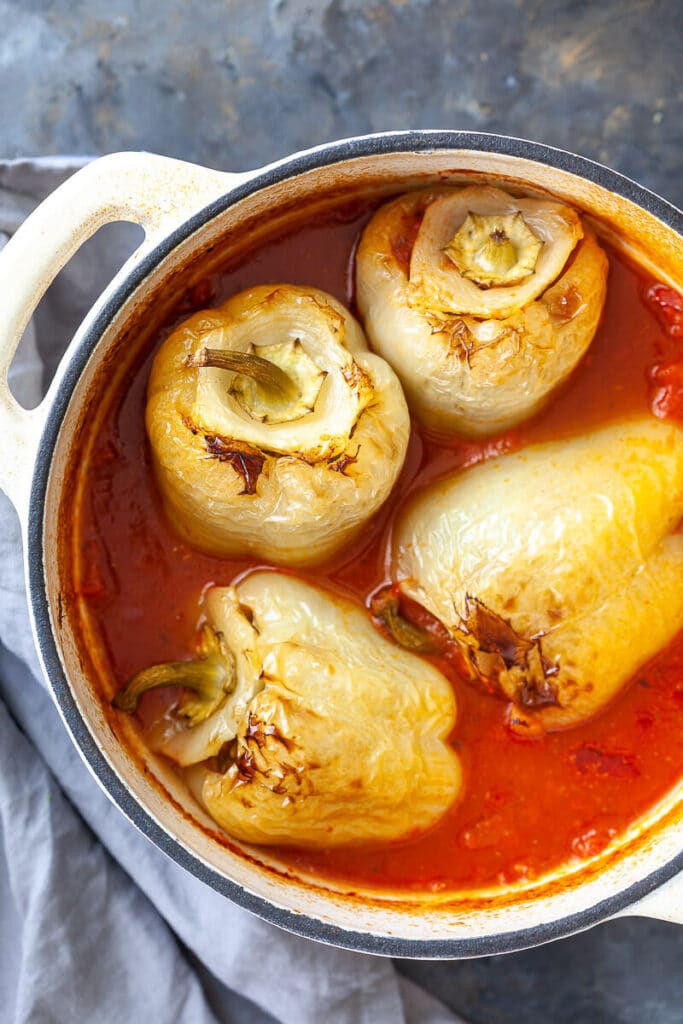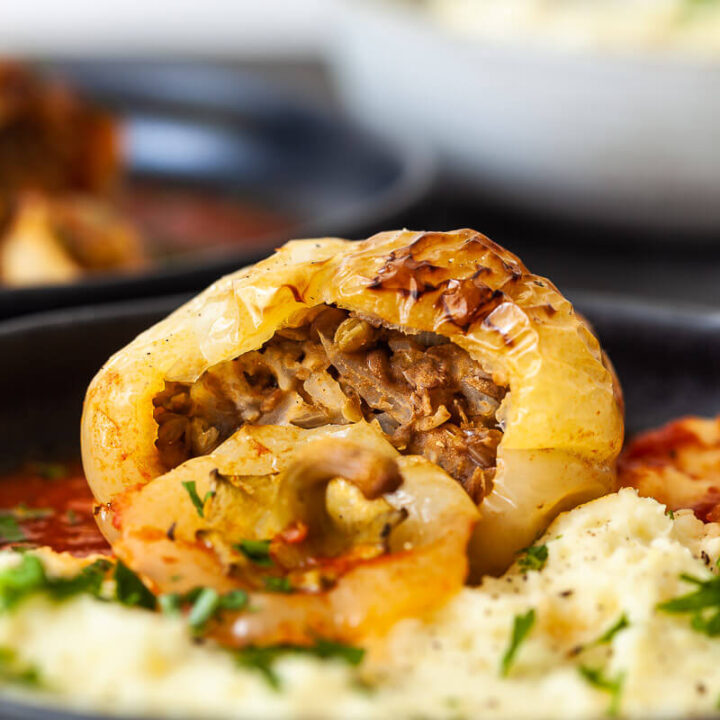 Vegan Lentil Stuffed Peppers
Cook Time:
1 hour
30 minutes
These Vegan Lentil Stuffed Peppers are filled with lentils and rice, served in a rich tomato sauce, Plant-Based & Gluten-Free.
Ingredients
Lentil filling:
1 cup dry lentils (green or brown)
2 cups vegetable broth
1 bay leaf
1/2 cup white rice
1 onion, large
4 cloves garlic
1 tsp tomato paste
Stuffed peppers:
8 peppers (bell peppers or other types)
4 cups tomato sauce (like marinara, arrabbiata,...)
3 cups of water
pinch of salt
1/4 tsp black pepper
1/4 tsp smoked paprika
thyme, oregano to taste
Mashed potatoes:
6 potatoes, medium-sized
1/2 cup plant-based cooking cream
1/2 to 1 cup plant-based milk, unsweetened
pinch of salt
Instructions
Lentil filling: Wash lentils under running water, then add to a pot along with vegetable stock and a bay leaf. Bring to a boil, then lower on low and gently simmer for about half an hour, until the lentils are cooked al dente. Discard bay leaf, drain and cool the lentils, then add them to a food processor and pulse until partly blended. Do not turn into a paste, but just roughly blend it, so there are still whole lentils along with the mixture. Transfer the blended lentils to a bowl.
In a separate pot cook white rice in salted water - bring to a boil, lower the heat and simmer for just about 10 minutes. The rice must be only partially cooked. Drain, cool down, and add to the lentils.
Peel and finely dice onion, mince garlic. In a pan, heat a spoon of oil, and add the diced onions. Stir-fry until translucent, then add in the garlic and stir-fry for a minute. Do not let the garlic brown, or it will become bitter. Now, add in tomato paste, stir well to combine, and let cook for a minute or two until the tomato turns a darker color, then remove from heat and add to the bowl with the lentils and rice. Season to taste with salt, pepper, and other spices, like smoked paprika, thyme, and oregano, and mix well to combine.
Prepare the peppers: Wash and dry the peppers, then with a sharp knife, remove the tops - you can save these for later. Next, carefully remove the seeds inside, and fill the peppers to 3/4 with the lentil mixture. Cover with the pepper tops.
To a large oven-proof dish or pot with a lid, add tomato sauce, along with water, salt, pepper, and other spices to taste (smoke paprika, thyme, oregano). Stir to combine, then gently add in the stuffed peppers, so they stay vertically. Make sure the sides of the pot are high enough so the peppers can stay vertically when the pot is covered with the lid.
Preheat oven to 200°C / 390°F, then place in the oven-proof pot with the peppers. Bake 30 minutes covered with the lid, then remove the lid and bake another 30-40 minutes uncovered (depending on how thick your peppers are) until the peppers turn softer and golden-brown, and the sauce thickens.
While the peppers are baking, prepare the mashed potatoes: Peel, wash, and dice potatoes, then add them to a pot of salted water. Bring to a boil, then lower the heat and cook on medium for about 15-20 minutes until the potatoes are cooked through. Drain the cooked potatoes, then mash into a puree, adding in plant-based cream and milk and seasoning with salt to taste. Stir well until creamy.
Once the peppers are baked, remove them from the oven and serve hot with a side of the mashed potatoes.
Nutrition Information:
Yield:

8
Serving Size:

1
Amount Per Serving:
Calories:

410
Total Fat:

12g
Saturated Fat:

7g
Trans Fat:

0g
Unsaturated Fat:

4g
Cholesterol:

36mg
Sodium:

826mg
Carbohydrates:

65g
Fiber:

9g
Sugar:

11g
Protein:

14g
Nutrition data is automatically calculated using Nutritionix and may not be accurate.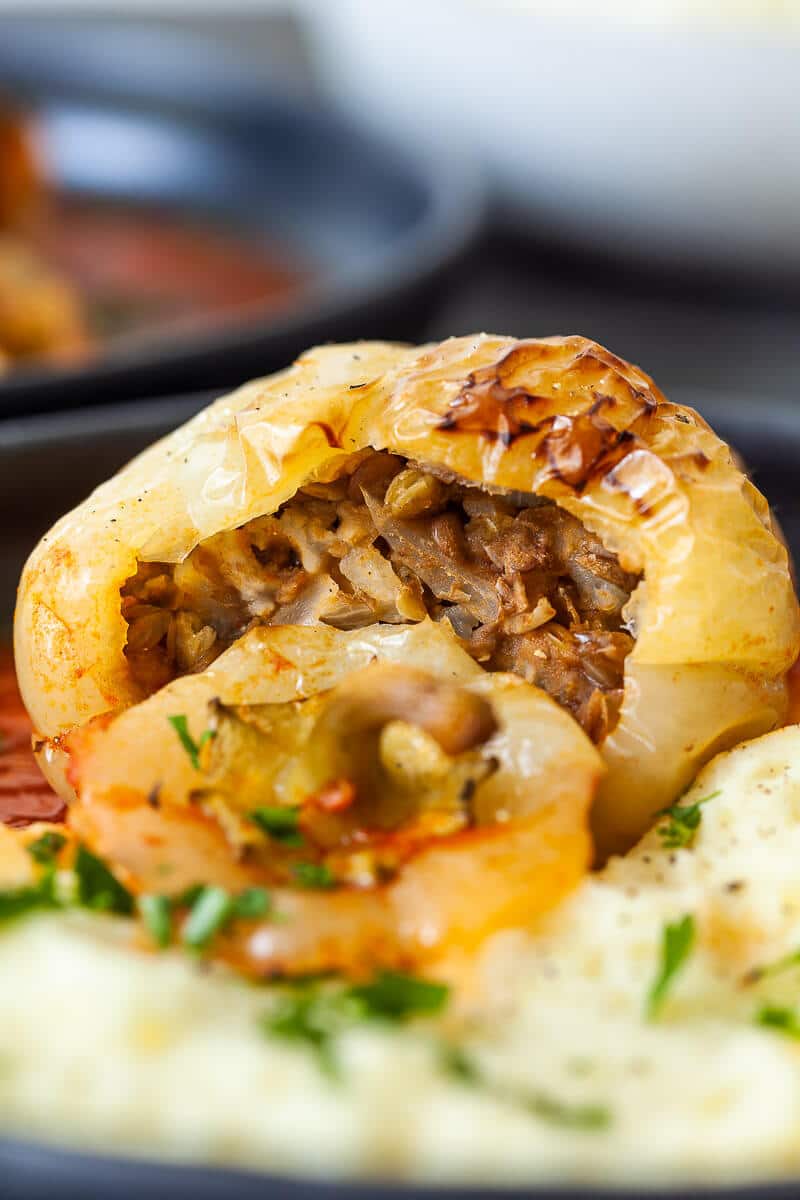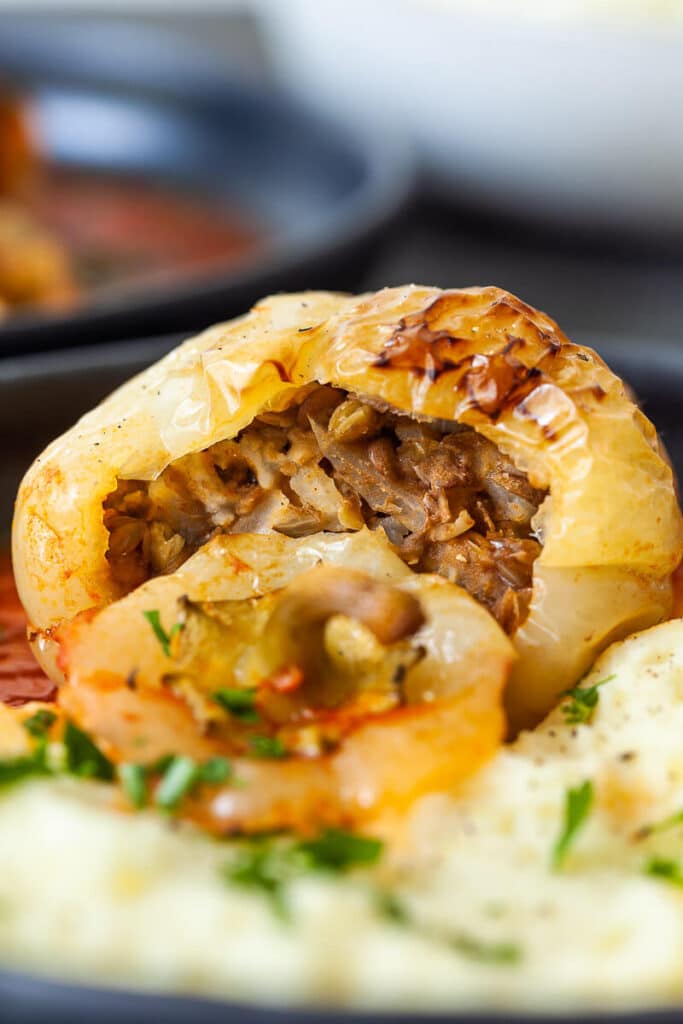 This recipe is brought to you by Hofer Slovenija.
Did you make this recipe? Let us know in the comments below or on social media by using #vibrantplate and tag us @vibrantplate. We're always happy to read your feedback and LOVE seeing your take on our recipes.
Don't forget to connect with us on Instagram, Facebook, or Pinterest. We share many behind-the-scenes photos and step-by-step recipes in our Instagram Stories, so be sure to check it out!