This Vegan Barley and Lentil Soup is rich and will fill you up and warm you on a cold winter day.
When it comes to favorite dishes this hearty Vegan Barley and Lentil Soup shoots straight into the top 5. It is a winter staple in our household, as it is delicious, nutritious, and really easy to make. You'll only need a couple of ingredients, most of which you probably already have in your pantry.
The less common ingredients are pearl barley and lentils. I usually use a prepackaged mix of pearl barley, brown lentils, and split peas. You can find these ingredients in bulk in every major grocery store, or just leave out the ones you cannot find and still end up with a tasty soup.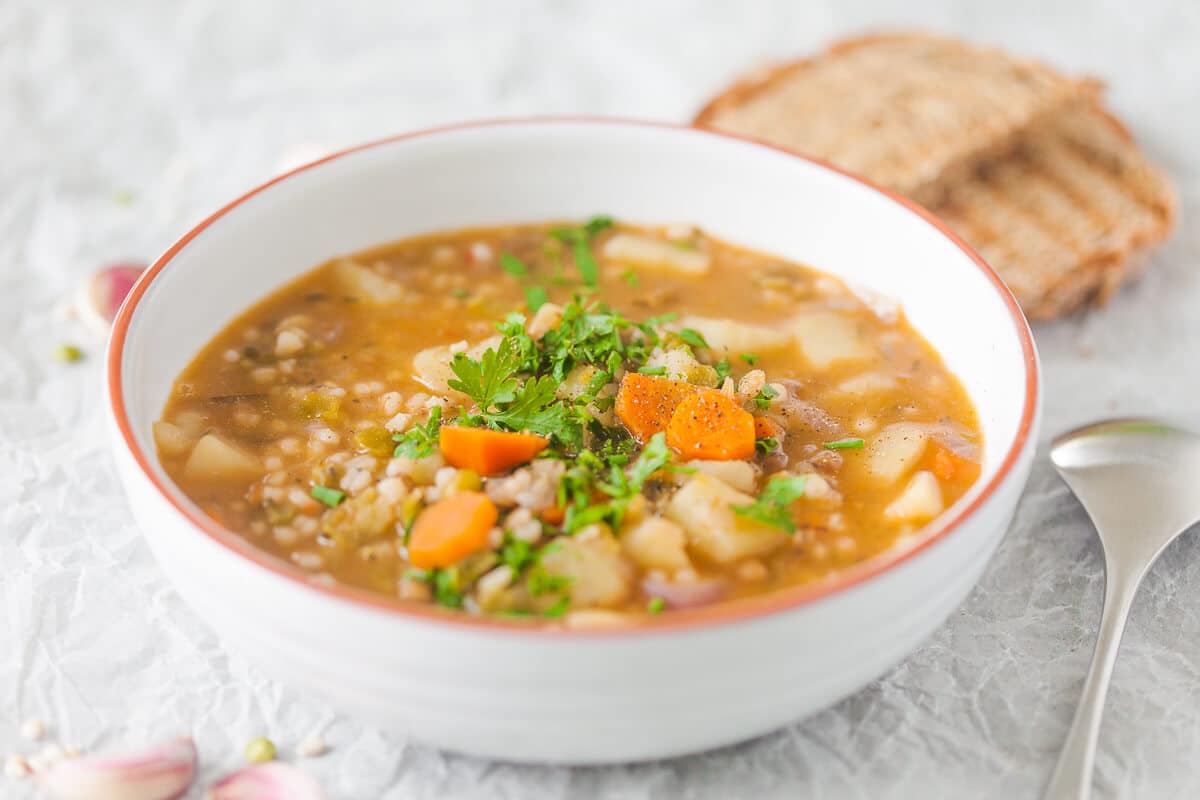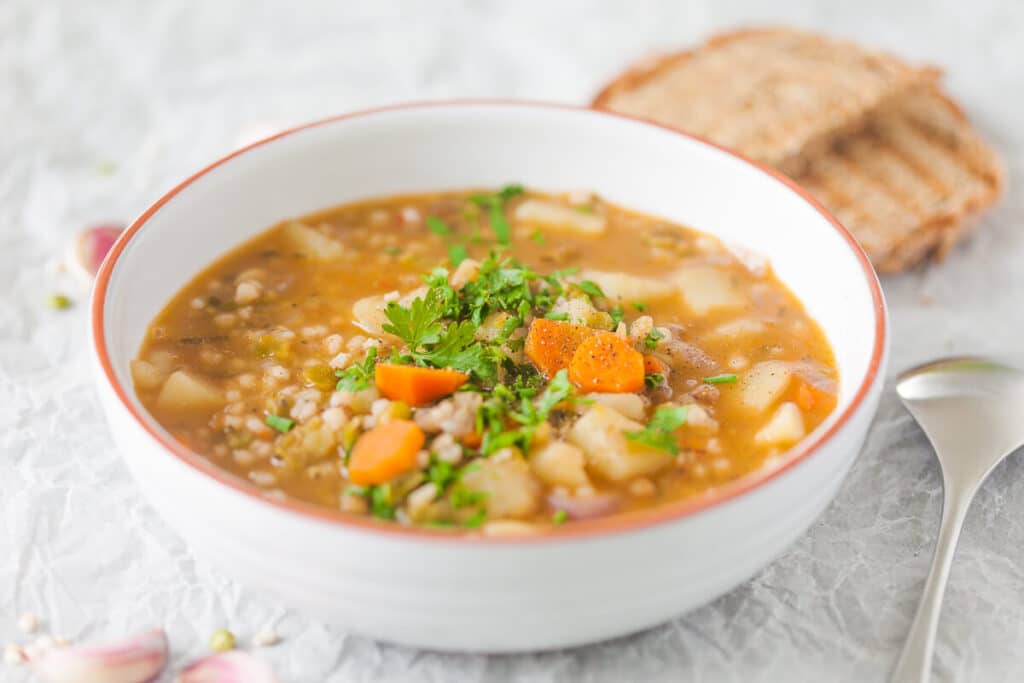 Now let's talk grains. The general tendency seems to have become to avoid grains (and carbs) at all costs. The popular paleo diet relies on a hunting / gathering principle, for example. As grains became largely used with cultivation it is sometimes believed to not be suitable food for humans. Personally, I don't believe that.
It is true some food types agree more with some people than others, but as long as you're comfortable, go ahead and enjoy what you like. If it makes you sick or you do not like it, there are plenty of other options out there.
Barley was one of the first cultivated grains and is still today very widely cultivated and consumed. Now, pearled barley has been processed to remove its hull and bran. This way barley cooks faster and is less chewy, that is why it is the most used kind of barley.
The lentil is a legume that is fairly easy to make. As with barley, it has been cultivated for many, many years. The lentil is a rich source of dietary fiber and vegetarian protein and also of calcium, phosphorus, iron, and B vitamins.
This vegan Barley and Lentil Soup is rich and will fill you up and warm you on a cold winter day. I often pack the leftovers for lunch in the office as well, as it keeps very well.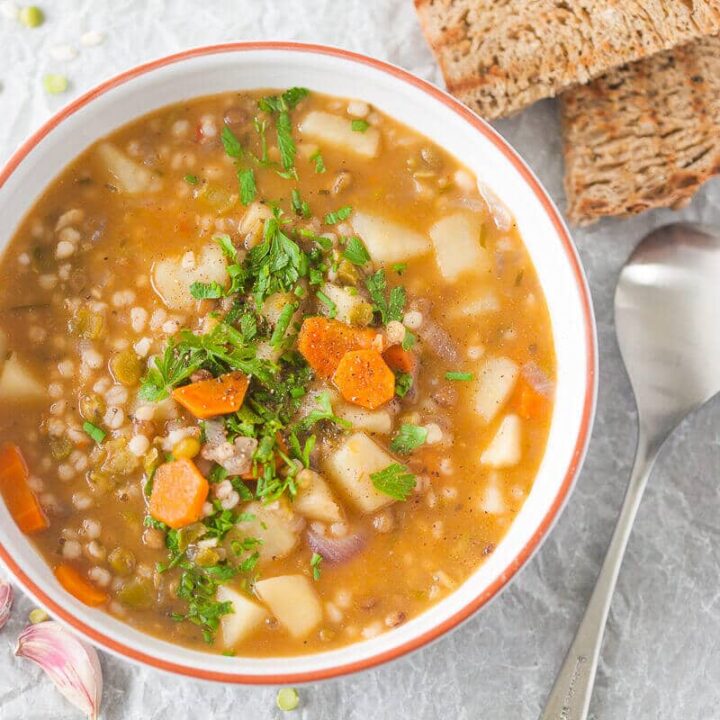 Vegan Barley and Lentil Soup
This Vegan Barley and Lentil Soup is rich and will fill you up and warm you on a cold winter day.
Ingredients
1 onion
3 cloves garlic
1 ts tomato puree (triple concentrat)
2 medium-sized carrots
3-4 medium-sized potatoes
1 cup pearl barley, split-peas & lentils mix
0,5 liter vegetable stock
1 bay leaf
water as needed
1 tbs olive oil
salt, pepper to taste
red paprika to taste
fresh chopped herbs: parsley, chives, thyme
Instructions
Give the grains a good wash and set aside.
Peel and slice onions, garlic, carrots. Peel and dice potatoes.
In a pot, heat a spoon of olive oil and add onion. Gently fry until the onions become translucent. Then, add sliced garlic and carrots and a tea spoon of tomato puree, mix well and sautee for a couple of minutes. Add the grain mix, diced potatoes and bay leaf and pour over the vegetable stock. Cook with the lid on on low heat for about 30-40 minutes, until the grain becomes soft. Stir occasionally and add water as needed, if the soup becomes too thick.
When the soup is done, taste and season if needed with extra salt, pepper and paprika. Add fresh chopped herbs on top and serve.
I usually season the soup about 10 minutes before it is fully cooked and serve it hot with a slice of fresh bread.
Nutrition Information:
Yield:

4
Serving Size:

1
Amount Per Serving:
Calories:

472
Total Fat:

5g
Saturated Fat:

1g
Trans Fat:

0g
Unsaturated Fat:

4g
Cholesterol:

0mg
Sodium:

3840mg
Carbohydrates:

91g
Fiber:

16g
Sugar:

16g
Protein:

18g
Like this recipe? Please, let us know in the comments below or on social media using #vibrantplate and tag us @vibrantplate.
You can connect with us on our Instagram and Facebook account or on Pinterest. Don't forget to sign up to our newsletter & stay up to date with our latest recipes