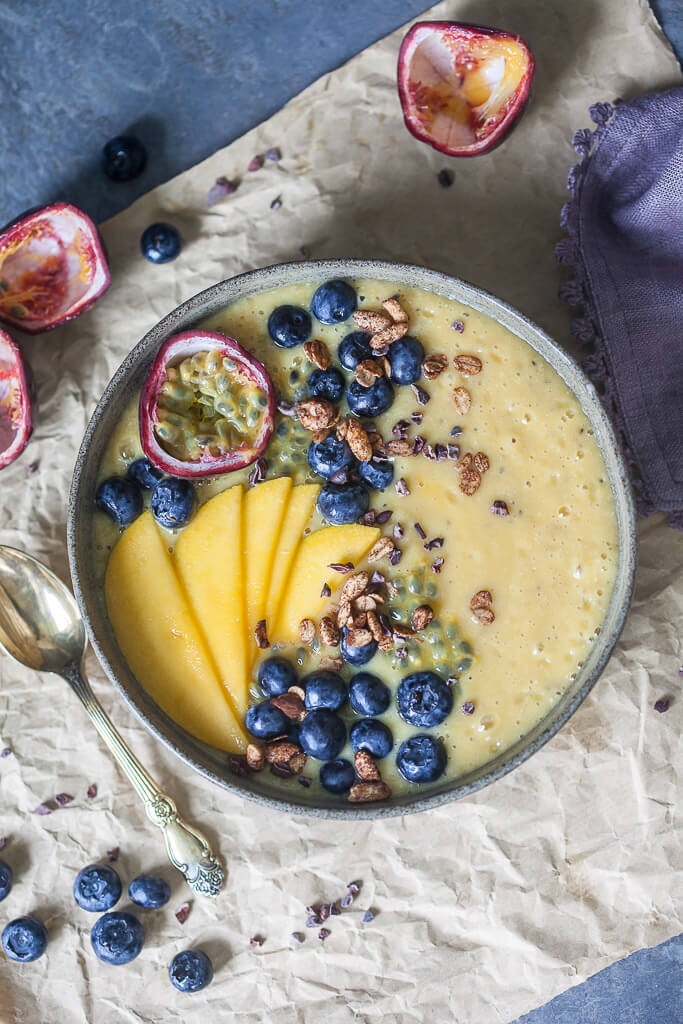 This easy & delicious Mango Smoothie Bowl is a yellow bliss tropical heaven in a bowl!
Hello, lovelies… hope you are having a wonderful Summer so far! We are having a heat wave and I am just staying put in the house. Nope, not going anywhere in this heat! 🙂 We've made great plans for the weekend, like working on the blog plenty… and well, we sort of did, but not really, you know? We didn't write blog posts or edit any photos. We didn't finish our e-book that I have been working on like forever… and we didn't do any planned website upgrades, either. But, on Saturday Mitja got the urge to finish some photo backdrops that have been sitting in a corner since Christmas and made quite a few new props that I am LOVING. They are absolutely gorgeous! If you follow us on Instagram you may have noticed a couple of the new ones in our stories and I am excited to share more on the blog soon. Sometimes having a couple of unplanned hours is just as well. Just go with the flow/inspiration and all that!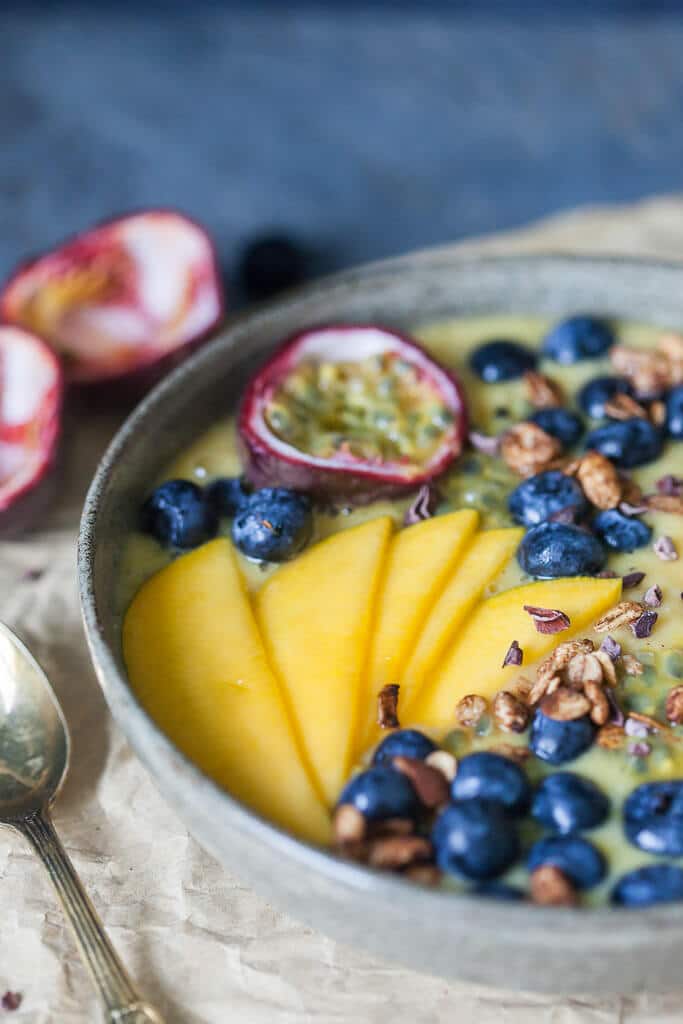 This past week we must have shot about 12 recipes and it must be some kind of personal record. There were some remakes in there as I plan to update some older recipes with new (better) photos, but also plenty of new ones that we will be publishing in the upcoming weeks. So excited to share them with you! They are all about summer produce, minimal cooking, and recycling… because no one (certainly not me) has the motivation to cook at all. Right?
We've been living on salads, ice cream, watermelon and the like and I am not missing "regular" food. Actually, I think I may go slice me some more watermelon as soon as I hit publish on this blog post. And this delicious Mango Smoothie Bowl fits our current meal plan just perfectly.
Isn't it just pretty?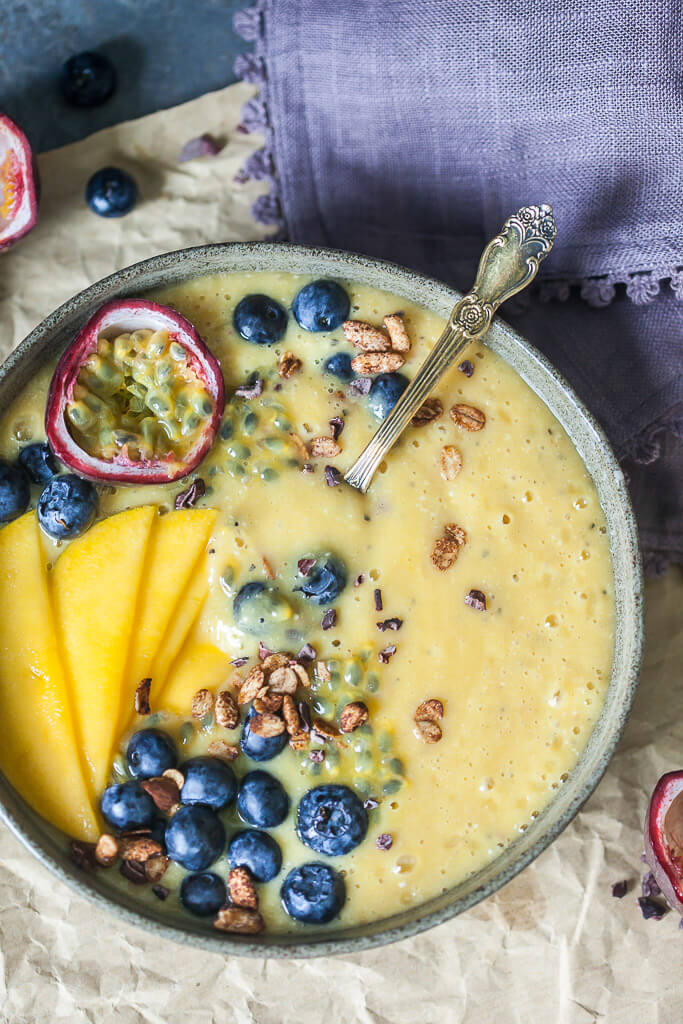 This Yellow Bliss Mango Smoothie Bowl is super easy to make, just perfect for a quick & healthy summer breakfast or snack! Put ingredients in a blender, blend, pour into a bowl and top with some more fresh fruit and granola for crunch. Then, head on outdoors on a balcony or a garden and enjoy the fruit of your labor!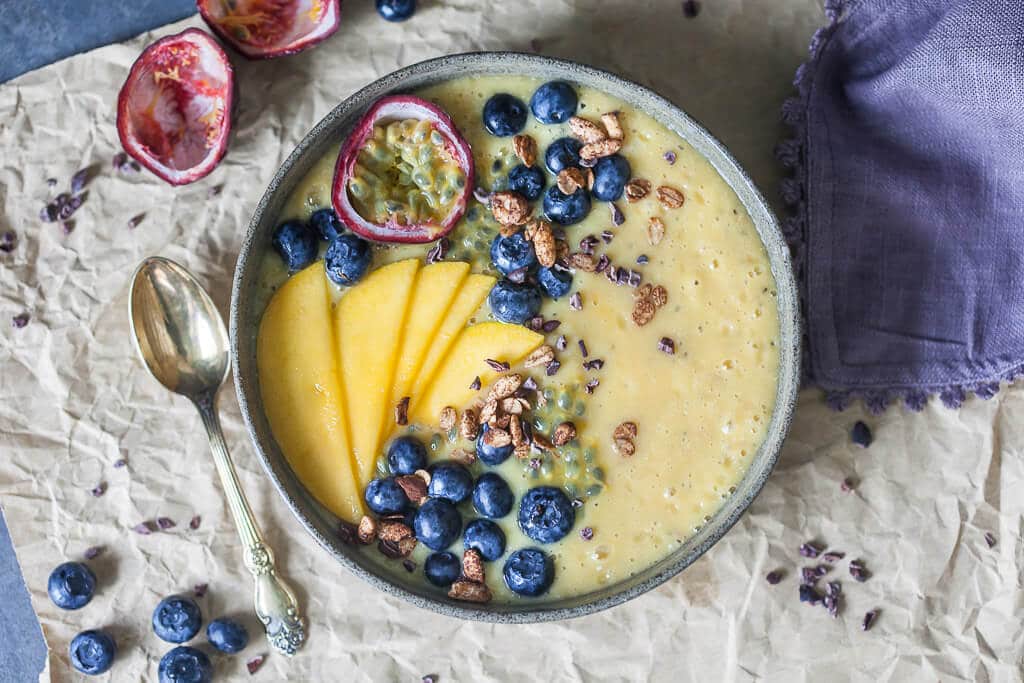 Yellow Bliss Mango Smoothie Bowl
Author: Kristina Jug

Yield: 2
Ingredients
1 mango
1 banana
2 nectarine peaches
2 passion fruits
2 tbs rolled oats
1 lime
handful of blueberries
cacao nibs (optional)
Instructions
Wash and dry fruits. Peel and cut mango into chunks and place in a blender. Save a few mango slices for topping. Peel banana and nectarine peaches, cut in chunks and add to blender. Cut 1 passion fruit in half, extract juice and add to blender. Save one passion fruit for topping. Add rolled oats and juice of 1 lime to blender, then blend until smooth.
Transfer blended smoothie into bowls. Decorate with mango slices, blueberries, juice of a passion fruit, cacao nibs (optional) and some gluten-free granola. Serve.
Nutrition information (per serving):
Calories: 263.35 kcal

Fat: 1.78 g

Saturated fat: 0.32 g

Carbs: 65.48 g

Protein: 4.79 g

Fiber: 9.99 g

Sugar: 46.45 g

Sodium: 8.21 mg

Text and images copyright Vibrantplate.com © All rights reserved.
Like this recipe? Let us know in the comments below or on social media using #vibrantplate and tag us @vibrantplate.
If you're looking for more smoothie recipes, we have plenty – like this Detox Spinach Green Smoothie or an easy Strawberry Banana Smoothie. Click here to see more smoothie recipes >
You can connect with us on our Instagram and Facebook account or on Pinterest. We share many behind-the-scene photos in our Instagram Stories, so be sure to check it out! And don't forget to sign up to our newsletter & stay up to date with our latest recipes 😉