An easy summer dinner, this Rosemary Grilled Chicken on Cabbage is delicious and gluten free.
Cabbage is a vegetable I've only been friends with the past couple of years. I never really liked cabbage, as I did not particularly enjoy salads (hated vinegar and oil) or fermented food (hated sour things). But, as I grew older and wiser, I discovered balsamic vinegar and pumpkin seed oil and salads quickly became a large part of my diet.
So enter the humble cabbage. I now LOVE the crisp young summer cabbage, which I simply shred thinly and dress in a salad. But I also love it in this recipe. Stir-frying the cabbage quickly in the same pan where the chicken has been grilled, gives it a totally new flavor dimension. Not your average plain shredded cabbage this!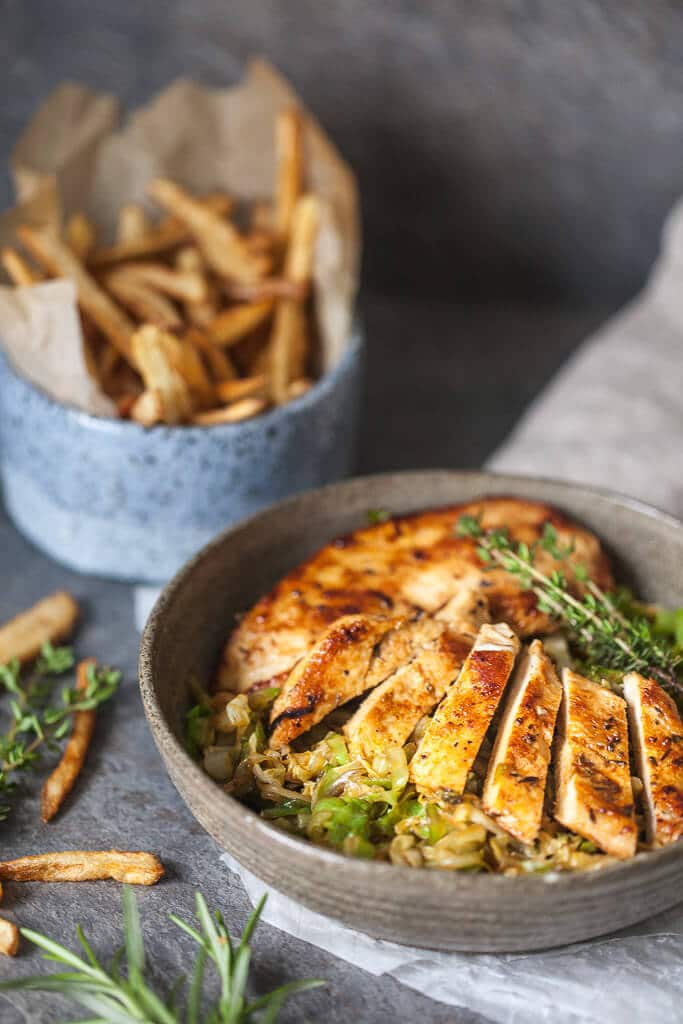 This Grilled Chicken on Cabbage is seasoned with fresh herbs like thyme and rosemary, which gives it a light taste of summer. The quick sear lets the meat develop juice while resting, that you can add as a dressing on top of the stir-fried cabbage, as well.
Rosemary Grilled Chicken on Cabbage is gluten-free and dairy-free. I did serve it with a side of french fries (as seen in pictures), which you can absolutely do without and make your meal low-carb. Just perfect for summer!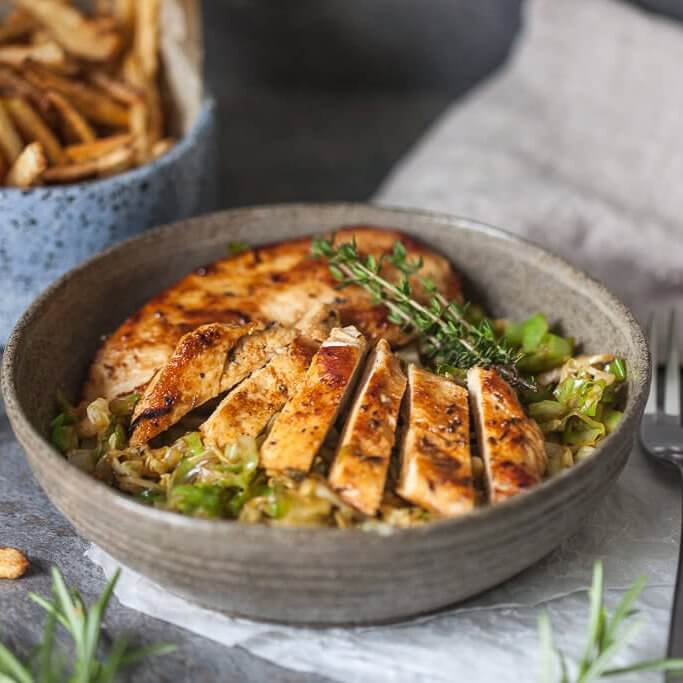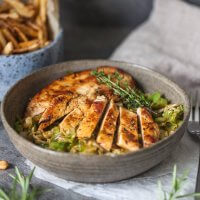 Rosemary Grilled Chicken on Cabbage
An easy summer dinner, this Rosemary Grilled Chicken on Cabbage is delicious, gluten-free and dairy-free.
Ingredients
250 g chicken breast
1 tbsp olive oil
1/2 tsp salt
dash of ground black pepper
1/4 tsp paprika
1/4 tsp thyme
1/4 tsp rosemary
1 small cabbage
Instructions
Cut chicken breast into fillets. Brush chicken with a coat of olive oil, then season with salt, pepper, paprika, thyme and fresh rosemary. Coat evenly. Let marinate in fridge for an hour, or overnight.
Take your cabbage head and with a sharp knife shred into thin strips. If your cabbage is clean and organic, you do not need to wash it, otherwise give it a wash and drain well. Don't worry if it seems a lot in volume, the cabbage will wilt when cooking.
Heat a grill pan to medium and brush with a bit of olive oil. Add chicken to pan and grill on each side for about 6 minutes, depending how thick your fillets are. When the bottom is seared, flip on the other side and grill for another couple of minutes. Make sure there is no pink meat in the middle.
Remove from pan and set aside to rest. Return pan to stove without cleaning it, and add in the shredded cabbage. Quickly stir-fry for a couple of minutes until the cabbage softens, making sure to rub it in any sticky residue in the pan. Season to taste with salt and pepper, then remove from pan and place on plates.
Cut chicken into slices and add on top of the cabbage. Pour over any meat juice that developed while the chicken was resting. Serve.
Optionally, you can serve with a side of french fries or baked potatoes, but keep in mind the dish will not be low-carb anymore.
Nutrition Information:
Yield:

2
Serving Size:

1
Amount Per Serving:
Calories:

285
Total Fat:

11g
Saturated Fat:

2g
Trans Fat:

0g
Unsaturated Fat:

8g
Cholesterol:

106mg
Sodium:

680mg
Carbohydrates:

4g
Fiber:

2g
Sugar:

2g
Protein:

40g
Nutrition data is automatically calculated using Nutritionix and may not be accurate.
Like this recipe? Let us know in the comments below or on social media using #vibrantplate and tag us @vibrantplate.
You can connect with us on our Instagram and Facebook account or on Pinterest. We share many behind-the-scene photos in our Instagram Stories, so be sure to check it out! And don't forget to sign up to our newsletter & stay up to date with our latest recipes 😉
In need of more Chicken Recipes? Check out these: