Balsamic Green Beans Salad is an easy summer beans salad, topped with Feta Cheese and a delicious balsamic dressing.
Any clumsy people out there besides me? You know how you're making the perfect roast and it's almost done, and you take it out, to give the potatoes a turn and then, bam! You go ahead and press your naked finger to the baking tray and suddenly you have a large blister rapidly forming on your finger, you're sticking the finger under running cold water and crying for your SO to help you and get the ice out of the freezer? Well, that just happened on Saturday.
I couldn't do anything for 3 hours straight besides keeping my index finger of my right hand stuck in a glass with cold water because as soon as I got it out, it hurt like crazy. Like I'm-about-to-cry crazy. Then, I was slowly able to change my "medication" from ice-cold water to aloe and today there is almost no trace of the ugly blister on my finger anymore. Can't believe it, but aloe really does work wonders, even with severe burns. Ever burnt yourself while cooking? 😀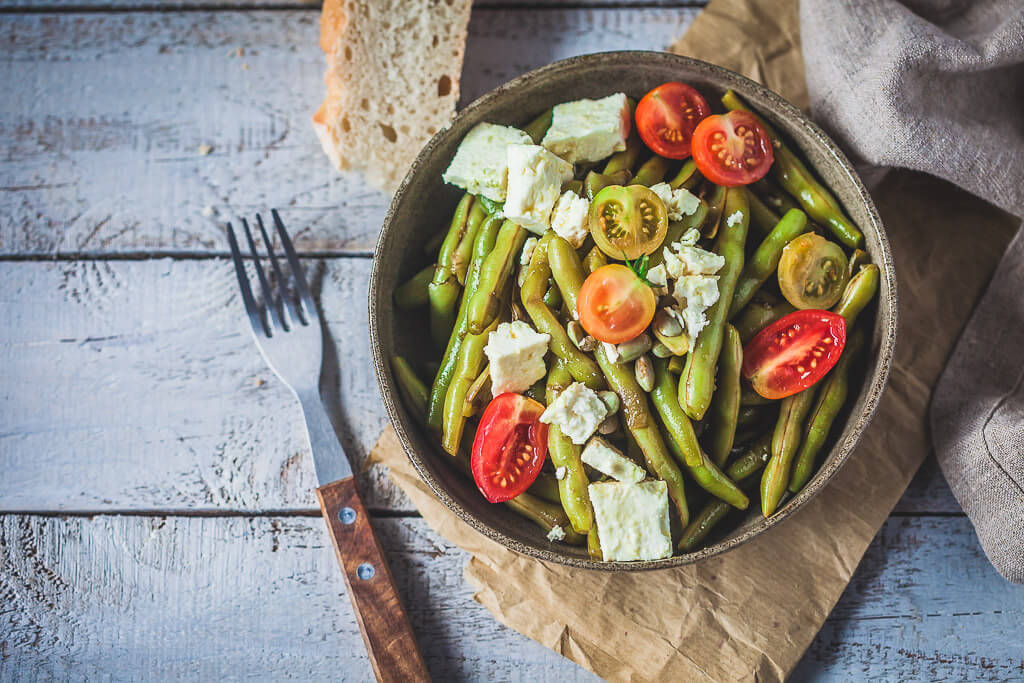 Anyway, I am back on track today and am happy & grateful I am also able to type, though hot water on the finger still bothers me. But we'll get there.
So while hot things are a bit off-limits, and it's still Summer, here is a simple, but great recipe for a delicious Balsamic Green Beans Salad with Feta Cheese.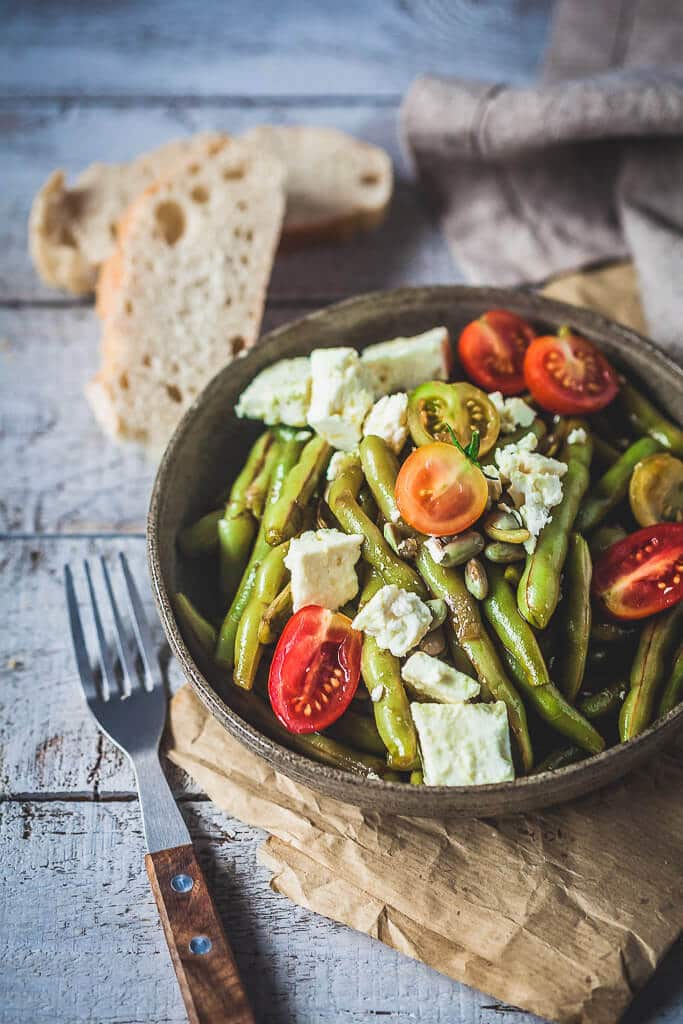 This Balsamic Green Beans Salad is really easy to make and Mitja loves it. I don't because I hate don't like beans (kidding, I hate them), but if you do, go ahead and give it a try 🙂 These green beans came from our own tiny garden and were cooked just about 15 minutes, until soft but still crisp. Then you drain the beans and cool them off, dress in a balsamic dressing and top with some crumbled feta cheese (or even tofu for our vegan friends) and some halved cherry tomatoes. And that's about it! A healthy and delicious dinner or side ready in just about 15 minutes.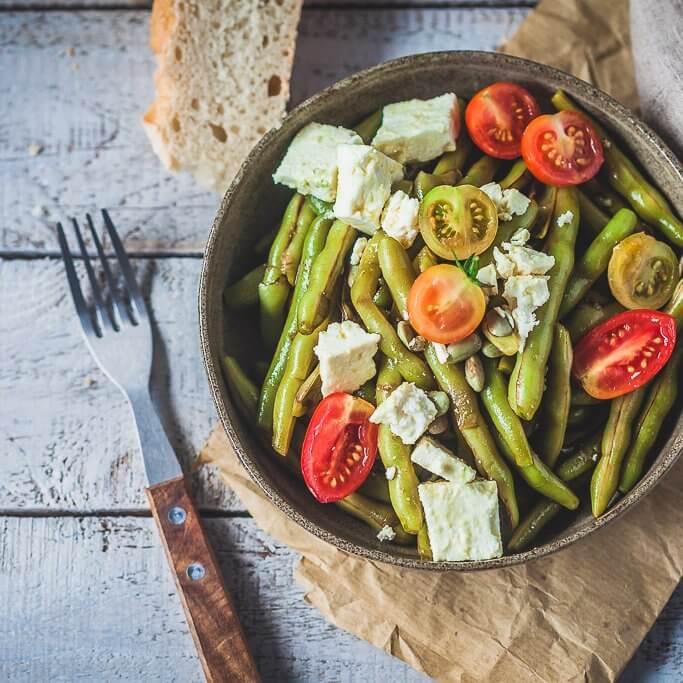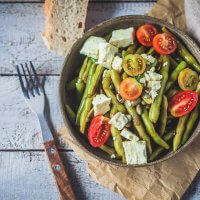 Balsamic Green Beans Salad with Feta Cheese
Balsamic Green Beans Salad is an easy summer beans salad, topped with Feta Cheese and a delicious balsamic dressing.
Ingredients
100 grams green beans
3 tbs olive oil or pumpkin seed oil
1,5 tbs balsamic vinegar
salt, pepper to taste
1 clove garlic, grated or sliced
1/2 cup feta cheese
1/2 cup cherry tomatoes
Instructions
Wash and dry green beans, then cut off the tops on both sides of each bean, removing any tough strings.
Bring a pot of water to a boil, season with salt and add green beans. Cook beans about 15 minutes or until tender enough, that you can easily stick a fork into the beans. Drain and cool.
Assemble your balsamic dressing. Combine garlic, salt, pepper, olive oil and balsamic vinegar and mix well. Pour dressing over cooled beans and mix. Top salad with crumbled feta cheese and a couple of cherry tomatoes and serve.
Nutrition Information:
Amount Per Serving:
Calories:

320.81
Total Fat:

29.18g
Saturated Fat:

7.19g
Sodium:

385.45mg
Carbohydrates:

9.26g
Fiber:

1.91g
Sugar:

6.12g
Protein:

6.78g
Try also this simple and delicious Tomato Salad!
Did you see our new free e-book? 🙂 We made a special bonus book with 15 our favorite recipes, including a delicious Vegan Pasta Salad in a Jar exclusive recipe that you can get when you sign for our newsletter. How cool is that? Just find the signup form on the page and get your free copy now 😉
Like this recipe? Let us know in the comments below or on social media using #vibrantplate and tag us @vibrantplate.
You can connect with us on our Instagram and Facebook or on Pinterest. We share many behind-the-scene photos in our Instagram Stories, so be sure to check it out!