An easy green Vegan Pea Soup that uses only 5 ingredients and 15 minutes to make a delicious meal!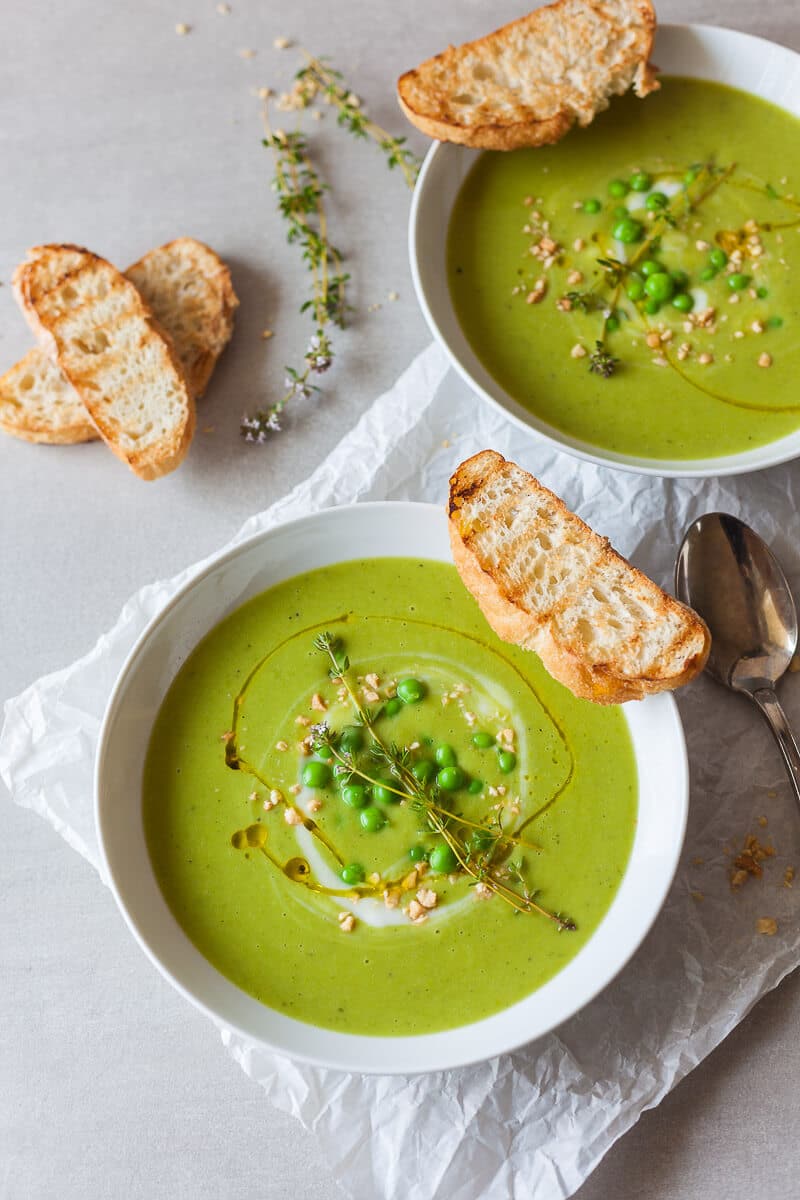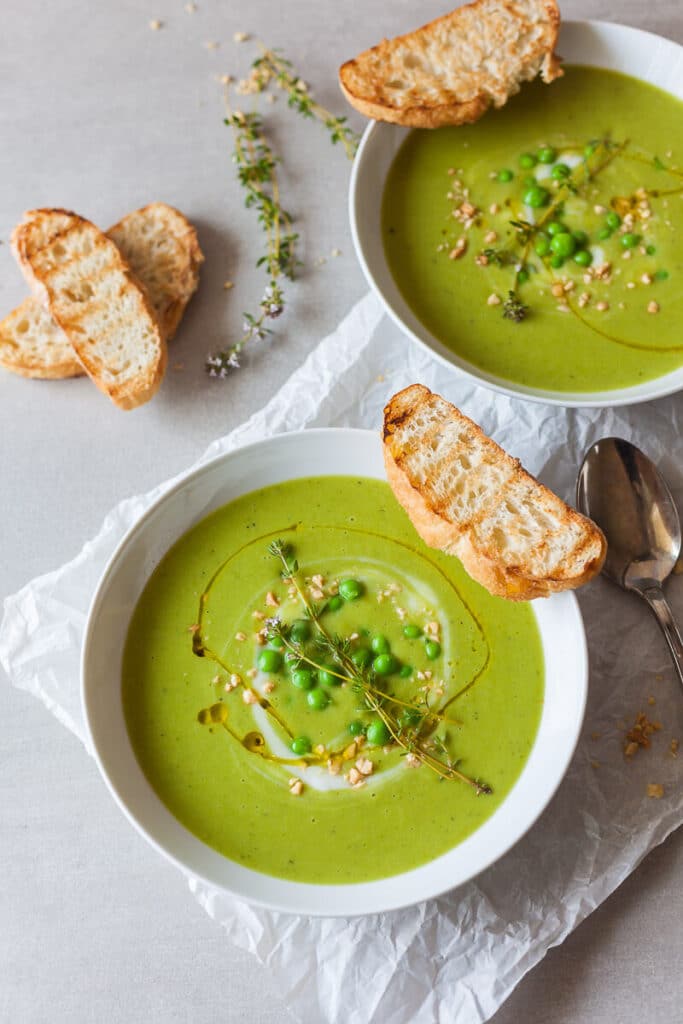 We're looking ahead at a prolonged weekend, as it's a holiday on Monday in our country. Plus, we've taken a couple more days off work and have spent yesterday hiking through the woods on the lookout for forest blueberries.
It was a very hot day, but today the weather turned sour. It's raining and it's cold. The perfect weather for some indoors cleaning and a bowl of hot soup.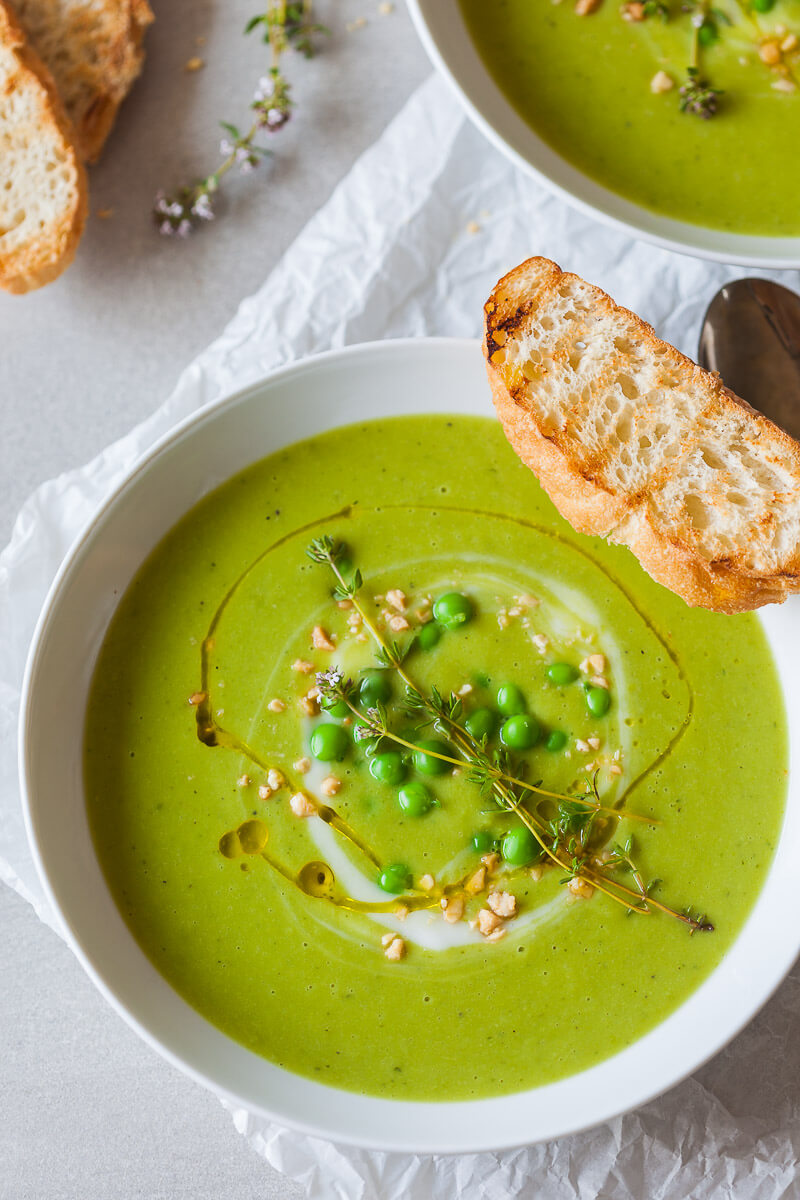 Fresh peas season is at its peak, so you should make this Vegan Pea Soup ASAP. But, if you can't find fresh peas, frozen peas are just as good. Plus, using frozen peas means you can make this vibrant green goodness any time of the year!
All you are going to need is some vegetable oil, an onion, some garlic cloves, a potato, peas and some vegetable stock (or even water will work just fine). If you want to enhance the soup and its freshness, add some fresh herbs, like parsley and lovage (we love lovage in soups!). Just cook until fork-tender and then blend until smooth.
We strongly recommend serving this soup with a spoonful of plant-based yogurt or cream, a drizzle of olive oil and a handful of blanched peas on top.
Pure deliciousness!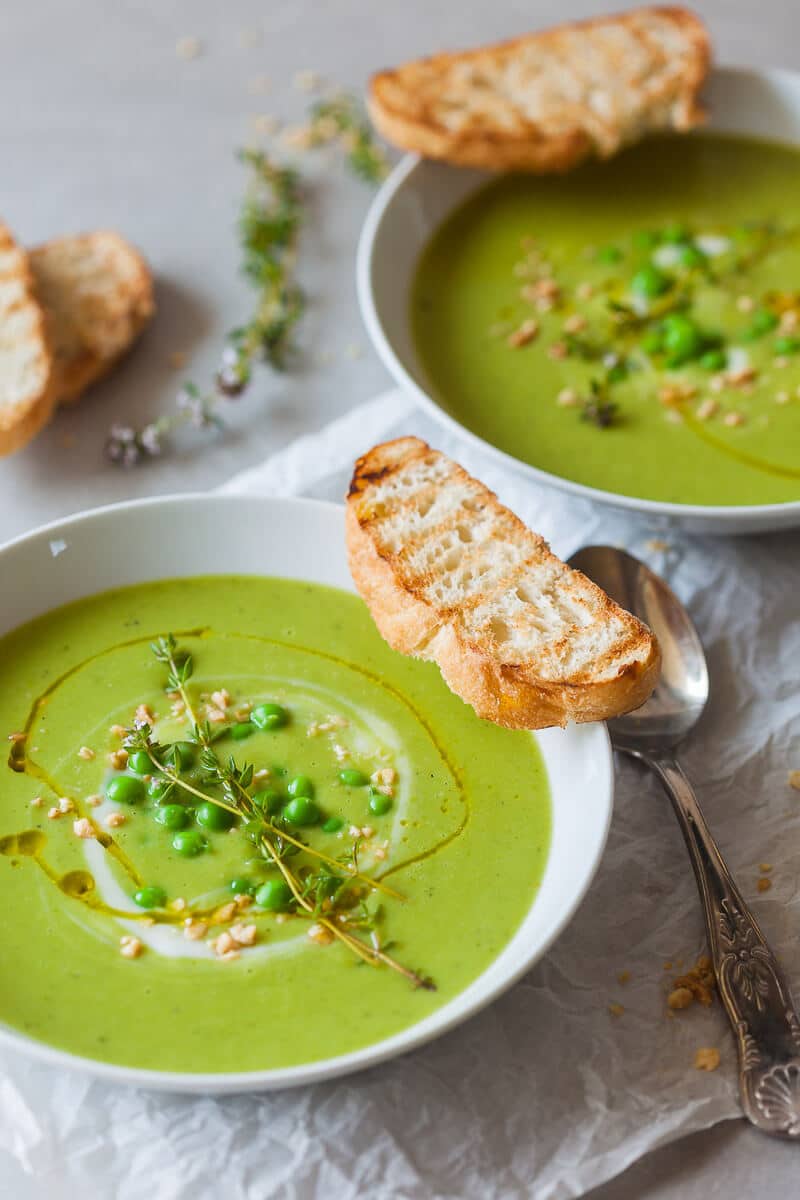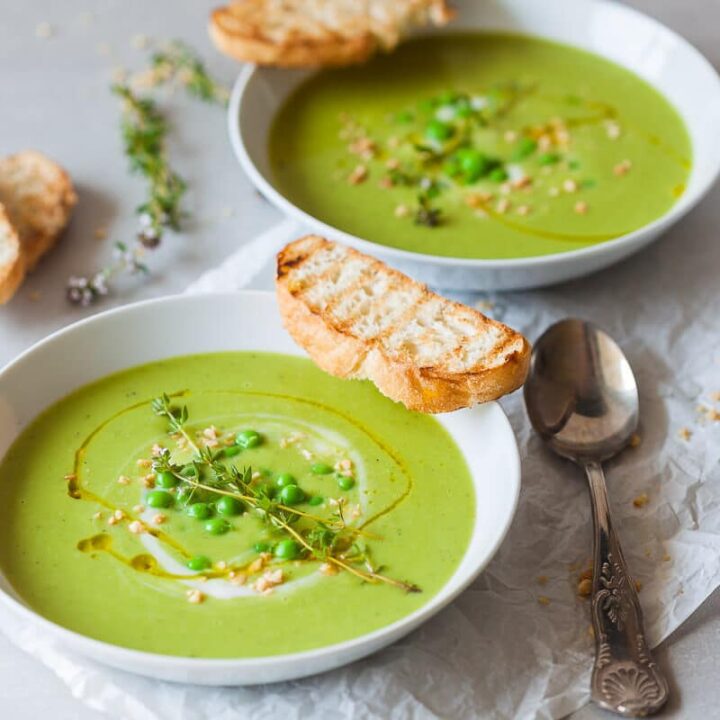 5-ingredient Green Vegan Pea Soup
An easy radiant green Vegan Pea Soup that uses only 5 ingredients and 15 minutes to make a delicious meal!
Ingredients
1 onion
3 cloves garlic
1 large potatoes or 2 smaller ones
300 grams peas, fresh or frozen
700 ml vegetable broth or water
Other:
1 tbs vegetable oil
Salt, pepper to taste
fresh herbs to taste: parsley, lovage
1 tbs lemon juice
Decoration:
olive oil
plant-based yogurt or cream
blanched peas
thyme
chopped peanuts
Instructions
Peel and finely dice onion and garlic cloves. Peel and dice potato.
In a pot, heat a table spoon of vegetable oil, then add onion and garlic and gently fry until translucent, stirring occasionally. Add diced potatoes and peas, pour over with vegetable stock and season with salt, pepper and finely chopped fresh herbs to taste.
Let it simmer and cook on low for about 15 minutes, until the potatoes and peas are fork-tender. Then, remove from heat, add a tablespoon of lemon juice and blend until smooth in a blender (or with a stick blender).
Pour pea soup on plates and serve.
Optionally you can decorate with some plant-based yogurt or cream, a drizzle of olive oil, some thyme, a teaspoon of chopped peanuts and blanched peas.
To make blanched peas: In a small pot, heat 3 cups of water. When boiling, add a handful of peas, let it cook for a minute, then remove the peas from the boiling water with a skimmer and immediatelly place in a bowl with iced water. Let it cool down for about 5 minutes, then drain and serve.
Nutrition Information:
Amount Per Serving:
Calories:

182.9
Total Fat:

4.5g
Saturated Fat:

0.9g
Sodium:

649.9mg
Carbohydrates:

29.8g
Fiber:

5.4g
Sugar:

5.2g
Protein:

5.6g
You can connect with us on our Instagram and Facebook or on Pinterest. We share many behind-the-scenes photos and step-by-step recipes in our Instagram Stories, so be sure to check it out!
If you like this recipe, you can let us know in the comments below or on social media using #vibrantplate and tag us @vibrantplate. We're always happy to read your feedback and LOVE seeing your take on our recipes.