An easy Vegan Red Lentil Stew recipe that comes together in 20 minutes. This is our go-to stew recipe that is healthy, hearty, and filling!
It's been a crazy few months over here, what with being busy with work and also everything that has been going on in the world. It's in times like this that easy, simple, quick, and healthy recipes are what I turn to again and again. And this Vegan Red Lentil Stew has been a staple in our house for the past few weeks.
And it's no wonder! This stew only requires some pantry staples, some hearty vegetables, and spices. Plus, it comes together in minutes, is nourishing, and absolutely delicious.
Ingredients
Though the ingredient list may seem long, it's not, as half of the ingredients are spices meant to give flavor to the stew. So here are the main ingredients you will need to make this Vegan Red Lentil Stew:
onion
carrots
celery stalk
leek, we recommend using the white parts or pale green parts only, as this part is more neutral in flavor and breaks down easier. Reserve the dark green parts for other recipes.
garlic, we like to go with about 4 cloves in this dish, but feel free to use more or less depending on how you like it
red lentils will work best, you can use yellow lentils in a pinch, as both will start breaking down while cooking, resulting in a creamy and delicious texture. Try to avoid brown, green or puy lentils in this recipe.
tomatoes will add color and acidity to the dish
coconut milk, I like to use the canned full-fat variety that will make the stew creamy and delicious. If you use low-fat the stew will be thinner and resemble a soup. In you would like to avoid using coconut milk, replace it with 2 diced potatoes at the beginning of the cooking (before you add the lentils)
vegetable broth, homemade or store-bought both work fine here, the goal is to add flavor, salt, and umami to the stew.
Besides these main ingredients, we recommend including these spices:
bay leaf, for me, is always a must in a hearty stew and will add that distinct stew flavor. You can omit it if you don't like bay leaf.
thyme
oregano
paprika, we used sweet paprika in the recipe, but feel free to use smoked paprika for a deeper and smokier flavor to the stew
turmeric, we're only adding a small amount which will color the soup a golden tint and also add all the anti-inflammatory and antioxidant benefits.
cumin will add an oriental note to the dish, but will not overpower the flavor
salt and pepper
parsley, add it to the end of the cooking process, or on top of the dish when serving, depending on if you like your parsley fresh!
lemon juice, acidity will help balance the dish, but this is optional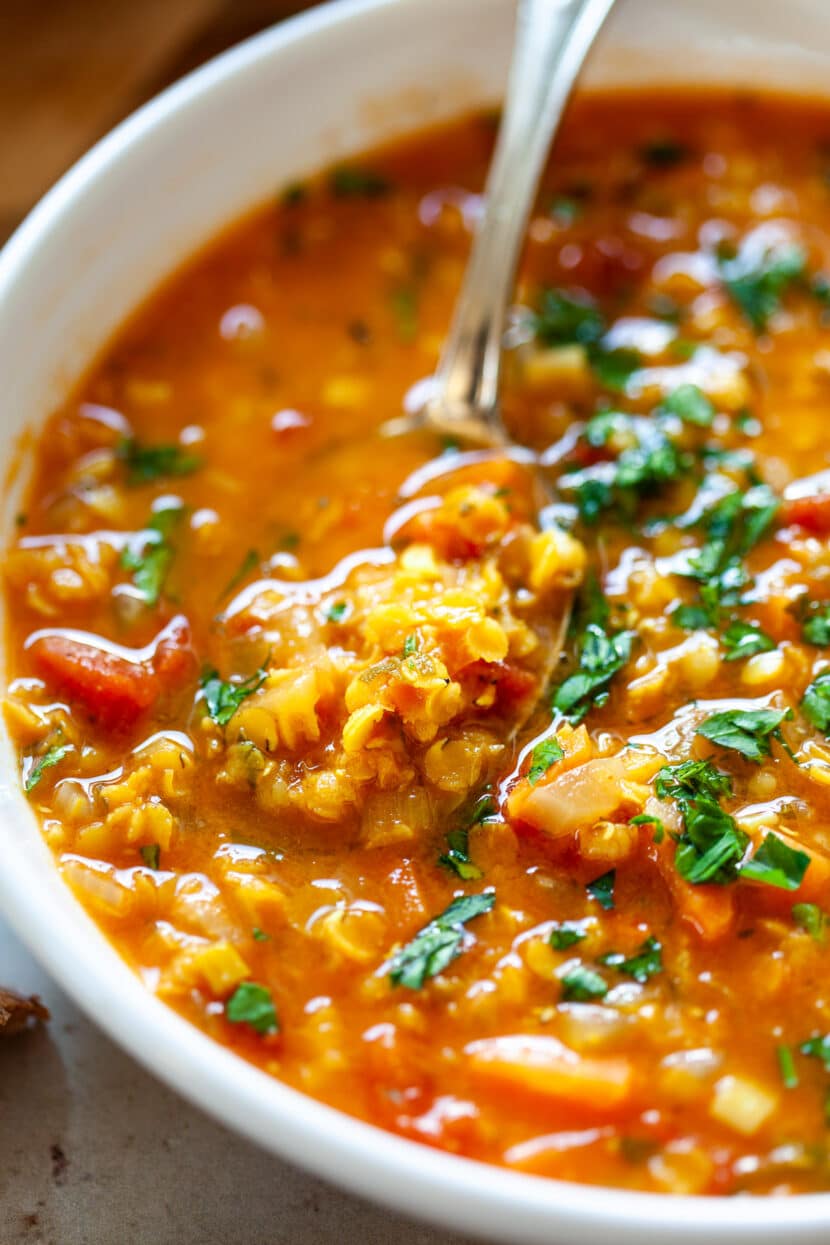 How to make this Vegan Red Lentil Stew
Making this Red Lentil Stew is super simple and only takes about 15-20 minutes, plus some prep time.
Start by prepping your vegetables – dice the onion, carrots, celery, and leek, and mince the garlic.
Then, heat a pot with a drizzle of oil, add in the onion, and saute until it becomes translucent. Then, stir in the rest of the vegetables: carrots, celery, and leek, and saute until softened, stirring often. Lastly, stir in the minced garlic until fragrant.
Once your vegetables are softened, add in the spices, and stir them with the vegetables, so they release their aromas. Don't forget to season with salt and pepper.
Now, add in the red lentils that you have given a rinse under running water, and stir in some crushed tomatoes. Let it cook and combine with the rest of the ingredients for a minute or two, so the tomatoes start to break down and soften.
Lastly, pour in the coconut milk and the vegetable broth, and stir in the parsley.
Let cook for about 10-15 minutes, until the lentils are fork-tender and cooked through. Give your stew a taste at this point and adjust the seasoning, if needed.
I like to finish the stew with a squeeze of lemon to balance the dish. And that's it, you're ready to serve or store the stew for later use.
Watch me cook this stew on TikTok!
Serving
This Vegan Red Lentil Stew is best served with a slice of rustic or sourdough bread or pitas. It works splendidly as a main course, or a light dinner.
If you would like a heartier meal, serve this stew along with some cooked brown rice.
Storage
Cool the stew down to room temperature before storing it in air-tight containers in your fridge. It will keep for up to 5 days refrigerated.
You can also freeze this stew – I recommend dividing it into single portions in freezer-safe containers or a ziplock back. It will keep frozen for about 4-5 months. To serve, bring the stew from the freezer and place it in your fridge overnight to thaw, then reheat in a microwave or on your stove.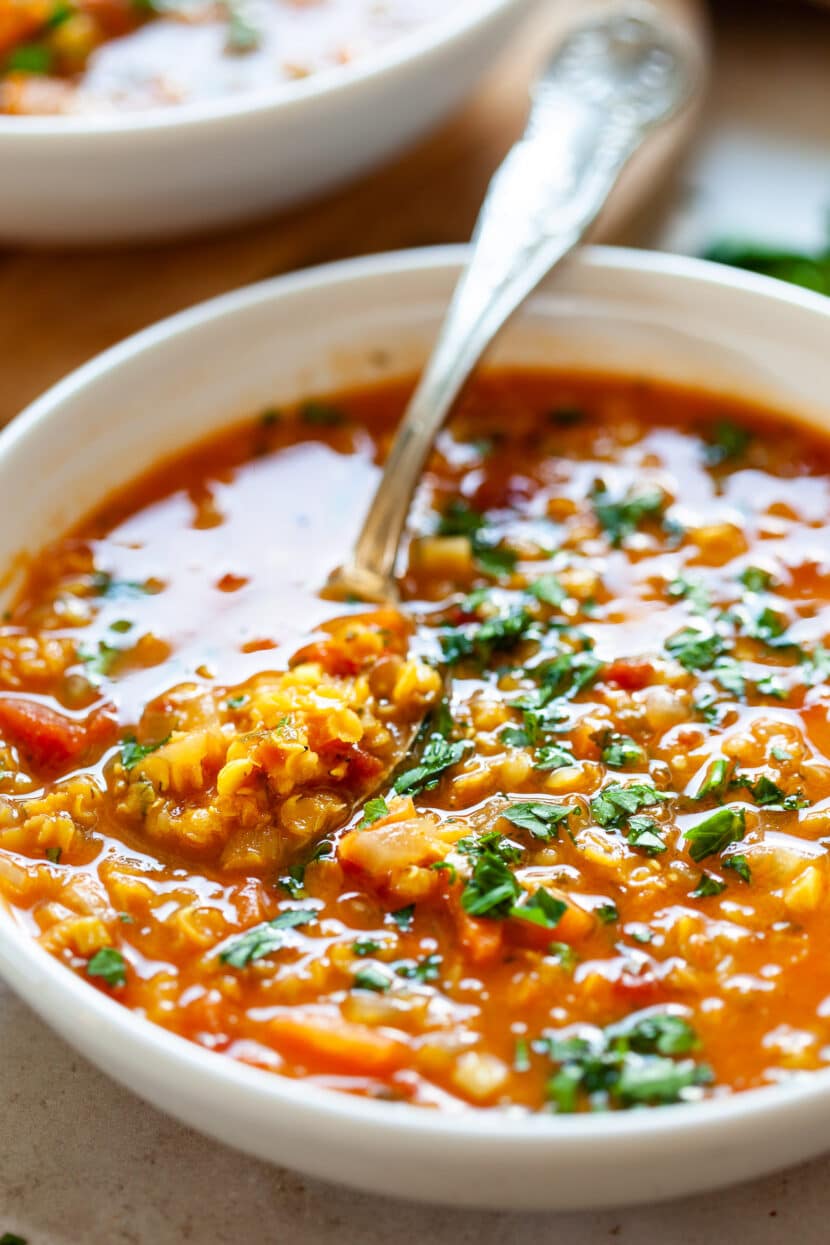 More lentil recipes: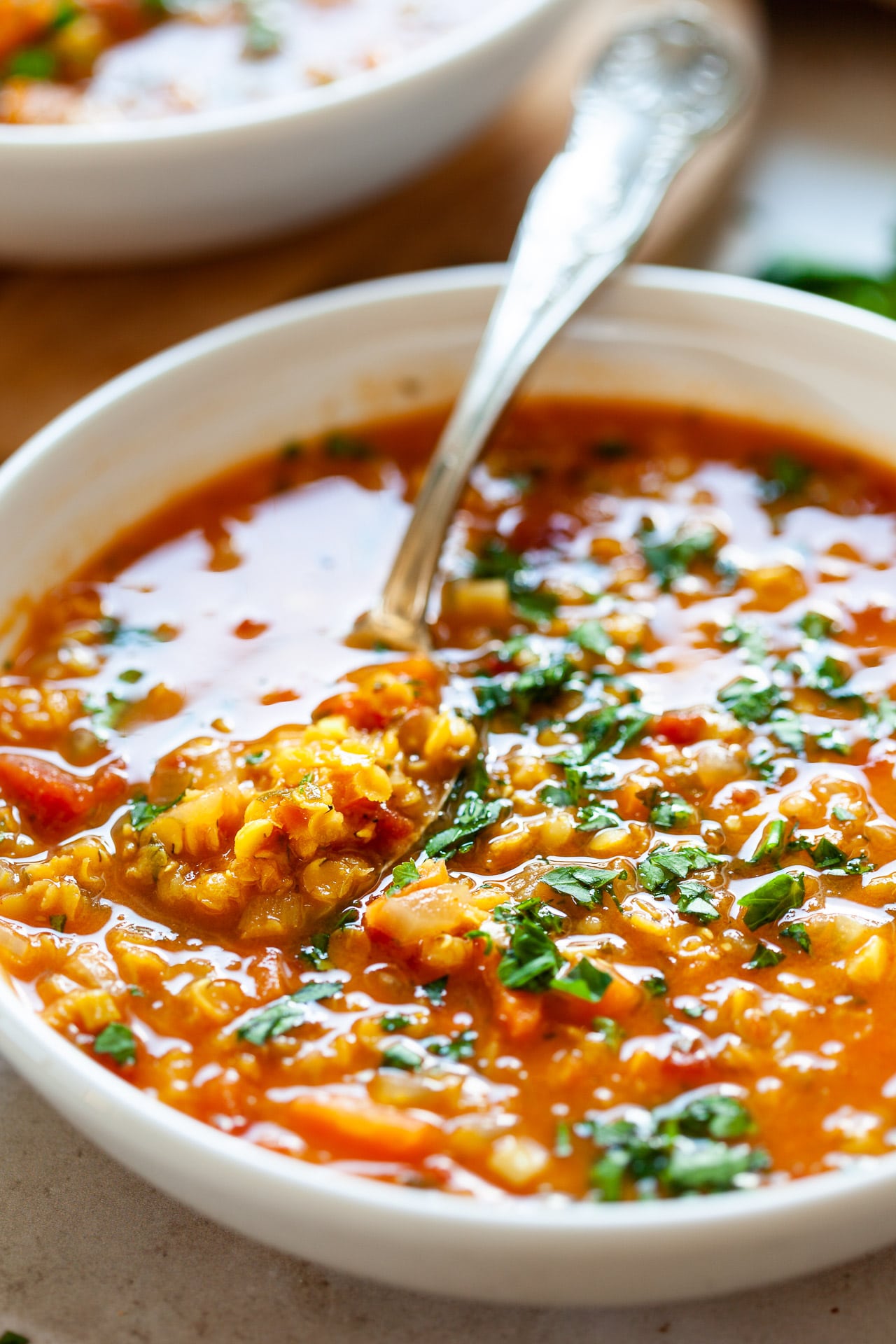 Vegan Red Lentil Stew
An easy Vegan Red Lentil Stew recipe that comes together in 20 minutes. This is our go-to stew recipe that is healthy, hearty, and filling!
Ingredients
1 onion
2 carrots
1 celery stalk
½ leek (1 cup, white parts only)
4 cloves garlic
bay leaf
1 tsp thyme
1 tsp oregano
1/2 tsp paprika
1/4 tsp turmeric
1/2 tsp cumin
salt, pepper to taste
1 cup red lentils
1 can tomatoes
1 cup coconut milk
3 cups vegetable broth
1 tbsp parsley, chopped
1/2 lemon
Instructions
Dice the onion, carrots, celery, and leek. Mince garlic. Rinse lentils under running water.
Heat a pot on medium heat, and add a drizzle of vegetable oil. Then, add in 1 diced onion. Saute until translucent.
Stir in diced carrots, celery, and leek. Saute until softened, then, stir in 4 cloves of minced garlic. Cook until fragrant, about 30 seconds.
Add a bay leaf, then season with thyme, oregano, paprika, turmeric, cumin, salt, and pepper to taste.
Stir in 1 cup of rinsed red lentils, then add 1 can of crushed tomatoes. Cook for a minute for the tomatoes to soften.
Pour over 1 cup of coconut milk and 3 cups vegetable broth. Stir in the chopped parsley and let cook on low heat for about 15 minutes, until the lentils are cooked through.
Finally, squeeze in half of a lemon.
Serve hot. Remove bay leaf before serving.
Nutrition Information:
Yield:

4
Serving Size:

1
Amount Per Serving:
Calories:

223
Total Fat:

13g
Saturated Fat:

11g
Trans Fat:

0g
Unsaturated Fat:

1g
Cholesterol:

0mg
Sodium:

851mg
Carbohydrates:

23g
Fiber:

7g
Sugar:

6g
Protein:

8g
Nutrition data is automatically calculated using Nutritionix and may not be accurate.