A creamy Vegan Pumpkin Puree Sage Risotto is the perfect meal on a rainy day. Easy & Gluten-Free!
The arrival of Fall has been slow, but steady. It came almost unnoticed. First, there were the little things. The swallows departed. You ventured outside in the morning, and it was a little bit fresh. You put on a jacket.
Now the leaves are turning, the apples are being picked and the first chestnuts are ready to be enjoyed. The morning fog came back.
Nature is preparing for the long sleep. But before it does, there is an abundance of produce to enjoy.
I don't particularly welcome the steady arrival of winter, but I do enjoy the fruits and vegetables that fall brings. The crispy apples. The bitter radicchio. All the chestnuts, pumpkins and the first clementines.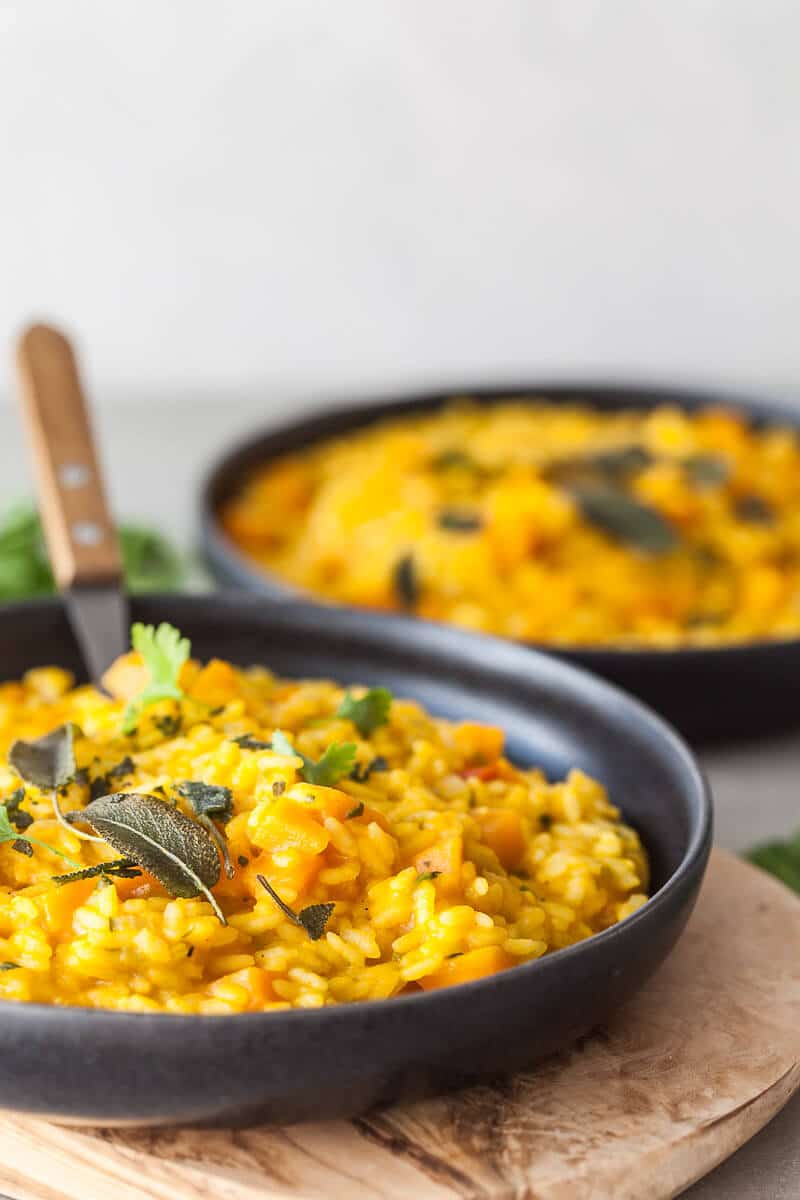 So it's fitting to share with you a fall staple, a creamy and delicious Vegan Pumpkin Puree Sage Risotto that is naturally gluten-free and ready on the table in just 30 minutes.
All you need to do is cook some pumpkin (we chose the red kuri variety), then drain it and puree it, then add the puree to a pot with risotto rice, onions, garlic, spices, and vegetable stock. Just let it cook as per package instructions (usually about 15-20 minutes) until al dente, and you're done with the cooking!
This Vegan Pumpkin Puree Sage Risotto is a great stand-alone dish, but it would also make a delicious side, maybe to your upcoming Thanksgiving dinner?
Give it a try and let us know in the comments below if you like it 😉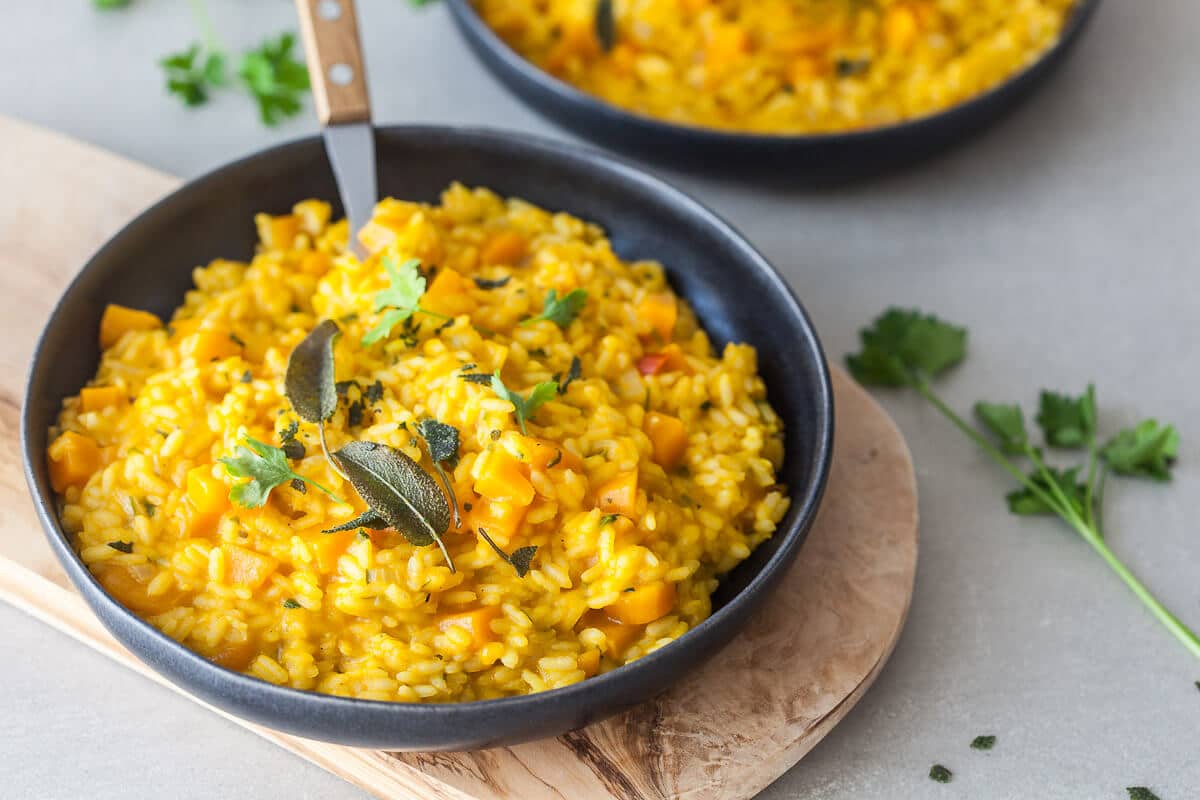 Vegan Pumpkin Puree Sage Risotto
A creamy Vegan Pumpkin Puree Sage Risotto is the perfect meal on a rainy day. Easy & Gluten-Free! | Vibrant Plate
Ingredients
1 red kuri pumpkin (about 600 grams)
1 tbs sage leaves
1 onion
3 cloves garlic
200 grams rice for risotto (St. Andrea, Arborio...)
2 cups vegetable stock
2 cups water
salt, pepper to taste
1/2 teaspoon turmeric
fresh parsley
1 tablespoon oil
Instructions
Cut the pumpkin into slices, peel it and remove seeds. Cut the flesh into even cubes. Set aside a cup of pumpkin cubes for later, and add the rest of the pumpkin to a pot with simmering salter water. Cook until the pumpkin are fork tender, about 10 minutes. Once the pumpkin is soft and cooked through, drain the water and using a stick blender or food processor, puree the pumpkin until smooth.
In a large pan or pot, heat a tablespoon of oil and add sage leaves. Fry the sage on both sides until crispy, then remove it from the pan and set on a plate lined with a paper towel to drain. Peel and finely dice onions and garlic. Add diced onions to the same pan and fry until translucent, stirring regularly. Then, add in the diced garlic, risotto rice, the saved pumpkin cubes and season with salt, pepper and turmeric. Add in finely chopped parsley and the pumpkin puree. Stir it well to combine, and pour in the vegetable stock and water.
Bring to a boil, then reduce heat and cook on low for about 15 minutes, stirring occasionally, until the rice is cooked through, but you can still feel the grain under tooth (al dente).
Once the rice is cooked, remove the pan from heat and let sit with the lid on for another 5 minutes, to let the rice rest and soak up any excess liquids.
Serve the risotto with some finely chopped parsley and fried sage leaves on top.
Nutrition Information:
Amount Per Serving:
Calories:

170.4
Total Fat:

4g
Saturated Fat:

0.7g
Sodium:

241mg
Carbohydrates:

30.8g
Fiber:

2.9g
Sugar:

5.1g
Protein:

3.6g
This recipe is sponsored by
Hofer Slovenija
(you may also know it as Aldi). It is by far our favorite store for groceries and we love their products. If you are from Slovenia, do head over to
Hofer's Instagram account
for even more delicious recipes 😉
You can connect with us on our Instagram, Facebook or on Pinterest. We share many behind-the-scenes photos and step-by-step recipes in our Instagram Stories, so be sure to check it out!
If you like this recipe, you can let us know in the comments below or on social media using #vibrantplate and tag us @vibrantplate. We're always happy to read your feedback and LOVE seeing your take on our recipes.