This Probiotic Vegan Cashew Spread makes making your own vegan cheese spread easy. Use cashews and probiotic capsules for a dairy-free delicious spread.
When the weather turns colder and the seasons change, we are all more at risk for illness. In this time we like to give our systems a bit of help with supplements, such as Vitamin C, Zinc and also probiotics.
Now I am not one that enjoys swallowing pills, and I only seldom like fermented foods. Like, I love yogurt, and sourdough, but hate sauerkraut or pickles.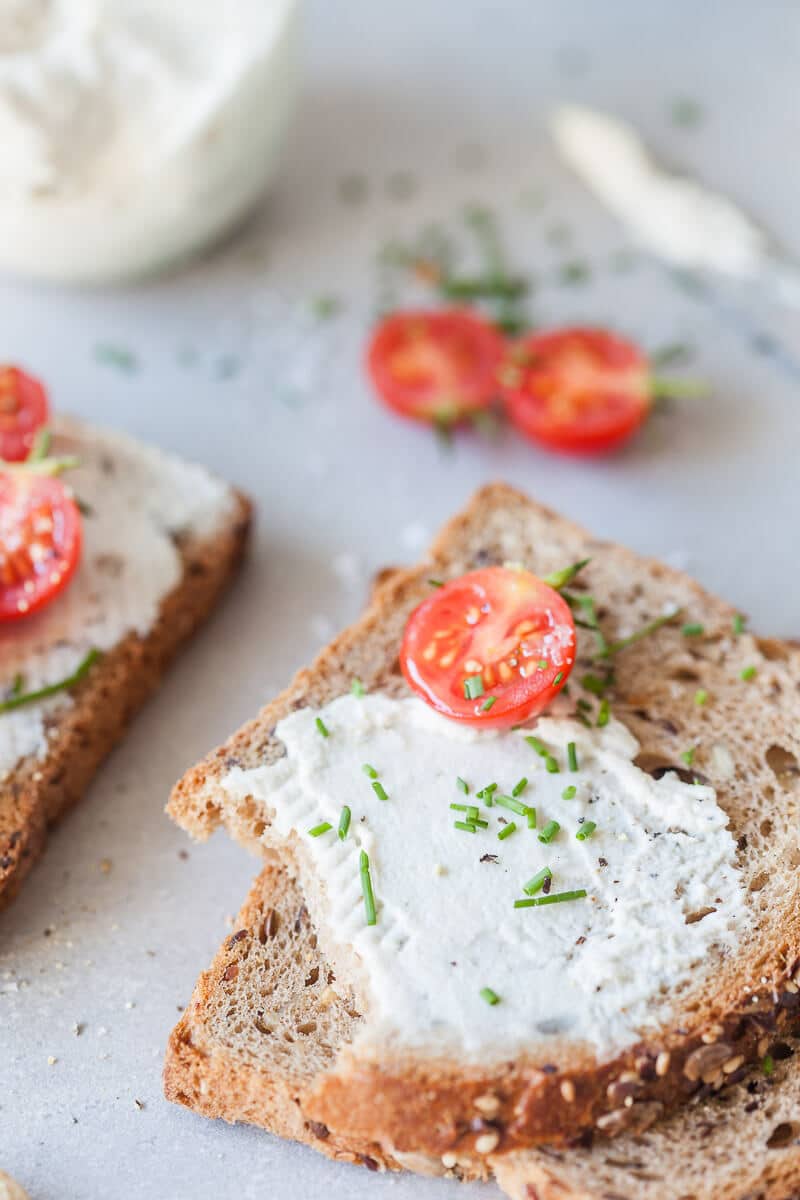 So getting enough probiotics, for me, is a challenge. I can only have non-dairy yogurts, hate pickles and can't have any dairy. Oh, and the thing about swallowing pills, I also try to avoid that.
So I love easy solutions that help me get my daily dose of probiotic bacteria. Enter this Probiotic Vegan Cashew Spread.
Now you know we are all for easy recipes. We hate spending half the day in the kitchen. But making this recipe takes little actual time. Most of the time is just waiting for the cashews to soak and for the probiotic bacteria to do their work.
That said, if you're willing to play the waiting game, this recipe will bring you a delicious vegan "cream cheese" spread, full of healthy gut bacteria, with little effort. And you can always make a double batch if you will turn into a heavy user, like us 🙂
And by the way, try adding also some fresh chives or other herbs in just before serving, and you will turn this Probiotic Vegan Cashew Spread from delicious to fabulous!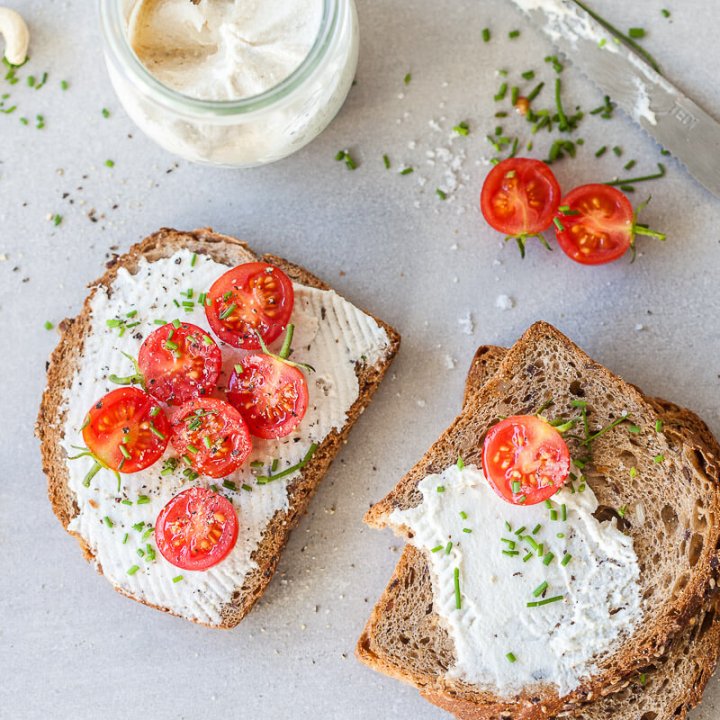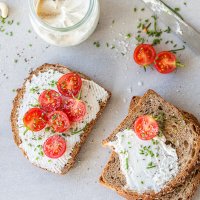 Probiotic Vegan Cashew Spread
This Probiotic Vegan Cashew Spread makes making your own vegan cheese spread easy with cashews and probiotic capsules.
Ingredients
1 cup cashews
1/2 cup water
pinch of salt
2 probiotic capsules (we used Waya Forte)
optional: chives
Instructions
Pre-soak cashew nuts in 1 cup water for 4-6 hours. Once done soaking, discard the water and wash the nuts thoroughly.
Add cashew nuts to a high speed blender. Add a dash of water and a pinch of salt and mix until smooth. Depending how thick or thin you want your spread, add more water while mixing.
Transfer the cashew spread into a clean glass jar. Open 2 probiotic capsules and drop the powder into the cashew mixture. Stir well to combine using a wooden or ceramic spoon (not metal!). Cover the jar with a clean cheese cloth or kitchen towel and set aside on the kitchen counter to ferment for 24-48 hours, depending on the room temperature (it will ferment faster in a warm room).
After the allotted time there should be air pockets in the cashew mixture. Taste the mixture if it is to your liking. The taste should be slightly sour, like a yogurt, and the smell pleasant.
Once the cashew spread is ready, you can keep it in the fridge in an air-tight container for up to 5 days.
You can serve the spread as is, or add some finely chopped chives or other herbs, which will add more flavor to the spread.
Nutrition Information:
Amount Per Serving:
Calories:

178.3
Total Fat:

14.1g
Saturated Fat:

2.5g
Sodium:

43.8mg
Carbohydrates:

9.7g
Fiber:

1.1g
Sugar:

1.9g
Protein:

5.9g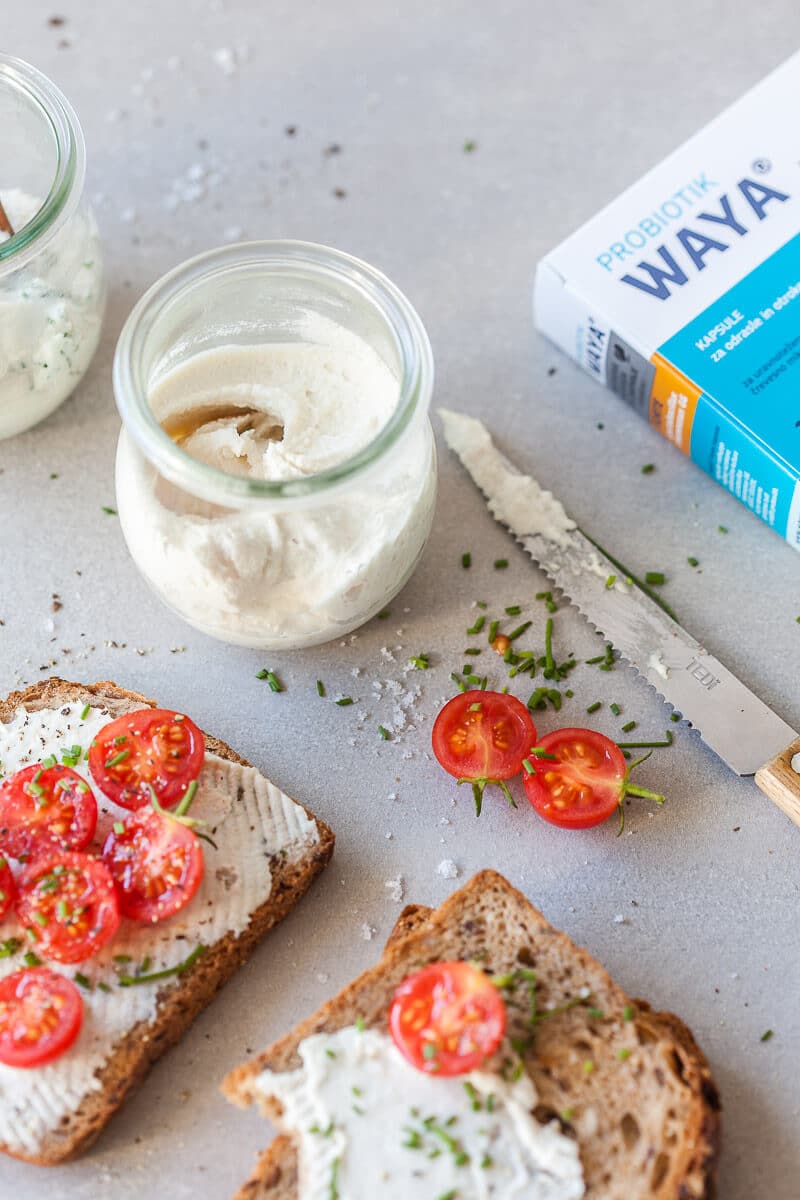 This recipe is brought to you by Waya Probiotics. These probiotics are ones we use regularly to help our digestion and also make cultured recipes with. This recipe was made using their Waya Forte probiotic capsules. If you can't find this brand in your country, you can use any probiotic capsules that contain a lot of probiotic bacteria (in this case 1 capsule contains 1010 cultures and is vegan), but make sure they contain NO PREBIOTICS.
Try also our other homemade fermented recipes:
You can connect with us on our Instagram, Facebook or on Pinterest. We share many behind-the-scenes photos and step-by-step recipes in our Instagram Stories, so be sure to check it out!
If you like this recipe, you can let us know in the comments below or on social media using #vibrantplate and tag us @vibrantplate. We're always happy to read your feedback and LOVE seeing your take on our recipes.