These Vegan Cinnamon Baked Apples are a classic Fall dessert, made vegan and suitable for a plant-based diet.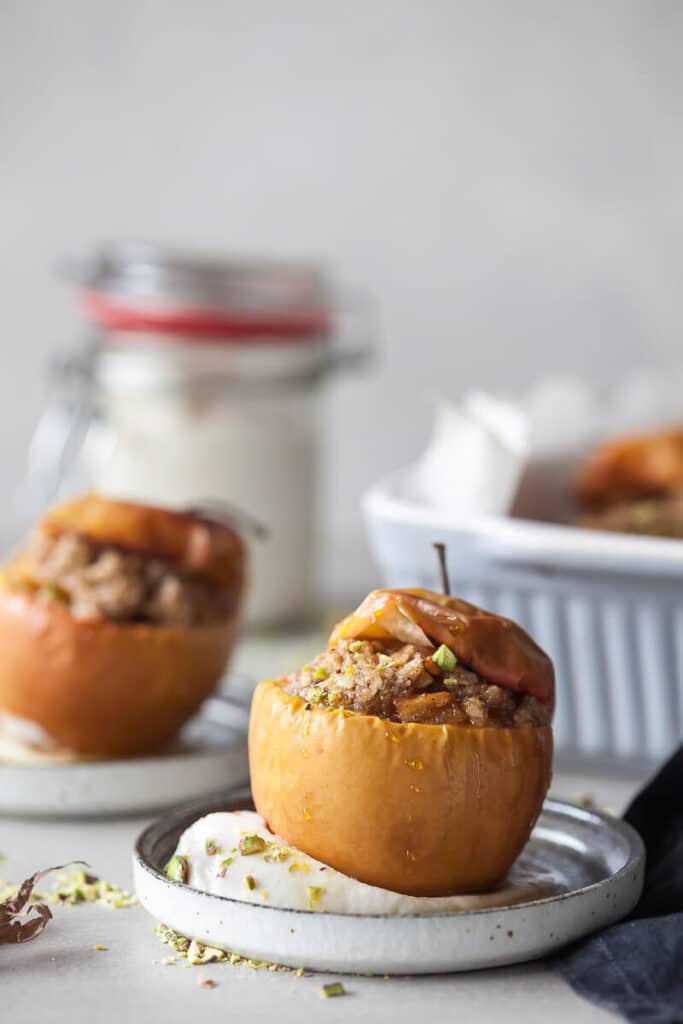 Does anything say Fall more than baked apples? This classic grandma's recipe is easy to make, delicious and will be perfect on a cold and rainy fall or winter day.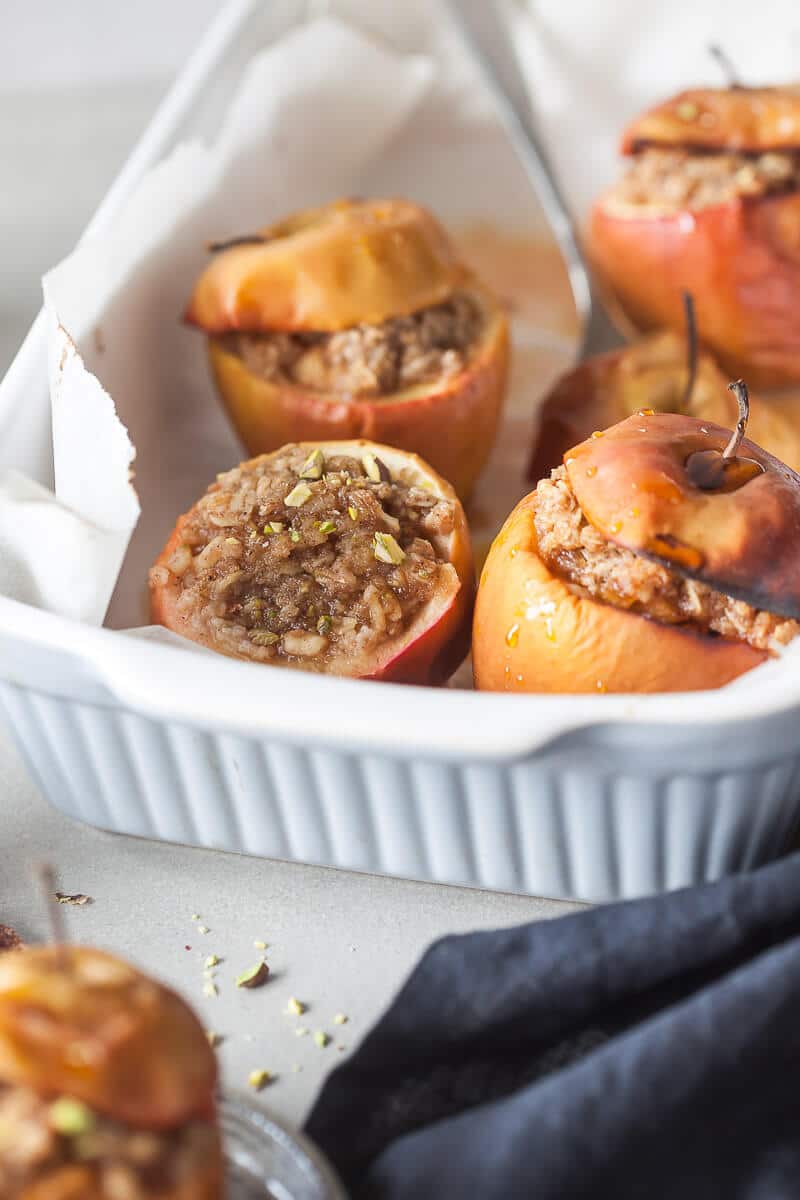 In our country, the apple harvest is abundant this year. So much so, plenty of times people don't know what to do with them, other than storing them for winter. And we love our apples!
Most of the time we will just eat them raw as they are, but we love using them in recipes as well or adding them to a breakfast bowl of oatmeal or in a smoothie.
These Vegan Cinnamon Baked Apples are really easy to make. Just core the apples, fill with some stewed apples and top with a delicious oat crumble. And then just bake for a couple of minutes and you're all set to serve with some vegan whipped cream and maple syrup!
Or, try serving them warm with a scoop of vanilla-flavored vegan ice cream. Delicious!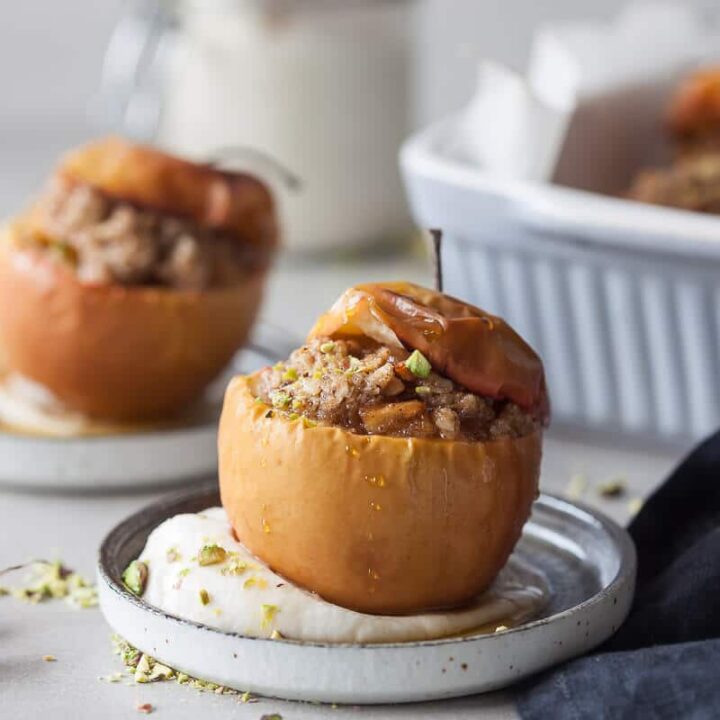 Vegan Cinnamon Baked Apples
Yield: 6

Prep Time: 30 minutes

Cook Time: 30 minutes

Total Time: 1 hour

These Vegan Cinnamon Baked Apples are a classic Fall dessert, made vegan and suitable for a plant-based diet.
Ingredients
7 apples
1 lemon
1 tablespoon brown sugar
cinnamon
Filling:
2 tablespoons all-purpose flour
2 tablespoons rolled oats
1 tablespoon brown sugar
1 tablespoon granulated sugar
1 teaspoon cinnamon
2 tablespoons coconut oil (firmed)
Topping:
agave or maple syrup
chopped pistachios
vegan whipped cream
Instructions
Preheat oven to 200°C / 390°F.
Cut the top off of 6 apples making a level cut. Set the tops aside. Peel and dice the last apple. Squeeze the juice of a lemon and dip the cut parts of the apples in the juice to avoid turning brown.
Core the apples with a paring knife. Scrape the bottom of the core out with a teaspoon, but be careful not to cut a hole in the bottom or in the sides. Save the apple meat and dice it.
In a pot, add diced apples, a tablespoon of brown sugar and cinnamon to taste. Stew on low heat with the lid on, stirring occasionally, for about 10 minutes, until the apples soften. Fill the stewed apples inside the cored apples.
Prepare the cinnamon crumble: in a bowl, mix flour, rolled oats, 1 tablespoon brown sugar and granulated sugar, cinnamon and coconut oil. Mix with your fingers to combine until the mixture resembles breadcrumbs. Sprinkle the crumble on top of the apples and cover with the apple tops.
Place apples on a baking tray and place in a preheated oven and bake 15-30 minutes, until the apples turn golden brown and soften. The baking time will vary depending on your apple variety.
When the apples are baked, remove them from the oven, let them cool down and serve with a tablespoon of vegan whipped cream, finely chopped pistachios and with a drizzle of agave or maple syrup.
Nutrition Information:

Amount Per Serving: Calories: 163.7Total Fat: 4.9gSaturated Fat: 3.8gSodium: 2.7mgCarbohydrates: 31.7gFiber: 4.6gSugar: 22gProtein: 1g

This recipe is sponsored by Hofer Slovenija (you may also know it as Aldi). It is by far our favorite store for groceries and we love their products. If you are from Slovenia, do head over to Hofer's Instagram account for even more delicious recipes 😉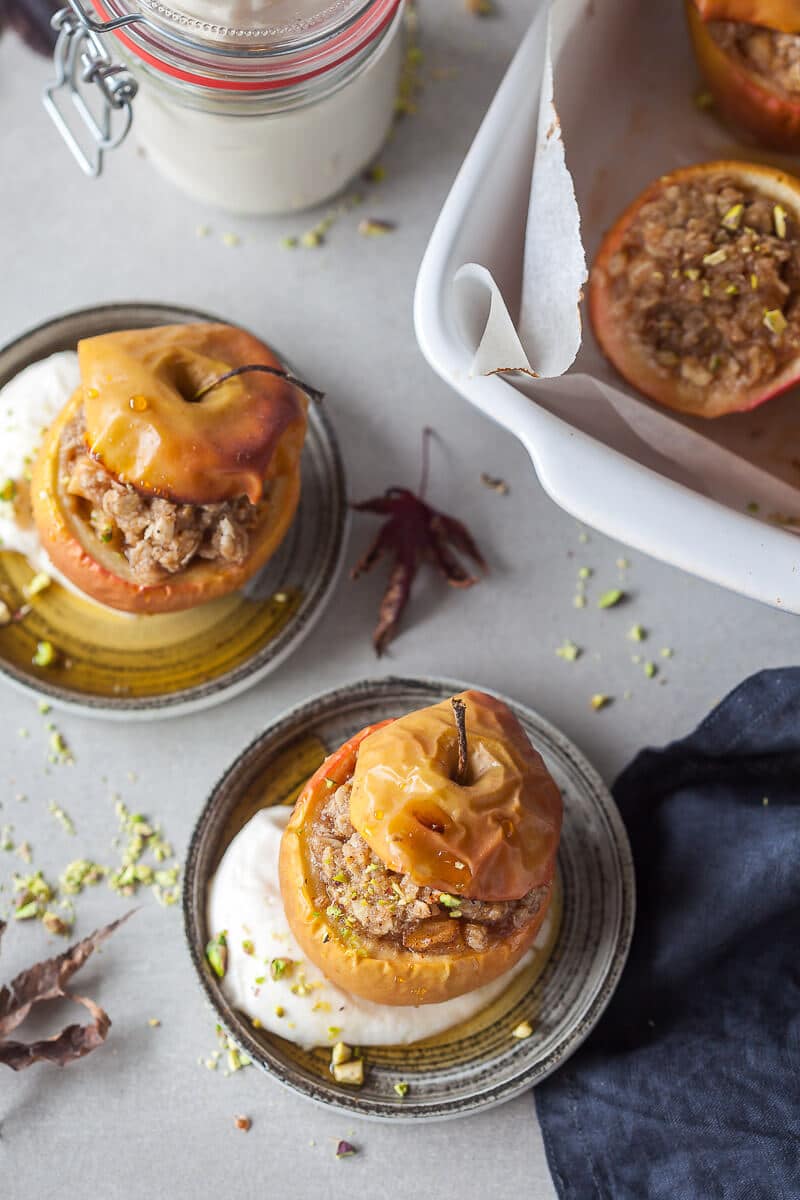 You can connect with us on our Instagram, Facebook or on Pinterest. We share many behind-the-scenes photos and step-by-step recipes in our Instagram Stories, so be sure to check it out!
If you like this recipe, you can let us know in the comments below or on social media using #vibrantplate and tag us @vibrantplate. We're always happy to read your feedback and LOVE seeing your take on our recipes.