A simply delicious Peach and Plum Vegan Crumble with a crunchy oat and almond topping is a great warm dessert on a cold day.
Winter has been avoiding us, and though we do not mind it, it appears the cold and the first snow are on its way. Just in time for comfort food, one-pot meals and baked goods, am I right?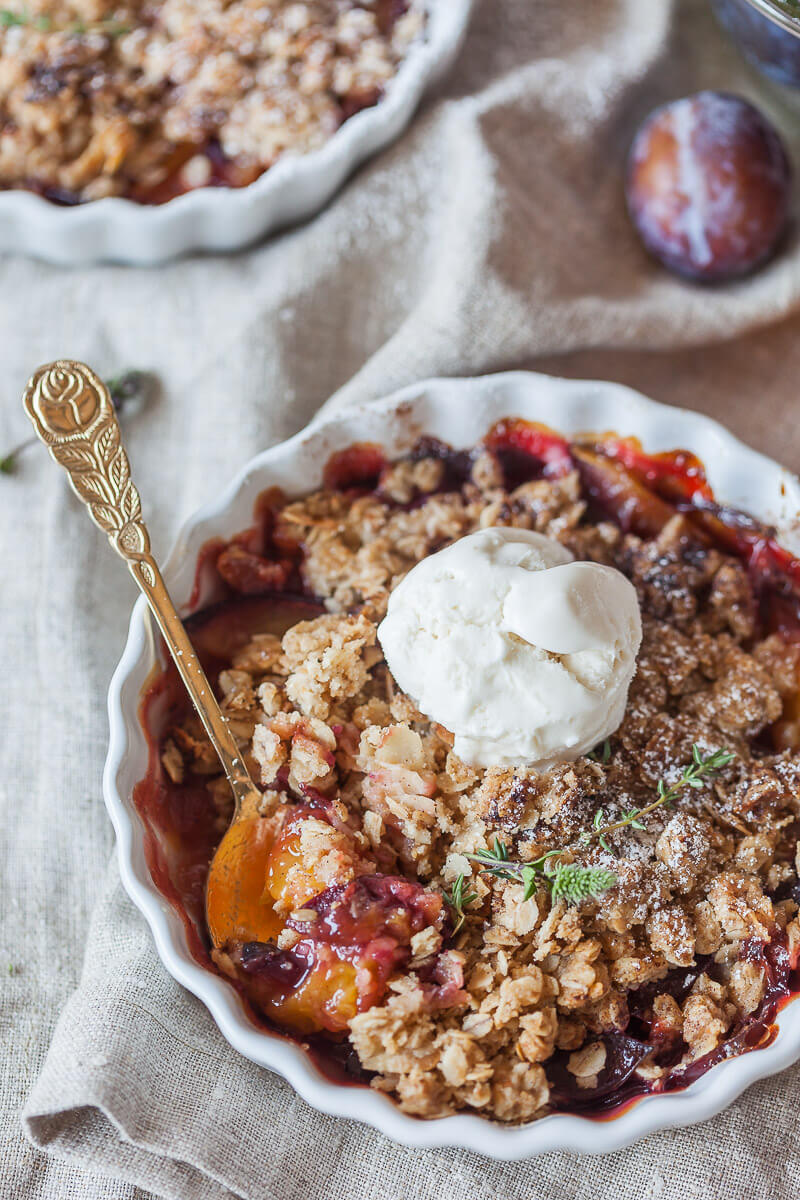 Now, this Peach and Plum Vegan Crumble may be just a bit out of season right now, but we have sourced the very last of the nectarines and plums, heated up the oven and turned them into this delicious dessert.
We love a good crumble. It's such an easy and tasty dessert to make, almost like a one-pot dish, where you throw all the ingredients in and let the heat do its magic.
For this recipe, we portioned the ingredients out into smaller baking dishes, but you could also throw it all into a larger dish and thus making this recipe even easier and less work (especially less clean-up!).
The magic of a good crumble is, that any fruit will do. So if you're out of plums or nectarines, just use the fruit you have on hands. You can also try our Vegan Blueberry Crumble or Crispy Berries and Plum Crumble.
And frozen fruit will work just as well as fresh fruit (sometimes even better).
And now we're done with summer fruit, just in time for apples and oranges!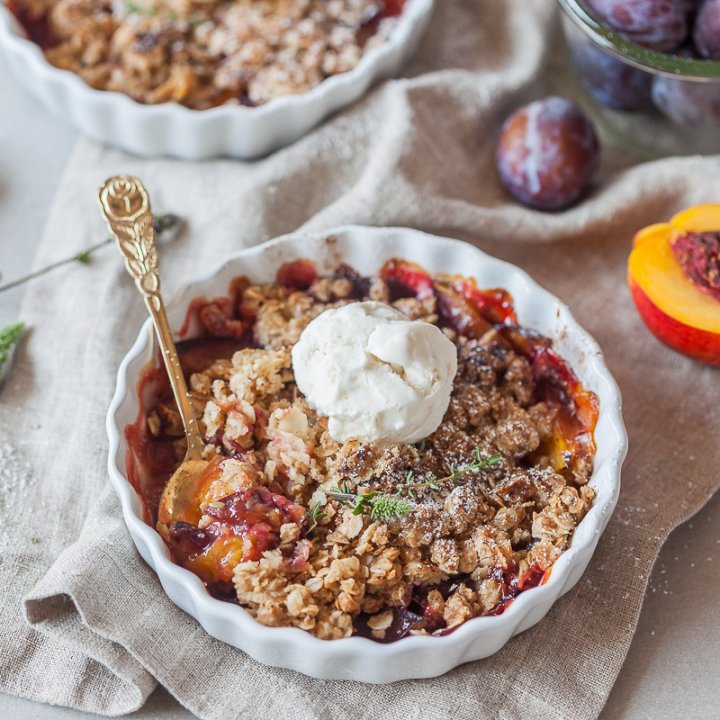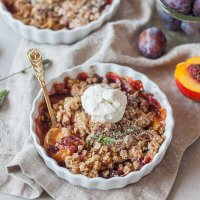 Peach and Plum Vegan Crumble
A simply delicious Peach and Plum Vegan Crumble with a crunchy oat and almond topping is a great warm dessert on a cold day.
Ingredients
1 nectarine peach
5 plums
juice of half a lemon
1 tablespoon brown sugar
cinnamon to taste
1 teaspoon corn starch
Crumble:
1 tablespoon all-purpose flour
1 tablespoon brown sugar
1 tablespoon ground almonds
1 tablespoon rolled oats
pinch of salt
1 tablespoon vegan butter
Topping:
icing sugar
plant-based vanilla ice cream
Instructions
Preheat oven to 200°C / 390°F. Grease a smaller baking dish with a little bit of oil.
Wash and dry plums and a nectarine, remove the pit and cut into slices. Add lemon juice, brown sugar, cinnamon to taste and 1 teaspoon of corn starch. Mix well to combine and place in the baking dish so as to cover the bottom of the dish.
Prepare the crumble by mixing together the ingredients in a bowl, and using your fingers knead it into coarse crumbs. Sprinkle the crumble on top of the fruit in the baking dish.
Place baking dish into the preheated oven and bake for about 30 minutes, or until the crumble turns crispy and golden brown, and the fruit turns soft. Remove from oven and set aside to cool a little bit.
Serve with a sprinkle of icing sugar and a scoop of plant-based ice cream.
Nutrition Information:
Amount Per Serving:
Calories:

156.8
Total Fat:

3.5g
Saturated Fat:

0.4g
Sodium:

82.1mg
Carbohydrates:

30.9g
Fiber:

3.9g
Sugar:

21.3g
Protein:

3.7g
You can connect with us on our Instagram, Facebook or on Pinterest. We share many behind-the-scenes photos and step-by-step recipes in our Instagram Stories, so be sure to check it out!
If you like this recipe, you can let us know in the comments below or on social media using #vibrantplate and tag us @vibrantplate. We're always happy to read your feedback and LOVE seeing your take on our recipes.