This Easy One-Pot Spicy Vegan Chili is packed with vegetables and ready in just 30 minutes. The perfect winter comfort food!
It's time for one-pot meals, soups, and stews in our household! With the weather growing colder, we are turning more and more towards hearty hot meals. And what's more hot and hearty than a bowl of slightly spicy vegan chili?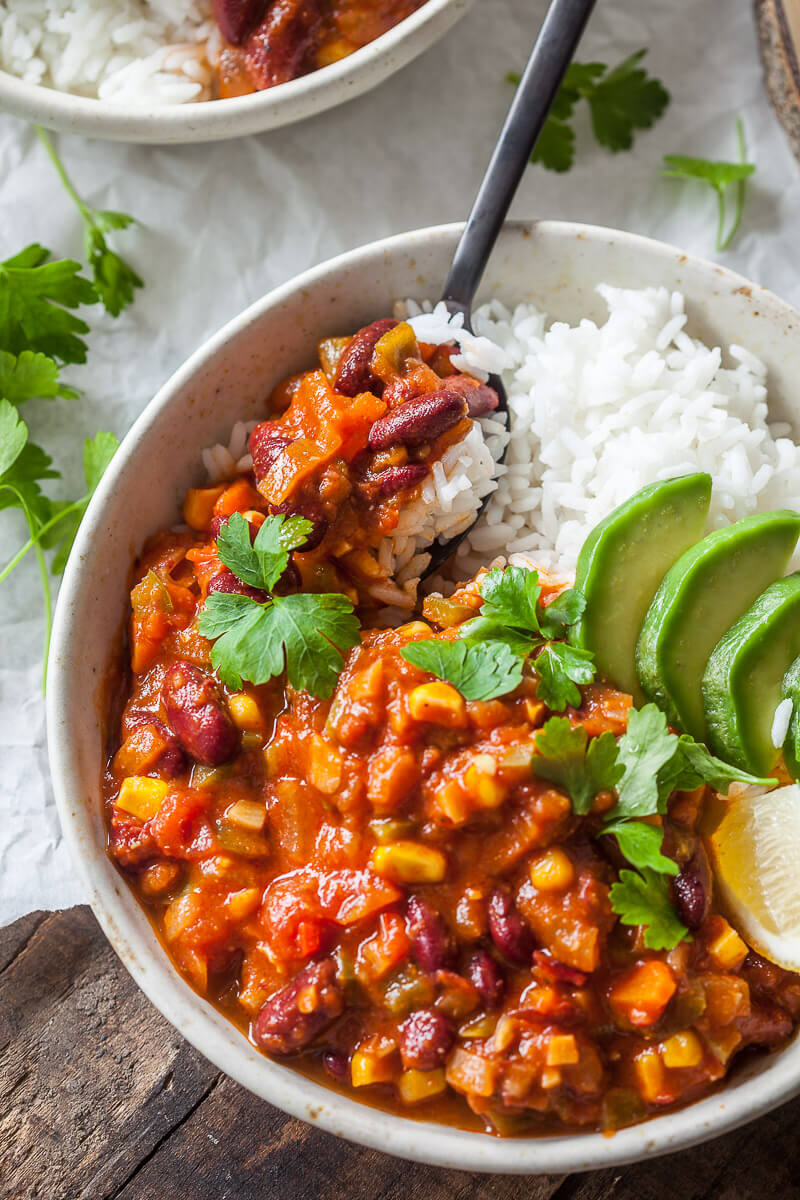 I am not a lover of spicy food, let's get that out in the open. But Mitja can tolerate some chili peppers in his meals. I made this Easy One-Pot Spicy Vegan Chili for him to take with as a to-go meal for his lunch at work and decided to spice it up with a homegrown spicy red chili that I got from my mom's garden.
It certainly gave the dish a kick, but Mitja absolutely loved it and has requested I make it again. But if you are not one for spicy foods, just leave the chili pepper out of the recipe, it will still be delicious!
This Easy One-Pot Spicy Vegan Chili is a great dish for cold winter months and perfect for meal prep! Make a batch of it ahead of time, save some for a meal or two straight away and freeze up the rest in your freezer for a day when you will not feel like cooking at all (and yes, we have those days as well and love our leftovers!).
To make this chili we used canned red kidney beans and canned corn which makes the recipe come together really fast, but if you do not like to use canned vegetables, you can, of course, presoak the beans and cook them ahead of time.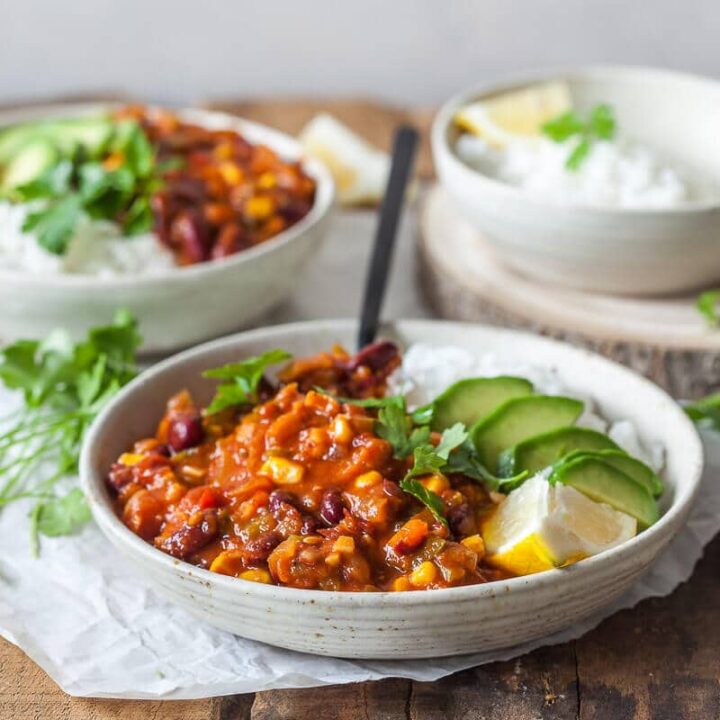 Easy One-Pot Spicy Vegan Chili
This Easy One-Pot Spicy Vegan Chili is packed with vegetables and ready in just 30 minutes. The perfect winter comfort food!
Ingredients
1 tablespoon vegetable oil
2 onions
2 carrots
4 cloves garlic
1 celery stalk with leaves
1 tablespoon double tomato concentrate
2 cups canned diced tomatoes
2 bell peppers
1 red chili
1/2 cup vegetable stock
1 cup red kidney beans (pre-cooked or canned)
1 cup corn (pre-cooked or canned)
juice of half a lemon or lime
1 bay leaf
salt
pepper
1 ts ground cumin
Serve with:
half an avocado
1 cup cooked white rice
Instructions
In a pot, heat a tablespoon of oil, then add finely diced onions, carrots, garlic and celery. Gently fry while stirring, until the vegetables turn softer.
Move the vegetables to the sides of the pot, then add a tablespoon of tomato concentrate in the center and fry until it turns a darker shade. Add diced bell pepper and finely diced chili, a bay leaf and pour in canned diced tomatoes and vegetable stock. Season with salt, pepper and ground cumin and simmer on low heat for about 20 minutes, until the vegetables soften.
When the chili is almost done, add a cup of pre-cooked or canned red kidney beans and a cup of pre-cooked or canned corn, then squeeze in the juice of half a lemon or lime. Cook on low for another 10 minutes for the flavors to combine.
Once the chili is ready, remove the bay leaf, then using a stick blender quickly blend the chili but only give it a couple of blends and let it remain chunky.
Serve the chili with a cup of plain cooked rice and some avocado slices.
Nutrition Information:
Amount Per Serving:
Calories:

206.6
Total Fat:

5.6g
Saturated Fat:

0.8g
Sodium:

1210.6mg
Carbohydrates:

34.7g
Fiber:

8.7g
Sugar:

12.5g
Protein:

7.7g
This recipe is sponsored by Hofer Slovenija (you may also know it as Aldi). It is by far our favorite store for groceries and we love their products. If you are from Slovenia, do head over to Hofer's Instagram account for even more delicious recipes 😉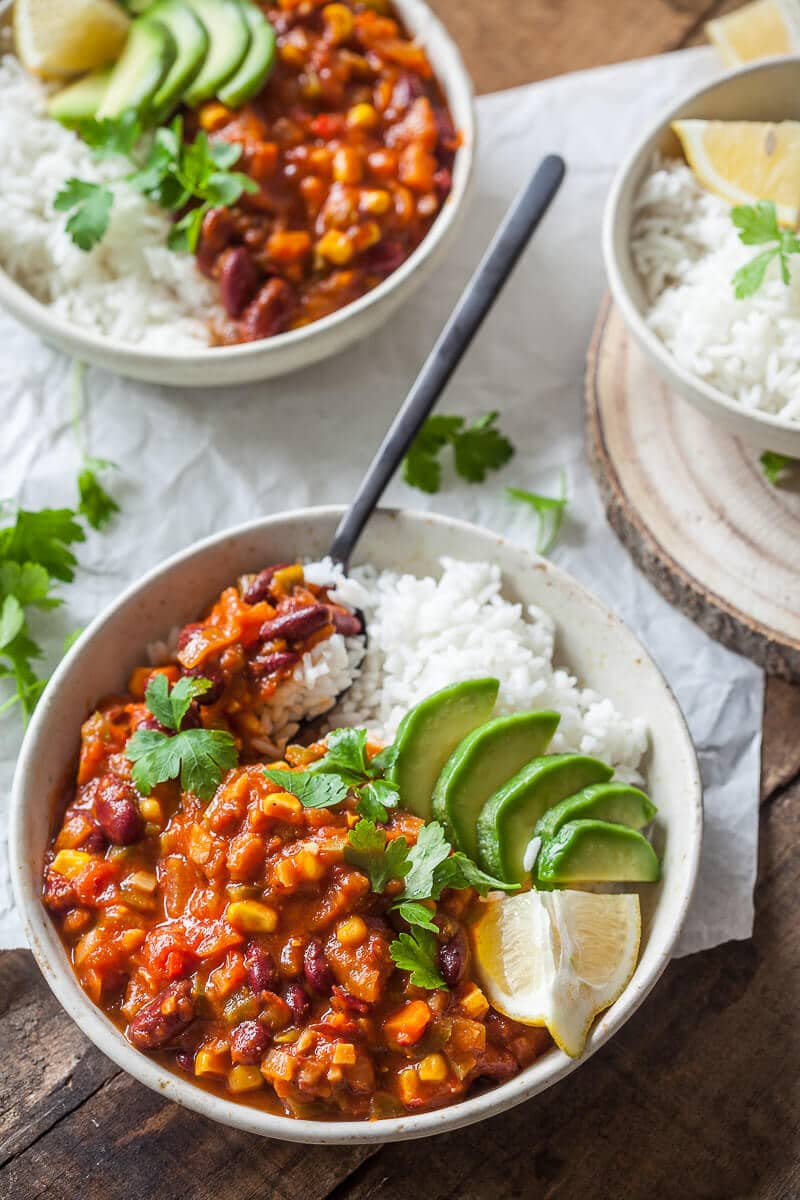 You can connect with us on our Instagram, Facebook or on Pinterest. We share many behind-the-scenes photos and step-by-step recipes in our Instagram Stories, so be sure to check it out!
If you like this recipe, you can let us know in the comments below or on social media using #vibrantplate and tag us @vibrantplate. We're always happy to read your feedback and LOVE seeing your take on our recipes.