Crispy Berries and Plum Crumble is an easy and delicious vegan dessert that makes excellent use of fruit you have rolling around.
At long last Mitja has returned home from overseas. He's been away to the States for almost 3 weeks and now we've both been suffering from jet lag – him actually, me consequentially. We've been both up since 3 am this morning and let me tell you – there's is so much you can achieve if you get up so early! I've done the dishes, my sourdough bread is rising, the dishwasher is almost finished, I've made a pot of tea, coffee, breakfast, I am writing this post and it's not even 7 am yet. I am a morning person, but 3 am is just a tad too early, even for me.
Hoping this situation improves soon, I'll be happy to hear any suggestions and advice you have on coping with jet lag!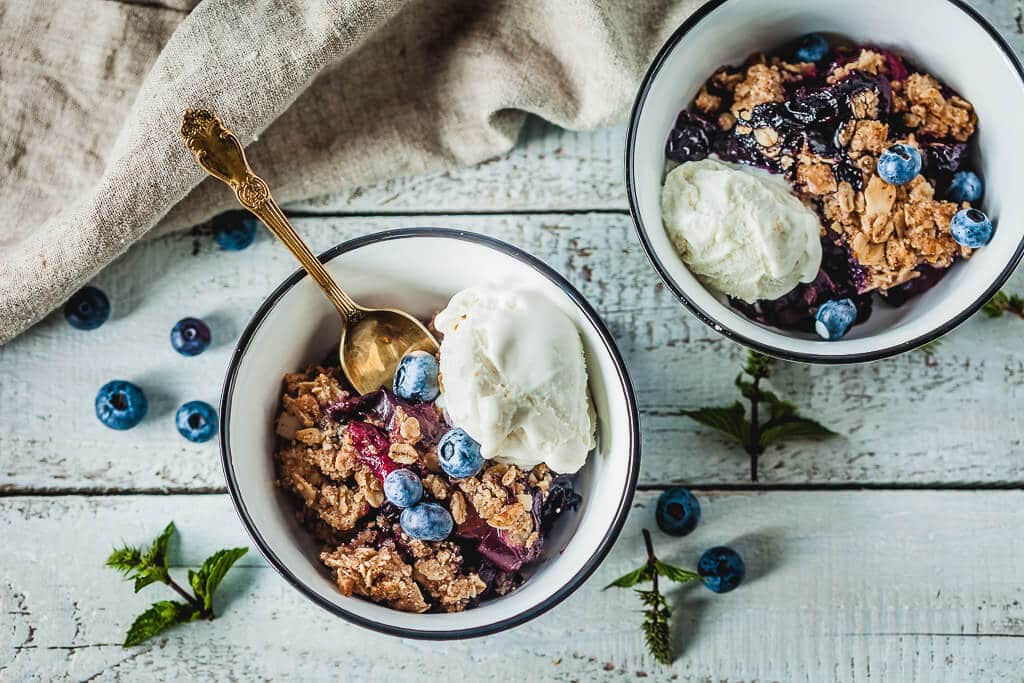 Having little time, little sleep and little will to live, I am all for meals that require little effort and energy, like this totally amazing Crispy Berries and Plum Crumble. This crumble fits right into our hectic schedule as it takes little prep time and uses up whatever fruit we still had at the back of the bottom fridge drawer, lifeless and forgotten. And, it's vegan, too, so it's perfectly fine for all plant-based eaters and those of us, who have to cut back dairy from time to time. Now, if you don't happen to have summer fruit at hand, this totally works with apples as well, or even frozen berries. And did I mention, this is DELICIOUS?!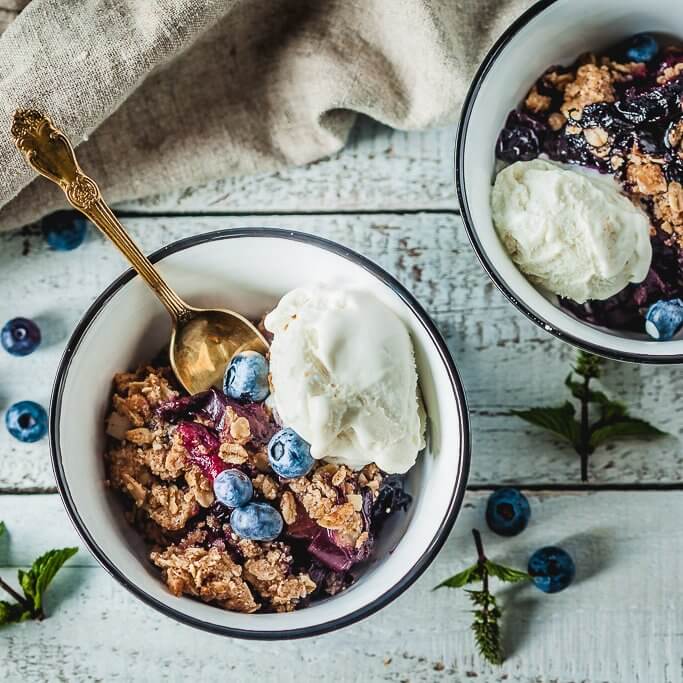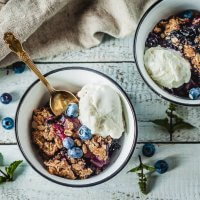 Crispy Berries and Plum Crumble
Total Time:
1 hour
5 minutes
Crispy Berries and Plum Crumble is an easy and delicious vegan dessert that makes excellent use of fruit you have rolling around.
Ingredients
6-8 plums
2 nectarines
1/2 cup blackberries
1/2 cup blueberries
2 ts coconut sugar
2 ts powdered sugar
1 ts cornstarch
drop of vanilla extract
1/2 ts cinnamon
FOR THE CRUMBLE:
3/4 cup rolled oats
1/2 cup almond meal
3/4 cup all-purpose flour
1/4 cup sugar
1/4 cup brown sugar
pinch of salt
1 ts cinnamon
1/3 cup almond flakes
1/2 cup coconut fat, solid
OTHER:
vanilla-flavored ice-cream (plant-based or regular) for serving
Instructions
Preheat oven to 170°C / 340 °F.
Wash and dry fruit. Cut plums and nectarines in slices and remove the pit. Add to a bowl, then also add blackberries, blueberries, coconut and powdered sugar, cornstarch, vanilla and cinnamon. Mix well to combine and place into a baking tin or cast-iron pan (I used a size 10'' or roughly 25 cm).
In another bowl add rolled oats, almond meal, flour, sugar, salt, cinnamon, almond flakes and crumble in coconut fat or butter. Mix with your hands until combined and the mixture resembles large breadcrumbs. Place the crumble mix on top of the fruit.
Place pan into preheated oven and bake for about 45 minutes, until the top turns golden-brown. When baked, remove from oven and set aside to cool for a couple of minutes so the crumble becomes crispy.
Serve warm with some vanilla-flavored ice cream (I used plant-based ice-cream).
Nutrition Information:
Amount Per Serving:
Calories:

363.43
Total Fat:

13.07g
Saturated Fat:

3.56g
Sodium:

53.98mg
Carbohydrates:

57.87g
Fiber:

7.35g
Sugar:

31.07g
Protein:

8.41g
If you like this recipe, you can let us know in the comments below or on social media using #vibrantplate and tag us @vibrantplate. We're always happy to read your feedback and if you liked the dish:)
You can connect with us on our Instagram and Facebook or on Pinterest. We share many behind-the-scenes photos in our Instagram Stories, so be sure to check it out!
Find more delicious desserts here >