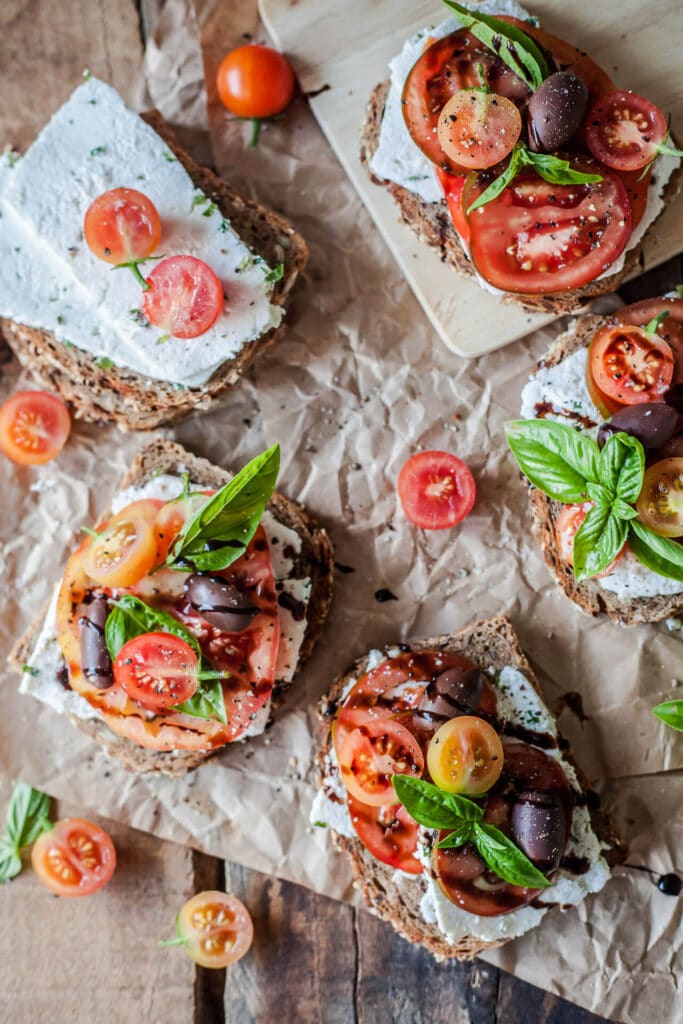 Tomato Wholewheat Sandwiches with Goat's Milk Ricotta are the perfect savory breakfast or a quick snack. Vegetarian and delicious!
It's taken a while to post this recipe, as it was first created when tomatoes were in high season. Sorry about that, but circumstances. Although tomatoes are not in season anymore, they can still be bought in stores from greenhouses, so this recipe can still be enjoyed. Actually, as I am writing this, our front lawn is covered in frost, so hello, winter!
These Tomato Wholewheat Sandwiches with Goat's Milk Ricotta are a fast and easy breakfast or snack option. They come together in just a couple of minutes, but although they are so simple, they pack a whole lot of flavor!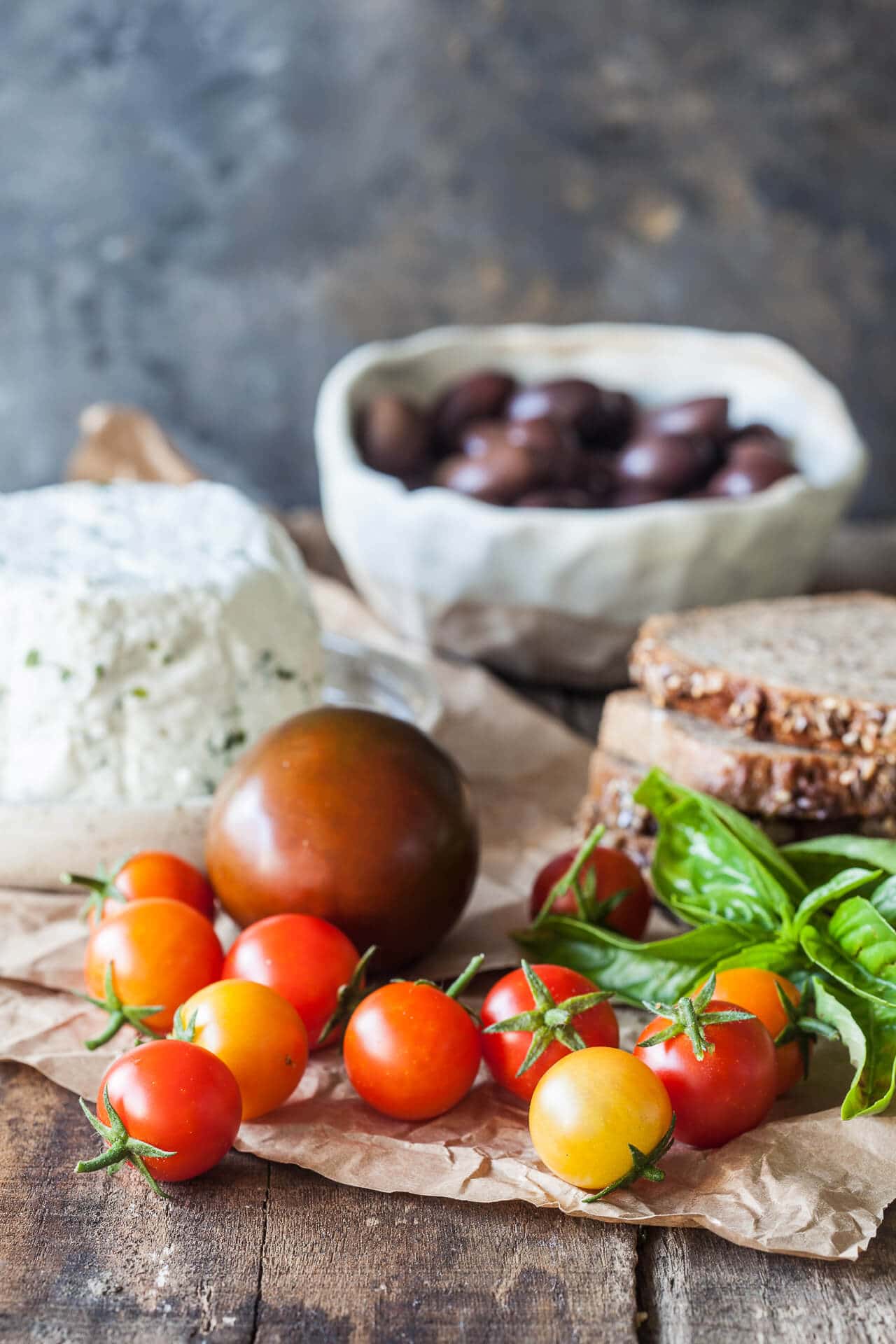 I highly recommend using the goat's milk ricotta from Kmetija Pustotnik, as it was intended, but any other ricotta or goat's milk cheese will do just fine… just don't forget to add a few fresh chives on top.
These wholewheat open-faced sandwiches are topped with goat's milk ricotta and tomatoes, sprinkled with black olives and drizzled with a delicious balsamic vinegar reduction. Toast your bread slightly before you use it, to get more crunch and flavor out of it. This way, you can even use up stale bread – just make sure to spread it with a thin layer of butter before toasting!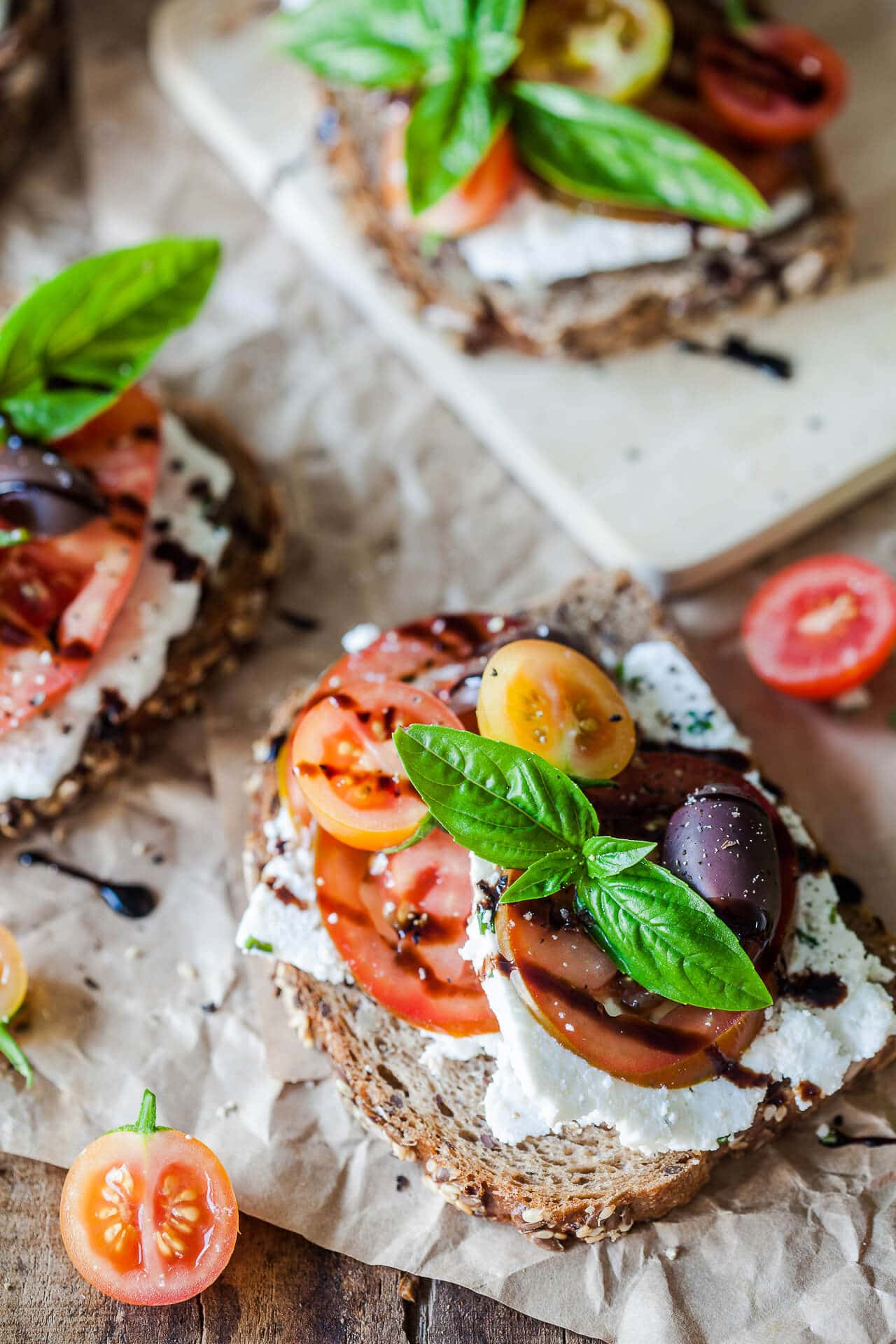 This recipe was created for Kmetija Pustotnik. They offer a great selection of high-quality dairy products, such as delicious homemade butter, prized aged cheeses, and goat's milk products. Be sure to check it out!
Tomato Wholewheat Sandwiches with Goat's Milk Ricotta
Author: Kristina Jug

Yield: 4
Ingredients
4 slices wholewheat bread
8 slices goat's milk ricotta with chives from Kmetija Pustotnik (or other goat's milk ricotta or cheese)
2 large tomatoes
handful of black olives
fresh basil leaves
pinch of salt or fleur de sel
black pepper, freshly ground
balsamic vinegar reduction
Instructions
Wash and dry vegetables and herbs.
Cut goat's milk ricotta into thin slices. Cut tomatoes into slices. Remove pit from black olives and cut olives into long slices.
Place ricotta slices on bread and top with tomato slices. Add a few olive slices and fresh basil leaves.
Sprinkle sandwiches with salt or fleur de sel and freshly ground black pepper. Finish with a drizzle of balsamic vinegar reduction and serve.
PRO TIP: You can buy balsamic vinegar reduction in stores or make it at home yourself. Place half a cup of balsamic vinegar in a saucepan and bring to a boil. Then, reduce heat and let it simmer on low for about 15-20 minutes, or until the liquids evaporate and the sauce thickens.
Nutrition information (per serving):
Calories: 97.67 kcal

Fat: 1.53 g

Saturated fat: 0.31 g

Carbs: 17.74 g

Protein: 3.99 g

Fiber: 2.39 g

Sugar: 3.81 g

Sodium: 208.32 mg

Trans fat: 0.01 g

Text and images copyright Vibrantplate.com © All rights reserved.
Check out more vegetarian recipes here >
If you like this recipe, you can let us know in the comments below or on social media using #vibrantplate and tag us @vibrantplate. We're always happy to read your feedback and if you liked the dish:)
You can connect with us on our Instagram and Facebook or on Pinterest. We share many behind-the-scenes photos in our Instagram Stories, so be sure to check it out!