Leftover Falafel Salad with Lemon Tahini Dressing is an easy 30-minute meal using leftover falafel patties. Vegan & Delicious!
I've been trying to find the words this past week to tell you about an… accident that happened to me. Or, more accurately, that I caused to myself. In a true TIFU and #mydumbinjury fashion, this is the tale of how I went to the ER because of a noodle.
So, it was the first of November. I woke up to make coffee and breakfast. While breakfast was cooking, I noticed there were some unwashed pots from the night before in the sink, and decided I might as well do the dishes. The first pot I took in my hands, had a dry noodle stuck to the wall. I tried scrubbing vigorously, but it wouldn't come off. In a moment of dumbness, I tried scrubbing it off with the nail of my index finger and just like that, there was a sharp pain. I cried involuntarily, dropped the pot and embraced my finger. And there it was. A long piece of dry noodle stuck straight up 3/4 in under my fingernail.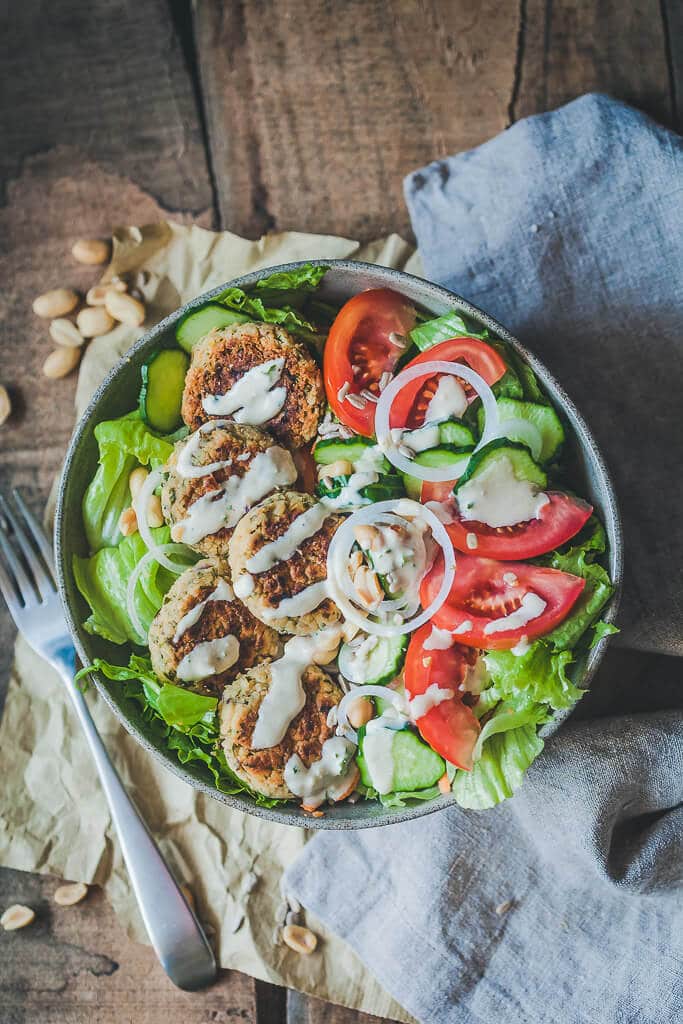 It hurt like you wouldn't believe. I was gasping and crying and my finger swole up instantly. Mitja came over and tried to help me get the noodle out, but it broke off. In a couple of minutes, the dry noodle soaked and inflated. The pain under the fingernail increased as pressure built up.
Now, I am not one to go to the doctor if it's not serious. But for this, we went to the ER. I felt so dumb coming in there asking for help because of a noodle. The doctors were in disbelief but tried not to laugh, I think. They asked about my pain tolerance. Having a noodle stuck under the fingernail for an hour, and still being able to think, I said it's medium. "Well, this is going to hurt, then."
Now there's a sentence you're always happy to hear right? I sat on the table, the doctor sat in a chair next to me, took my finger, placed it on his thigh, then took out tweezers and jabbed them right under my fingernail as far as they would go. But I held on. Just get it out! I thought.
But no. The noodle was breaking off and he couldn't get a hold of it. So he sent me home, with the noodle still under the fingernail. Long story short. After 3 days of pain, when I couldn't even look at my finger, the noodle liquified enough for me to remove about half of it out in form of disgusting pus. The pressure in my finger reduced immensely and day after day it has been finally getting better. Today is the first day, I can finally somewhat use the finger for typing.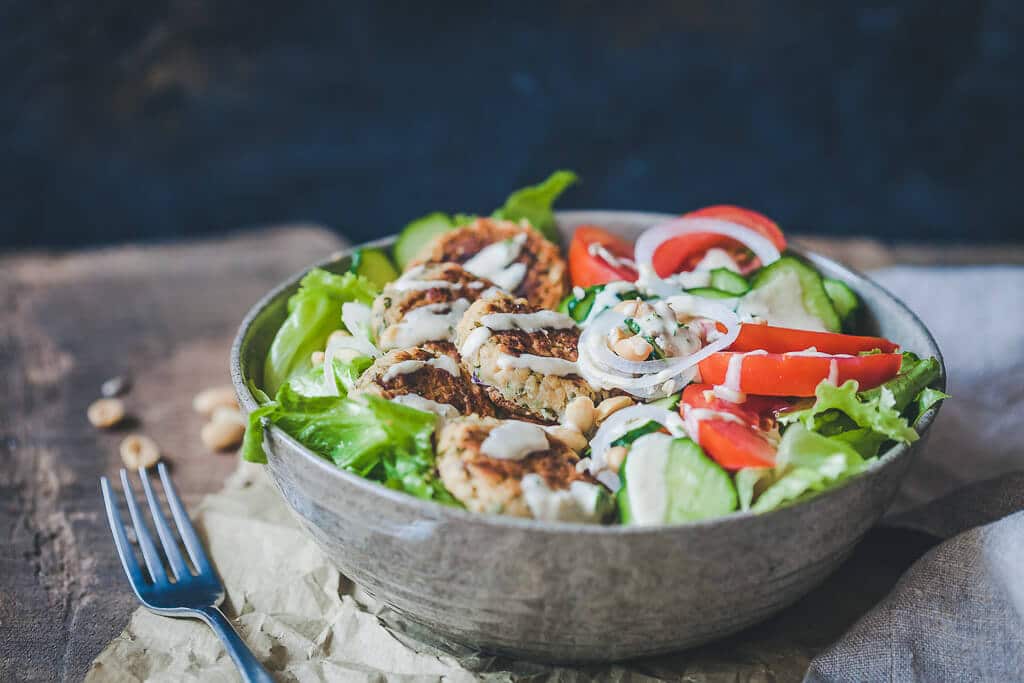 So, it's in times like these, that I welcome leftovers with open hands. I'd make a pot of soup and eat it for like 3 days. Or make a bit more falafel patties and use them in this simple, but amazing Leftover Falafel Salad with Lemon Tahini Dressing.
Now, this Leftover Falafel Salad uses leftover falafel patties that have been chilling in a tupperware in the fridge for a day or two. You chop up some lettuce and veggies, place in a bowl along with falafel patties, onion, and some toppings and then drizzle everything with a fine lemon tahini dressing.
A delicious, healthy and protein-packed salad in just a couple of minutes… and most importantly, it contains no noodles at all!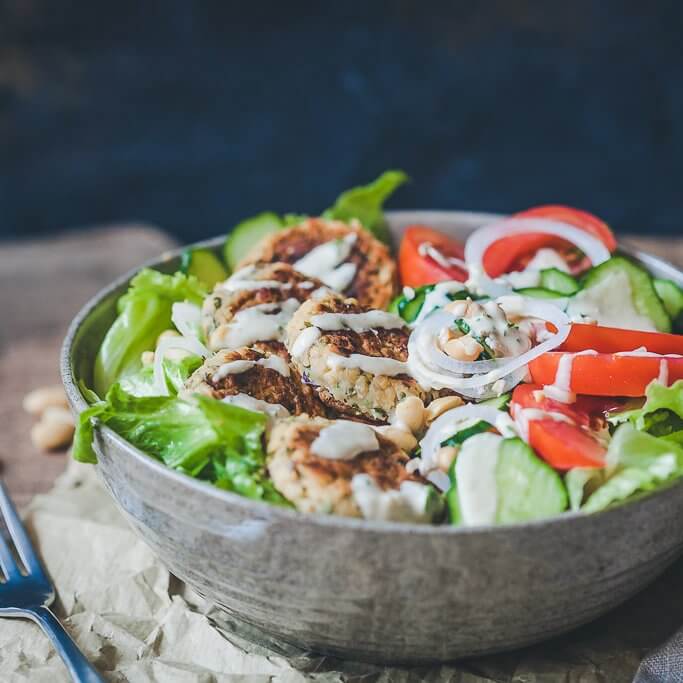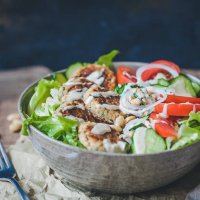 Leftover Falafel Salad
Leftover Falafel Salad with Lemon Tahini Dressing is an easy 30-minute meal using leftover falafel patties. Vegan & Delicious!
Ingredients
3 cups lettuce
2 cucumbers
2 tomatoes
1 small white onion
2 tbs salted peanuts
2 ts sunflower seeds
1/4 cup tahini
1 clove garlic, minced
1/2 cup water or more as needed
1/2 lemon, juice
salt, pepper to taste
Instructions
Wash and dry vegetables. Shred lettuce. Cut cucumbers and tomatoes into slices. Thinly slice a white onion. Place veggies in a bowl.
Add falafel patties and top with peanuts and sunflower seeds.
Prepare your lemon tahini sauce: in a bowl (or food processor) place tahini, minced garlic, juice of 1/2 lemon, salt and pepper to taste and a bit of water. Mix well, and add more water as needed, depending how thick you want your sauce.
Drizzle the lemon tahini sauce over your salad and mix well. Serve.
Nutrition Information:
Amount Per Serving:
Calories:

619.17
Total Fat:

37.13g
Saturated Fat:

5.22g
Sodium:

1725.12mg
Carbohydrates:

58.22g
Fiber:

8.56g
Sugar:

11.52g
Protein:

23.63g
More Falafel Recipes: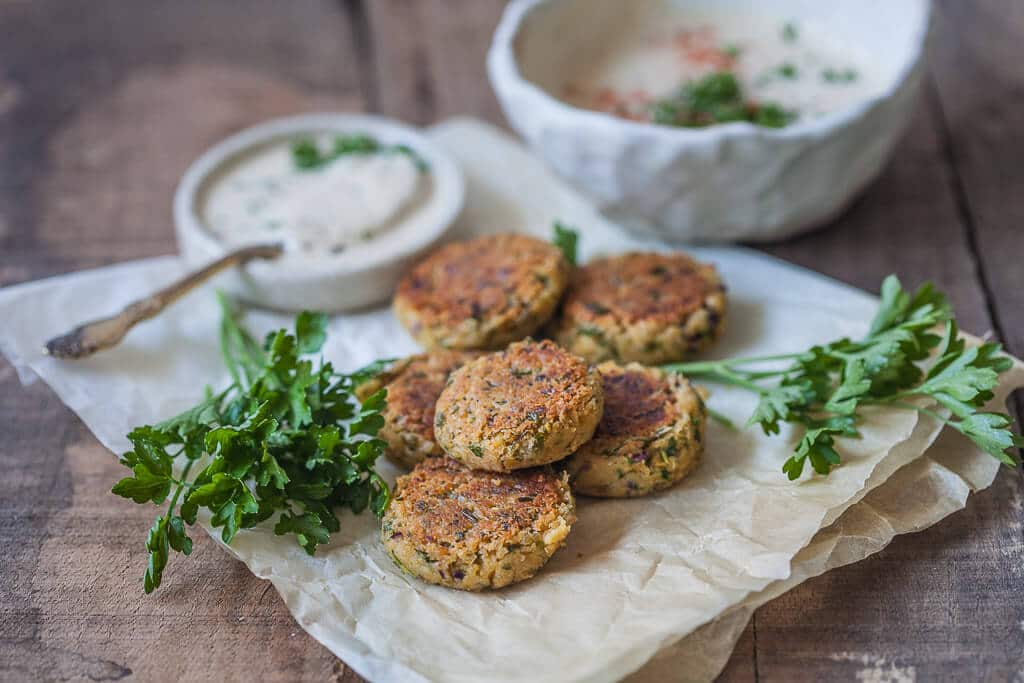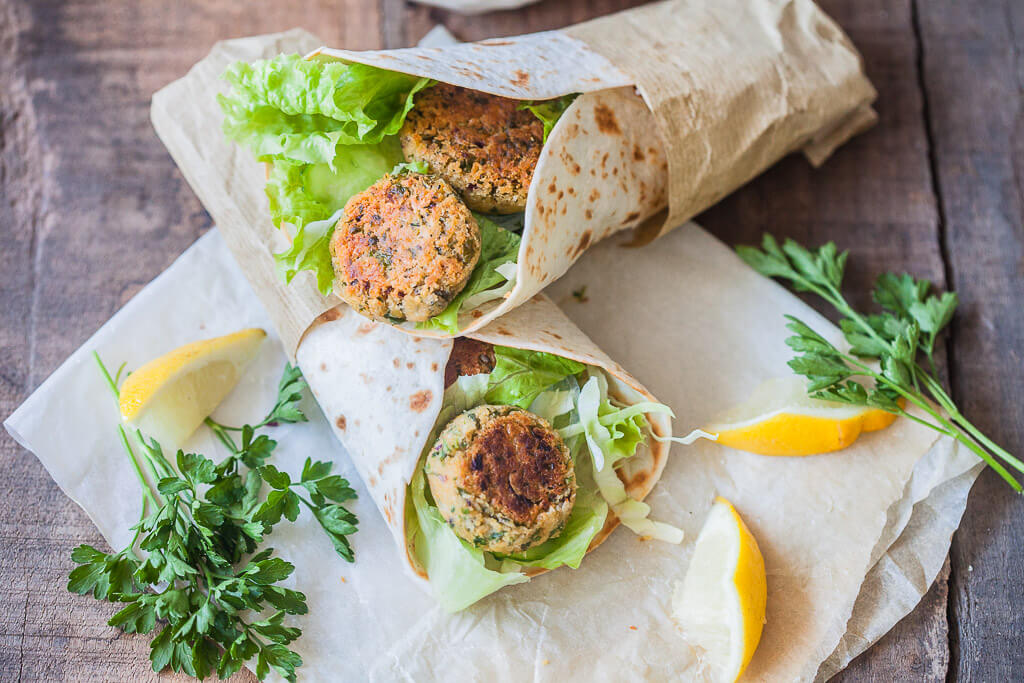 If you like this recipe, you can let us know in the comments below or on social media using #vibrantplate and tag us @vibrantplate. We're always happy to read your feedback and if you liked the dish:)
You can connect with us on our Instagram and Facebook or on Pinterest. We share many behind-the-scenes photos in our Instagram Stories, so be sure to check it out!