Vegan Blueberry Crumble, made with blueberries and a crunchy crumble topping, lightly sweetened, and just the perfect plant-based summer treat.
Every year we await eagerly the blueberry season. We love heading out to the woods in search of the tiny dark-colored berries but are seldom lucky enough to forage enough of them to last us a week, let alone a year. Blueberries are Mitja's favorite fruits and this cake is his favorite cake with – you guessed it – blueberries.
We usually harvest the berries when they are in season on higher altitudes, but this year we tried finding them in the valley as well. Well, we headed into the local woods and after a day of searching, foraging, and checking the many blueberry bushes, we hardly picked enough to be full, let alone to have any left over.
All we picked was a tick on Kristina's leg and plenty of bug bites.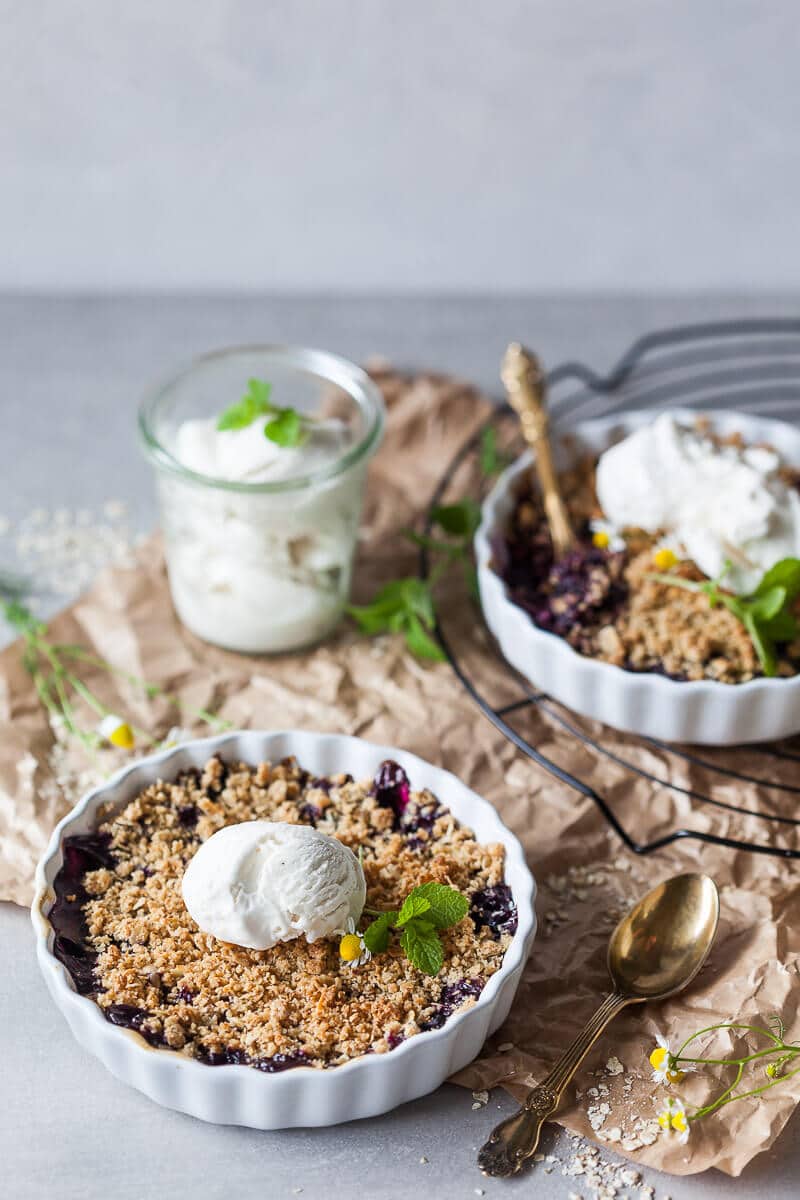 So when you are, as we are, out of luck in foraging, there's always the prepackaged version in the frozen isle available!
So we headed to the grocery store, picked up a bag of frozen blueberries, and made this amazing Vegan Blueberry Crumble. This dessert is put together in just like 10 minutes, baked in 30 minutes and then ready to enjoy!
Just toss together blueberries with some cornstarch, sugar, lemon juice, and vanilla, and top with a delicious almond crumble to give it a bit of a crunch.
This Vegan Blueberry Crumble is the perfect summer treat, especially when the summer is a bit lousy as it is in our country.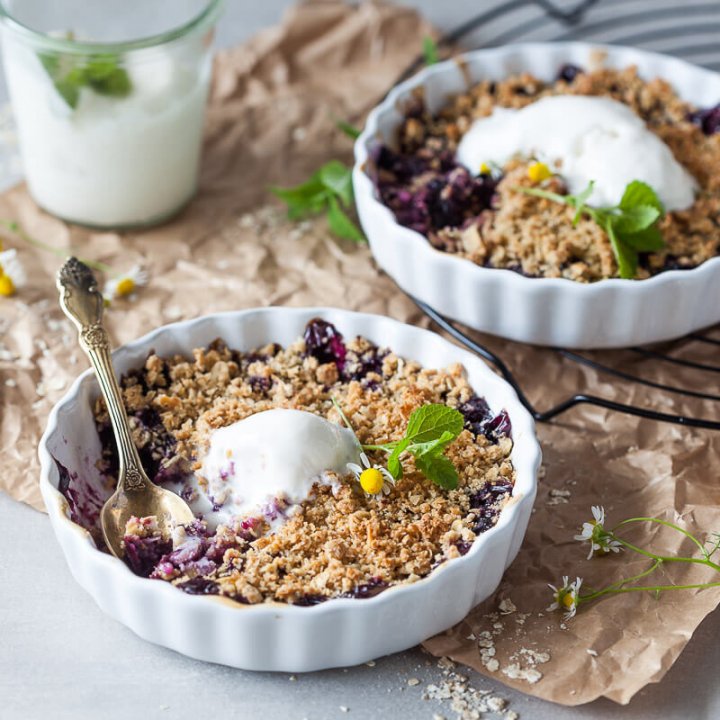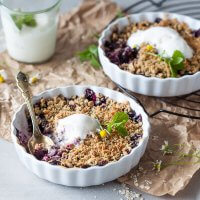 Vegan Blueberry Crumble
Vegan Blueberry Crumble, made with blueberries and a crunchy crumble topping, just the perfect plant-based summer treat.
Ingredients
300 grams blueberries (fresh or frozen)
1 tbs cornstarch
1 tbs brown sugar
1 ts vanilla extract
2 tbs lemon juice
For the crumble:
1 tbs flour
1 tbs brown sugar
1 tbs ground almonds
1 tbs rolled oats
1 tbs sliced almonds
pinch of salt
1 tbs vegan margarine (or butter), refrigerated
For topping:
Instructions
Preheat oven to 180°C/356°F.
Mix blueberries with corn starch, brown sugar, vanilla extract and lemon juice. Place blueberries in a baking pan (or cast iron skillet). We used two single-serving ceramic molds.
Prepare the almond crumble: mix ingredients together and combine with your fingers until the mixture resembles coarse breadcrumbs. Sprinke the crumble on top of the blueberries.
Place baking pan into preheated oven and bake for about 30 minutes, until the crumble turns golden brown and the blueberries dissolve. Remove from oven and let it cool down a bit.
Serve with a scoop of vegan vanilla ice cream.
Nutrition Information:
Amount Per Serving:
Calories:

238.9
Total Fat:

9.2g
Saturated Fat:

1g
Sodium:

55.4mg
Carbohydrates:

37.8g
Fiber:

5.3g
Sugar:

22.3g
Protein:

3g
This recipe is brought to you in collaboration with Hofer Slovenija (you may also know it as Aldi). It is by far our favorite store for groceries and we love their products. That's why we're very excited to be partnering up! We will be sharing plenty more recipes in the upcoming months, but if you are from Slovenia, do head over to  Hofer's Instagram account for even more delicious recipes 😉
You can connect with us on our Instagram and Facebook or on Pinterest. We share many behind-the-scenes photos and step-by-step recipes in our Instagram Stories, so be sure to check it out!
If you like this recipe, you can let us know in the comments below or on social media using #vibrantplate and tag us @vibrantplate. We're always happy to read your feedback and LOVE seeing your take on our recipes.