Vegan Quinoa Breakfast Bowl is an easy to make, healthy and filling breakfast, ready in just 15 minutes. Perfect for meal-prep!
It feels more like Autumn than Summer these days. There is no sign of any heat wave, the weather is stark and cloudy, it's raining daily and the forecast is not very promising. Such a miserable summer this year, at least the start of it.
To top it, I have a pain in my neck that was brought by either car AC or wind or both and my neck has been hurting pretty badly for a week now. Like, can't sit, can't use the computer and can't lay down. I am as miserable as the weather.
Luckily there are hot bowls to warm us up. It's a bit sad to eat hot bowls in Summer, but at least they're easy to make, usually one-pot and they do a good job of warming the body and the depressed heart.
And sorry for the sad mood. It will pass as soon as my neck is better.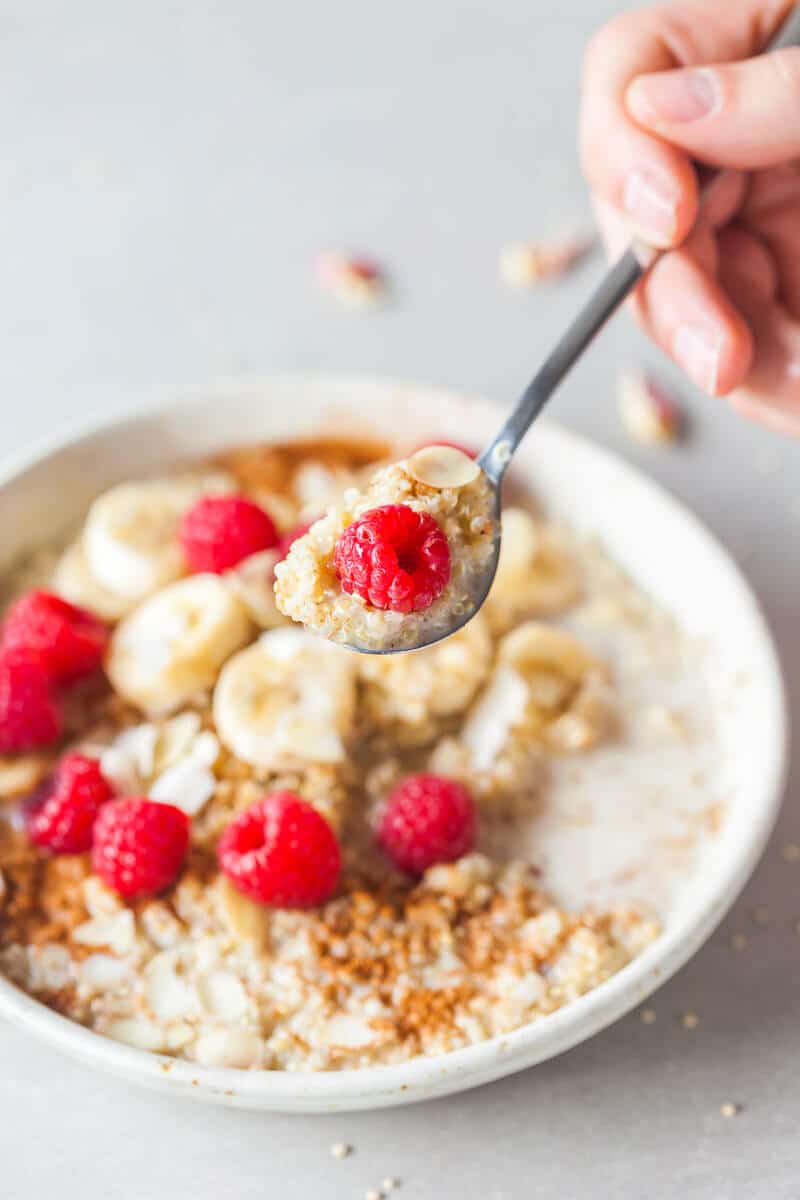 So, I've never had a Quinoa Breakfast Bowl before. I always thought it to be more of a savory dish, to enjoy in salads and such. But, this Vegan Quinoa Breakfast Bowl is, might a say, a revelation!
You can meal-prep it on Sunday and have a ready to eat breakfast for the next couple of days. The combination of almond milk and quinoa works really well, and the added toppings of banana, raspberries, and cinnamon will lift your spirits up.
This Quinoa Breakfast Bowl is:
vegan
gluten-free
ready in 15 minutes
ideal for meal-prep!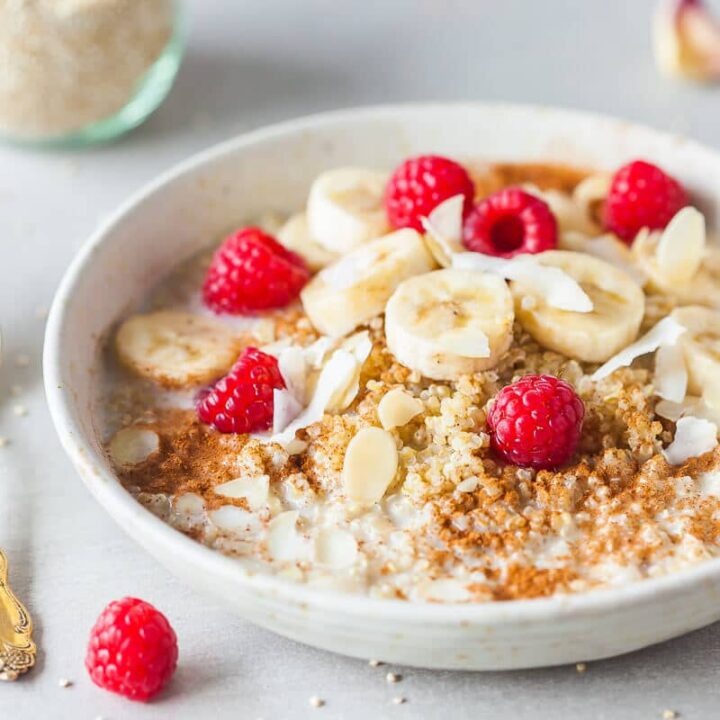 Vegan Quinoa Breakfast Bowl
Vegan Quinoa Breakfast Bowl is an easy to make, healthy and filling breakfast, ready in just 15 minutes. Perfect for meal-prep!
Ingredients
1 cup quinoa
2 cups almond milk
Pinch of salt
1 ts vanilla extract
Toppings:
1 cup almond milk
Cinnamon
1 small banana
1 ts almond slices
1 ts coconut flakes
1 handful raspberris, fresh or frozen
Instructions
In a pot, add almond milk, salt and vanilla. Bring almond milk to a boil, add quinoa, stir, and lower to a simmer. Let simmer for 15 minutes, until the quinoa has soaked up all the liquid. Remove from heat and let rest to absorb any leftover milk. Loosen with a fork and cool down. You can store any leftover quinoa for a couple of days in an air tight container in the fridge for another breakfast.
In a bowl, place 4 tbs cooked quinoa, add about a cup of almond milk (cold or warmed up), sprinkle with cinnamon, add banana slices, almond slices, coconut flakes and a couple of raspberries. Serve.
Nutrition Information:
Amount Per Serving:
Calories:

320.1
Total Fat:

8.9g
Saturated Fat:

1.5g
Sodium:

226.5mg
Carbohydrates:

49.8g
Fiber:

7.2g
Sugar:

8.9g
Protein:

10.7g
You can connect with us on our Instagram and Facebook or on Pinterest. We share many behind-the-scenes photos and step-by-step recipes in our Instagram Stories, so be sure to check it out!
If you like this recipe, you can let us know in the comments below or on social media using #vibrantplate and tag us @vibrantplate. We're always happy to read your feedback and LOVE seeing your take on our recipes.