These Vegan Spinach Blender Pancakes are ready in just 20 minutes, are gluten-free and absolutely delicious.
We love those easy meals that take just 10 minutes to prepare and a minimum amount of dishes afterward. There's nothing worse than a ton load of dishes at breakfast already.
And to make these Vegan Spinach Blender Pancakes all you'll need is – a blender and a pancake pan. It really couldn't be easier to make: just place the ingredients in your blender, blend until smooth, wait about 10 minutes and then cook the pancakes and serve!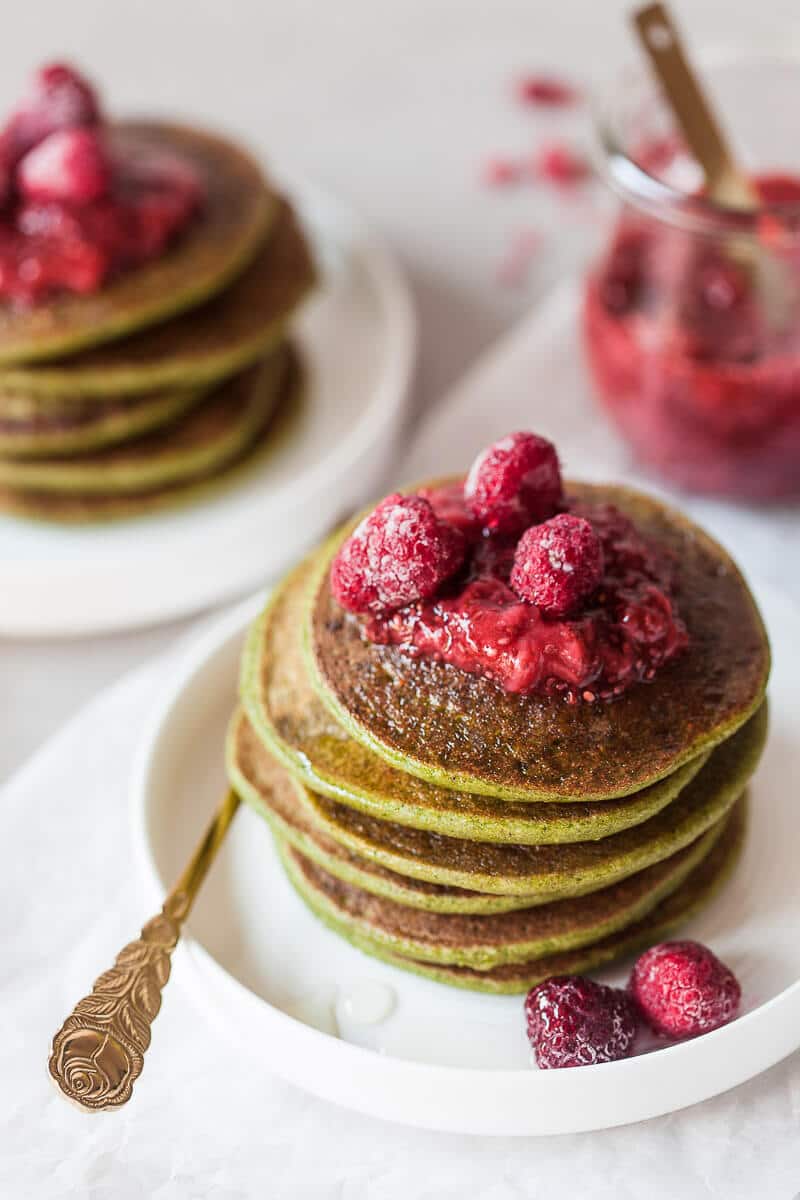 The real beauty of these pancakes is – they're packed full of spinach, but you cannot taste it in the pancakes! Just as a green smoothie, these pancakes will help with your vegetable intake without even trying.
Plus, they are absolutely delicious, vegan, dairy-free AND gluten-free (be sure to choose gluten-free oats!).
The bananas will add sweetness to the pancakes, but if you need more, just drizzle some agave or maple syrup on top and finish off with a spoon of jam, or plant-based yogurt.
Excuse us, as we dive in.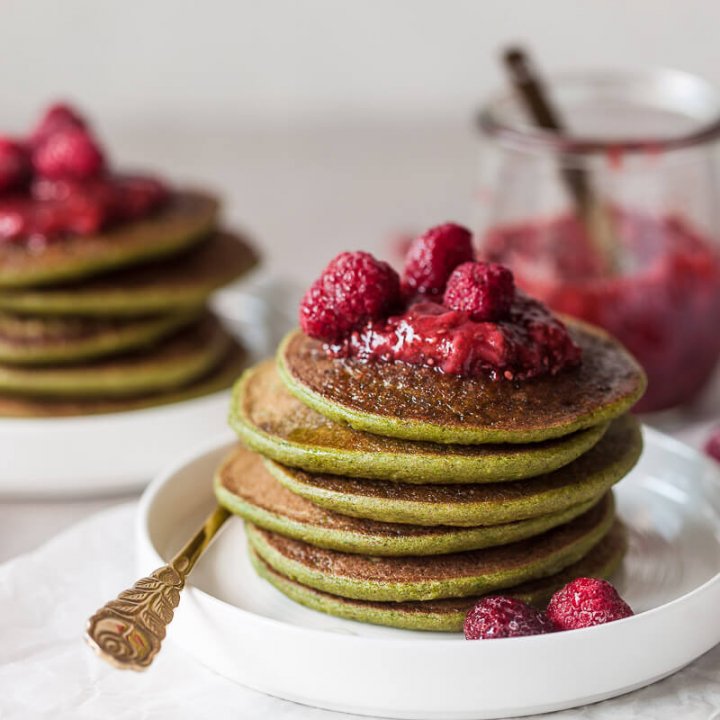 Vegan Spinach Blender Pancakes
These Vegan Spinach Blender Pancakes are ready in just 20 minutes, are gluten-free and absolutely delicious.
Ingredients
2 bananas
2 cups soy milk
3 cups gluten-free rolled oats
100 grams baby spinach
Instructions
Peel bananas and place them in a blender. Add soy milk, rolled oats and baby spinach and blend until smooth. If the mixture is too thick, add some more soy milk to reduce. Let sit the pancake mixture for a 10 minutes.
Heat a flat pan and add 1/3 cup of pancake mixture to the pan. Cook on low heath until bubbles start to form, then flip on the other side and cook another minute, until the pancakes turn golden brown. Once cooked, remove from pan and set aside. Repeat until you use up all the pancake mixture.
Serve pancakes with some agave or maple syrup and strawberry jam or plant-based yogurt.
Nutrition Information:
Amount Per Serving:
Calories:

325.6
Total Fat:

6.1g
Saturated Fat:

1g
Sodium:

65.8mg
Carbohydrates:

57.3g
Fiber:

9.5g
Sugar:

8.3g
Protein:

13.1g
This recipe is sponsored by
Hofer Slovenija
(you may also know it as Aldi). It is by far our favorite store for groceries and we love their products. If you are from Slovenia, do head over to
Hofer's Instagram account
for even more delicious recipes 😉
You can connect with us on our Instagram, Facebook or on Pinterest. We share many behind-the-scenes photos and step-by-step recipes in our Instagram Stories, so be sure to check it out!
If you like this recipe, you can let us know in the comments below or on social media using #vibrantplate and tag us @vibrantplate. We're always happy to read your feedback and LOVE seeing your take on our recipes.